Popescu & Asociatii > Bucharest, Romania > Firm Profile
Popescu & Asociatii
Offices

Popescu & Asociatii
Cube Victoriei Center, 13th Floor
1ST DISTRICT
BUCHAREST
Romania
Popescu & Asociatii > The Legal 500
Rankings
Popescu & Asociatii
haș established itself as a prominent litigation firm by expanding around core of highly experienced litigators, including founding partner
Octavian Popescu
 and the recently recruited
Gheorghe Buta
, formerly practice head at
Musat & Asociatii
. Senior practitioners are backed by a robust team of '
very talented lawyers working as one
'. Tax, insolvency, public procurement, banking and contractual claims are all areas of strength. Clients also praise
Constantin Branzan
 and
Dana Bivol
.
Testimonials
'I work best with Constantin Branzan and Dana Bivol. They are super together. I really like how the team is combining Constantin's experience with the precision of  Dana Bivol.'
'Octavian Popescu is one of the toughest lawyers I've ever met. With him there are no exceptions. I like that he is very accurate and his professionalism always wins.'
'The strength of the relationship between the individuals, very talented lawyers working as one, with the sole aim of offering to the client the highest of standards in legal services. It soon became no surprise to see that they always find resources to obtain the best of solutions even in the hardest of situations. I admire this team. They are very hands-on and focused, having good expertise across different practice areas and a very efficient team approach.'
'Very competent team. Young and dynamic with the ability to solve complex problems using the synergies between team members.'
'High work ethic. Individuals that invest in long-term relationships with their clients in order to understand very well their priorities and objectives.'
Key clients
European Drinks Food Group
Financial Group Banca Transilvania
Enel Group
European Drinks Food Group
Revolut
Academia Romana
Electrica Furnizare
Eco Sud
Kaufland Romania
Mega Image
Mytilineos Holding
Atlantic Motors
Romanian Minister of Environment, Water and Forests
Bucharest Chamber of Commerce and Industry
Romanian Rugby Federation
Rotary Constructii
Hidrosalt
Forza Rossa (Ferrari Romania)
Sinaia Municipality
Work highlights
Represented the Romanian Minister of Environment, Water and Forests in judicial procedures concerning landfill sites.
Representing Academia Romana in disputes relating to a controversial expropriation procedure organised by Mogosoaia Municipality.
Representing UTI Grup in disputes arising from to the development of the Mihai Flamaropol skating rink.
Popescu & Asociatii
has established itself as a prominent fixture on the Romanian insolvency and restructuring market, backed by its extensive litigation credentials. Clients, including major debtors and creditors, praise the team's '
tidy, methodical, and strategic work
'.
Iuliana Bidalache
is singled out as a '
great lawyer and insolvency practitioner'
who '
makes her presence felt
'. Other key names include '
renowned
' founder
Octavian Popescu
and
Dana Bivol
.
Practice head(s):
Octavian Popescu; Dana Bivol; Iuliana Bidalache
Testimonials
'They do tidy, methodical, and strategic work. A great virtue they have is their experience in highly complex insolvencies and litigations. I have the best opinion of their eagerness to assist clients with insight and tactics when negotiating.'
'A very experienced team which has diverse areas of specialisation, and which provides good legal analyses in order to resolve restructuring issues. Every single Popescu & Asociatii lawyer I have dealt with has shown an impressive level of commercial awareness. It is clear to me that the firm nurtures an institutional culture of always having the client's business needs at the forefront of everything it does.'
'Iuliana Bidalache is a great lawyer and insolvency practitioner who is not overly cautious; instead, she makes her presence felt and defends our interests with solid legal grounds, doing excellent work, being very client-oriented and having tremendous expertise in handling complex procedures. She is decisive and rigorous, a professional who, before giving an opinion, thinks carefully and studies the case.'
'Dana Bivol is an excellent professional who has vast experience in our matters, which allows us to fully trust her actions. She has sufficient expertise to evaluate any case and provide you with tailor-made solutions, is very thorough and on top of every case you entrust her. It's really enjoyable working with her, as a true professional.'
'Octavian Popescu is the only lawyer you want to have alongside you in Romania. He is highly responsive and has deep knowledge in the field, understanding our business very well, being very involved in each case and able to respond quickly to queries that we might have. He is very professional, calm and collected during tense negotiations, providing leadership to handle the matter at hand. We would never have solved the dispute without his expertise.'
'I have great admiration for Iuliana Bidalache. She has a very practical approach, good expertise and her eye for detail and precision in drafting of arguments brought extraordinary results. One of the best lawyers I've ever worked with!'
'Dana Bivol has extraordinary expertise in international and local mandates, combined with an excellent understanding of very diverse business interests. A very dynamic lawyer, oriented towards future solutions and opportunities, with a great ability to offer advice in an easy-to-understand way and with an incredible level of responsiveness.'
'Octavian Popescu – a renowned lawyer with high expertise in all areas of law. The peculiarities of his work mainly include the unique way in which he addresses legal issues, by providing always new solutions. His courage to offer alternative solutions and how he manages to convey arguments not only in courts, but also in negotiations, recommends him as an excellent lawyer!'
Key clients
Electrica Furnizare
Teamnet International
Mega Image
First Bank
Mytilineos Holding
Atlantic Motors
First Bank (formerly Leumi Bank)
Triticum Sebes Agrotineret
2na Farm
Work highlights
Advised Atlantic Motors on its insolvency, which entailed the submission of successive reorganisation plans in order to save the company.
Advised First Bank on the annulment of €40m in financial contracts connected to an insolvency procedure.
Representing Electrica Furniture in the insolvency proceedings of Oltchim.
Popescu & Asociatii
 provides '
first-class advice
' in the tax space. The firm's key practitioners have developed an excellent reputation for tax litigation, regularly supporting clients with civil and administrative claims, as well as associated white-collar crime proceedings. Founding partner
Octavian Popescu
is '
the name to choose in Romania when you have difficult cases to handle
'; his team includes several highly experienced litigators, with
Dana Bivol
,
Iuliana Bidalache
 and
Constantin Branzan
among those singled out for praise. June 2022 saw the high-profile recruitment of
Gheorghe Buta
, formerly of
Musat & Asociatii
, and added even greater weight to the contentious offering.
Practice head(s):
Octavian Popescu; Dana Bivol; Iuliana Bidalache
Other key lawyers:
Testimonials
'We are talking about an excellently cooperating, broad-minded, highly professionally trained team, who are able to offer a personalised solution that covers all relevant details and is very carefully developed. I am extremely pleased with their work and it is a real pleasure to have discussions with them about hot topics in this field.'
'Popescu & Asociatii stands out because of its dedication and determination to protect the client's interest. The lawyers are always available for us and provide first-class advice combined with solid expertise in tax, insolvency, litigation and white-collar crime. The team is very thorough and focused and the way it handles cases is quite impressive: I really appreciate it for its great service in terms of in-depth knowledge and great analytical capacity.'
'Octavian Popescu is the name to choose in Romania when you have difficult cases to handle. He is the strongest and most regarded litigator in Romania. Great with the details, exceptional in court strategies, committed to be successful in every case that I entrusted him. When you work with Octavian, you know that everything will be just as planned: he has this great capacity to handle complex and sensitive legal matters that I never found in any other lawyers – he finds the best ways to solve your problems, even in a short time frame.'
'Iuliana Bidalache is a very technical lawyer. She is very analytical and always strives to find the best legal solution, based on research and in-depth analysis. She does an excellent job.'
'Dana Bivol has excellent skills – particularly impressive is the friendly, pleasantly calm approach to legal issues. I really appreciate her for her business acumen, effectiveness and client-mindedness. I would definitely keep her close to our business because she is the legal advisor you need for long term collaboration.'
'Although the team has the capacity to assist and also to represent clients in any type of tax projects and has an excellent track record in this respect, their uniqueness is given by the fact that they also pursue administrative reviews for their clients, thus saving duties, fees and taxes without resorting to litigation.'
'The lawyers I have worked with stand out by providing a first-rate service combined with solid technical knowledge and fluid communication. They are always available and find solutions to problems immediately.'
'Iuliana Bidalache's experience regarding income tax and VAT clearly shapes a safety net for any company which needs assistance and representation in this continuously changing area. Constantin Branzan and Dana Bivol complete the team at the highest standards.'
Key clients
European Drinks Food Group
Electrica Furnizare
Octapharma
Mytilineos Holding
Mega Image
Teamnet International
Anilcon
Eco Sud
Bucharest Chamber of Commerce and Industry
Romanian State
Generali Safpp
Kaufland Romania
Force 1 – Divizia De Securitate
Work highlights
Representing European Drinks Food Group in a €25m fiscal litigation concerning additional profit tax and VAT.
Representing Mytilineos Holding in a judicial challenge against additional payment obligations following the reclassification of inter-group operations.
Representing Electrica Furnizare  in a tax dispute with the authorities.
Popescu & Asociatii
fields an expanding white-collar crime practice which compliments the firm's wide-ranging dispute resolution capabilities. Clients commend the '
brilliant team
', which was further enhanced by the arrival of
Gheorghe Buta
 from
Musat & Asociatii
in June 2022; he is described by one client as '
truly a catch for the firm
'. Buta joins '
absolute go-to
'
Adrian Chirvase
, who leads the team with a stellar track record in tax fraud, compliance, investigations and criminal defence in a broad spectrum of cases, including public procurement-related corruption claims. Founding partner
Octavian Popescu
is also singled out, and his '
expertise and experience in the legal field is undeniable in the court room
'. The firm represents major domestic and international companies, as well as politicians and high-net-worth individuals.
Practice head(s):
Octavian Popescu; Adrian Chirvase; Gheorghe Buta
Testimonials
'Octavian Popescu's expertise and experience in the legal field is undeniable in the court room. The knowledge and level of service is always quite extraordinary every time we had interactions. He is technically strong, super-efficient and always available, providing first-class advice and representation, very clear and thoughtful recommendations, making him a pleasure to work alongside.'
'Adrian Chirvase is our absolute go-to lawyer for white-collar crime matters, he is top of the list for all our sensitive and complicated matters. He is very good at managing complexity, enabling him to play different roles, whether leading negotiations or providing analysis and input as an adviser. He also draws my praise as a very pragmatic, level-headed lead partner whose ego doesn't get in the way of client goals.'
'Top of the top is Gheorghe Buta. He is truly a catch for the firm. He brought a full bag of experience to the team.'
'Popescu & Asociatii is a very successful firm because they have managed to integrate their regulatory expertise with longstanding experience dealing with litigation, dispute resolution and the white-collar crime field, and this is a main differentiator on the Romanian legal market. They were clearly very well versed in their field, professional and pleasant to work with. We wanted to pick the best brains in the country, and they are among them.'
'We thought the team was brilliant, they have so much expertise. They're phenomenal in every single way. particularly strong at developing a compelling narrative and keeping that in mind as we navigated discrete issues that came up in the case. They provide everything in-house counsel would want – they're responsive, practical and clear, while keeping the particular business needs in mind. They're one of our most called-upon law firms for the variety of experience they offer, the practicality of their advice and the timeliness of their responses.'
'The team always treat us like we are their only concern and only client. They are always very responsive, professional, and accurate in their documentation. Rare strategic thinkers in their field, dynamic and engaging speakers, and true professionals.'
'I think should be mentioned first of all Gheorghe Buta whose notoriety in the legal field is unique. He is one of the most famous professionals who has succeeded in all the fields in which he worked, being known both as a prosecutor, as a judge at the highest level and later as a perfect lawyer. I am very happy with his reunion with Octavian Popescu with whom he makes an extraordinary team. In this context, I also mention Octavian who represents an important exponent of the legal profession. From what I know he is one of the most respected litigators in Romania and I think he deserves all the praise for the way he built his career.'
'Brilliant team, young yet very experienced due to very complex projects delivered during the past 10 years.'
Key clients
Banca Transilvania
First Bank
European Drinks Food Group
Enel
Credit Europe Bank
Mega Image
Mytilineos Holding
Bucharest Chamber of Commerce and Industry
Sometra
Kaufland Romania
Atlantic Motors
Electrica Furnizare
Academia Romana
Teamnet International
Remat
Campeador
B2holding/B2kapital
Debt Collection Agency
Ultimo Portfolio Investment
Agexim Spedition
Eco Green Construct
Work highlights
Represented Elena Udrea in a case regarding accusations of corruption and abuse of office allegedly committed by the former minister.
Representing Bucharest Chamber of Commerce and Industry and its President in relation to alleged crimes committed against the financial interests of the European Communities.
Represented Raed Arafat, Head of the Department for Emergency Situations, in an anticorruption investigation into a major public procurement process related to the provision of over 680 ambulances and other specialised vehicles.
Popescu & Asociatii
has a comprehensive offering, which goes far beyond the firm's traditional restructuring and insolvency strengths. The '
terrific practice
' provides a '
great service in terms of in-depth knowledge combined with practical advice
'. Clients include major banks and borrowers, who regularly instruct the firm on high-value syndicated loans, refinancings, regulatory and contentious issues. The firm's banking focus was emphasised through the recent promotion of partner
Anca Simeria
, who heads the firm's M&A and capital markets team. Other key partners include founder
Octavian Popescu
, whose expertise extends to financial fraud matters, and
Loredana Popescu
, who is strong on the real estate side.
Other key lawyers:
Testimonials
'They have a terrific practice that covers our needs and comprises solution-minded practitioners.'
'The team is very thorough and focused and the way the firm handles cases is impressive. I really appreciated it for its great service in terms of in-depth knowledge combined with practical advice, and great analytical capacity.'
'They are committed to solving problems and to meeting our legal needs in our relations with the financing banks. I have never worked with such a highly capable and responsive legal team in Romania. The innovative interpretations of the contractual provisions proposed by Popescu & Asociatii team led to the successful obtaining of all the outcomes that we requested.'
'There is no sector of the banking work they cannot do, including syndicated loans, structured finance, acquisition finance, asset finance, project finance, securitisation, derivatives, shipping finance, telecoms finance and international securities work. The capability they have to give such extended and diverse assistance is what makes them stand out.'
Key clients
Banca Transilvania
Credit Europe Bank
First Bank
Romanian State
Mytilineos Holding
Bucharest Chamber of Commerce And Industry
Teamnet International
Mega Image
Sometra
Revolut
Electrica Furnizare
Debt Collection Agency
Eastern Securities
Kukullo Mezo Camp
Work highlights
Advised Banca Transilvania on funding for a €175m contract based on MREL standards.
Advised Mytilineos on a €16m recapitalisation of one of its Romanian subsidiaries.
Advised First Bank Romania on damages obtained from Guarantee National Fund related to NPLs.
Popescu & Asociatii
 haș '
broad expertise covering complex projects and transactions
' and provides clients with '
the highest standards of competence and integrity both in advisory assistance and in litigations
'. The firm has achieved several significant court victories recently, such as its representation of Mytilineos Holdings in a dispute concerning the management of landfill sites, and has been particularly active in the waste management sector. The practice acts for public and private sector clients. Key practitioners include
Loredana Popescu
, who is noted for her '
keen strategic insight
'; disputes expert
Octavian Popescu
; and the '
very efficient and succinct
'
Dana Bivol
.
Practice head(s):
Loredana Popescu; Dana Bivol; Octavian Popescu
Testimonials
'The team relies on broad expertise covering complex projects and transactions. They have provided efficient and cost-effective legal advice and assistance to the highest standards of competence and integrity both in advisory assistance and in litigations of this matter.'
'The lawyers pay incredible attention to details approaching the matters from a legal perspective but also from a business perspective. They are impressive in their capacity of providing fast, accurate and efficient solutions in litigations of this matter.'
'Their strength is their knowledge of the practice area, with a great team that demonstrates an excellent understanding of the specifics of our business when discussing options.'
'The expertise and responsiveness from the firm was excellent, the team is very well respected as a whole, and we highly appreciate that they recruit and retain highly skilled, ethical professionals, a significant cadre of practitioners with broad expertise as well as significant experience in dealing with PPP and procurement/infrastructure issues.'
'The service is excellent and of great quality. The firm stands out for its teamwork and the exchange of knowledge across different areas, which enriches the work and makes for favorable results. The team is professional and has both national and international exposure.'
'Loredana Popescu provides advice that applies the law pragmatically, taking into consideration social and political context in the circumstances, having deep expertise in the PPP and procurement landscape in Romania, which she combines with extensive policy expertise, great intelligence and keen strategic insight.'
'Dana Bivol's main strength is the demonstrated litigation expertise that provides solid and strategic options to address the conflicts at play. She is very efficient and succinct in developing approaches and arguments. Dana is a clear communicator who provides concise and practical legal advice, taking the time to develop an understanding of our business and broader purpose as an organisation.'
Key clients
Mytilineos Holding
Romanian Minister of Environment, Water and Forests
San Colombano Costruzioni
Lea International Impex Romania
Mega Image
Academia Romana
Eco Sud
Electrica Furnizare
Romanian State
Octapharma
Baia Mare Municipality
Ug-We Buid
Uti Grup
Work highlights
Represented the Romanian Minister of Environment, Water and Forests in judicial procedures concerning the management and implementation of Bucharest's oldest landfill.
Advised San Colombano Costruzioni on obtaining exploitation licenses for quartz and marble.
Advising Baia Mare Municipality on the development and management of an integrated waste management system project.
Popescu & Asociatii
has a multifaceted practice with expertise across a range of corporate and regulatory matters.
Loredana Popescu
 is the main contact for M&A work, and has recently led the team on several significant acquisitions and share transfers in the healthcare, energy, financial services and transport industries. The firm also has a strong track record on internal company reorganisations, with
Anca Simeria
highly experienced in related finance and restructuring matters. Name partner
Octavian Popescu
is also active in this area.
Practice head(s):
Loredana Popescu; Anca Simeria; Octavian Popescu
Key clients
CFR – Compania Nationala De Cai Ferate
Banca Transilvania
Mytilineos Holding
Mega Image/Ahold Delhaize Group
Generali/Assicurazioni Generali Group
Novartis
National Federation Of The Trade Unions In The Electricity Industry "Univers"
Eco Sud
B2holding
Sometra
Mediplus Company
Electrica Furnizare
UTI Netcity Investments
Romanian State
Teamnet International
Octapharma
Theliton Limited
Eastern Securities
CNS Communications East Europe
Allsys Energy
Campeador Group
Vagabond Group
2na Farm
Work highlights
Advised CFR – Compania Nationala De Cai Ferate on its acquisition of Informatica Feroviara and Tipografica Filaret.
Advised Mediplus Company on the transfer of a majority stake to ABC Medicover Holdings, part of the Medicover Group.
Advised Vagabond Group on an internal company restructuring involving the transfer of a 50% share stake to one of the majority shareholders.
Popescu & Asociatii
fields an experienced team which is particularly well regarded for contentious and non-contentious construction and infrastructure matters.
Loredana Popescu
oversees the work.
Popescu & Asociatii >
Firm Profile
Popescu & Asociatii is a top Romanian business law firm founded to provide premium integrated services to premium businesses, both in Romania and abroad, in all the relevant areas of practice, and especially in all industries of interest for active economic players.
Established as a full-service law firm, Popescu & Asociatii genuinely combines the expertise and exposure in the consultancy field with high level of strategic capabilities and experience in trials and court rooms, to provide state-of-art advice and representation both in local and cross border deals and files.
The firm's mission is to deliver strategic, excellent and innovative legal and business solutions. Excellence, collaboration, and innovation are at the core of the way the team works, with each other and with its clients.
Popescu & Asociatii is focusing on building long-term relationships by staying true to the founding principles: to provide client service and the highest standards, always keeping in mind work ethics, integrity and the responsibility towards our clients businesses, deals and cases that they entrusting us.
Popescu & Asociatii is ranked and recognized among outstanding law firms in Romania by IFLR 1000 Financial and Corporate,  Chambers and Partners, The Legal 500 and Benchmark Litigation.
Main Contacts
| Department | Name | Email | Telephone |
| --- | --- | --- | --- |
| Dispute Resolution, Corporate and M&A, Prevention, Compliance and White Collar Crime, Restructuring & Insolvency | Octavian POPESCU | Octavian.POPESCU@popescu-asociatii.ro | 0040 21 589 7353 |
| | | | |
Languages
English French German Italian Spanish Russian
International capabilities
Popescu & Asociatii is a prominent Romanian law firm having access to an extensive network of international law firms across Europe, USA, UK, and China. Working with the team, companies can benefit from more than just legal advice locally, leveraging the international experience of its high-profile network.
Popescu & Asociatii lawyers are highly involved for large companies in a wide range of proceedings before the Court of Justice of the European Union (CJEU) challenging the decisions of the European Commission, in international arbitration proceedings under the ICC rules in New York, as well as in mandates involving cross-border matters.
The portfolio includes international corporations, private equity funds, financial institutions, active in Romania in various areas such as banking and finance, energy and natural resources, oil and gas, retail, FMCG, beverages, pharma, fashion, infrastructure, real estate, construction, with activity in several jurisdictions such as Belgium, Cyprus, France, Greece, Hungary, Italy, Israel, Netherlands, Norway, Sweden, Switzerland, Turkey, UK, US.
Client Testimonials
TESTIMONIAL 1:
They are very much at the high end of the market, they are smart and always deliver results, are innovative, practical, and incredibly client centred. Their expertise is very impressive, being recognized as a top law firm by the Romanian market, worthing the praise because understand the business aspect of the transactions and files, as well as the associated risks, which makes them an irreplaceable business and legal partner.
TESTIMONIAL 2:
They are amazing professional and top-notch specialists that make us feel safe with every step we take. They come up with unexpected and original solutions to our legal matters, and they explain the whole complex procedure in plain language which is easy to understand. The lawyers are showing every time a real commitment to our interests by providing not only legal but also business-oriented solutions; are very responsive and creative, and they provide practical, decisive advice that is very helpful in our decision process.
TESTIMONIAL 3:
Popescu & Asociatii is doing it all in a seamless matter and with an unseen capacity to strategize and prioritize. I wouldn't change a thing about them. They are there for us during difficult times and are more than just legal advisers, they stand with us at the table and advise on the best decisions for our business. They are one of the best in the country, they navigate the local regulations letting us know at what issues to be aware from a legal and a business perspective.
TESTIMONIAL 4:
They are very knowledgeable in all the areas of business law and are good strategists, agile and timely with their responses and solutions. The relationship is more than lawyer-client; we work very closely as a team and they make us feel listened as they are considering our ideas. I would dare to say they have the best team in Romania, according to the work they provided for us.
TESTIMONIAL 5:
I think they are very good lawyers who are systematic in their approach to deals. It is very good to have them alongside on big deals because they know how to handle these sorts of transactions. They are very professional and business-friendly lawyers, finding ways to make deals work and to reduce risk, while always considering the business angle. We always achieve great results, and the partners are always careful in terms of time and the quality of the service they provide. A 10+ law firm in Romania.
Interviews
Gheorghe Buta, Senior Partner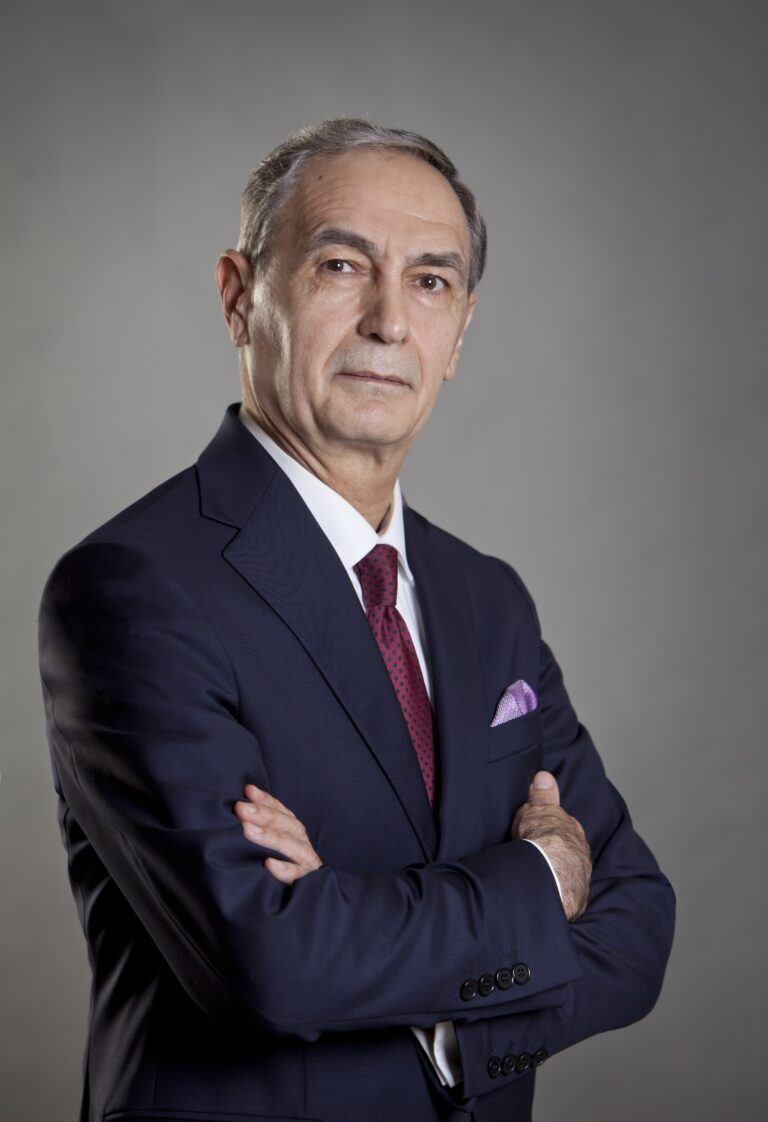 Gheorghe BUTA, Senior Partner of POPESCU & ASOCIATII, explains how the firm is growing at an accelerated, but solid rhythm, based on essential values such as rigor and dedication.
What do you see as the main points that differentiate POPESCU & ASOCIATII from your competitors?
Gheorghe BUTA, Senior Partner: The answer to this question I would not want to seem like a cliché, but on the contrary, to show the aspects that really differentiate us on the market. Thus, after almost a year since I joined the team which I actually knew, I can honestly say that POPESCU & ASOCIATII differentiates on the law market through professionalism and the trust that clients have in the team's decisions, whether they are related to legal aspects, business or are reputational decisions.
Within POPESCU & ASOCIATII we strongly believe in the need of understanding both the client's problem and the business in order to be able to offer, each time, the right solutions, adapted equally to the problem and to the industry's specifics, solutions which in the short, medium and long term bring the effectively pursued results and not only the achievement of a favourable result on the moment. In other words, we believe in the competitive advantage of the team and in the unique way in which each lawyer is actively involved in order to better understand the whole context, to analyse all the details. Thereby, these are the essential and at the same time the differentiating characteristics to achieve the desired results.
In addition to the main points mentioned above, it is important to note that our team of lawyers pays a lot of attention to prevention and adoption of appropriate measures, thus aiming to balance each time both the opportunities and risks in such a way that the results to be in the client's favour.
Also, the difference between POPESCU & ASOCIATII and other law firms is visible at fine tuning, more precisely on very complex projects, where the right decision is timed at millimetre and per second, the millimetre being the location and the second being the timing – both essential and which makes the difference between success and loss.
Currently, after just over 4 years of activity of the team in this formula, POPESCU &ASOCIATII is the only law firm in Romania that has managed to achieve exceptional results, both in the legal practice and in terms of evolution as brand, visibility and recognition on the local law market. And I am not referring here only to the awards obtained so far, but also to the recognition coming from fellow lawyers and from clients.
Which practices do you see growing in the next 12 months? What are the drivers behind that?
We are going through an intense period, with various predictions on the future. The war in the neighbouring country and the energy crisis have caused uncertainty and a high degree of concern over the future, while the inflation and rising prices have led to the permanent revision and adaptation of the initial plans to the actual context. However, we can see a maturation of the business environment, which determines a moderate growth of the economy, even with opportunities in some of the areas of interest.
Moreover, analysing the current situation, we can see how the energy crisis has shown us the image of a difficult situation faced by companies in several industries, not only in Romania, companies whose activity depends on fossil fuels. On this basis we have noticed an even greater interest from companies to invest in alternative solutions that will lead to the use of green energy, from renewable sources, investments which will certainly lead to an increase in this practice, both in the next 12 months and in the following years.
In addition, as lately there has been a progression of disputes arising from public procurement and energy supply contracts, but also from mandates in sectors such as HORECA, FMCG, pharmaceutical, health or waste management, we consider that litigation and arbitration are the practices that will grow this year as well. This statement is also based on the fact that the Litigation Department is the main 'engine' or one of the main business engines in any law firm and Dispute Resolution is the largest practice within POPESCU & ASOCIATII, with the largest share on the turnover.
Further on the digitalization, which has had a very rapid growth during the pandemic, continues to develop at an accelerated rhythm and influence both the client's business and the consumer's behaviour.
These being mentioned, we remind that the economic players in the market have to manage a series of challenges, but also of opportunities, trying to find the most appropriate solutions for all the situations they face, to show flexibility and to adapt, quickly and as well as possible, to all changes. Our analyses make us hope for an economic recovery; therefore, we consider that the market is wide and there is room for investments and optimization of flows, in accordance with the evolution of the economical context and POPESCU & ASOCIATII team is constantly nearby the clients, to provide them the right advice and all the necessary legal support.
What's the main change you've made in the firm that will benefit clients?
POPESCU & ASOCIATII started from the beginning on a solid collaboration with its clients, a strong relationship that is based on trust, responsibility, open communication and total flexibility, thus developing sustainable partnerships.
Currently, the results of the entire activity from the first 4 years of the company reflect the successful implementation of a different model of a law firm, to provide Premium Services for Premium Clients, a team that responds every time to the needs of the clients, whether we are talking about prevention or protection, regardless of the clients' field of activity or the economic context.
In terms of investing in people, this does not represent a change, but it is and will remain the first strategic objective of the company, a priority and constant concern of the management since the performance can only be achieved through a permanent learning process, both individually and from senior lawyers who are true mentors for their colleagues.
Is technology changing the way you interact with your clients, and the services you can provide them?
Definitely, the technology has brought important changes in law industry in the last years, and it will certainly continue at this rhythm. First of all, the pandemic period on the one hand, has led us all to a faster digitalization, including the judicial process, at the level of the courts and of the arbitration process.
Of course, the technology offers many advantages among which are the opportunity to have quick access, at any time, to all the documentation of a mandate or the possibility to set up an online meeting, at just a click, regardless of the physical location of the client representatives or colleagues.
In this context, we believe that all the lawyers and clients have adapted to the new era, and this has brought a lot of advantages. Therefore, many lawyers, including our team, still prefer the direct contact with our clients for the important meetings, to the detriment of using the digital tools.
Can you give us a practical example of how you have helped a client to add value to their business?
There are many projects that can be listed here, especially since most of the files in our portfolio concern special situations with a high level of complexity, including voluminous documentation and careful research work. We strongly believe that all our projects and clients are very important, and we manage to bring value in every partnership we develop and, as a proof of this, stands the fact that so far we have by our side all the clients with whom we have started a collaboration, and more than that, they recommend us to their business partners.
Are clients looking for stability and strategic direction from their law firms – where do you see the firm in three years' time?
Certainly, the clients are looking for stability and for the right strategic directions from their law firms, and POPESCU & ASOCIATII is recognized as a team of extraordinary lawyers and strong opponents in the courtroom. The expertise of our Partners is impeccable, their involvement being complete so that all our lawyers (including even the juniors) accomplish everything in a rigorous and exceptional manner, being dedicated and having extensive knowledge in terms of regulations, legislative changes and the clients' areas of activity.
POPESCU & ASOCIATII is growing, in terms of projects, of people and of the activity in general. For the next 3 years and not only, we have as a strategic objective to develop the upward trend, a trend that we have maintained since the company's founding and we expect a growth on all levels: business, team and mandates.
Legal Briefings
Civil court delays: assessing new remedies to speed up Romanian disputes

As referred to in its case law, the European Court of Human Rights has imposed an obligation on states to provide a mechanism to prevent or remedy excessive length of judicial proceedings. Also, in several resolutions, the Council of Europe's Committee of Ministers has stated that 'excessive delays in the administration of justice constitute an …