Ijdelea & Associates > Bucharest, Romania > Firm Profile
Ijdelea & Associates
Offices
Ijdelea & Associates
Park Avenue Offices 4A
Maresal C. Prezan Blvd. (entry from 95 E. Porumbaru St.), 1st District
Bucharest
Romania
Ijdelea & Associates > The Legal 500
Rankings
Ijdelea & Associates
 is a '
go-to
' energy and natural resources boutique with an excellent reputation. Client's appreciate '
not only the depth of knowledge but uniquely the ability to actually execute on resolving issues
', whether those be transactional or regulatory. The firm's track record includes advising on some of the country's most significant projects, including the Midia Gas Development project. Managing partner
Oana Ijdelea
 is '
a star
' who is '
relentless in pursuing the best outcome
'. Other key individuals include recently promoted partners
Ancutu Pop
and 
Siranus Hahamian
.
Other key lawyers:
Testimonials
'Not only the depth of knowledge but uniquely the ability to actually execute on resolving issues whether it's getting through the regularly process, advocating for new legislation or prevailing in contractual matters. Rather than just provide lengthy, theoretical legal notes on the issues they provide practical, hands-on knowledge and execute a plan for resolving whatever issue arises.'
'Oana Ijdelea is tireless, friendly but firm and does not quit until successful resolution is achieved. She knows the way government institutions, agencies and ministries work and is well known in the commercial sector and provides very efficient, effective, transparent and fully-compliant solutions.'
'Good network and fast delivery of projects. Perfect understanding of the client's needs.'
'Oana Ijdelea has a proven track record in the oil and gas business paired with a vast network in the regulatory domain. She delivered our projects in a fast-track mode.'
'A firm with very agile and value-seeking approach. Thanks to their proactivity from the very beginning, we were able to get an overview of important milestones. Thanks to this we have always prepared necessary documents just in time and everything ran smoothly. In case of hurdles, Oana Ijdelea and colleagues reacted swiftly, therefore we were able to start our operations in very quick time.'
'Oana Ijdelea has one of the finest and most complex legal minds you can come across on everything related to the energy industry. Siranus Hahamian delivers excellent legal advice, is commercial savvy and particularly nice to work with.'
'Ijdelea & Associates are a go-to law firm for energy and natural resources in Romania. They simply give every time the best and the most well-suited advice and always the legal views are extremely thought-through and are put in the broader commercial context. The team is strong and united and this makes a big difference. With the global energy crisis we struggled a lot to keep the transaction terms advantageous to us and their advice and approach on the transaction matters was instrumental in this respect.'
'Oana Ijdelea is a star! She has an excellent eye for the weaknesses of the counterpart and exploits that incredibly to her client's advantage. Also, she understands right away what really matters and is relentless in pursuing the best outcome.'
Key clients
Black Sea Oil & Gas
East West Petroleum
Renovatio Group
Electrocentrale Borzesti (part of Renovatio Group)
Petro Ventures
Gas Plus International and Gas Plus Dacia
Green Genius
Raffles Energy
Solveo Energies
Svea Solar
Nano Energies
Mazarine Energy
SGTech
Work highlights
Advised Black Sea Oil & Gas, and its venture partners, on the completion of the regulatory procedures required for the operating phase of the Midia Gas Development Project.
Advised Nano Energies on its entry to the Romanian market, incuding legislation and related licensing and regulatory procedures.
Advised Mazarine Energy on energy market obligations and legislation relating to Romanian operations.
Ijdelea & Associates >
Firm Profile
Ijdelea & Associates is an independent law firm, focusing on energy and natural resources, mergers and acquisitions, environmental law, regulatory and compliance, real estate and construction and dispute resolution.
We provide far more than plain legal assistance. Our clients rely on us for both execution and advice and we take pride in first-class implementation and project management.
The members of our team were involved in virtually all major and ground-breaking energy and natural resources projects carried out in Romania over the last decade.
Our team works on a daily basis with local and central authorities at all levels of administrative hierarchy for the execution of the assignments entrusted by our clients. We also routinely team-up with international law firms in cross-border transactions, covering a wide range of industries.
A particular strength of our team is the expertise in relation to the drafting and enactment process of the primary and secondary legislation in unregulated areas (eg Offshore Law, BRUA Law, the Open Season Regulation), transposition of EU directives in national legislation (eg the Offshore Safety Directive, the new EIA Directive) as well as amending and updating existing legislation (eg the Electricity and Gas Law, the Petroleum Law, the Construction Law, the Urban Planning Law).
As of January 2019, Ijdelea & Associates is the exclusive Romanian member of TAGLaw, a worldwide alliance of independent law firms with more than 160 member firms based in over 90 countries. Its 10,000+ lawyers work out of 380 offices to provide a full range of legal services to clients all over the world. TAGLaw is a division of TAGAlliances.
For more information please see: www.tagalliances.com
Languages
Romanian English French Italian Spanish
Memberships
TAGLaw - A Worldwide Alliance of Independent Law Firms
Client Testimonials
CLIENT: Black Sea Oil & Gas SA (BSOG) – Mark Beacom, CEO
COMPANY/FIRM: Ijdelea & Associates
TESTIMONIAL: BSOG and its predecessor company have been working with Ijdelea & Associates and with Oana Ijdelea, its founder, from 2012. The scope of the mandate rapidly grew and over time we have consolidated all our legal activities to this law firm. The legal team has demonstrated high performance, pragmatic solutions, and strong commitment to legal issues which in case of our project have been highly complex and, in most cases, has never been done before. Oana Ijdelea is a widely read, energetic, positive, proactive, and enthusiastic lawyer.
---
CLIENT: Raffles Energy – Silviu Stan, General Director
COMPANY/FIRM: Ijdelea & Associates
TESTIMONIAL: The team of Ijdelea & Associates gives relevant and functional advice and has an excellent understanding and knowledge of domestic and international law matters; they work around the clock with much flexibility and are particularly good at handling client relations and at fitting the work in the agreed budget. We have a lot of respect for Oana Ijdelea, and she does great work for us every time.
---
CLIENT: Electrocentrale Borzesti – Raul Bura, COO
COMPANY/FIRM: Ijdelea & Associates
TESTIMONIAL: I was mostly impressed that from the moment they are introduced to a deal they understand it and its drivers and that they equally succeed to be highly analytical but at the same time totally practical. The team of lawyers is great, always up to speed, ready to take the lead and they are capable to flag issues ahead of time and propose solutions which work and get the deal done.
---
CLIENT: MedLife – Ana-Maria Mihaescu, Member of the Board
COMPANY/FIRM: Ijdelea & Associates
TESTIMONIAL: The performance of the firm was stellar in all respects, and they raise to the challenge of admirably handling with ability and great knowledge impressive transactional work.
---
CLIENT: Petro Ventures Resources – Florin Bilbiie, Director and CFO
COMPANY/FIRM: Ijdelea & Associates
TESTIMONIAL: We have been working with Oana and her team for many years, she is truly a fantastic lawyer, 100% devoted to her clients and problems. The firm has a very effective and sharp legal team who always provides black and white solid advice which is vital for our operations, and pull their sleeves up to get involved in implementing it, which makes it a pleasure to work with them.
Diversity
Ijdelea & Associates appreciates the tremendous importance of pro bono legal services and is a long-term supporter of The Friends of the National Museum of Art of Romania (PMNAR), a non-governmental organization established for the purpose of moral and financial support of the National Museum of Art of Romania, the largest art depository in the country.
PMNAR and its members are the largest private supporters of the National Museum of Art of Romania in its efforts to preserve and promote its museum heritage and to develop specific activities in order to bring the public closer to the museum through educational programs.
In 2018 and 2019, Ijdelea & Associates acted as one of the lead sponsors of "Bal la Palat", one of the most prestigious fund-raising events for cultural institutions in Romania. As part of our pro bono work, the firm's Managing Partner, Oana Ijdelea, has been acting as Secretary General of PMNAR since April 2021.
Interviews
Oana Ijdelea, Founding Partner
Oana Ijdelea
talks about how the firm's key differentiations and 2021 outlook.
What has been your greatest achievement, in a professional and personal capability?
On a professional level, the hard-working team put together over the years at Ijdelea & Associates is one of my greatest achievements. Our team of highly motivated and very bright lawyers has succeeded to tackle with ease complex deals and to deliver quality work and first of their kind accomplishments in a competitive legal market.
From a personal perspective, my greatest achievement is having reached the point of balance between work time and family time, without sparing on quality either way.
What do you do differently from your peers in the industry?
The overall ability to be fit-for-purpose in our client's projects, providing sound, precise and pragmatic advice and at the same time successfully implementing such advice and delivering the expected results are particular strengths of our firm. In our work, we focus on understanding the technicalities of each assignment and on rendering sensible solutions in straightforward language and manner. I strongly believe that robust and solution-offering legal advice is what actually helps our clients in their decision-making process.
Additionally, we are a multidisciplinary and yet complementary team of lawyers driven by dedication, inclusion, teamwork, and cooperation, all these leading to top quality cross practice legal advice.
On another level, we are continuously involved in the process of drafting of primary and secondary legislation in unregulated areas, transposition of EU Directives as well as amending and updating existing legislation.
What advice would you give to your younger self?
Enjoy the ride, my little one! You have embarked on a great journey. As for all young and enthusiastic people, advancing in your career one step at a time, learning patience and its meaning will be hardest but it will reveal a different dimension of the world once you understand it. Eventually, all good things will happen at the right time!
Can you give me a practical example of how the firm helped a client add value to the business?
Our involvement in the execution of the provided advice has always been a value adding factor to the projects and transactions handled by us. Building on the ability to understand the technical mandatory requirements, challenges, and limitations, we were particularly successful in designing a tailored and fit-for-purpose roadmap for first-to-market investments among which we mention: the first fully private onshore gas production facility, one of the first wind farms and the first new offshore gas production project.
Within your sector, what do you think will be the biggest challenge for clients over the next 12 months?
Readjustment and resilience continue to be the key words for 2022 as well. History teaches us that regardless of the difficulties, the world moves forward. The ability to adjust in the long term to the new businesses models implemented by clients, like the work-from-home regime, and to timely deliver the same quality of work will separate the victorious from the rest. The not-so-bad news is that the root cause of the fundamental swifts brought by the COVID-19 pandemic affected all of us in a likewise manner and therefore, change (in any direction), will come to pass in the same way.
Interviews
Siranus Hahamian, Partner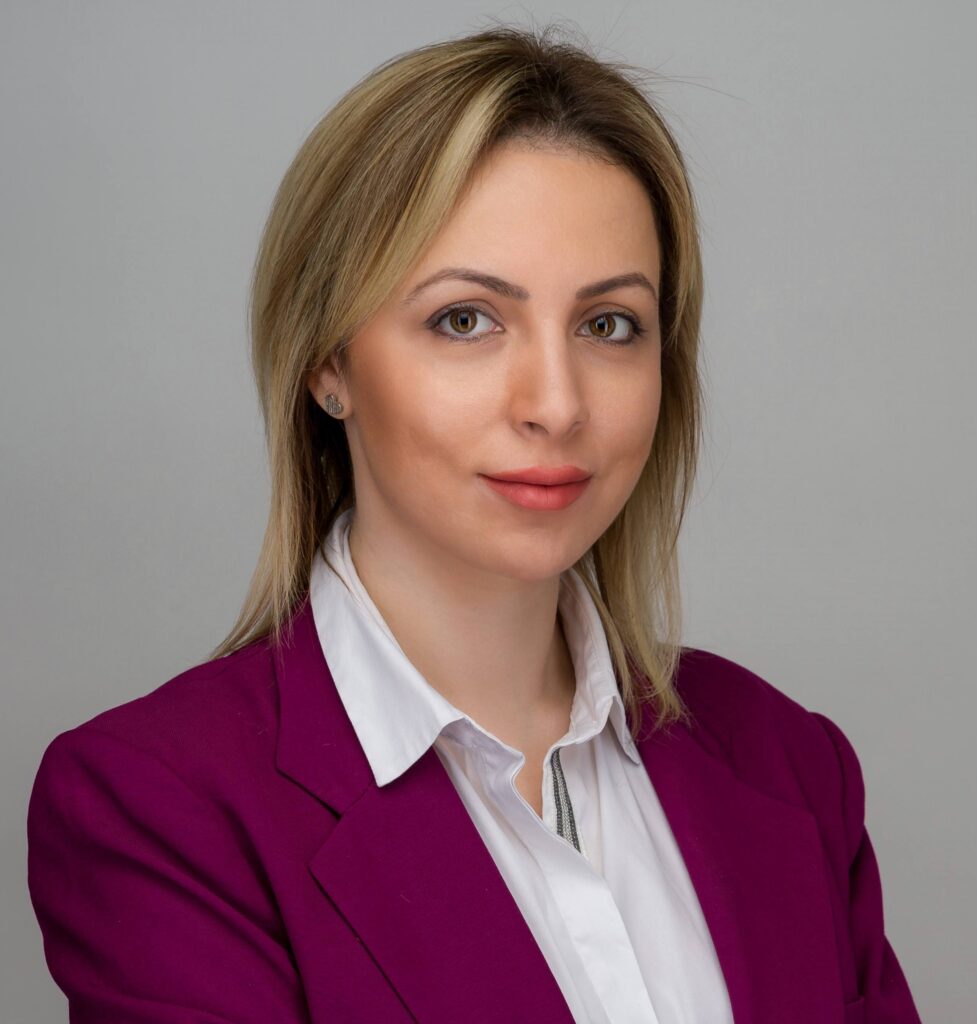 Partner Siranus Hahamian explains how the firm is adapting to market continuous changes and the geopolitical context created by the war in Ukraine.
What do you see as the main points that differentiate Ijdelea & Associates from your competitors?
I believe that everything starts by understanding the type of client and the business concept that it promotes, following to develop the subsequent professional relationship based on these elements. The preliminary understanding of business concepts is very important as sometimes we are dealing with clients who want an in-depth knowledge of concepts and allocate more time to such discussions and clients who prefer to be more schematic, select the essence and decide accordingly.
Another essential aspect consists in anticipating the client's needs, as well as in offering tailored solutions. Ultimately, a client asks for lawyer's advice in order to receive assumed solutions, for doing something, the role of the lawyer being to interpret an imperfect legislation in a constructive way, so as to apply it. In the same line, it is important not only raise an issue/identify a risk, but to also provide a solution, this being what the client expects from us.
Which practices do you see growing in the next 12 months? What are the drivers behind that?
In the context of the latest legislative changes at the European level and the energy transition, there is a clear and increased interest for investing in renewable energy projects. However, the gaps in the current Romanian legal framework and the problems that arise at a local level during the authorization process, the non-unitary practice of the authorities in a certain matter, the impossibility to secure land rights in certain locations still delay the effective implementation of such projects. Interest exists, there will be transactions on the market, but everything depends on how feasible a certain project turns out to be, which is why sellers presenting a product that already reached the Ready to Build stage will probably be more attractive.
What's the main change you've made in the firm that will benefit clients?
The legal market is constantly changing, being directly influenced by the events that take place at a global level. By reference to the international context in the last period, I think that important changes occurred as a result of Covid-19 pandemic when, forced by circumstances, people learned that they can work just as well and just as productively from home. In fact, the conclusion was so meaningful that many law firms (at least on the consulting side) made Wfh the main way of working. On our side, we have successfully implemented this system during the pandemic and maintained it afterwards, trying to combine the needs of the company with the personal needs of each of us.
In dynamic and continuous evolving environment, it is important to be open to new and have the ability to constantly adapt to face the challenges, or to be, why not, one step ahead.
Is technology changing the way you interact with your clients, and the services you can provide them?
Technology is essential, mainly for firms implementing Wfh or hybrid ways of working. While apps for meetings and online discussions became "the rule", face to face meetings became "the exception". In this context, I believe it is easier for both lawyers and clients to better communicate and manage their tasks.
Can you give us a practical example of how you have helped a client to add value to their business?
One of our representative projects is the Midia Development Project, the first offshore gas production investment in the continental shelf of the Black Sea in the last 30 years.
The development and operationalization of the project in the context of the legislative voids and continuous legislative changes was and remains a great challenge, both for us and for our clients, which we assisted every step of the way. In all cases, Midia Development Project remains the biggest achievement of Romania in the field of offshore gas production, whose essential importance is amplified in the current context of the war between Russia and Ukraine and the difficulties in gas supply that Europe has been facing recently.
Are clients looking for stability and strategic direction from their law firms – where do you see the firm in three years' time?
Clients are looking for solutions and they appreciate a good, tailored advice on how "things can be done".
I believe our firm is built on strong organisational principles, with a team of good professionals, that came together with a common goal: grow together as a team and alongside our clients.
In the future, we hope to continue growing, in a sustainable manner, diversify and develop the clients' portfolio and remain a point of reference for the legal services market in our areas of expertise.
Press Releases
24th January 2023
Ijdelea & Associates has assisted a major Swedish-based renewable energy company in relation to the acquisition of several solar park project companies, with the purpose of entering the local market and develop a portfolio of renewable energy projects.
4th January 2023
Ijdelea & Associates successfully assisted a major player in the oil & gas industry in obtaining a final ruling against the National Agency for Fiscal Administration (ANAF) granting in full the client's claim for payment of interest for the late reimbursement of VAT, as part of a suite of legal actions concerning VAT reimbursement in excess of EUR 18 million.
26th July 2022
Ijdelea & Associates have successfully assisted Esapiens Tecnologia in connection with the acquisition of a live streaming business. The mandate covered the due diligence process as well as advice on the structuring of the deal and related transaction documents.
29th June 2022
Ijdelea & Associates have successfully assisted Black Sea Oil & Gas and its co'venture partners, Petro Ventures and Gas Plus in relation to the obtaining of the Upstream Pipeline Operating License for the Midia Gas Development Project (MGD Project) from the National Energy Regulatory Authority (ANRE).
4th May 2022
Ijdelea & Associates have assisted Black Sea Oil & Gas S.A (BSOG) on the negotiation and execution with a major local contractor of the EPC contract related to the client's first photovoltaic project, the overall development being planned to reach 50 MW.
12th April 2022
A new success of Ijdelea & Associates' Dispute Resolution team, having recently assisted an important player on the energy market in relation to the awarding of interest fees for late VAT reimbursement in excess of 7 mil EUR. This mandate is part of a series of court cases aimed at protecting their client's economic interests affecting adequate cash-flow. Partner Ancuța Pop and Associate Victor Mitcov were part of the task force of Ijdelea & Associates team handling this mandate.
31st March 2022
Ijdelea & Associates assisted Green Genius, a leading European renewable energy developer in relation to all stages relevant for the establishment of their in-country operations and projects. Over the next 3 years, the company intends to invest EUR 450 million in 500 MW of photovoltaic parks in Romania.
28th March 2022
The Energy and Regulatory team of Ijdelea & Associates successfully closed out another first-to-market mandate.
9th March 2022
Ijdelea & Associates has assisted Splend Group Pty on the Romanian law aspects related to a project financing transaction with a value in excess of EUR 25 million contracted with a San Francisco based specialty-lending firm serving emerging growth technology and life sciences companies.