Firm Profile > Spice Route Legal > Mumbai, India
Spice Route Legal
Offices
Spice Route Legal
No. 201, 2nd Floor, B Wing Pinnacle Corporate Park, Bandra Kurla Complex, Bandra East
MUMBAI
400051
India
Spice Route Legal > The Legal 500
Rankings
Spice Route Legal >
Firm Profile
Spice Route Legal is recognised as a leader in the provision of 'border- agnostic' legal services in India. The firm is often retained (i) to negotiate and close complicated multijurisdictional deals, (ii) to advise on regulatory, licensing and IP issues at the intersection of technology, financial services, business, and law, (iii) to accurately evaluate and mitigate regulatory and legal risks; and (iv) to assist on complicated dispute resolution.
With market-leading practices in mergers and acquisitions, private equity, venture capital, technology, media and telecommunications, data, fintech, sports, pharmaceuticals, lifesciences and healthcare, intellectual property and disputes, the firm regularly advises on some of the most complicated cross border matters that involve India.
For more details, please see www.spiceroutelegal.com
Main practice areas
Corporate and M&A: The firm advises on a full spectrum of corporate transactions in today's increasingly global marketplace. In addition to mainstream M&A, the firm has been involved in some of the most challenging private equity, venture capital, going private, spin offs and corporate restructurings that involve India. Today, we are the 'go to' firm for Indian companies with global M&A or investment ambitions and for non-Indian companies investing in India.
Private equity: Our private equity and venture capital practice is widely applauded for our cutting-edge, cross-jurisdictional work involving investments in technology, fintech, big data, energy and healthcare. The firm has a 360-degree expertise from fund structuring to advising PE funds on acquisitions, deal structuring, tax, regulatory approvals, IPOs and distressed acquisitions and advises some of the most prolific investors in the region.
Technology, media and telecommunications: Spice Route Legal's TMT practice is the largest in India and brings with it a keen appreciation of all matters of technology, media, telecommunications, convergence, data, regulatory and intellectual property. The practice assists close to one-third of the global technology companies with operations in India and close to half of India's emerging technology and media behemoths.  Our TMT practice is increasingly regional in nature with the ability to rely on some of the best TMT lawyers across the world to structure innovative cross-jurisdictional solutions to some of the vexing problems that haunt these industries.
Data protection, privacy and cybersecurity: Our data protection, privacy and cybersecurity team combine strong technical and legal credentials, an appreciation of the global nature of data and a network of the best technology, data and information lawyers in the world, to advise on increasingly global data, privacy and cybersecurity mandates. As South Asia's largest data practice, we regularly advice on international data flows, cybersecurity and data risk, privacy concerns, disputes involving data, incidence reporting, localization strategies, employment and health data issues and structuring whistleblowing hotlines and ethics investigations.
Fintech: Spice Route Legal regularly advises and assists most of the prominent names in fintech in India. With the ability to structure products, identify and mitigate technology, intellectual property, data and financial sector regulatory risks, our fintech team straddles multiple practice areas to seamlessly advise banks, financial institutions, startups, credit rating agencies, investors and 'brick and mortar' companies as they grapple with the challenge of disrupting the market for financial services.
Intellectual property: Spice Route Legal's expertise in advising on complex questions of IP is widely recognized, having lead some of the most contentious disputes and assisted on some of the most complex transactions that involve intellectual property. In 2020, we have been at the forefront of the development of contributory infringement of IP, of the recognition of the doctrine of prosecution history estoppel, of some of the largest IP disposals and of defending multiple actions by patent trolls. The firm's uniquely integrated IP team offers corporations the ability to rely on it for advice on the protection, monetisation, licensing and sale of IP and for disputes involving IP.
Energy and sustainability: Spice Route Legal's energy and sustainability group focuses on clients at the forefront of the transition to a low carbon economy. Our expertise ranges from M&A, regulatory issues, to setting up wind and solar farms, setting up (or participating in) a carbon trading ecosystem, electric vehicles and batteries and evolving innovative financing solutions for the rapidly evolving ecosystem in India.
Sports: Spice Route Legal advises some of the world's leading sportspeople, teams, agencies and regulatory bodies on a host of contentious and non-contentious matters. Relying on traditional strengths in licensing, governance, disputes, intellectual property and privacy, we offer a one-stop legal solution for all entities involved in sports.
Healthcare, pharmaceuticals and lifesciences: Spice Route Legal has a well-established pharmaceuticals, lifesciences and healthcare practice.  The team regularly advises manufacturers of pharmaceuticals, intermediaries and chemicals, biotech companies, manufacturers of medical devices and other players in the lifesciences industry on wide range of matters including financings, M&A, corporate structuring, litigation, data privacy, intellectual property, licensing, regulatory issues and competition law.
Disputes: Our disputes practice is uniquely structured as a part of our industry practice groups. As such, the team tends to focus on disputes involves tech, media or telecom companies, corporate governance, shareholder disputes, intellectual property, financial services regulatory issues, competition law or data privacy.
International work
Spice Route Legal's "border agnostic" model of providing seamless solutions for cross border legal issues by relying on a wide network of friends is acknowledged as a market first. Relying on this network, the firm has:
Assisted India's largest telecom conglomerate on a global transaction involving over 40 countries.
Assisted India's leading rice manufacturer conduct a purchase of assets in 60 countries;
Assisted a German investment fund focused in the Industrials, Chemicals and Logistics sector on investments in six countries in the Asia-Pacific;
Assisted a leading Indian mobility player conduct a 23-country regulatory, technology and risk analysis;
Assisted some of India's leading technology companies enter markets in Asia, Europe, Africa and the Americas; and
Assisted multiple companies on venture capital and private equity fund raises in the US, Singapore, and the UK.
Languages
English Hindi Gujarati and Bengali Tamil Telugu Kannada Malayalam Spanish French Marathi
Memberships
International Bar Association IAPP
Diversity
Spice Route Legal is an equal opportunity employer, encouraging the growth of all stakeholders, regardless of gender, sexual orientation, marital status, disability, age, religion, caste, race, region, or ethnicity.
As of December 2020, the firm comprises of (i) more people who identify themselves as female than any other gender, (ii) a not insignificant group of stakeholders who do not conform to traditional notions of hetero-normativity, (iii) people who identify as atheists, as well as believers in 7 distinct religions, and (iv) people from 12 different Indian states, spanning most corners of the country.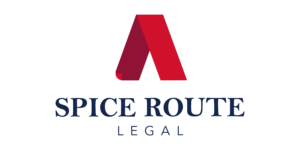 Top Tier Firm Rankings
Firm Rankings