Firm Profile > KILINÇ LAW & CONSULTING > Istanbul, Turkey
KILINÇ LAW & CONSULTING
Offices

KILINÇ LAW & CONSULTING
Ayazaga Mah. Azerbaycan Cad. No:3B
Vadistanbul, 1B Ofis Blok, Kat:26
Bagimsiz Bölüm No:58 Sariyer/Istanbul
Turkey
KILINÇ LAW & CONSULTING > The Legal 500
Rankings
KILINÇ LAW & CONSULTING advises a wide range of project proponents including domestic venture capital and private equity investors, energy companies and foreign investors, and is active in projects across Europe and Central Asia. The firm's strength lies in the energy sector, and the team also acts across the life-cycle of infrastructure projects, handling project contracts and construction agreements, as well as complex regulatory issues around taxation and foreign investment. The team is led by the 'excellent' Levent Lezgin Kılınç, who has in-house energy sector experience and projects expertise, and Seray Özsoy, who is praised for her responsiveness and ability to work under pressure.
Practice head(s):
Levent Lezgin Kılınç; Seray Özsoy
Testimonials
'Mr. Kılınç is a very professional, hard working, clever lawyer. He is also very friendly and his communication skills are excellent.'
'Levent Lezgin Kılınç, with his previous experience in the energy sector, is an extremely reputable leader and a quick and efficient problem solver.'
'Levent Lezgin Kılınç is an integral part of our company. Since he has established Kılınç Law, we have been working together and the fact that he knows how our company operates is an essential skill for a company in our scale.'
'The diversity of Kılınç law, especially the majority of the firm's partners being female, is a big plus from my perspective. Also, they are looking towards expanding their international reach constantly and I have seen their international reach, global reputation and their team grow at a massive pace.'
Key clients
SOCAR Turkey Company Group / SOCAR Turkey Enerji
Tanap Doğalgaz
STAR Refinery
PETKİM
Bor Şeker
Kızılay Gayrimenkul ve Girişim Sermayesi Portföy Yönetimi
RMA Group
Arz Portföy Venture Capital Funds
Yu Group
GSDS Turkey
KILINÇ LAW & CONSULTING
's team works across a range of areas to provide multi-disciplinary advice to energy sector clients. Its expertise in this area extends to acting for
producers, processors, sellers and transporters, as well as venture capital energy funds. The group benefits from the presence of founding partner
Levent Lezgin Kılınç
, who is able to draw on his previous experience as legal counsel at Socar.
Seray Özsoy
leads on financing and energy-related M&A.
Practice head(s):
Levent Lezgin Kılınç; Seray Özsoy
Other key lawyers:
Nigar Guliyeva; Gülenay Kavcar; Eren Can Ersoy 
Key clients
SOCAR Turkey Company Group / SOCAR Turkey Enerji A.Ş 
Tanap Doğalgaz Iletim A.Ş 
Resistanbul A.Ş 
STAR Refinery  
PETKİM 
Bor Şeker A.Ş 
Kızılay Gayrimenkul ve Girişim Sermayesi Portföy Yönetimi A.Ş. 
RMA Group  
Arz Portföy Venture Capital Funds
KILINÇ LAW & CONSULTING
stands out in particular for its experience handling M&A in the energy sector as well as buy-side transactions more widely. The group's workload also includes corporate governance matters.
Levent Lezgin Kılınç
 and
Seray Özsoy
 are the key names.
Key clients
SOCAR Turkey Company Group 
Bor Şeker Anonim Şirketi 
Serdivan Adi Ortakliği  
Kızılay Gayrimenkul Ve Girişim Sermayesi Portföy Yönetimi Anonim Şirketi
RMA Group 
Türkiye Tarim Kredi Kooperatifleri 
Asnak Lojistik Teknolojileri Anonim Şirketi 
Resistanbul Anonim Şirketi 
Yu Group 
Qimia Enterprise Bilgi Ve Teknoloji Hizmetleri Anonim Şirketi 
Mayadem Teknoloji A.Ş. 
SAF Tesis Yönetimi Ve Endüstriyel Temizlik Hizmetleri Ltd. Şti. 
Arz Gayrimenkul Venture Capital Fund
KILINÇ LAW & CONSULTING >
Firm Profile
Kılınç Law & Consulting is a law firm based in Turkey, providing legal services in domestic and international areas. The Firm's leading services include energy and commercial law, competition law, mergers and acquisitions, including the execution of application processes to the Competition Authority, project finance and consultancy services given to Foreign Direct Investments. Accordingly, our law firm provides daily consultancy services to its clients in employment law, contracts law and capital markets law. Our team is competent to provide necessary legal advice to its clients before the national courts and other alternative dispute resolution mechanisms, with lawyers, specialized in maritime law, enforcement and bankruptcy law, and a dispute resolution team specialized in national and international dispute resolution. In addition, Kılınç Law & Consulting has experience in assisting foreign companies with obtaining work permits, residence permits and the acquisition of Turkish citizenship for their employees.
Kılınç Law & Consulting has extensive experience in assisting their clients before the administrative authorities to ensure they obtain required authorizations, licenses and/or permits for their respective commercial activities. Our specialist lawyers pursue and finalize the application process for the client before public authorities in Turkey while ensuring its foreign clients benefit from the incentives that the legislation offers. Following the completion of authorization, licensing and/or permit processes Kılınç Law & Consulting prepares project and financial agreements for its clients by carrying out the relevant negotiation processes and completes the closing and registration processes for its clients. Moreover, the Firm conducts services in order to ensure its clients comply with the ever-changing regulations through our Regulation & Compliance department with the daily sector-specific feedback on regulatory changes.
In addition to providing consulting services on government relations in multiple sectors, Kılınç Law & Consulting also advises international companies on their investments in Turkey, including company establishment procedures, contract negotiations, completing agreements, restructurings, day to day corporate and operational needs and taking the necessary legal steps against disputes that may arise in the future. Kılınç Law and Consulting, within the scope of its Innovation & Fintech Department; provides services to clients working in the Fintech, Artificial Intelligence, E-Commerce and Esports sectors and start-up and scale-up companies Kılınç Law & Consulting, through its Data Privacy department, provides services on compliance with the Personal Data Privacy Law that was amended in 2016 that regulates privacy obligations for companies that has a certain amount of revenue and employees. In addition, Kılınç Law and Consulting provides services to real and legal persons operating in the media and entertainment sector in the fields of advertisement law, digital media, media contracts, press and broadcasting law and internet law through the Media and Entertainment Department.
Our goal is to offer preventive precautions and to generate solutions to the legal issues our clients face. Our team comprises experienced partners, associates, and paralegals who are fluent in English, German, Arabic, Russian and Azerbaijani.
Staff Figures
At this address : 35 in this country : 40 worldwide : 43
Languages
Turkish English German Azerbaijani Spanish Russian Serbian
Memberships
British Chamber of Commerce in Turkey Swiss Chamber of Commerce
Client Testimonials
CLIENT: Mustafa Mekki Özkan
COMPANY/FIRM: Yu Group Gayrimenkul Yatirim Anonim Sirketi
TESTIMONIAL: We have been working with Kilinç Law & Consulting for four years. As an investment company we always have to proceed with caution and the firm truly appreciates this. With Kilinç Law we are making great progress with two real estate projects. One is Cadde 54, which is the biggest modern construction estate project in Sakarya, and the other is UNIQ Istanbul, which is also a construction project in Maslak, Istanbul. The project finance team has provided excellent assistance in relation to these projects, including preparing, revising and reviewing the agreements and obtaining the licence from relevant authorities. Mrs. Özsoy has extensive knowledge in this practice area.
---
CLIENT: Ender Özatay
COMPANY/FIRM: Doka Kalip-Iskele Sanayi Ve Ticaret Anonim Sirketi
TESTIMONIAL: We have been working with Kilinç Law & Consulting for a year.  Founding Partner Levent Kilinç is a key name in the project finance practice area. Our project is one of the biggest residence and business building projects in Ankara. The team's hardworking associates have helped us to reach many agreements during the project. We are always impressed by the speed with which its lawyers respond. Mr. Kilinç is a highly experienced lawyer in project finance.
---
CLIENT: Cumhur Çanacik
COMPANY/FIRM: SOCAR Turkey Enerji A.S. & PETKIM Petrokimya Holding Anonim Sirketi
TESTIMONIAL: Mr. Kilinç and his team were always available for us to guide us through decisions, allowing us to feel that we were always working in the right direction. Thanks to their hard-working team, our project was completed without any delay or issues. We highly recommend Mr. Kilinç to our clients as a legal partner.
---
CLIENT: Zeynep Gazali Duran
COMPANY/FIRM: TANAP Dogalgaz Iletim Anonim Sirketi
TESTIMONIAL: We have been working with Kilinç Law & Consulting for four years. During this time, we have always been pleased with the meticulous work of the project finance team. The TANAP project is a confidential project and the natural gas pipe line has far-reaching effects on Turkish and Azerbaijani relations. We have been informed regarding critical matters on the project by a highly experienced team. Mr. Levent Kilinç specialises in energy law and also has a lot of experience related to project finance practice.
---
CLIENT: Murat Onuk
COMPANY/FIRM: Arz Gayrimenkul Ve Girisim Sermayesi Portföy Yönetimi Anonim Sirketi
TESTIMONIAL: Kilinç Law & Consulting assisted us with a project in which shareholder agreements were central and any delay in the process would have made matters difficult for us. Mr. Kilinç and his team were always available to advise us. The Firm also advises us in relation to one of our big investment, Bor Seker A.S., subject to privatisation and sold at auction for 336 million liras ($82.91 million). The Kilinç team successfully managed the project and assisted us in transferring shares and our whole investments as a venture capital fund.  Their hard work ensured that the project ran smoothly and we would certainly recommend Mr. Kilinç to our clients as a legal partner.
---
CLIENT: Dilara Uçar
COMPANY/FIRM: Star Rafineri Anonim Sirketi
TESTIMONIAL: Kilinç Law & Consultancy provides a legal service to our company's litigation practices.  Star Refinery, which is the largest investment in a single point in the real sector in Turkey, meets 25% of Turkey's refined petroleum products capacity needs alone. It is also the first company in the field of Turkey's strategic incentive. In addition to this, Star Refinery which operates in Izmir and is valued at $6.3bn USD has been declared as "Turkey's First Special Industrial Zone". Mr. Levent and his team have provided various legal services such as: the "starrafineri" brand registration before the Turkish Patent and Trademark Authority; the preparation of our legal responses to possible objections; the maintenance of relevant negotiations; the preparation of legal memorandums and legal opinions;
the conducting of cases; the take-over of other similar brands, and; the organisation of a successful trademark registration process. Mr. Levent and his team are highly recommended legal advisors.
Diversity
"From day one, we have always attached great importance to having a balanced workforce. The Kılınç Law family is proud to state that unlike many other firms operating in our industry, since 2016 we have had more women employees than men and at every level of the business women are well represented – with half our partners, 75% of our senior associates and almost 90% of our associates being women. Moreover; Kılınç Law and Consulting is proud to be a diverse team, reflecting a range of race, religion, national origin, sex, age, marital status, gender identity, citizenship status and other statuses. The firm is highly international, and there are currently associates in the firm from Azerbaijan, Sweden and Australia.
Creating Role Models for Young Lawyers
The Firm provides a wealth of role models for aspiring young female lawyers; the majority of senior positions are occupied by female lawyers, a situation that is rare in both specialist and large law firms. As a firm that practices corporate law, Kılınç Law & Consulting understands good business practices, so the Firm agrees that diversity in recruiting, hiring, and promoting makes good business sense for us as well as for clients. Kılınç Law & Consulting recently promoted a female Senior Associate, Duygu Doğan, to the Partnership in September 2019, making her the firm's second female partner together with Seray Özsoy. This helps to further encourage the predominantly female team that success is rewarded at Kılınç Law & Consulting regardless of gender.
Embracing Gender Differences
We believe that the equal distribution of women and men in the work environment is a balance that can take a society further – and, it's also very important for the office environment for many reasons. Each associate who has the same seniority earns the same salary, regardless of gender. The Firm pays great attention to the absence of such discrimination. In addition, the company provides many conveniences to increase the role of working mothers in business life. It allows mothers working with flexible working hours to spend time in both family and business life. The firm also provides various forms of support to families of the workers expecting children, including a robust maternity cover scheme.
Making the Firm Accessible for Every Individual
On the other hand, the Firm's new office, which is located in Istanbul, has been made appropriate for disabled people. The firm has attached great importance to make the office accessible for everyone; the architecture of the Firm has been completed in accordance with the requirements of disabled people who would work in the future.
Actively promoting diversity in business life causes many positive indicators to be reflected in a company's bottom line. Kılınç is working actively to increase the volume of women in business in Turkey, and we are also a member of the organization to increase diversity in entrepreneurship in Turkey. The fact that we actively promote and reflect diversity in business life is also appreciated by our clients, especially those with a large business volume and employment capacity."
International Capabilities
Since its establishment in 2014; Kılınç Law & Consulting has always prioritized extending its reach to the international community and being of service to foreign investors on every legal problem they would face in Turkey. As a law firm providing services to foreign investors from all over the globe; we primarily focus on extending our international capabilities to better service our clients.
The Clients
Kılınç Law & Consulting's primary goal is to service foreign direct investors through their investments in Turkey. As a full service law firm, we are able to provide services to companies starting from their investment decision in Turkey via establishment of foreign capitalized companies as well as maximizing benefits they would receive from the governmental incentives, initiating their business in Turkey and their everyday legal enquiries.
Moreover, through working with foreign investors from all over the globe; we recognize that many of the investors prefer an on-hands approach in their investments, requiring their key personnel to be in Turkey to be able to direct their operations onsite. Acknowledging this requirement our Firm, through its immigration department has broad experience in assisting foreign companies with obtaining work permits, residence permits and the acquisition of Turkish citizenship for their employees.
International Capabilities
Kılınç Law & Consulting through its strong connections in multiple jurisdictions, provides services to their clients in Azerbaijan, Europe, Middle East and wherever they require legal assistance at. As a team fluent in many different languages and experienced in providing services to foreign clients; we take pride in being able to assist our clients in their every need, in their own language.
Foreign Desks
In order to be efficient in attending to the legal requirements of our clients and to service our clients better through multiple expert professionals; we have recently formed foreign jurisdictional desks for UK, Central Europe, Kuwait, Azerbaijan, Qatar and Black sea Countries.
Extending Global Network
As a member of the global legal community; we are always in touch with global network of legal professionals and businesses. Through our multiple memberships in International Organizations including IBA and AIJA; we are able to work together with multiple experts in the field for the international requirements of our clients. Therefore, working together with Kılınç Law & Consulting means that you are part of an esteemed global network of highly skilled professionals.
London Office
Kılınç Law & Consulting's London office has started its operations on 2019 in order to be a hub at one of the biggest economies in the world and able to give international legal advice for clients based, or planning to extend its reach to UK.
Partnerships
In order to extend our international capabilities, we are always trying to be in connection with the best legal consultants in different jurisdictions. In order to facilitate the operations in Qatar region, we have signed a Cooperation Agreement with Al Sulaiti Law Firm, one of the most reputable law firms in Qatar. Within the scope of this agreement Firms we will be covering the legal needs of our clients in our respective countries.
Doing Business In
Turkey
CHANGES IN 2019 VERSUS 2018 – WHAT HAS CHANGED IN THE LAST YEAR THAT HAS IMPACTED THE WAY BUSINESS IS CONDUCTED?
As one of the worldly renowned reports on foreign investment, World Bank annually releases a "Doing Business" guide that evaluates the fundamentals of every country and assessing where the country ranks against the rest of the world concerning the investment dynamics. In the previous editions of the "Doing Business Report"; Turkey ranked 69th in 2017, 60th in 2018, and 43rd in 2019. This year, in the "Doing Business 2020" report; Turkey has jumped up 10 places from the year 2019 is now 33rd in the World Rankings. But what has changed to cause this jump for Turkey?
One of the core elements that has caused the jump is the importance that Turkey gives to the Foreign Direct Investment, increasing its benefits to the investors and many other factors. Last year, Turkey with the new regulations and reforms boost the investments. Especially, Turkey has enabled some companies to do easily their start-up procedures such us the notarization of the companies' documents and legal books. In 2019, another regulation is made on obtaining construction permits. Turkey published new regulations for the clarity of the online application process, that leads to increase in the transparency of buildings. Also, paying taxes is now much easier by doing an online portal, and Turkey made new regulations for the enforcement of the contracts such as a new level that has been added before applying the Court. The mediation level is the pre-condition before filing a suit.
Regarding the future that awaits Turkey in the following years; Minister Berat Albayrak has pointed out that Turkey's efforts to further enhance the investment process will continue over the years to come and the investment environment will be improved in the fields of company establishment, tax payments, and foreign trade. "In particular, by further reducing costs and increasing productivity in business life, we will raise the investment climate in Turkey to the highest level," Moreover, it was pointed out by many government officials that Turkey is willing to get into the top 20 in the World Bank Rankings and will be willing to continue reformation processes in its legislation in order to further enhance the investment environment in the country.
WHAT ARE THE ADVANTAGES OF YOUR COUNTRY AS A BUSINESS LOCATION?
Throughout time, Turkey with its geographical location as the bridge between the continents of Asia and Europe as well as the having Bosporus being tying the Black Sea to the Mediterranean; has always been at the heart of the historical trade routes. These advantages of Turkey are also available for investors today. Turkey is located in the middle of global markets such as the European Market and the Middle East and conducting trade at both of these regions from Turkey is an extremely potent approach for an investor looking to extend its reach to two continents via a strategic trade location.
Moreover, since Turkey is surrounded by the Black Sea and the Mediterranean, it offers choices for an investor as for the decision of means of transport with ports offering great functionality to the investors with established operators and world-class technology.
WHAT ARE THE BUSINESS STRUCTURES IN YOUR COUNTRY?
In Turkey, especially for foreign investors, investments and trade should almost exclusively be conducted through companies in order to get the most of the Turkish Incentive System. As the companies offer plenty of advantages for an investor and quicken the processes through the use of representatives; the investors should direct their investments at a company established in Turkey in order to both legally protect themselves and get the most out of their investments.
As per the Turkish Commercial Code numbered 6102 ("TCC"), there are principal 5 (five) company types namely Joint Stock Company, Limited Liability Company, Collective Company, Commandite Company, and Cooperative Company.
Investors wishing to establish a company prefer two types of companies namely Joint Stock Company and Limited Liability Company, because of the reasons such as tax advantages, limited liability of the shareholders, the fact that the registration of the company before the authority.
A- JOINT STOCK COMPANY
Joint Stock Company is defined as a company that consists of a capital divided into shares and has liability for its debts as limited only to its assets. Also, the shareholders have liability only to the company as limited to the capital share they have undertaken at the established procedures. Therefore, for a shareholder, the liability is explicitly limited to the payment of the undertaken capital amount to the company.
The existence of one single founder shareholder who is a real or legal person is sufficient to establish a Joint Stock Company and there is no upper limit for the number of the shareholders.
The undertaken capital shall be TRY 50.000,00 (Fifty Thousand Turkish Lira) at least and this lower limit of the capital is TRY 100.000,00 (Hundred Thousand Turkish Lira) for the company subject to Registered Share Capital System. The registered share capital system is almost explicitly used by the Companies that are offered to the public and subject to the Capital Markets Law. Also, immovables can be transferred to the companies as capital providing a valuation of an expert report.
A Joint Stock Company can be established for any economic purpose unless prohibited by the law and for a limited or unlimited amount of time.
Establishment of the Joint Stock Company active in fields such as financial leasing companies, banks, insurance companies are subject to the approval of a ministry or other respective public
institutions. In case of that, the Joint Stock Company is desired to be established to be active in such areas, approval letter from a ministry may be required before establishment. Please note the revisions of the Articles of Association of the companies operating in the above sectors are subject to this approval process, too.
The Articles of Association must be written and signed by the founder shareholder and the signatures must be approved by the notary public. Also, the Articles of Association includes the required items such as field of activity, capital, nominal values of the shares, authorities, address, representatives of the Joint Stock Company. First members of the Board of Directors are appointed by the Articles of Association. We'd like to emphasize this point that it is only possible to insert a provision into the Articles of Association if this provision is clearly allowed by the law.
There are two mandatory organs of the Joint Stock Company. These are the General Assembly and Board of Directors. The Joint Stock Company is managed and represented by the Board of Directors under the supervision of the General Assembly. Board of Directors is authorized to decide on any kind of transaction and subjects required to realize the purpose of the company generally. A member of the Board of Directors is not required to be a shareholder of the Joint Stock Company. Real and/or legal persons may be a member of the Board of Directors.
B- LIMITED LIABILITY COMPANY
Limited Liability Company is defined as a company established by one or more real or legal persons with a definite capital. The shareholders of Limited Liability Company have liability only to the company as limited to the capital share they undertook as well as the shareholders of the Joint Stock Company and also the shareholders of Limited Liability Company may be liable for supplementary payments and additional liabilities set forth by the Article of Association. This provision for the Limited Liability Companies is sometimes used to define some additional payment liabilities for the shareholders in order to avoid the insolvency of a company.
Limited Liability Company is established with a minimum capital of TRY 10.000,00.-(Ten Thousand Turkish Liras) divided in to share with a value of TRY 25.-( Twenty Five Turkish Liras) or multiples thereof by at least 1 (one) shareholder and maximum 50 (fifty) shareholders to be active in any kind of economic purpose and subject that are not illegal.
The Limited Liability Company consists of two mandatory organs, Shareholders' Assembly and Manager or Board of Managers. Please note that, management and representation of Limited Liability Company are carried out by a Manager and/or Board of Managers. It is important that at least one shareholder must have managing authority. Furthermore, in the case of the number of Managers is more than one, one of these Managers must be appointed as the Head of the Board of Managers. Management and representation of the Limited Liability
Company may be assigned to one or more shareholders or all shareholders or third person. Managers are authorized to decide on and conduct all subjects related to the management not vested into general assembly by law or Articles of Association.
C- INDEPENDENT AUDIT
It is crucial to explain that Companies are subject to Independent Audit pursuant to Turkish Audit Principles as per the Turkish Commercial Code and in accordance with the terms of 2018-11597 numbered Presidential Decree and the companies which subject to Independent Audit are also supposed to create a website and allocate some part of this website to the announcements required by the law.
D- COMPANY ESTABLISHMENT PROCESS
The company establishment process in Turkey is conducted through an electronic system named MERSİS and the supporting documents are delivered to the trade registry after an online application is filed to the system. For the establishment of the Joint Stock Company and Limited Liability Company ("Company"), the documentation that is pointed out in the respective regulation of the Company types shall be registered before the respective Trade Registry Office of the city that the Company will be established at.
CURRENT OPPORTUNITIES & FUTURE PROSPECTS
Considering to start investing or expanding current business in Turkey will be the right decision for all the foreign investors, due to the fact that the Republic of Turkey has one of the most growing economies in the world with its advantages of geographical location, diversified economy and investment opportunities supporting by the government. Especially the Investment Office of the Presidency of the Republic of Turkey is the official organization for promoting Turkey's investment opportunities to the global business community and for providing assistance to investors before, during, and after their entry into Turkey. As we are a lawyer, mostly directs our Clients to the Investment Office of the Presidency of the Republic of Turkey to hear the advantages and opportunities of Turkey from the firsthand. After their meetings with the Presidency Investment Offices, all our Clients have clear answers for their queries that why should we invest in Turkey.
Actually, there are many important reasons for making an investment in Turkey, but the top reasons to invest in Turkey can be listed as follows:
Robust Economy
The Turkish economy is ranked 13th among the world's largest economies, and 5th largest economy compared with the European Union in 2018 (GDP at PPP, IMF WEO)
Over the past 16 years, Turkey has put in a noteworthy performance by increasing the size of its overall economy from USD 236 billion in 2002 to USD 784 billion in 2018.
Turkey successfully generated approximately 7.5 million new jobs during the 2008-2018 period.
With an eye-catching 10 percent average annual growth in exports, Turkey has outpaced the world performance and increased its export volume from USD 36 billion to USD 168 billion over the past 16 years
Turkey successfully generated approximately 7.5 million new jobs during the 2008-2018 period.
Large Domestic and Regional Markets
Turkey's performance in economic development saw its income per capita increased from USD 3,581 in 2002 to USD 9,632 in 2018.
Turkey is the 11th largest economy in terms of GDP per capita among countries with a population over 50 million.
More than 23 urban centers, each with populations of over 1 million, support Turkey's thriving domestic market through their production of goods and services. In terms of population, Istanbul is the largest city in Europe.
Strategic Location
Turkey is a natural bridge between both the East-West and the North-South axes; thus, it is easy to access all customers over the world.
Turkish Airlines, the national flag carrier airline of Turkey, connects 255 destinations in 122 countries.
Favorable Demographics
Turkey offers excellent opportunities with its growing, young, and dynamic population – the driving force behind a strong labor pool and a lucrative domestic market.
Skilled and Cost-Competitive Labor Force
Turkey's overall labor force is around 32.7 million people, which makes the country the 3rd largest labor force in Europe.
Sectoral Opportunities
The Republic of Turkey offers so many opportunities to foreign investors in a wide variety of sectors such as automotive, machinery, defense & aerospace, energy.
All of the above reasons can be just motivation for all potential investors who are thinking to make an investment in Turkey. Also, there is one more good news from our country. The Republic of Turkey official announced its first fully domestically-produced car last months, it is planning to eventually produce up to 175,000 of the electric vehicles a year in a project expected to cost 22 billion lira ($3.7bn) over 13 years. It is obvious that this investment demonstrates the country's growing economy.
LEGAL SYSTEM
HOW DOES THE LEGAL SYSTEM OPERATE? WHAT SHOULD CLIENTS BE MINDFUL OF WHEN DOING BUSINESS IN YOUR JURISDICTION?
The legal system of Turkey is similar to the fundamentals of continental Europe. As a civil law country; Turkey has a codified set of rules that explain the processes that are to be carried out in the country. We believe codification of the rules to be an important attraction point for a foreign investor since the requirements, the repercussions and the liabilities are definitively laid out in the primary legal sources that are constitution, laws regulated by the parliament and the decrees issued by the Presidency and secondary sources that derive from these primary sources that are by-laws, regulations and communique.
Turkish Legal System based on the Turkish Constitution numbered 1982 is generally composed of Civil Law and Administrative Law and so does not adopt the precedent system. Generally, in Turkey, the judicial system is separated into three levels, one is the first instance courts, district courts, and supreme courts.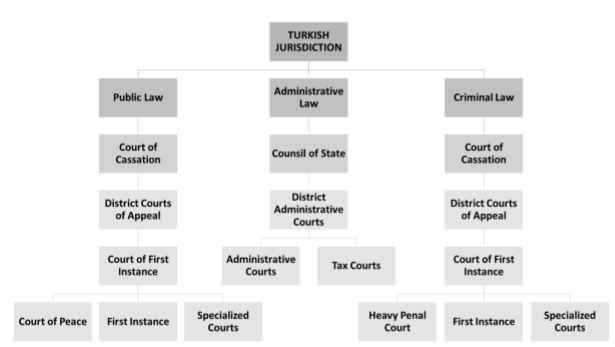 The scheme shows the main structure of the court system but under these courts, there are specialized courts for certain legal areas. (for example, under the courts of civil law; commercial courts, consumer courts, enforcement courts, family courts, labor courts etc.) Also, in Turkey with the new regulation for the labor cases and commercial cases, it is obligatory to apply mediation before filing a lawsuit. The mediation level is the pre-condition before filing
a lawsuit. With this regulation, Turkey has gained the investors, due to the reason that the investor can speedily enforce their contracts at this level without paying any Court costs and expenses.
Turkish Courts especially seek written pieces of evidence before deciding on any cases, therefore it is very critical to gather evidence before applying any courts. From this point of view, we advise all our Clients to not act independently on any of their operations without taking consultancy from their lawyers, because in accordance with the current codes in Turkey, most of the transactions shall have to fulfill the form requirements regulated by the related laws.
FOREIGN INVESTMENT RESTRICTIONS
The fundamental regulation that creates the foreign direct investment regime in Turkey is the Foreign Direct Investment Law Numbered 4875 ("FDI Law") and the Regulation on the Implementation of the Foreign Direct Investment Law. According to the FDI Law, an FDI according to Turkish regulation is defined as;
Convertible cash capital in currencies that are traded by the Turkish Central Bank, Company Securities, Machinery and Equipment and Industrial and intellectual property rights that are brought to Turkey from overseas or; rights related to the profit, revenue, money receivable or investment having financial value used in the investment, Rights for exploration and extraction of natural resources, that provided domestically in order to;
i) Establish a new company in Turkey or,
ii) Acquire shares outside the stock exchanges or acquiring a shareholding in an existing company through acquisitions that provide at least 10% of the shares or equal voting rights.
An FDI that corresponds to the definition pointed out above; is regarded as equal with domestic investment. Moreover; Foreign direct investments, in accordance with the legislation in force; cannot be expropriated or nationalized unless the public interest requires and their provisions are paid.
Therefore, according to the FDI Law; investments made by foreign investment is not restricted in amounts except for certain sectors that are regulated through different regulations.
Secondly, according to Article 3c of the FDI Law; net profits, dividends, sales, liquidation and compensation, licensing, management, and similar agreements in exchange for sums to be paid by foreign loans principal and interest payments, and foreign credit principal and interest payments arising from the activities and transactions of Foreign Direct Investments in Turkey can be freely transferred abroad through banks or special financial institutions. Therefore; and
FDI that fits the definition pointed out in the FDI Law is not subject to any foreign exchange control.
INCENTIVES FOR DIRECT INVESTMENTS
The new investment incentive system has been specially designed to encourage investments that have the potential to reduce import dependency on intermediate goods, which are important for the strategic sectors of the country.
Reducing the current account deficit, expanding the investment supports provided to less developed regions, increasing the number of support elements, promoting clustering activities, supporting investments to provide technology transformation are among the main objectives of the new investment incentive system.
As of 1 January 2012, the new investment incentive system consists of four separate regimes. Domestic and foreign investors can benefit equally from the following incentives:
1- General Investment Incentive Practices
All projects that meet the determined capacity conditions and minimum fixed investment amount are supported within the framework of General Investment Incentive Practices, regardless of the region where the investment will be made.
2- Regional Investment Incentive Practices
While the sectors to be supported in each region are determined in accordance with the potential of the region and the local economic scale sizes, the intensity of the supports to be provided varies depending on the level of development of the regions.
3- Large Scale Investment Incentive Practices
Turkey's potential as a technology-specific investment issues to increase R & D capacity and competitiveness is supported.
4- Strategic Investment Incentive Practices
Investments that meet the following criteria are supported within the scope of Strategic Investment Incentive Practices:
Local production capacity for the product to be manufactured by investment should be less than the import of the product.
The minimum fixed investment amount of the investment should be 50 million TL.
The investment should create a minimum of 40% added value. (This condition is not required for refinery and petrochemical investments)
The total import value of the product to be produced must be at least 50 million US as of the last 1 year. (This condition is not required for goods that do not have domestic production)
In order to these incentive practices, each practice has a different types of benefits such as VAT exemption, customs tax exemption, tax discount, social insurance premium support, income tax withholding discount, social insurance premium support, interest rate support, land allocation, VAT refund.
WHAT TO KNOW BEFORE INVESTING
The Republic of Turkey become the first destination for all foreign investors around the world due to the reason that the Republic of Turkey has one of the most growing economies in the world with its advantages of geographical location, diversified economy and investment opportunities supporting by the government. In accordance with the Doing Business Report, Turkey has jumped up 10 places to be 33rd among 190 nations. It is clearly seen that Turkey gained critical achievements in economic fields, especially by comparing all places into the index for two years, Turkey has gained improvement in 27 places. The expectation of Turkey is being ranked 20th on the next index. All of the improvements and the speed of economic growth boost investors to do direct investments within the border of Turkey.
Also, the Turkish Government continues to make new regulations and reforms in order to improve the activities of the Turkish business life such as reducing costs and accelerating the procedures.
Besides, last year can be the year of publishing new regulations and reforms for Turkey, due to the reason that Turkey aimed to boost the investments with the new regulations and reforms and truly succeeded in its aims. Especially, the new regulations for doing easily start-up, the transparency of the online application requirements for the construction buildings, paying taxes on online platforms and most important regulations and reforms on the Turkish jurisdiction such as adding mediation level before filing a suit increase the trust of the investors to Turkey.
Interviews
Levent Lezgin Kılınç, Founding Partner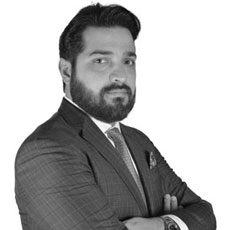 Levent Lezgin Kılınç, Founding Partner of Kılınç Law & Consulting discusses the establishment and expansion of the firm in Turkey.
What do you see as the main points that differentiate Kılınç Law & Consulting from your competitors?
"Our lawyers all come from a range of legal and commercial backgrounds, and so the Firm posseses a thorough knowledge of the industries in which our clients operate. The team is also fluent in a range of languages. In addition to English and Turkish, our lawyers also speak Azerbaijani, Russian, German, Swedish and Spanish, allowing us to work effectively with our international clients.
Our main focus is to assist our clients in a simple, clear and cost-effective manner. I myself come from an in-house background; prior to founding Kılınç Law & Consulting, I was legal counsel at SOCAR, Azerbaijian's State Oil Company, in Turkey. The Firm is therefore founded on a core understanding of corporate clients' expectations of their legal services providers, and we apply this knowledge across all the matters on which we are instructed."
Which practices in your member firm do you see growing in the next 12 months? What are the drivers behind that?
"We envisage that our core services, energy and corporate, will continue to see substantial growth over the next year as Turkey solidifies its position in the region as a key energy and business hub. Furthermore, we have recently appointed a maritime law specialist, which will enable us to expand our offering in this sector.
There are many international individuals and companies that wish to invest in Turkey, especially in light of the new regulations in regard to Foreign Direct Investment recently passed through Turkish Parliament. The new Presidential Investment Office provides incentives for international investors, and so the country is ripe for investment across its regions. We expect an influx of international companies seeking lawyers with the specialist knowledge in local laws to achieve their objectives in Turkey."
What is the main change you have made in your firm that will benefit clients?
"In order to enhance our services further, the Firm is contactable 24 hours a day so as to make sure any urgent client matters are dealt with swiftly. We have also made our website more user-friendly and incorporated a media section, which features articles written by the team. This allows us to build a bridge between our clients and ourselves, keeping them informed on trends, changes in regulations, codes, amendments and sector developments.
We we will continue to maintain our highly international perspective and enhance our expertise in international areas, and have recently set up offices in Izmir and London."
How is technology changing the way you interact with your clients and the services you can provide them?
"Absolutely. Technology enables the Firm to efficiently and effectively serve our clients. We utilise a range of systems to keep our legal knowledge at the forefront and to ensure that the work we provide to our clients is both cutting-edge and takes into consideration the most recent changes and updates to the law, remaining compliant with both international and domestic regulation."
Can you give us a practical example of how you helped a client add value to their business?
"Kılınç Law & Consulting provides legal services on every practice area relevant to our clients. For instance, one of our clients recently consulted regarding an investment in Turkey. First of all, we researched and found the areas where the company could invest in its field of activity. We then provided opportunities to our client for incentives from the relevant ministries on the investment. We then completed all the necessary legal processes for the establishment of the company in Turkey. We are currently providing legal service in all litigation and corporate matters for the company. This will allow our client to add value to the company, both within its own organisation and internationally."
Are clients looking for stability and strategic direction from their law firms – where do you see the firm in three year's time?
"Our stability and strategic direction are the key components that attract our clients to us, and we plan to stringently maintain these qualities. As a matter of course, we are always improving the Firm and the quality of our services. We are training our colleagues on the issues we deem necessary to go above and beyond in the practice of law. Our success in this regard has allowed us to provide exceptional professional services to our clients, and we will continue to expand the scope of these activities in both the national and international arena.
Spotlights
Project Finance Area
Kılınç Law & Consulting, provides legal services in domestic and international areas to nationally and worldly renowned clients operating in multiple sectors. On the field of Project Finance; Kılınç Law & Consulting advises a range of high-profile international entities with operations in Turkey with an experienced team on providing project finance and project advice to a wide range of public and private sector entities.

Founding partner Levent Lezgin Kılınç, who has worked in major projects that were highly significant in the Energy and Project Finance fields for Turkey in his past years working as legal counsel to various leading companies in the field; his deep experience in Energy and Project Finance area, leads the Projects/Project Finance department of the firm.
On the field of project finance; our project finance team assists clients with project agreements, EPC contracts, operation and maintenance agreements, and PPPs. The services provided by Kılınç Law & Consulting start from preparing legal DD reports on the legal viability of the project. Following the decision to proceed with the project, Kılınç Law & Consulting oversees the application and tender procedures, provides consulting services with applications to required administrative authorities, including the competition requirements; provides services on drafting agreements and ensuring the clients fulfil the regulatory requirements through daily, weekly and monthly regulation sector-specific updates provided to to clients.
Commercial, Corporate and M&A
Kılınç Law & Consulting provides legal services across both domestic and international areas. M&A department is one of the more active departments our firm and due to the extent of the work we do in the field, the multinational aspect of our work and our overall expertise in other areas, such as energy law, project finance, capital markets etc., puts us in a unique position to cover every aspect of any M&A transaction. Therefore, our M&A / Corporate department, covers every corporate need of our clients, including but not limited to Legal Due Diligence reports, negotiation processes, closing of the M&A deals, share transfers, restructurings as well as daily corporate necessities of the clients such as establishment of companies, providing consultancy services for the General Assembly and Board of Directors resolution processes, capital increases and relevant registration processes.

Our client portfolio in Kılınç Law & Consulting is made up of well-respected domestic firms, including venture capital investment funds and predominantly, foreign investors from Austria, Azerbaijan, Germany, Gulf Region and many other places over the world. Therefore, due to the nature of our portfolio we are experienced in acting for the buyer-side in M&A transactions as well as mandates on joint ventures. For different projects; our clients prefer different economical approaches with different control mechanisms and checks and balances systems. Therefore, in the M&A transactions we provide services in a wide range differing from establishment of new companies, partnerships, consortiums or clients becoming shareholders at running companies through share transfers and restructuring of the company's Article of Associations to ensure either full or partial control for the buyer-side as well as merger procedures.
Due to working with foreign investors in the majority of our deals, compliance of the firms to the foreign investment regulation in the country is essential in order to ensure the client benefits from the best possible outcome in terms of taxation and incentives the regulation offers to the foreign investors. As part of consultancy services provided to the venture capital investment funds, our firm represents the clients in the fund formation and compliance of fund to the Capital Markets regulation. Moreover, in order to ensure our clients, stay up to date in regards to the ever-changing legal environment, we provide daily updates for the clients that prefer this service; on the daily changes to the Turkish legislation through our regulation department.
Energy
Kılınç Law & Consulting, provides legal services in domestic and international areas to nationally and worldly renowned clients operating in multiple sectors. On the field of Energy law has a unique significance for Kılınç Law & Consulting. The Firm specialises in pursuing the application process before public authorities, such as the Ministry of Energy and Natural Resources and EMRA, as well as finalising the preparation of general agreements and the agreements regarding the project finance in this area and carrying out the negotiations in the field of energy law. Our client portfolio in the field of Energy Law includes SOCAR, TANAP, STAR Refinery, PETKİM and other significant companies in the sector.

The firm constantly provides consultancy services for clients in the field of Energy Law through their commercial activities in the sector; by drafting contracts, preparation of responses to possible objections; maintenance of relevant negotiations; preparation of legal memorandums and provided legal counsel. Moreover; the firm assists its client in disputes arising from energy law related matters, M&A projects in the sector and corporate law related day to day matters where experience in the sector is critical in overcoming the complex problems.
Compliance to regulatory changes, limitations and prerequisites are focal for a firm operating in the energy sector; therefore, we assist our clients on fulfilling the regulatory requirements through daily, weekly and monthly regulation sector-specific updates.
Legal Developments
19th June 2020
INTRODUCTION
The following article will examine the financial assistance prohibition, the source of which is European Union company law, and the leveraged buyout models, the source of which is Anglo-American law.
10th June 2020
1. IN GENERAL
The Code on Electronic Commerce Regulation ("Code") numbered 6563 sets out the responsibilities of service providers and of its agents, the obligations to inform on e-commerce by means of agreements made through electronic media, and the sanctions to be imposed; while The Regulation on Commercial Communication and Commercial Electronic Messages ("Regulation")  published in Official Journal dated 15 July 2015 and numbered 29417 lays down the obligations to inform regarding commercial communication made through electronic media, and rules and principles to comply with for commercial electronic communication.
10th June 2020
A. WHAT IS CYBERBULLYING?
Cyberbullying is a concept which was first described in USA in 2000 for the first time which refers to one or more people that are acting aggressive behaviour towards people who are inferior compared to them or unable to act against due to their existing situation via humiliation, defamation, abuse or scaring with using electronical communication tools within frame of either audio or visual.
10th June 2020
G20 Finance Ministers and Central Bank Governors met under the Saudi G20 Presidency on April 15th, 2020 and discussed urgent actions needed to address the global challenge presented by the COVID-19 pandemic ("COVID-19"). Concordantly, G20 Finance Ministers and Central Bank Communiqué dated April 15th, 2020 ("Communiqué") is published virtually.
10th June 2020
In order to prevent the COVID-19 epidemic and reduce its effects, some measures are taken regarding social and economic life in our country and worldwide. In the coming period, it is important to take some measures regarding both public health and social and economic life in combating the epidemic.
24th May 2020
Due to the swift spread of Corona Virus ("Virus") all over the World and grievous events happening in our country, numerous companies decided on home-office work to keep their employees away from the threat.
24th May 2020
I. PREAMBLE
Prohibition of unfair commercial practice is regulated in general by Art.62 of the Law on Consumer Protection No. 6502 ("Law"), and in detail by Art. 61 and 63 of the Law and the Regulation on Commercial Advertisement and Unfair Commercial Practices ("Regulation") enforced by the Ministry of Customs and Trade based on Art.84 of the Law.
24th May 2020
1. CONCLUSION OF AN AGREEMENT, OFFER AND ACCEPTANCE
According to Turkish law, agreements are legal transactions that arise from the manifestation of parties' mutual and consentaneous deceleration of intentions pursuant to article 1 (one) of the Turkish Code of Obligations ("TCO") numbered 6098. As it is seen, it is required that two or more people mutually manifest their deceleration of intentions which must be consentaneous in order to generate legal effect. Having said that, within the legislation framework, unless expressed otherwise on the legislation regarding special agreement types, notwithstanding the fact that parties' manifestation of declaration of intention is not subject to any form, the declaration of intent must reach to the counterparty for the sake of conclusion of an agreement. In this regard, although it is possible to indicate that no requirement of form is de jure provided for in terms of validity of an agreement, accordance of parties' declaration of intention through offer and acceptance is the essential constituent for conclusion of an agreement.
24th May 2020
1. INTRODUCTION
As it is known, food advertisements have a great impact on consumers and especially children. Advertising, especially for certain age groups and children, plays a major role in the sales policies of companies. Food companies support their advertisements for certain products with the health declarations and create effects that make sales on the consumer attractive. For this reason, food advertisements and health claims are subject to legal regulations and it is aimed to prevent the negative effects of excessive and unconscious consumption on the society. Within the scope of this article, current legislation provisions regarding food advertisements will be evaluated and issues to be followed in food advertisements will be addressed.
24th May 2020
INTRODUCTION
Health technologies, also known as 
"HealthTech"
 is one of the rapidly growing sectors in the world and Turkey.  The health industry, which has an important potential in developing innovative products and technologies, has increased the quality of service by developing with digital transformation tools such as the internet of things, machine communication, cloud computing, big data, wearable and portable technologies.
[1]
 It is expected that these technologies, which create a big difference especially in the diagnostic stages and these technologies are expected to be used more widely after the Coronavirus outbreak and the number of entrepreneurs and investors taking part in this sector is expected to increase. In Turkey, thanks to the applications developed by the Ministry of Health such as e-pulse, e-report, telemedicine, ESIM, MIZ and SİNA, health technologies have now gone beyond "getting online appointments". However, these rapid developments do not have the same reflection in the legal field. In this article, the legal dimensions of health technologies will be examined.
24th May 2020
1. INTRODUCTION
The cosmetic and pharmaceutical industries are subject to different regulations than the marketing and advertising of other products, since it is directly related to human health in general. Moreover, the health services are not considered as a "consumption" in general, such services is basic need on the basis of human rights. In this regard, especially in pharmaceutical industry, the strict limitations for advertisement and marketing methods on the cosmetic and pharmaceutical industries are in question.
24th May 2020
I. INTRODUCTION
It is observed that the new tools are integrated into our lives apart from the classical methods used for many years as the technology is developing in money transfers and payment transactions. It is possible to easily determine the scope of the development of the sector in our country when we consider that the investment made in this industry in our country was 12.2 million dollars in 2018 and 8.4 billion dollars in 2019 as well as the increase in the number of entrepreneurs who secured investment in 2019.
24th May 2020
INTRODUCTION
As stated in Article 8 of the Commercial Advertising and Unfair Commercial Practices Regulation ("Regulation"), comparative advertisement is permitted by not including competitors' product name, trademark, logo, trade name, business name or other distinctive elements. In the event that it causes unfair competition, comparative advertisement misleads the consumer, and unlike other laws, it is prohibited in Turkish Law.
24th May 2020
1. INTRODUCTION
The cosmetic and pharmaceutical industries are subject to different regulations than the marketing and advertising of other products, since it is directly related to human health in general. Moreover, the health services are not considered as a "consumption" in general, such services is basic need on the basis of human rights. In this regard, especially in pharmaceutical industry, the strict limitations for advertisement and marketing methods on the cosmetic and pharmaceutical industries are in question.
27th April 2020
As it is known, the corona virus ("
Coronavirus
") emerged in China on December 2019 has affected many countries, especially China, Italy and the United States. Due to the Coronavirus, as of the writing date of this article, approximately 20,000 people died worldwide and a curfew was declared in countries such as Italy, France and Spain.
23rd April 2020
Since the outbreak in Wuhan, China in December 2019, the CoVid-19 epidemic caused by the novel coronavirus which is spreading increasingly and became a huge crisis across the globe, deeply affects not only the public health but also the business world. There is no doubt that the civil aviation sector is the most affected sector by the epidemic and hundreds of airlines have to ground thousands of airplanes due to flight bans.
21st April 2020
I. PAID LEAVE APPLICATIONS DUE TO THE CORONAVIRUS
The employer may give the employees paid leave in the event of compulsory reasons., Since the annual paid leave is considered within the employer's right to management according to the provisions of the Labor Code, the approval of the employee is not a necessity.
21st April 2020
A. 
Employer's Rıght To Termınate The Employment Contract
1 - Employer's Right to Terminate the Contract Due to "Health Reasons"
Following Article 76 of the Public Health Law;
"Those who are sure that they have a means of transplanting one of the infectious and epidemic diseases to those around them are temporarily banned and by the decision of the health councils from the execution of their professions and artisanship until the eradication."
21st April 2020
Measures To Be Taken By The Employers Within The Scope Of Occupational Health And Safety Regarding Coronavirus
Coronavirus epidemic disease ("Coronavirus") that first occurred in Wuhan, China and had a wide impact on the world in a short time, was declared as pandemic by the World Health Organization on March 11, 2020. In our country, the effects of the virus are trying to get minimized through measures such as school closures, travel prohibitions, quarantines, home-office practices and curfew for citizens over the age of 65.
31st March 2020
General Communiqué No. 518 on the Tax Procedure Law (Law No. 213) ("Communiqué") was published in the Official Gazette on March 24, 2020 with number 31078 (Reiterated). In the Communiqué, a statement was made regarding the taxpayers who were directly affected by the CoronaVirus outbreak (COVID-19). The Communiqué presents a number of new measures taken to address the epidemic such as identifying the taxpayers who will benefit from the force majeure provisions of Tax Procedure Law with the numbered 213 ("TPL").
31st March 2020
I. INTRODUCTION
31st March 2020
I. INTRODUCTION
31st March 2020
1. INTRODUCTION
31st March 2020
In joint stock companies, the right to request information enables the establishment of a transparent structure. The right to request and review information in joint stock companies is one of the fundamental rights of both shareholders and members of the board of directors, and is among the indispensable and inalienable rights. Each board member has the right to request and review information about all the operations and transactions of the company. In this context, if a board member requests any commercial book record or any contract from the company for their review, this right cannot be denied. Likewise, each shareholder has the right to receive and review information on the company's financial position, management mechanism and prospective transactions. The right to request and review information in joint stock companies is regulated separately for board members in article 392 and shareholders in article 437 of the Turkish Commercial Code ("TCC") numbered 6102.
31st March 2020
Provisional Article 3 of The Directive Regarding Authorised Institutions for Ships which was published in Official Gazette with 29952 numbered and January 18th,2017 dated, has been amended through a new amending directive published in Official Gazette with 31078 numbered and March 24th,2020 dated, as follows;
31st March 2020
The new type of Corona virus, namely the COVID-19, has spread uncontrollably to many countries around the globe since it's the first appearance in Wuhan, China in December 2019. In the wake of this unusual spread, on 11 March 2020, the World Health Organization (WHO) described the epidemic as a
"pandemic"
and increased the global risk level form
"high"
to
"very high"
and declared a
"Public Health Emergency of International Concern"
13th March 2020
Turkey has experienced an infrastructure boom over the past decade with a variety of projects being completed. Current projects include: Istanbul's new airport, Kanal Istanbul, the Istanbul Grand Tunnel 
(the world's first three-story tunnel),
 the Northern Marmara Highway, The Trans-Anatolian Natural Gas Pipeline ("
TANAP
") project, which transports Azerbaijani gas to Turkey, and the upcoming Halkalı-Kapıkule high-speed train project, connecting the metropolitan area of Istanbul to the Turkish-Bulgarian border.
13th March 2020
Few countries are better located from a strategic standpoint than Turkey. Acting as the gateway between southeast Europe and the Middle East, being able to navigate the country's legal and regulatory system is imperative when planning largescale energy and pipeline projects such as recently inaugurated TANAP.
13th March 2020
Turkey needs to do more to reduce its emissions. But is this coal-producing nation doing enough to develop the renewables that will increase national energy security and cut the country's dependence on imported oil and gas?
13th March 2020
As one of the world's fastest growing energy markets, Turkey has been increasing its drive towards greater self-sufficiency for several years. To satisfy its annual 300bn kilowatts of electricity consumption, the current energy mix has been quite well-balanced: a quarter of electricity generation is hydro-based, while roughly a third comes from natural gas and another third from coal.
13th March 2020
Partner Seray Özsoy examines the key legislation and frameworks companies should consider when merging or acquiring businesses in Turkey.
11th March 2020
Turkey's energy market is on the cusp of significant change. At present, more than 90% of the country's crude oil is delivered through imports while it is also heavily dependent on neighbouring Russia for natural gas. The government's stated policy objective is to liberalise the energy sector, which will ultimately allow private sector energy companies to enter the domestic market, thereby leading to a more competitive environment.
11th March 2020
I. INTRODUCTION
Since the service industry is constantly changing and developing, the need to offer and market the goods and services of the leading companies in the international area is increasing. In light of these developments, the recognition and protection of intellectual and industrial property rights in the international area become even more important with the disappearance of the national borders.
11th March 2020
A trademark is a sign or design capable of distinguishing the goods or services of one enterprise from those of other enterprises. It can comprise words, or images, or a combination of both. Trademarks are protected by intellectual property rights. These operate at a national level, but also internationally through a complex system of treaties.
11th March 2020
First of all, it should be specified that, a trademark is a sign capable of distinguishing the goods or services of one enterprise from those of other enterprises. Trademarks are protected by intellectual property rights. Registering a trademark will give notice to the public of registrant's ownership of the mark and gives the registrant the exclusive right to use the mark in connection with its covered goods and services within the jurisdiction in which it is registered.
11th March 2020
Turkish Intellectual Property Law is closely aligned with EU Law and international norms. However, it has many unique features which those doing business in Turkey need to be mindful of, to ensure their IP remains secure. Nigar Guliyeva is an Associate at Kılınç Law & Consulting, an Istanbul-based commercial law firm, and she provides a fascinating overview of the market today.
11th March 2020
"In 2019, The International Labour Organization Celebrated Its 100th Anniversary"
11th March 2020
I.     INTRODUCTION
First of all, please be informed that the payment of employees' salaries, premiums, bonuses, indemnities and other receivables bears legal consequences on various fields of law. We kindly represent the consequences of issuing the related payments by hand (in person); which may cause both administrative sanctions against the employer and lack of finding proof of payment.
11th March 2020
Principles for Termination of Employment Contracts in Accordance with The Labor Law Number 4857 ("The Labor Law")
11th March 2020
A. JOINT-STOCK COMPANIES
I. REGARDING THE TRANSFER OF THE MANAGEMENT AND AUTHORITY TO REPRESENT AND BIND
11th March 2020
GENERAL
The trading companies especially the joint stock companies are affected by the global economic growth and as a result of that, institutionalization of the internal managements of the companies has become essential impact. Particularly, since Turkey takes attention of the foreign investors, the merger and acquisition transaction ("M&A" or "M&A Deals") become popular and the fact that the shareholders seek different approaches to the management of the companies, has led them to find an alternative way between them in order to regulate their relationship.
11th March 2020
Our assessments regarding the legal procedures within the scope of branch liquidation transactions to be followed in compliance with the Turkish Commercial Code numbered 6102 ("TCC") and before the Istanbul Trade Registry Directorate regarding the liquidation process of the Overseas Centered Companies' Turkey Branch.
11th March 2020
I. INTRODUCTION & COMMON PROVISIONS ON ESTABLISHMENT
As per the Turkish Commercial Code numbered 6102 ("TCC"), there are principal 5 (five) company types namely Joint Stock Company, Limited Liability Company, Collective Company, Commandite Company and Cooperative Company.
11th March 2020
A. GENERAL
To provide accurate information for investors operating in Turkey, public disclosure of the necessary information has a great importance for the continuation of the functioning of the capital market in a fair and competitive environment. Thus, the procedures and principles regarding Public Disclosure of Publicly-Held Joint Stock Companies are regulated in detail in both Article 460 of the Turkish Commercial Code No. 6102 ("TCC") and Article 15 of Turkish Capital Markets Law No. 6361 ("CML").
11th March 2020
Turkey's strong long-term economic growth and structural reforms have attracted interest of many international investors. In the wake of the depreciation of the Turkish Lira last year, investors are now flocking to acquire Turkish companies. Despite some recent economic headwinds, the World Bank predicts continued Turkish economic growth though 2019 and notes that, "
Turkey's economic and social development performance since 2000 have been impressive. Macroeconomic and fiscal stability were at the heart of its performance
."
11th March 2020
According to Deloitte, Turkish M&A hit the $10.3bn mark in 2017 with nearly 300 transactions – a Y-o-Y increase of 41% by total value. Foreign investors accounted for a 53% market share in deals that were announced. In the first half of 2018, the total value of new deals exceeded $8bn. This figure was dominated by three big ticket transactions: Emirates NBD's acquisition of Denizbank for $3.2bn, DFDS' $1.2bn acquisition of UN Ro-Ro and Demiroren's $916m acquisition of Doğan Media. Sectors where most M&A deals were announced included energy, food, insurance, media and broadcasting.
11th March 2020
What are the key legislations and frameworks for franchisors looking to establish their brand in Turkey?
11th March 2020
The amendments to the Decree No. 32 Regarding the Protection of the Value of the Turkish Currency ("
Decree No. 32
") published in the Official Gazette on September 13, 2018 restrict foreign currency or indexed to foreign currency payments for certain resident-to-resident transactions.
11th March 2020
Today's world is on a constant state of evolution. Every day, a new idea or technology makes the headlines and promises to fundamentally change how we live. Once the dust settles, however, the technology may under deliver or we may get used to the incremental improvement so innately that it becomes a part of our persona (think smart phones!).
11th March 2020
Despite the economic turmoil that has affected Turkey this year – a sharp decline in the value of the lira which has fallen more than 30% against the US dollar and an inflation rate above 20% – Turkey remains attractive for private equity ("PE") firms seeking to raise funds for investment. Big names, such as the Dubai-based Abraaj Group and Turkven Private Equity, believe that Turkey continues to offer opportunities. Although Turkish PE hit a ten-year low in 2018, according to PitchBook, Abraaj has made ten separate PE investments in the country over the last few years while Turkven has invested $1.5bn in various projects.
11th March 2020
A. INTRODUCTION
When goods are accidentally lost or damaged during an international sales contract is being performed, the question is; who shall bear this loss? Is it the seller, the buyer or the carrier?
11th March 2020
The International Maritime Organisation's new regulations on low-sulphur fuel are changing how global shipping is powered. Yet these regulations appear to be just the vanguard of a coming wave of environmental regulation that may see the world's shipping fleet transformed in the decades ahead. In the race for cleaner, more efficient vessels, renewable fuel options such as biofuels are entering the fray, even as engineers are coming up with radical new designs for next-generation wind-assisted cargo vessels.
11th March 2020
In January 2020 the shipping industry, and those supplying its fuel, face one of the biggest challenges in decades. How is the sector preparing for the next adaptation of the MARPOL Convention?
11th March 2020
Cybersecurity has become of the most immediate and pressing problems affecting businesses everywhere. Due to the reason that cyber risk has no borders, it makes the need for comprehensive and effective cybersecurity paramount in every jurisdiction and in every sector.
11th March 2020
Turkey's first comprehensive data protection law was being launched in April 2016. The 2016 Law on the Protection of Personal Data ("Turkish Data Protection Law") is based largely on EU Data Protection Law.
13th November 2019
Two of the growing economies in the world; Turkey and Qatar share deep historic and cultural connections. Especially in the recent years, the two nations' agreements covering trade, defense and economic co-operation have built on their already close relations. Moreover since the Trade Ministry of Turkey points out the total amount of investments for 200 different projects planned in Qatar to be $200 billion, the close relationship between Qatar and Turkey is set to improve for the years to come. Turkey presents a stable economic Foreign Direct Investment (
"FDI"
) opportunity for the Qatar's economy due to Turkey being in the customs union with the EU, the opportunity to acquire Turkish citizenship and the incentives that the Turkish Government offers to FDIs. Recent issues in the Gulf Region aid to open new doors for Qatari investors looking to extend their trade beyond Qatar and in these times. In light of these developments Turkey is set to become a stable trade partner with a strong economic structure and a welcoming legal framework towards FDIs.
Top Tier Firm Rankings
Firm Rankings