Firm Profile > Sarthak Advocates & Solicitors > New Delhi, India
Sarthak Advocates & Solicitors
Offices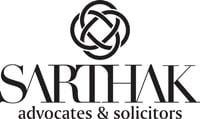 Sarthak Advocates & Solicitors
S-134 (LGF), GREATER KAILASH-II
NEW DELHI- 110048
India
Sarthak Advocates & Solicitors >
Firm Profile
Sarthak Advocates & Solicitors is a law firm with a strong focus on corporate and commercial laws, advising clients on their transactions, disputes and projects. The Firm provides high quality, cost-effective solutions to the clients and are committed to supporting them in varying economic conditions, and changing legal and regulatory landscape. This has enabled the Firm to build continuing relationships with the clients. The values and aspirations of the Firm are derived from the word 'Sarthak', which in the Sanskrit language means 'meaningful'. It is Firm's attempt to add meaning, purpose and passion to the practice of law. The Firm hopes that their name will constantly remind them of their role and responsibilities in dealings with the clients and the society at large.
The Firm blends its transactional experience with active role in public policy interventions. In a short time, they have had the privilege of being invited by several Standing Committees of Parliament to depose as experts on a range of Bills such as Higher Education and Research Bill, 2011, National Academic Depositories Bill, 2011, Forward Contract Regulation (Amendment) Bill, Registration (Amendment) Bill, 2013  and Consumer Protection (Amendment) Bill, 2011. The Firm is also empanelled as legal advisor with the Shipping Corporation of India Limited and Bharat Heavy Electrical Limited, both leading Government companies.
The biggest strength of the Firm lies in their counsels who have graduated from the finest law schools of the country and, some prior to joining the firm, have worked with the top tier law firms in diverse practice areas.
The principal office of the Firm is situated at New Delhi, and they have pan-India associations with other law offices.
Lawyer Profiles
| Photo | Name | Position | Profile |
| --- | --- | --- | --- |
| | Ms Mani Gupta | Senior Partner | View Profile |
| | Mr Abhishek Nath Tripathi | Managing Partner | View Profile |
Staff Figures
Members : 25
Languages
all regional Indian languages
Memberships
Bar Council of India Delhi High Court Bar Association
Other
:
Legal Developments
21st October 2020
Authored by Abhishek Tripathi and Anura Gupta
21st October 2020
Authored by Abhishek Tripathi and Anura Gupta
21st October 2020
Authored by Abhishek Tripathi and Narayan Gupta Published at India Business Law Journal
15th July 2020
Authored by Abhishek Tripathi and Mani Gupta
15th July 2020
Authored by Abhishek Tripathi and Mani Gupta
15th July 2020
Authored by Abhishek Tripathi and Anura Gupta
15th July 2020
Authored by Abhishek Tripathi and Mani Gupta
15th July 2020
Authored by Abhishek Tripathi and Anura Gupta
15th July 2020
Authored by Abhishek Tripathi and Mani Gupta
15th July 2020
Authored by Abhishek Tripathi and Anura Gupta
15th July 2020
Authored by Abhishek Tripathi and Anura Gupta
15th July 2020
Authored by Abhishek Tripathi and Avantika Shukla
14th July 2020
Authored by Narayan Gupta and Mr. Anand S. Jha
11th June 2020
Authored by Abhishek Tripathi & Anura Gupta
11th June 2020
Authored by Mani Gupta and Sajal Mendiratta
11th June 2020
10th June 2020
Authored by Abhishek Tripathi & Narayan Gupta
10th June 2020
Authored by Mani Gupta & Anubhav Tiwari
14th May 2020
Authored by Mani Gupta & Santosh Pandey
14th May 2020
Authored by Abhishek Tripathi & Rajat Kumar
14th May 2020
Authored by
Mani Gupta and Shelja Pradhan
14th May 2020
Authored by Vedant Kumar & Abhishek Tripathi
14th May 2020
Authored by Abhishek Tripathi & Narayan Gupta
14th May 2020
Authored by Mani Gupta & Vedant Kumar
14th May 2020
Authored by Abhishek Tripathi & Mani Gupta
14th May 2020
Authored by Abhishek Tripathi & Anubhav Tiwari
Top Tier Firm Rankings
Firm Rankings