Amprimo, Flury, Barboza & Rodríguez Abogados. > Lima, Peru > Firm Profile
Amprimo, Flury, Barboza & Rodríguez Abogados.
Offices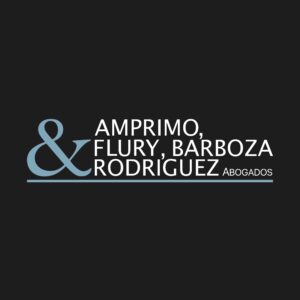 Amprimo, Flury, Barboza & Rodríguez Abogados.
CENTRO EMPRESARIAL PANORAMA, TORRE 1, OFICINA 1405
SANTIAGO DE SURCO 33
LIMA
Peru
Amprimo, Flury, Barboza & Rodríguez Abogados. > The Legal 500
Rankings
The '
exceptional
'
Amprimo, Flury, Barboza & Rodríguez Abogados.
counts group funds, construction companies and real estate corporations on its client roster, and regularly advises on the financing of their portfolios, assets or projects. '
A figure and reference in the Peruvian market
'
Eduardo Barboza
is best-known for handling contractual issues and property-related disputes; he co-heads the practice along with administrative expert
Carlos Rodríguez
, who is a renowned litigator and arbitrator. Up-and-coming junior partner
Jaime Miranda
specialises in civil law and also has significant transactional experience.
Practice head(s):
Testimonials
'Amprimo, Flury, Barboza & Rodríguez Abogados provides a quality service, focused on the resolution of any problem that may arise within the area of law. Their approach to cases is always focused on the prompt and safe resolution of the issues they are in charge of.'
'Eduardo Barboza provides a precise and personalized service in the management of entrusted cases. He provides practical and versatile solutions that generate a positive impact on our businesses and allow efficiency in the use of company resources.'
'Fast. They know the sector very well. They often work for success fees, charging an adequate fee at the beginning. Directly deal with partners.'
'Direct and clear with their value proposition.'
'They definitely have a great internal team. A coordinated line of action that gives us security for the quality of their work.'
'Eduardo Barboza and Jaime Miranda have extensive knowledge of legal issues in real estate of all kinds. Quality of their work and highlighted even more, the human quality.'
'The firm has exceptional lawyers specialized in real estate matters, especially in the areas of negotiation and execution of complex transactions on real estate assets. They always carry out a meticulous analysis of the operation and propose innovative strategies to carry it out. The advice they give us is very clear, and they not only take into account the legal aspects, but also the commercial factor.'
'Eduardo Barboza is a figure and reference in the Peruvian real estate market. His main qualities are his negotiation skills, his timely identification of risks, and his extensive experience. Jaime Miranda is a very skilful and sharp lawyer, with a lot of expertise and knowledge, unusual for someone his age. His work is not limited to the occasional commission, but covers all aspects (even non-legal) that may be involved in the transaction.'
Key clients
Avla Perú
VyV Bravo
Picton
Inversiones Centenario
Inmobiliaria Koricancha (Grupo Sandoval)
Grupo Lander
Parque Arauco
Grupo Líder
Century Link (Lumen)
Senda Inmobiliaria (Echevarría Izquierdo)
Inmobiliaria Keops (Grupo Sandoval)
Grupo Caral
TP Legal
Lizini Constructoria Inmobiliaria
Caja Metropolitana de Lima
Dinet (Grupo Sandoval)
Centro Educacional Windsor del Perú
TMF Group- FidePerú
Cobra
Walmart
Work highlights
Advising on several addenda and the modifying of contracts and real estate guarantees for Avla Perú.
Managing and preparing contracts for the investment and financing of all housing projects for Senda Inmobiliaria, a promoter of highrise multifamily buildings, such as the Met project; "Side", an eco sustainable building of 20 floors; "Vemia" located in a residential city in Surco; and "Canaval", which will be in the financial neighburhood of San Isidro.
Preparing an analysis for Dinet regarding changes of conditions, as well as a strategy to approach and mitigate the scenario arising from necessary market changes to a lease contract with La Positiv.
Amprimo, Flury, Barboza & Rodríguez Abogados.
counts Samsung as a client, with practice co-head
Eduardo Barboza
and
Jaime Miranda
recently representing the company in a $15m domestic arbitration. Barboza and Miranda also handle arbitral matters for various clients -including pensions funds and logistics companies- generally regarding breach-of-contract and damages claims. Fellow practice co-heads
Natale Amprimo Plá
and senior associate
Carlos Rodríguez
frequently undertake arbitration regarding construction disputes (with assistance from associate
Kepler Panduro
), such as one recent mandate that involved advising a subsidiary of Spanish contractor Grupo Cobra on a damages lawsuit. Notwithstanding the team's recent arbitral caseload, it also handles civil, commercial and constitutional litigation, with Miranda particularly active in civil cases, particularly those regarding contractual matters.
Practice head(s):
Natale Amprimo; Eduardo Barboza; Carlos Rodríguez
Testimonials
'Always put the customer first and are available 24×7. Their professionalism stands out in addition to their proactivity and always thinking outside the box'.
'Eduardo Barboza is a tremendous lawyer and has a perfect command of his subjects. He is proactive and is always ahead of regulatory developments. His experience in the sector means that his preventive role prevents us from contingencies and he is always willing to go that extra mile'.
'Jaime Miranda is another tremendous lawyer from the firm who shines for his lucidity when facing complex problems; Jaime's serenity is noteworthy, as well as being innovative and creative'.
'The experience and quality of its partner Eduardo Barboza. An advantage over other offices is the team that works with Dr. Barboza'.
'Teamwork is essential. Dr Barboza and Dr Jaime Miranda stand out'.
'Distinguished by having within its team lawyers with many years of experience in the field of arbitration. Its lawyers have great prestige in the field of arbitration, not only as legal advisers, but also as arbitrators, having participated in important national and international arbitrations in recent years'.
'Eduardo Barboza is a benchmark in the local and international market as an arbitrator, lawyer and expert witness/expert in matters of contract law and arbitration. He is very practical and creative when it comes to proposing strategies or solutions on the issues in charge'.
'Jaime Miranda is projected to be in the near future a reference in the topics of his speciality (contracts and arbitration). He carries out very complete, correct and precise analyses of the cases. Provides impeccable service and advice, as well as personalised'.
Key clients
Corporación Aceros Arequipa
Parque Arauco
Kallpa Generación
ICBC Bank
Grupo Cobra
Marsa
Altame Perú (subsidiaria de Disano Illuminazione)
Samsung
A Telecom
Laboratorios AC Farma
Grupo Sandoval
Consorcio Transmantaro (Grupo ISA Colombia)
Metso
Promotora Altatorre
Walmart
Transvíal Lima
Century Link (Lumen)
Work highlights
Advised Constructora Las Pampas de Siguas (subsidiary of Grupo Cobra, a Spanish construction company) in arbitration regarding supposed damages derived from its contract of works.
Represented Samsung in a $15m arbitration against Saga and Tottus (Chilean retailers in Peru).
Advising pension fund AFP Profuturo first in negotiations and then in an arbitration, triggered after the client legally executed four bank guarantees for protecting its rights due to breaches by a construction contractor.
Amprimo, Flury, Barboza & Rodríguez Abogados. >
Firm Profile
Amprimo, Flury, Barboza & Rodríguez Abogados is a law firm made up of lawyers with broad experience in providing legal consulting services both, for private and public sectors. The purpose of our institution is to remain at the forefront and excel in all law practice areas with a special focus on litigation and arbitration matters. In that sense, our main partners are highly praised as referents in this area of expertise, being highly demanded both as litigators as well as in their role as arbitrators; having participated in various large-scale arbitrations, as well as representing several of the country's most important companies in critical leading cases.
As a highlight of some of the firm's most recent cases, is the successful advisory and legal representation of the two of the concessionaires of Lima's Massive Transportation Service (Metropolitano) in an arbitration process against the municipality of Lima. Also, both the litigation and tax departments of the firm, represented successfully the main Peruvian entrepreneurial associations, in a constitutional process held against the application of Law 29729, which established an obligation to non-publicly traded companies to publish their financial statements. Lately, the firm has participated in the Constitutional Process against the Law Nº 31018, which affected the Peruvian public road infrastructure concessionaires with an unfair suspension in the collection of tariffs; and, also advised La Positiva Seguros in several administrative procedures with the Peruvian Banking and Insurance Authority.
Furthermore, our lawyers have held positions of high responsibility and specialization in the public administration, focused especially on matters relating to human rights, arbitration as well as constitutional, administrative, competition, mining and environmental law. Also, they are skilled in issues related to the private investment and public management in addition to negotiation of different contracts aimed at executing large-scale investment projects. In this regard, the real estate area of the firm has experienced a remarkable growth, having as clients the country's main players in the real estate and construction sector, sponsoring them in the design of investment models as well as in the management of such projects.
Similarly, we pride ourselves in having vast experience in providing legal advice for the business development and settlement of controversies arising from the corporate, financial, tax and labour issues and, generally, for all matters relating to business development in Peru.
Main clients: Aceros Arequipa, AC Farma, Cementos Pacasmayo, Centurylink, Constructora Centenario, Corte Inglés, Echevarría Izquierdo Inmobiliaria (Senda), Enel, Engie, Grupo Cobra, Grupo Sandoval, Grupo Wiener-Carrión, IQ Farma, Intercorp, Kallpa, Líder Grupo Inmobiliario, Medifarma, Mexichem, Primax, OPP Film, Red de Energía del Perú, Samsung, Sole, Trial, UNACEM, Vainsa, V&V Bravo Constructora, Wallwart.
Lawyer Profiles
Languages
Spanish English
Memberships
International Fiscal Association (IFA) Instituto Peruano de Arbitraje