Firm Profile > April King > Nottingham, England
April King
Offices
April King
HUNTINGDON HOUSE
278-290 HUNTINGDON STREET
NOTTINGHAM
NG1 3LY
England
April King >
Firm Profile
April King is a leading law firm in private client law. With almost 30 years of experience, April King continues to go from strength to strength with over 40,000 clients served across the UK. Led by a STEP qualified practitioner, their dedicated team of solicitors, chartered legal executives and other specialist lawyers provide practical, realistic and affordable 'big picture' legal solutions without legal jargon.
The firm is perhaps best known for its unique approach to will drafting which wholeheartedly rejects the standard mirror will narrative. Its innovative solutions provide more protection for client's wealth for future generations. Wider consideration is given of the client's circumstances, dealing with matters outside the scope of simply making a will such as business continuity and succession, and whether their estate is safe from future claims. This approach ensures the client's goals are brought into effect in the long term, whatever changes life may bring.
Offering far more than the generalist high street one-stop law shops, the April King team have specialist knowledge across a range of legal areas including Wills; Lasting Power of Attorney and Court of Protection Deputy applications; a full range of Probate services and assistance with contesting a Will; together with Inheritance Tax matters, Digital Assets and Business Succession. Its holistic approach to estate planning provides a much better level of protection that every client deserves for the future without sacrificing control over their assets.
April King's commitment to excellence in client care continues to remain at the heart of the firm. Shaping its business strategy around client needs and feedback, its lawyers take instructions at a time and place to suit the client, be it their home address or one of a whole network of locations across the country. The majority of its services are carried out on a fixed-fee basis with additional visits included in this structure for peace of mind. In addition, the firm builds in added value with free amendments for the first year. April King's reviews are outstanding and a testament to its client-first approach.
With the recent Covid-19 outbreak, the firm has adapted its working practices, continuing to offer quality legal services through challenging times. Adopting a full range of modern technology, it accommodates its clients by meeting and communication in whatever way they feel most comfortable. Whether conducting a meeting through Facetime, catching up through Zoom or simply staying updated via email, the firm adapts to the client and their personal circumstances.
Diversity and inclusion are at the heart of April King's practice, recognised by CILEX in 2018 when the firm was a finalist for its coveted diversity award. It employs lawyers from all backgrounds and recognises the individuality of each lawyer as an advantage and a competitive edge over other firms. The firm invests heavily in its lawyers, delivering outstanding training both in-house, externally and via up-to-date technology. This continued investment in professional development ensures every member of the legal team is up-to-date with the latest legal developments and decisions, putting the team in the strongest possible position to offer its clients clear, accurate advice and leadership in respect of their hard-earned assets.
Lawyer Profiles
| Photo | Name | Position | Profile |
| --- | --- | --- | --- |
| | Taaha Ahmed | Private Client Advisor | View Profile |
| | Dr Tom Ashmore | Trainee Solicitor. Tom is a Private Client Lawyer working in the firm's… | View Profile |
| | Elisabeth Evans | Chartered Legal Executive specialising in Private Client | View Profile |
| | Paul Freeman-Keel | Private Client Advisor | View Profile |
| | Adam Hampson | Private Client Advisor | View Profile |
| | Martin Jones | Private Client Advisor | View Profile |
| | Paul King | Founder, CEO. | View Profile |
| | Daniel Lord | Private Client Advisor specialising in Lasting Powers of Attorney | View Profile |
| | Charlotte Pinkham | Chartered Legal Executive specialising in Private Client. | View Profile |
| | Aurela Qerimi | GCILEx specialising in Private Client | View Profile |
| | Harjit Soor | Private Client Advisor specialising in Probate | View Profile |
| | Lee Southern | Solicitor. Lee assists clients with Court of Protection matters such as obtaining… | View Profile |
Staff Figures
: :
Languages
English (fluent) Bengali Punjabi Italian Albanian
Diversity/Community
At April King we are committed to employing a diverse workforce and we recognise the value of this in gaining a competitive edge over other firms. The firm wants people to be themselves at work, regardless of their age, race, religion, belief, disability, gender, sexual orientation, social background or other such factors. By creating an inclusive working environment and through our approach to recruitment and internal policies, the firm ensures that diversity and inclusion are at the heart of our practice and all staff are valued.
We recognise our workforce to be our most valuable asset and staff retention rates are carefully monitored for this reason. Satisfaction is monitored through an open door policy operated both by the employee's supervisor and Founder/CEO Paul King.
Diversity information is collected to monitor both prospective and existing employees, in line with current UK equality legislation. This is evaluated as part of career and training planning to ensure that every employee has the same access to training, promotion and other opportunities.
The firm's commitment to diversity in recruitment gives it a wider pool of talent to choose from, and as a supportive, inclusive place to work, it is able to retain the best talent.
April King is keen to attract talent from all backgrounds. Its blogs and website content are just one way this is evidenced – with these setting out non-traditional routes to qualification which may appeal to those who are either raising a family or who need to work part time to support themselves. The firm is particularly open to flexible working arrangements that support those with commitments outside of the workplace, including parents returning to work or looking to build a professional career whilst maintaining a positive work-life balance.
All lawyers on joining the firm are assigned a work buddy to encourage them and provide a go-to point for any practical day-to-day issues. In addition, they have an experienced supervisor to bring issues to and for advice on any personal or professional issues that are affecting their work.
Having a range of skills, experiences and ideas within the firm has boosted innovation and creativity and has had a positive effect on the way its services are delivered. The firm is better placed to understand the needs of its clients and engage with a wide range of people within its geographical reach. Our lawyers who are profiled on our website come from a wide range of backgrounds with different ages, races, religions, beliefs, disabilities, genders and sexual orientations. This allows us to appeal to a wider client base. It also allows us to deliver legal services in a way that is sensitive to individual clients' needs.
Client Testimonials
CLIENT: Barbara White OBE, When You Wish Upon A Star
TESTIMONIAL: I have been a client of April King since 1997. They are a friendly and professional team and you are in good hands with Paul King at the helm. I thoroughly recommend April King.
---
CLIENT: Brian & Mary Scott
TESTIMONIAL: Found the team at April King to be friendly and knowledgeable. Please to have sorted Power of Attorney. We checked around and found their fees to be competitive.
---
CLIENT: Jan & Gerry Peacock
TESTIMONIAL: A huge thank you to Caitlin for her patience with two oldies who were making their first ever wills. Her help, guidance and friendliness with a difficult situation was far and above anything we had expected. We were both put at ease immediately. Improvement? None!! Thank you again.
---
CLIENT: Mr & Mrs W Lee
TESTIMONIAL: Both Personal Client Advisors James and Caitlin has greatly helped us on our journey, our minds and spirits were put at ease, as we had lots of questions. By the time we did our research we were ready to do business with April King, we wanted to do our Trust Wills and 2 Lasting powers of attorney. Caitlin is excellent in handling our needs and taking our instructions while explaining the legal jargon when it comes to signing our wills and was very methodical in the proper procedure for the signing of the LPAs. We liked the April King literature we received plus the home visits, as we felt uninhibited to ask questions however simple. Caitlin in taking our instructions is superb and also in explaining again the process of both the Trust wills and the procedure of registering the LPAs.
We look forward to the completion of the LPA x2 . Thank you April King staff, Paul King and Caitlin. Two friends have already taken April Kings phone number.
---
CLIENT: Barbara Temple
TESTIMONIAL: An outstanding service. Thank you to Lauren for explaining power of attorney and bloodline wills so clearly and for producing the paperwork with no fuss at all. Her patience and courtesy in our home was exemplary. Peace of mind is a priceless commodity.
---
CLIENT: Mr H
TESTIMONIAL: Amy was outstanding, professional and put our minds at rest. Cannot speak more highly of Amy and would like to express my thanks.
---
CLIENT: Mr and Mrs P and M Rowlson
TESTIMONIAL: Dealt with a lovely young lady who took time to talk to us and made sure we were happy with the work she was doing for us.
---
Interviews
Paul King, Founder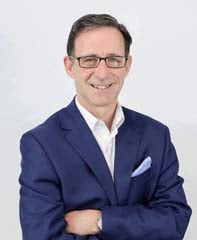 Paul King explains his vision for April King and how the firm's personal approach sets it apart from others.
What do you see as the main points that differentiate April King from your competitors?
At April King, the client experience is designed around what works for the client. We know some people are very busy – whilst others are nervous about visiting a lawyer. We are happy to visit clients in the comfort of their home and our friendly, no-jargon approach will immediately put them at ease. At the same time, we have set up a geographically diverse network of locations so that we can accommodate those who feel more at ease in a more formal setting.
Unlike far too many firms, we try to avoid simply posting out Wills for our clients to sign where possible as this can be rather stressful for clients who are not lawyers themselves and should not have to navigate through the myriad of formalities. Instead, where it is feasible geographically, we arrange a second appointment to go through the Will and oversee execution. We don't rush clients – these are important decisions that affect their family's future – so if a third appointment is desirable, this is arranged. All of this is included in our highly competitive fixed fee structure which gives clients certainty.
We are also assisting more clients than ever before who do not fall within the traditional private client demographic. For example, we work with business owners to ensure that should they be unable to make decisions, their company can continue to operate from day-to-day. This is a specialist area of law that is often overlooked because of incorrect assumptions as to what would happen if a partner or director was incapacitated. It can come as quite a surprise to many that family members or business colleagues cannot quickly gain the authority they need under such circumstances – and businesses can grind to a halt. As for our private clients, we work to accommodate business people who are always very busy and welcome the fact that we'll come to them! We advise owners with all types of business structure in relation to both making a separate Business Lasting Power of Attorney and dealing with their business assets in their Will, ensuring business continuity.
We assist clients from every walk of life and advise on estates and businesses that range from little in terms of financial value to multi millions of pounds. Regardless of the wealth at stake, our private clients typically have very similar concerns. They want to protect their assets for future generations and ensure they are not eaten up by care fees, creditors, divorces or other similar threats. They want things to be sorted so that their children and grandchildren do not have additional stress and worry on their deaths. Rather than offer the standard Mirror Will solution recommended by so many firms, we offer innovative bespoke solutions designed to shelter assets for future generations in a legal, fair and legitimate way. Ultimately we assist the client in creating harmony rather than discord on their death.
We take a wide view of our clients' circumstances and offer proactive rather than reactive advice. Having more than 25 years of private client experience allows us to take 'a view from the bridge'. Every client's circumstances are different – but often family, property, tax and commercial issues become apparent whilst we are taking instructions. Each client is matched to one of our experienced advisors, be it a Solicitor, Legal Executive, STEP Practitioner, Barrister or other Legal Expert. Where the matter lies outside of our expertise, we have forged close partnerships with a group of select specialist practitioners over the past 25 years, allowing us to obtain the very best advice for the client with complete confidence.
We are keen to educate our clients and the wider public about "products" on the market which claim to offer the same protection but in fact put their assets at risk. A common example is the so-called 'Asset Protection Trust' – a vehicle used by unscrupulous companies in an attempt to prevent assets being depleted by care fees. Through our information packs, website pages, blogs, newsletters, brochures and talks, we show clients that there is a better way which is accepted under current rules and regulations. Our client-centric jargon-free approach has earned us recognition in the Legal 500 and we were finalists for two prestigious CILEX awards which was a great honour. It's exciting to see the firm and my team receiving the recognition they deserve.
We know our strategy and values are hitting a chord with clients old and new because we're still growing at a rapid pace. April King's reviews and feedback are also a testament to the fact that we're delivering what our clients want, in the way they want it.
Which practices do you see growing in the next 12 months? What are the drivers behind that?
With people living longer and the rising cost of care, there is a continued interest in protecting assets from care fees. Sadly, too many people have gone down the Asset Protection Trust route and have been duped out of thousands of pounds. Others have given their home to their children but continued to live in it, hoping it will be ignored in a means test. Local Authorities are severely limited on funding and they are actively chasing people who have sought to deprive themselves of assets this way. I can see a lot of litigation for Asset Protection companies who have peddled these trusts for far too long.
With that, we see a growing interest in legitimate solutions such as those that we offer. These don't seek to shelter assets in an unfair and improper way – rather, we help ensure that our clients only pay for the care that they have received, and not for their spouse's care. For many clients, this can mean preserving half the value of the family home for their children or grandchildren.
We are also seeing a lot more awareness and interest in our business succession solutions. Really, any Director or Partner needs to be looking at the practical consequences of losing capacity either temporarily or permanently on their business. There is so much misinformation on this topic and that has left too many business owners sitting comfortably, thinking they are protected by their Partnership Agreement or Articles when they are not. Discrimination legislation meant that many provisions in these documents cannot be relied on. Legal sources also sometimes quote a well-known New South Wales case but that is not an authority for England and Wales. Specialist advice should be sought to protect continuity and our lawyers are here to provide just that.
Another continuing growth area is contested Wills. An aging population means that children stand to inherit later in life and elderly parents will sometimes decide that the child already has everything they need. With house prices continuing to soar, this can make the prospect of challenging a Will or estate for lack of reasonable provision more inviting. More complex family structures and far more instances of estranged children also fuel challenges to Wills.
Our firm can assist those looking to challenge a Will or estate but we also work hard to minimise the likelihood of a challenge to the Wills we draft for clients ourselves. Where a couple have an estranged child they will often want to disinherit as a punishment for the way the child has treated them. We help clients to see the bigger picture – such as the effect that a challenge might have on the family after their deaths. We offer practical solutions, drawn from our vast range of experience in this area. Our advisors have the ability to 'push back' and challenge a client's perspective rather than simply carrying out instructions, with the aim of putting the client in the strongest possible position.
What's the main change you've made in the firm that will benefit clients?
We've continued to develop our structure and strategy around a client-first approach and that has driven some big changes over the past 12 months. Previously we were trying to open locations on the doorstep of every client but we have realised this does not best serve our client base. We now operate a more efficient dispersed model, primarily calling in on clients at their convenience but with a more comprehensive network of locations for those who prefer an office appointment. We also now have solicitors working in bonnie Scotland, providing an adapted version of our innovative specialist solutions to clients that work under Scottish Law. It is very exciting to have added this beautiful country to our geographical reach.
We've also continued to recruit specialist lawyers from a range of backgrounds to ensure our clients always receive 'big picture' contextual advice. We're constantly working on the quality and breadth of our lawyer training to ensure that our lawyers really are at the top of their game.
Is technology changing the way you interact with your clients, and the services you can provide them?
Technology is a huge focus for us at the moment – we're working on both systems to improve client services and systems that will bring efficiencies in terms of cost and time. We're always looking at new technology that will improve how we work with clients but this has to be right for our clients – intuitive, secure, easy to use and adding value, rather than solutions that are simply convenient for our team. It's all about the client experience and what we do is driven by client feedback, testimonials and reviews.
We use tech to give clients more options too: for example, holding a telephone or Skype conference to fit with a client's busy schedule. Again, this is all about putting the client first and delivering a service that works around our clients' lives, adding value wherever we can.
For our lawyers who are often on-the-road seeing clients, tech allows us to keep in touch, monitor progress and offer a high level of support thanks to the changes we've introduced. Our lawyers also have access to a vast repository of up-to-date legal webinars, allowing them to refresh and develop their knowledge and skills constantly when not engaged with client work.
Are clients looking for stability and strategic direction from their law firms – where do you see the firm in three year's time?
The growth of technology and availability of information means that clients are price sensitive and will shop around. They do want stability but they also want value for money and if all they're getting is a legal document drawn up, they'll go with the cheapest option. Law firms have to work a lot harder now to really understand their clients and to deliver more value. That's what keeps clients with us.
Clients have always looked to April King for leadership and direction throughout their lifetime. It's not uncommon for us to advise whole families through the generations, for both family and business needs. We're not just another high street shop for Wills – we're a big-picture firm that looks at the client's circumstances and finds better, smarter solutions for them. We try to anticipate what may go wrong in the future and put in place real practical solutions in line with the client's goals.  I think that's a huge differentiator for us and the reason for April King's shining reviews.
I believe over the next three years we'll continue to attract the very best legal talent for the benefit of our clients. We invest so much in our staff and unlike many other firms we can offer flexible working, even for our trainees, which gives us a wider talent pool to recruit from. We are keen to maintain and grow our base of specialists which includes Solicitors, Chartered Legal Executives and STEP qualified Trust and Estate Practitioners – each having their own niche expertise to contribute to our collective knowledge.
I believe our client base will continue to grow and diversify as we have seen in recent times with more commercial clients coming to us for succession advice. We'll continue to provide holistic advice that goes beyond simply fulfilling client instructions and adds real value to our clients' lives. In a price-sensitive and increasingly impersonal online world, we'll carry on driving our growth through client-first personal service and real relationships that champion the high street law firms that tend to rely on outdated templates and fail to appreciate how trust law can be successfully used an
Top Tier Firm Rankings
Firm Rankings