Studio Legale Lauro > Naples, Italy > Firm Profile
Studio Legale Lauro
Offices
Studio Legale Lauro
VIA CARDINALE GUGLIELMO SANFELICE 8
80134 NAPLES
Italy
Studio Legale Lauro > The Legal 500
Rankings
A dispute resolution and arbitration boutique,
Studio Legale Lauro
provides a wide range of legal services including ADR and mediation. The team's caseload includes engagement in the shipping and logistic sector, both in advising and in handling litigations before Italian courts and the Italian Supreme Court and most notably, before arbitration tribunals. Practice head
Francesco Lauro
'is a well-known and well-established figure in the market'
and his team regularly assists ship owners and charterers, as well as banks and financial institutions in cross-border transactions.
Other key lawyers:
Ernesto Ardia; Giannicola Forte; Valentina Tremante; Giuseppe De Santo
Testimonials
'Francesco Lauro and the senior lawyers of the firm are are a very experienced team in the shipping, insurance, corporate and commercial sectors. I would certainly describe them as a leading firm in Naples in these sectors.'
'Team works together correctly and also pays attention to the international nature of the cases they have to handle. The senior partner has a very solid legal knowledge as well as a commercial mindset to reach a solution.'
'The senior partner has a very solid legal knowledge as well as a commercial mindset to reach a solution.'
'Great knowledge of the Italian/international shipping industries.'
'The lawyer Francesco Lauro and his collaborators have highly specialized skills, difficult to find in other structures.'
'Ethics and humanity, as well as preparation and awareness.'
Key clients
Allianz SA
All Seas
Atlantic Container Lines
BDM LLC
Carmelo Noli
China P&I
Charlotte Selmer LLP
COSCO
Contug
Easyjet
Finnlines
Hafnia Advpkaten
Hellenic Carriers
Gard
Getra
Grimaldi Euromed
Grimaldi Deep Sea
Grimaldi Group
Greta Selmer
Kastro Sifnos Maritime Company
ING Bank
Jadranski Pomorski Servis
Malta Motorways of the Seas
Marinter
Minoan Lines
MS Amlin
Navitas
Nicolas & Associés
Nordic Hull Club
North of England P&I
Oskar Wehr
Paloma SA
P.L. Ferrari
Richemont Delviso
Rimorchiatori Spezzini
Sarantitis
SCAFI – Società di Navigazione
Schenker
Steamship Mutuals
Tefin
The Standard P&I Club
The West of England
Ehlermann Rinfleisch Gadow LLP
Cambiaso Risso Group
Ergo Group
Topaz Marine Azerbaijan
Acqua Minerale Sanbenedetto
Studio Legale Lauro >
Firm Profile
The firm: 
Initially in the Shipping and Logistics Industry – where this is usual – but along the time also in other industries areas, SLL has developed a special attitude to deal with a variety of cross-border Corporate and M&A deals in a very flexible and informal manner, keeping the agreements wordings and documents brief and as easily manageable as possible, with huge benefits in terms of speed and costs. The M&A transaction sector is in fact full of cases where huge due diligence activities, neverending negotiations on long agreement wording, have produced unnecessary delay and costs and often the deal to vanish due to a change in the circumstances of the intervention of another party or opportunity. Instructing SLL will not lead to this type of results since the firm makes of its understanding of the business goals of the clients, the firm's main feature!
The firm favour for contractual structures, of simple or complex deals, in this case requiring a high degree of sophistication, has revealed to be important also in a few cases when these deals have necessitated a dispute resolution. In fact, SLL clients had generally the advantage of being assisted by SLL very successfully!
As a boutique firm, SLL is also accustomed to work in association with other firms and legal experts worldwide in a team and cooperation spirit.
Studio Legale Lauro
Address: 80134 Napoli, Via Cardinale Guglielmo Sanfelice, 8
00186 Roma, via dei Coronari, 222
Tel: +39 081 5800199 – +39 081 5800195
Email: info@studiolegalelauro.it
Website: www.studiolegalelauro.it
Twitter: https://twitter.com/studiolauro
Facebook : https://www.facebook.com/studiolauro/
Linkedin : https://www.linkedin.com/company/studio-legale-lauro
Shipping and the law
Instagram: https://www.instagram.com/shippinglauro/
Twitter: https://twitter.com/shippinglauro
Facebook: https://www.facebook.com/shippingandthelaw/
Website: www.shippingandthelaw.org
Staff Figures
: : :
Languages
Italian English (fluent) French German Spanish Chinese (Mandarin)
Doing Business In
The growing importance of ESG considerations and the new challenges for the M&A industry
It is widespread perception in the corporate and M&A environment that the importance of ESG considerations and factors are rapidly becoming matters of primary concern for regulators, investors, customers and employees and, likewise, for corporate boards and executives. As ESG gains in relevance in the eyes of decision makers in corporate organizations, it is at the same time the object of increased and more pervasive regulation.
Recent surveys suggest that ESG positive factors are increasingly associated with business quality and that many corporations are inclined to view a properly structured ESG strategy as an indicator for long-term revenue growth.
Some M&A executives indicate that they already extensively assess environmental, social, and corporate governance elements in the deal-making process they run while a significantly higher proportion of them expect the current degree of focus on ESG aspects to increase. There exists a general view that the ability to demonstrate to corporate stakeholders an appropriate level of understanding and management of ESG matters is likely to generate a competitive advantage in pursuing value creation opportunities.
Such considerations are also impacting positively on the focus of corporate executives regarding the quality and reliability of the ESG data that their companies are able to generate, also looking at new technologies, making communication with respect to ESG a critical element for a successful external relations strategy.
Interviews
Francesco S. Lauro, Managing Partner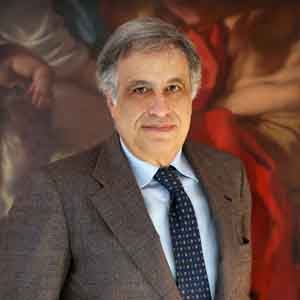 Managing Partner, Francesco S. Lauro explains how the firm is adapting to clients' changing needs
What do you see as the main points that differentiate Studio Legale Lauro from its competitors?
There is a phrase which expresses the way we act: "Less is more". In other words, we always tend towards efficiency and precision. Our clients are generally big companies and very busy people who do not have the time to read very long advices full of caveats or long engagement letters. Our aim is to achieve the best interests for our clients, full stop! We are not interested at all in billing a lot of hours and consider that the legal cost of cases should never be disproportioned in respect of the benefits granted by the legal assistance. If we can close a deal or a litigation in a favorable, simple and quick, way we always do it. Our aim is to achieve the best result for our clients and limit their costs, risks and time is of essence.
Which practices do you see growing in the next 12 months? What are the drivers behind that?
I believe that the fall outs of the coronavirus will feature during the next 12 months in many ways. There are and there will be lot of opportunities for new deals and acquisitions for our clients who are generally strong and successful companies but also a lot of litigations, good faith and force majeure cases, bankruptcy proceedings. Also, the necessary state aids and loans to sustain the economy should be granted to the parties who deserve them and should not be a competition distortion.
What's the main change you've made in the firm that will benefit clients?
We are trying to innovate constantly, but if you ask me to indicate just one thing I would mention the recent recruitment Marilisa Varrone as our Chief Marketing Officer and Strategist. Marilisa worked with me after she graduated more than 20 years ago when I was the President of Naples Port Authority and helped me to put together a strategic think tank with young bright professionals and academics that had an important role in a very productive presidency and after other interesting experiences is now back supporting us.
Is technology changing the way you interact with your clients, and the services you can provide them?
Right now, I am answering this interview from my home from where I am connected worldwide through the internet and the most advance conference office. I always considered that a good business lawyer should be h24 available to answer the phone and be able to leave, with a small suitecase, towards any destination in the next hour, however now that this is not possible we can appreciate the benefits of the most updated communication technology.
Can you give us a practical example of how you have helped a client to add value to their business?
First of all, if I am what I am as a lawyer this is mainly due to my clients who taught me what their businesses are and to understand what they need from their lawyer. If you want to be of use to your clients, you must understand exactly what their business interest are, both in the short and the long term. Then obviously you have also to try to establish a good empathy with them, intervene at the right time and always offer practicable, discriminatory solutions. I think we do that SLL.
Are clients looking for stability and strategic direction from their law firms – where do you see the firm in three years' time?
As I said above, in my opinion clients like that their lawyers understand them, their strategic priorities and interest. They are also interested in the firm being well organised and able to furnish them with the best possible assistance. It is difficult to speak about the future at these challenging times and after the Corona Virus epidemic break out, I would be very happy if the trend which brought us to handle so important and interesting cases and matters could continue and in the meantime we would have succeeded in the large majority of them.