Firm Profile > Machins Solicitors LLP > Luton, England
Machins Solicitors LLP
Offices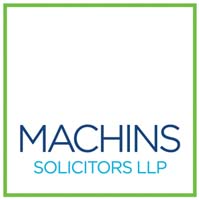 Machins Solicitors LLP
28 Dunstable Road
LUTON
LU1 1DY
England
Machins Solicitors LLP > The Legal 500
Rankings
Machins Solicitors LLP >
Firm Profile
Machins Solicitors is widely recognised as one of the region's leading commercial firms. Progressive and well run, it has a reputation for being reliable, cost effective and highly professional.
The firm: Machins Solicitors LLP has carried on business under the name of Machins since 1920 and can trace its roots back to a law firm that had opened for business in the late 1800s.
Following the success of its 2012 merger with Sumner & Tabor in Berkhamsted, it has a strong geographic reach, acting for clients not only in Hertfordshire and Bedfordshire but also Buckinghamshire, Oxfordshire, the Thames Valley Corridor, London and internationally.  It has a growing team with expert lawyers offering a full range of business and individual legal services (aside from criminal and immigration) with offices in Luton, Berkhamsted and Hemel Hempstead.
Within the individual services sector, it has specialist niches in family and child care issues, as well as wills, trusts and probate. The firm works closely with highly respected counsel, actuaries, accountants, independent financial advisors, mediators and business valuers.
Types of work undertaken: 
Company commercial: Machins Solicitors has built up a strong Commercial team with experts advising across a spectrum of disciplines, providing help to businesses, directors, institutions, societies, owners and managers. Over recent years, the department has seen a sustained growth both in the scope and the value of the work undertaken. Work includes all areas of acquisitions and mergers, joint ventures, contractual and compliance issues and intellectual property acting for a range of clients from sole traders to multinational companies.
Commercial property: The Commercial Property team continues to grow through its wide range of transactions providing advice to property owners, developers, investors, lenders and tenants. The firm's reputation is built on sound practical judgement and experience acquired over decades. It acts for large property companies, sole traders, and local, national and international businesses. It is able to help with the full range of commercial property issues including property litigation, enfranchisement and lease extensions, site acquisition development and disposals, and agricultural holdings and farm tenancies as well as landlord and tenant issues and business lease renewals.
Employment:  In addition to advising a growing core employer client base on  business as usual employment matters and high-net-worth individual clients on their exit packages, the team is kept busy both in relation to litigation and corporate transactional matters, business advisory and dispute resolution advising on a number of injunctive disputes, multi-jurisdiction Employment Tribunal claims and TUPE transactions. The team also has particular expertise in relation to discrimination cases, specifically disability discrimination.
Private client: With a team of six lawyers, the Private Client department continues to attract high-net-worth clients, many of whom are London-based. The department advises on wills, probate, contested probate, establishing trusts and trust management, tax planning and cross-border estates, deputyships and powers of attorney.
Family (Private Law): Machins has a Family (Private Law) team in Luton and Berkhamsted who are all qualified solicitors performing to a high standard of excellence. Acting for clients throughout the UK and abroad, this growing department specialises in dealing with cases involving private high-net-worth individuals, particularly those with their own businesses, TV executives and bankers as well as work ranging from fixed-fee divorce, cohabitation agreements, pre- and post-nuptial agreements through to helping clients with complex private Children Act proceedings, mediation and collaborative law.
Family (Public Law): the team, based in Luton, excels in public law children proceedings and holds a legal aid franchise which enables the team to provide legal advice and representation in relation to public family law including applications for special guardianship orders and adoption including international adoption.
Debt recovery: the Debt Recovery department has 40 years' experience specifically in the fields of motor finance and property management.
Commercial litigation: Machins' Commercial Litigation team is well respected for specialist niches particularly in relation to shareholder disputes, insolvency and property litigation as well as standard contractual litigation of a commercial nature. It is widely recognised as one of the leading litigation firms in the region.
Aviation: The firm has a long history of providing advice in this niche area, having acted in relation to acquisitions/disposals, leases and related issues for over 40 years.
Staff Figures
Number of UK partners : 11 Number of other UK fee-earners : 33
Languages
Urdu Punjabi French Cantonese English Italian German Hindi
Memberships
Resolution
Diversity/Community
Machins Solicitors LLP has a growing corporate social responsibility programme within Bedfordshire, Hertfordshire and Buckinghamshire. We ensure our local community, charity and pro-bono legal work; as well our environmental practices are a core part of our firm-wide business strategy.
We have strong links with local charities, schools and universities and strive to ensure our partners and staff work in partnership to share their expertise and knowledge.
We have a wide-ranging portfolio of activities through internal and external fund raising events, donation programmes and free legal advice consultations ensuring our social and ethical focus is deeply embedded within our culture. Our CSR programme has four key areas:
Community
We are proud of the role our people play within the local community. Our ongoing partnerships and community programmes ensure we are dedicated to deploying our skills and experience to provide valuable and vital services which in turn promote more access to justice and social inclusion. To demonstrate this we offer
Free 30 minute legal advice clinics on divorce & separation at Berkhamsted & Hemel Hempstead offices.
Free 30 minute legal advice clinics on making a will and the administration of estates at our Berkhamsted & Hemel offices.
We provide advisors to Berkhamsted, Rickmansworth, Ampthill and Hemel Hempstead CAB for family law issues once a month.
Participation in the "Make a Will Month" for the Hospice of St Francis.
Sponsorship to local junior football team and cricket teams, Berkhamsted Half Marathon and other local community events.
We participate in careers fairs at local schools and universities.
Charity
We are committed supporting local charities. We actively encourage all staff to participate in supporting events for these charities throughout the year as well as helping the charities through business networking and fund raising within the offices. This is important work which provides our offices with opportunities for team building alongside raising valuable funds for the following charities and helps our partners and staff to retain a connection with our local community:-
The Level Trust Luton.
Hospice of St Francis Berkhamsted.
Keech Hospice Luton.
Environment
Every business decision has an environmental impact and we strive continuously to reduce our environmental footprint.
As a practice we remain committed to a programme of management, improvement and consideration of our direct and indirect impacts which mark our efforts to improve the world in which we live. We review our purchasing policies to ensure, so far as possible, that we obtain competitively priced goods and services while at the same time seeking to ensure that these goods and services are from sources which have not jeopardised human rights, safety or the environment.
Workforce
People are at the heart of our business and core to the future sustainability of the business. We are committed to encouraging workforce diversity and inclusion and aim to be an employer of choice, maintaining a high reputation of employee care and consideration.
Our staff retention rate is something we are proud of and remain committed to maintaining. We recognise that as an employer we have a responsibility to treat our employees, clients, professional contacts and suppliers with respect, integrity and trust.
Top Tier Firm Rankings
Firm Rankings