Firm Profile > Lester Aldridge LLP > London, England
Lester Aldridge LLP
Offices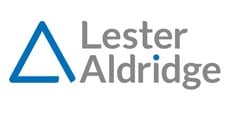 Lester Aldridge LLP
1 Fore Street
LONDON
EC2Y 5EJ
England
Lester Aldridge LLP > The Legal 500
Rankings
Lester Aldridge LLP >
Firm Profile
Lester Aldridge is a full-service law firm with offices in Bournemouth, Southampton and London. The firm's core practice areas are real estate, litigation & recoveries, dispute resolution, corporate & commercial services and private client, which it delivers regionally, nationally and internationally.
The firm:
Lester Aldridge offers something to clients that other, larger firms do not: a genuine partnership. Client satisfaction is reflected in the growth it has experienced, seeing revenues increase steadily. Big name clients include Ceuta Holdings, Lloyds Bank, Marina Developments, Moore Stephens and Monzo Bank.
Lester Aldridge is a growing firm whose breadth of service continues to broaden. Formed following the merger of two large Bournemouth firms in 1988 (with origins tracing back to 1796); in 2007, it changed status from a traditional partnership to that of a limited liability partnership and is a "go to" firm, which has proved to be attractive to partners from other firms.
Lester Aldridge has been accredited with the Law Society's Lexcel Quality Standard since 2007.
Types of work undertaken include:
Real estate: the firm's extensive property team span sectors including commercial development, care, residential and lending, investment and retail, with expertise to handle a wide range of property issues, from development projects, management and investment, buying and selling properties, landlord and tenant issues, to planning, environment and construction. It also has expertise in the niche areas of ports and marinas, waterside developments and assisted living.
Dispute resolution: Lester Aldridge's experienced team covers a broad range of general commercial litigation, as well as working for clients in specific industries, handling everything from emergency injunctions to mediation and high court litigation in areas as diverse as debt collection and multi-million cross-jurisdictional claims.
Corporate & Commercial: The team handles an array of corporate work for a diverse client base. Particularly noted for its M&A work, the team regularly advises clients on other company and commercial issues, including joint ventures, IT and IP licensing, competition law and restructurings. The team also acts for international, national and regional clients in many sectors, including charities and the third sector.
Litigation & Recoveries: Lester Aldridge's team has a proven track record in providing effective advice to banks, building society, finance houses, leasing companies and insolvency practitioners. It specialises in the recovery of secured and unsecured commercial and personal finance, as well as asset recovery.
Marine: LA Marine is the specialist shipping and marine law team of Lester Aldridge, providing expert advice and practical solutions to the commercial shipping, logistics, superyacht and leisure marine industries. LA Marine deals with all aspects of maritime law, from non-contentious matters to collisions, charterparty issues, bill of lading disputes, demurrage claims and personal injury.
Healthcare: One of the leading areas of expertise at Lester Aldridge and one for which the firm has a national reputation. For over 20 years, members of the specialist healthcare team have been specialising in the regulation of health and social care services, regularly acting for independent social care providers, independent hospitals, NHS Trusts and GPs. The team also acts for children's homes, schools and fostering agencies.
Employment: As one of the leading employment teams in the south, the team provides specialist advice on all areas of employment law, acting for international, national and major regional employers in all sectors. The team supports HR and senior management in dealing with a multitude of employment issues, from drafting service agreements, employment contracts, employment policies and handbooks, to advising on tribunal claims, redundancy programmes and TUPE-related matters.
Private client: The firm offers a full range of services for individuals, with specialists in wills and estates, tax planning and trusts, contentious probate, community care, residential conveyancing, family, employment, personal injury and medical negligence. The international private client team supports both professionals and private individuals across a range of global estate planning and administration matters, including a specialist medallion signature guarantee service.
Main Contacts
| Department | Name | Email | Telephone |
| --- | --- | --- | --- |
| Chairman | Roger Woolley | | |
| Managing Partner | Matthew Barrow | | |
| Litigation and Recoveries | Ann Lloyd | | |
| Charities and Social Enterprise | Geoff Trobridge | | |
| Corporate and Commercial | Grant Esterhuizen | | |
| Dispute Resolution and Property litigation | Kate Stewart | | |
| Employment | Kevin Barnett | | |
| Family | Rosemary Sharp | | |
| Healthcare and Community Care | Laura Guntrip | | |
| LA Marine | Russell Kelly | | |
| Personal Injury & Medical Negligence | Tim Blackwell | | |
| Real Estate | Mark Benham, Suki Samra | | |
| Private Client | Kurt Lee | | |
| Regulation & Business Crime | Michael Veal | | |
| Restructuring & Insolvency | Nick Keitley, Melia Hirst | | |
| Shipping & Logistics | Linda Jacques | | |
Lawyer Profiles
| Photo | Name | Position | Profile |
| --- | --- | --- | --- |
| | Richard Fairbairn | Richard is a partner in the tax, trusts and wills team in… | View Profile |
| | Edward Foster | Edward Foster is a Partner in the Litigation & Recoveries team. With… | View Profile |
| | Doug Irvine | Doug is a Partner in the property department with over 15 years'… | View Profile |
| | Andrew Slatter | Andrew Slatter is a Partner in the Property & Conveyancing team. Andrew… | View Profile |
| | John Townsend | John Townsend is a Partner in the Property & Conveyancing team. John… | View Profile |
| | Erika Willmott | Erika Willmott is a Partner and Head of Hotels & Leisure in… | View Profile |
Staff Figures
Number of UK partners : 42 Solicitors & associates : 56 Other fee earners : 107
Languages
English Afrikaans French German Greek Hindi Italian Punjabi Spanish Swedish Zulu Flemish Yoruba Chinese (Mandarin) Portuguese Bulgarian
Memberships
Law Society of England and Wales MSI Global Alliance
Client Testimonials
CLIENT: Private individual
COMPANY/FIRM: Lester Aldridge
TESTIMONIAL: "I recently instructed Lester Aldridge to act on my behalf regarding a family dispute matter. The firm and in particular, Victoria Jones who personally handled my case, proved to be extremely professional, knowledgeable and efficient at all times. Because of Victoria's skill I had a very successful outcome to my case and I have no hesitation in highly recommending her and Lester Aldridge."
---
CLIENT: Private individual
COMPANY/FIRM: Lester Aldridge
TESTIMONIAL: "That is the perfect response – timely, easy to understand, answers all my queries and with clear reasoning. It backs up my reasoning for saying how brilliant it is having you and the Lester Aldridge team by my side as support."
---
CLIENT: Gary Day, McCarthy & Stone
COMPANY/FIRM: Lester Aldridge
TESTIMONIAL: "I would not hesitate to recommend Mark and the property team at Lester Aldridge. Having advised McCarthy & Stone on several hundred development sites around the UK, I believe their track record is second to none."
---
CLIENT: Private individual
COMPANY/FIRM: Lester Aldridge
TESTIMONIAL: "It only remains to thank you and the whole team at Lester Aldridge for holding my hand and steering me through the unexpected twists and turns of this saga.  Your input, calm heads, empathy and grasp of the vast detail were very helpful, supportive and impressive for what has undoubtedly been an emotional journey for me."
---
CLIENT: D. Wright
COMPANY/FIRM: Lester Aldridge
TESTIMONIAL: "I can only say my experience with the team and mainly Victoria Jones, was excellent. There was never a time when following a telephone call, or letter from LA, that I didn't feel so much better. I found the service efficient, advice factual and clear, but delivered with great empathy."
---
CLIENT: Debbie Beere, Dbeere Yachts
COMPANY/FIRM: Lester Aldridge
TESTIMONIAL: "Having known Louise Fuller in a professional capacity for over ten years, I can honestly say she always goes above and beyond with her work. The service Louise and Lester Aldridge provide us is second to none and I would always be confident to recommend their services to others."
Diversity
Diverse is who we are, inclusive means we are stronger together…
We recognise that our people are our biggest asset and continue to work hard to ensure that LA is a place where people can do their best work in a team that values who they are and their unique perspectives and contributions that they can bring irrespective of race, identity, gender, age, religion or experience.
Diversity and inclusion as a result forms an essential part of our culture and we are committed to fostering inclusivity throughout the firm, from entry level to partnership. We embrace and promote diversity and inclusion within our firm through raising awareness internally and participating in a variety of initiatives that also forms part of our three year Equality & Inclusion plan.
We value and encourage diversity with respect to each individual's work style, career path and professional and life experiences. We continually strive to build and maintain a culture that values and gathers strength from our differences.
Our commitment to diversity enables us to draw from a wealth of talent to recruit and retain the best lawyers and promoting all groups in the firm fairly, and we have invested in our processes to ensure that everyone has the same chance to develop and advance. An inclusive, forward-thinking culture also enables us to provide innovative solutions to our clients.
In 2010, we became a signatory of The Law Society Diversity and Inclusion Charter. Like The Law Society, we believe this commitment to diversity and inclusion is essential to reflect the society we serve today. It makes business sense because it helps us to attract and retain the best talent, it enables us to understand and meet clients' needs more effectively and so provide a better quality service.
Accordingly, we will:
Strive to achieve best practice in our recruitment, retention and career progression practices as employers.
Support the development of good diversity practice by collecting and sharing examples of practical activities that contribute to progress with other signatories.
Assign responsibility for meeting our Charter commitments to a named, senior level individual.
Work together to develop and adopt future protocols that support the practical implementation of the aims of this Charter.
Annually publish the diversity profile of our UK employees and details of our work on equality, diversity and inclusion.
Publish a joint annual report on the basis of a monitoring exercise to measure the impact of this Diversity and Inclusion Charter and its protocols. These reports will form the basis of regular dialogue with stakeholders, employees and clients.
Top Tier Firm Rankings
Firm Rankings