Latournerie Wolfrom Avocats > Paris, France > Firm Profile
Latournerie Wolfrom Avocats
Offices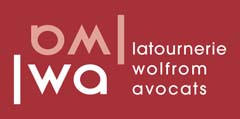 Latournerie Wolfrom Avocats
164 RUE DU FAUBOURG
SAINT HONORÉ
75008 PARIS
France
Latournerie Wolfrom Avocats > The Legal 500
Rankings
The digital & IP team at 
Latournerie Wolfrom Avocats
remains a dominant force across the telecoms practice area, advising global clients in the public and private sectors. The group's comprehensive service covers integration agreements, AI matters, internet site development, the handling of personal data (GDPR), and the dealings between major telecoms players and the regulatory authorities. Headed by sector authority
Terence Cabot
in Paris, the group's client base, in addition to telecoms clients, also spans the health, government, energy, finance and e-commerce sectors. Charlotte Barraco-David left the firm.
Practice head(s):
Testimonials
'We appreciate Latournerie Wolfrom Avocats for its recognised expertise in the IT field, the quality of the product deliverables and the relevance of the advice given.'
Key clients
Axione
The State of Burkina Faso
Carambar
Clear Channel
France TV
Free, Free Mobile
The State of Gabon
Latournerie Wolfrom Avocats
 acts for a balanced client base made up of the state, leading public and semi-public companies and entities, as well as private companies. The practice is recommended for complex matters, such as large or strategic public procurement contracts. High-profile regulatory issues, especially in the rail and telecoms sectors, are another area of strength. The practice has also been retained to help with the implementation of highly strategic technology projects in the defence sector. Finally, the team is also recommended for complex litigation and for construction and large commercial and real estate development projects. The practice is co-headed by the excellent
Jean Latournerie
, 
Térence Cabot
and
Marion Delaigue
.
Practice head(s):
Jean Latournerie; Térence Cabot; Marion Delaigue
Testimonials
'Medium-sized firm allowing to have reasonable costs compared to large firms while having good technical skills, especially on the part of the partners.'
'Jean Latournerie: extensive practice of public law, good knowledge of public actors, balanced approach, sound judgement.'
'Great fluidity of exchanges and excellent availability; the reflexes of the team are good and fast, especially in matters of public law; a particularly intuitive working relationship has been established over the years.'
Key clients
Free/Free Mobile
Groupe SNCF
Ministery of Ecological Transition and Territories
Région Auvergne Rhône Alpes
BOUYGUES ENERGIES SERVICES
FIMINCO
Grand Paris Aménagement
Pôle Leonard de Vinci
Société du Grand Paris
Dassault Systèmes
Société Française des Aéroports
Agence France Presse
Université de Lille
Aire Nouvelle (Engie Solutions)
Bluematrix
Haute Garonne Numérique
La Fibre 64
Linkcity
Val de Loire Numérique
Latournerie Wolfrom Avocats
' full-service IT practice stands out for its work on market-leading projects.
Terence Cabot
 leads the practice with decades worth of experience advising major players in France regarding their IT-related legal issues.
Practice head(s):
Key clients
Axione
Bordeaux Métropole
Bouygues
The State of Burkina Faso
Carambar
Caisse des Dépôts et Consignations (CDC)
Clear Channel
CDC HABITAT
COLAS
CNOP (Conseil national de l'Ordre des Pharmaciens)
Daimler Trucks
Département de l'Aveyron
Département de Charente Maritime
Département de Meurthe et Moselle
Energie Demain
Eure Normandie Numérique
France TV
Free, Free Mobile
FLCP
FNCCR
The State of Gabon
Galeries Lafayette Group
Groupe Roullier
Haute Garonne Numérique
IDI
Ingenico
Kerudys (ex SVP Group)
Kosc Telecom
Maroc Telecom
MOET HENNESSY
Neocase
Nexstage
OUI SNCF
PAI PARTNERS
Paris la Défense
Pôle Emploi
Primavista
Pumpkin
Radio France
RATP
Région Auvergne Rhone Alpes
Région Grand Est
Région Bretagne
Région Normandie
Relais & Chateaux
Seine Maritime Numérique
Somme Numérique
SIG (Systeme d'Information du Prime Minister)
SNCF
STIF
SQLI
SYDELA
TELT
Université de Lille
Vivendi Group
Ville de Saint-Etienne
Wolters Kluwer
The experienced team
Latournerie Wolfrom Avocats
has a strong track record of assisting clients with complex venture capital transactions, both domestic and cross-border. 
Christian Wolfrom
heads the practice and is experienced in handling leveraged buy-outs and capital investments for a wide range of clients. 
Pierre Lafarge
is experienced in corporate law and financial law and handles private equity transactions and mergers and acquisitions for French and foreign clients. Caroline Basdevant-Soulié left the firm.
Practice head(s):
Testimonials
'Knowledgeable with a commercial approach to transactions. Able to deliver advice clearly and concisely.'
'Pierre Lafarge was a pleasure to work with. He was very knowledgeable and was able to suitably balance commercial interests and legal risks.'
Key clients
Indorama Group Investments
Symphony Environmental
LTCapital
IDI
MML
Work highlights
Advised IDI on its circa €36m investment in CDS group.
Advised Symphony Environmental and Indorama on their investment into Eranova as part of a $6m fundraising alongside investors Altinat, Capelan Holdings and Euro-Capital.
Latournerie Wolfrom Avocats
Practice head(s):
Key clients
SNCF RESEAU
RATP
FRENCH STATE
AEROPORTS DE PARIS
Latournerie Wolfrom Avocats
Practice head(s):
Christian Wolfrom; Hervé Castelnau; Thibaut Kazémi; Pierre Lafarge
Testimonials
'Hervé Castelnau is always very attentive to his clients.'
'Strong expertise and understanding of the law. Well-reasoned and clear advice which is concise and to the point. Commercial approach to transactions.'
'Pierre Lafarge was a pleasure to work with. He was extremely knowledgeable and able to convey his points clearly. He has a commercial mindset and was able to balance business interests and legal risks.'
'The Latournerie Wolfrom Avocats M&A team offers unique quality, availability and operational understanding of issues, particularly in the telecoms, media and IT industries.'
'The people of the M&A team who stand out are Thibaut Kazemi and Hervé Castelnau. Their expertise and experience in M&A is first rate. What is different: their understanding of operational and financial issues, allowing the documentation and legal sequencing to be adapted in all circumstances, and their availability.'
Key clients
Bobst Group SA
Focus Home Interactive
Euronext
Groupe Almage
ASGARD group
Orange SA
Mintee/Asacha Media Group
Tentamus Analytics GmbH
Terega SA
Symphony
Indorama
Sentelis
Groupe Cholet Dupont
SQLI
ADP
Althea/Atechsys
Oxygn
Agence France Presse
EXFO Inc.
HeliCoJyp
HMData Lab
Waga Energy
Askia
Mesdames Productions
SNCF Group
Asgard Group
Avesta
574 Invest
Arkos
mLogica
Proviridis
Lumenpulse
Latournerie Wolfrom Avocats >
Firm Profile
The firm: Founded in 1995, LWA is a business law firm whose aim is to accompany clients in all strategic issues, to assist teams in complex partnerships, and to assist and support in the most serious of disputes.
With rigour, innovation, agility, and involvement, LWA builds futures with clients, by drawing up legal solutions that are always operational. Tenacious and bold, LWA lawyers bring together multiple backgrounds and professional experiences for the purposes of engaging together in France, and also internationally, thanks to its network of correspondent firms.
Areas of practice: Initially founded with three specific teams, public lwa, corporate and M&A and information and technology, LWA is an independent law firm which has provided a comprehensive range of specialist legal services for more than 20 years notably in the areas of competition, labour, tax, commercial, private equity, finance, real estate, intellectual property, litigation, etc . LWA also developed a specific expertise relating to energy and infrastructure matters in Africa.
Most of the teams have a very strong reputation and are considered among the best in France. With a very high reactivity, co-operative, and extremely involved in all matters, its lawyers share important values such as commitment, integrity and entrepreneurial spirit. They can assist their clients for counselling, negotiation and litigation. The clientele portfolio is highly diversified and includes multinational clients, mid-cap companies, governmental agencies, banks, commercial institutions, industrial companies, start-up etc.
Most of its lawyers have also studied or worked in an international environment notably in the USA, England, Germany, Australia, and can provide very efficient support to foreign clients.
Main Contacts
| Department | Name | Email | Telephone |
| --- | --- | --- | --- |
| Africa | Hervé Castelnau | | |
| Africa | Thibaut Kazémi | | |
| Banking and finance | Christian Wolfrom | | |
| Banking and finance | Pierre Lafarge | | |
| Commercial litigation/arbitration and mediation | Chantal Cordier-Vasseur | | |
| Competition, regulation and distribution | Pauline de Lanzac | | |
| Corporate | Pierre Lafarge | | |
| M&A | Hervé Castelnau | | |
| M&A | Thibaut Kazémi | | |
| Private equity | Christian Wolfrom | | |
| Energy | Marion Delaigue | | |
| Energy | Hervé Castelnau | | |
| IT, telecommunications and personal data | Terence Cabot | | |
| Labour and employment | Sarah-Jane Mirou | | |
| Public law and regulatory | Terence Cabot | | |
| Public | Jean Latournerie | | |
| Real estate and urban planning | Marion Delaigue | | |
| Real estate and urban planning | Jean Latournerie | | |
| Restructuring and insolvency | Chantal Cordier-Vasseur | | |
| Restructuring and insolvency | Pierre Lafarge | | |
| Tax | Jean-Luc Marchand | | |
| Real Estate | Julien Desclozeaux | | |
Staff Figures
Number of lawyers : 40 Number of partners : 13
Languages
French English Spanish Italian Portuguese Catalan German
Memberships
American Bar Association (ABA) AIJA - International Association of Young Lawyers IABA (International Association of Boalt Alumni) IFCLA (International Federation of Computer Law Associations)
Other
:
Client Testimonials
CLIENT: Laure Cartigny, responsable cartographie des risques et DPO
COMPANY/FIRM: Bolloré
TESTIMONIAL: « Latournerie and wolfrom's lawyers are very efficient. We recommand them for their very precised advices, their availability and their skills They help us on data protection subjects and they treat all the questions we have whatever the context and the area ( economic, labour….) »
---
CLIENT: Gisela Süss, head of the Institutional Law Division legal services department
COMPANY/FIRM: ESA
TESTIMONIAL: "LWA is an efficient, knowledgeable and trusted law firm, composed of motivated lawyers who demonstrate the passion for their profession in an energetic and dynamic way. LWA team show an excellent understanding of legal matters and the financial and business context, a high commitment and an impressive ability to guide clients through complex issues with a result-oriented perspective. Their direct and pragmatic approach, ability to propose creative solutions and their remarkable responsiveness make them a valued business partner with whom I had the pleasure to collaborate in different areas over the years."