Firm Profile > Bougartchev Moyne Associés > Paris, France
Bougartchev Moyne Associés
Offices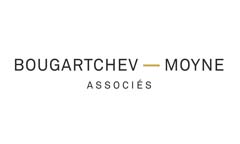 Bougartchev Moyne Associés
4 PLACE SAINT THOMAS D'AQUIN
75007 PARIS
France
Bougartchev Moyne Associés > The Legal 500
Rankings
Litigation boutique Bougartchev Moyne Associés serves many leading French banks and industrial, defence and aerospace companies, but also attracts international groups. The 11-lawyer practice advises on compliance issues and provides assistance during audits conducted by various French anti-corruption, securities and banking regulators. The firm recently assisted a client facing a French Anti-corruption Agency-led compliance control, and helped clients in conducting training programs and internal investigations. It notably provides guidance on how to best protect professional secrets during regulator-led audits. Finally, the firm is retained to advise on anti-corruption M&A due diligence. Co-heads Kiril Bougartchev and Emmanuel Moyne are ably supported by associate Nathan Morin.
White-collar criminal cases are a speciality of litigation boutique Bougartchev Moyne Associés. The firm receives a high amount of instructions from leading foreign law firms and is particularly adept at handling sophisticated and cross-border matters. It manages a diverse caseload for high-profile individuals, including Middle Eastern clients and oligarchs, as well as leading industrial, defence and aerospace companies, banks and investment funds. The practice is involved in many top cases, spanning international corruption, criminal tax, money laundering, criminal banking law and bribery accusations. Kiril Bougartchev and Emmanuel Moyne jointly head the practice. Senior associates Sébastien Muratyan, Geoffroy Goubin and Edward Huylebrouck provide strong support.
Litigation boutique Bougartchev Moyne Associés  acts for high-profile companies, notably from the industrial, luxury and financial fields. It also receives instructions from international law firms. The 11-lawyer practice deals with sensitive post M&A disputes, shareholder conflicts and various other litigation, such as banking, unfair competition and commercial work. Kiril Bougartchev and Emmanuel Moyne are able to handle a range of sophisticated and high-stakes  cases. Senior associate Geoffroy Goubin and associate Lisa Janaszewicz bring key support.
Testimonials
'The team shows great ability to view matters from different angles and come up with strategies that go beyond pure legal aspects'.
'Kiril Bougartchev and senior associate Geoffrey Goubin consistently show support above usual expectations and showcase a drive to win cases. They have great ability to come up with new ideas and also show engagement and emotional intelligence'.
Bougartchev Moyne Associés >
Firm Profile
The firm: After 30 and 20 years respectively of professional practice at Gide Loyrette Nouel, then at Linklaters LLP and after hundreds of trials, Kiril Bougartchev and Emmanuel Moyne chose to create, in January 2017, an ambitious firm for their clients, where the hallmarks are independence, liberty, versatility and flexibility.
Bougartchev Moyne Associés is now composed of 13 lawyers: the two founding partners, eight associates and three trainees, one office manager and three employees.
Besides criminal law – and notably white-collar crime which remains its core activity, Bougartchev Moyne Associés has broad and deep experience in civil and commercial litigation as well as in regulatory matters.
Areas of practice: The litigation lawyers from Bougartchev Moyne Associés assist public and private companies, banks and financial institutions, insurance companies and their officers in all proceedings they are facing, whether involving white collar crime, civil law or commercial law. They also assist them on regulatory matters and appear before all independent administrative authorities. They assist them on a daily basis, during crises or to aid them in meeting their legal and regulatory obligations. They also work with their clients in connection with their internal investigations and training programme.
Bougartchev Moyne Associés has extensive experience in emergency, complex, multi-party, transnational and multi-jurisdictional proceedings, as well as in negotiating settlement agreements, in France and internationally, and is accustomed to working in teams. The firm assists clients worldwide, providing them with the benefit of its wide experience in cross-border proceedings and multi-jurisdictional prosecutions and its close links with law firms throughout the world.
The firm's lawyers are the partners of their clients, not just their lawyers. They are particularly mindful of their clients' strategy and image, and work closely with them to achieve the objectives they have set. They endeavour to acquire a full understanding of their clients, their activities, their organisation and their teams, as well as to become familiar with the risks inherent in their businesses, their requirements and their objectives.
Accordingly, the firm's lawyers are able to quickly identify the procedural and strategic options available to their clients and provide them with pragmatic responses.
Furthermore, innovation is at the core of Bougartchev Moyne Associés' practice: whether the first indictment by videoconference between France and the United States, the first use of an electronic bracelet in a financial matter, negotiating an Alford plea or the first plea bargain (CRPC) negotiated by the national financial crimes prosecutor (PNF) and the French government in a money laundering case, the firm has always been creative and will continue to promote innovative solutions in the interests of its clients.
Lastly, its policy is to promote all lawyers' talents within an open organisation in which the transmission of knowledge and expertise is an essential value.
Main Contacts
| Department | Name | Email | Telephone |
| --- | --- | --- | --- |
| Crisis and reputational injury management | | | |
| White-collar crime | | | |
| Civil and commercial litigation | | | |
| Regulatory disputes | | | |
| Compliance | | | |
| Investigations | | | |
Staff Figures
Number of lawyers : 13
Languages
French English
Memberships
International Bar Association
Other
Contacts : Alexandra Vivet: avivet@bougartchev-moyne.com Contacts : Kiril Bougartchev: kbougartchev@bougartchev-moyne.com Contacts : Emmanuel Moyne: emoyne@bougartchev-moyne.com
Diversity/Community
At Bougartchev Moyne Associés AARPI, we work daily with clients around the world on matters involving a broad array of legal, business and social/cultural perspectives.
We believe all our lawyers benefit from interacting with the creativity, talents and perspectives contributed by people of different backgrounds and experiences.
We also believe that every lawyer should dedicate a part of his time to assist vulnerable people and those who have not sufficient resources.
In this respect, our pro bono actions include:
assisting individuals as court appointed-lawyers, it being specified that four of our lawyers are former Secrétaires de la Conférence du Stage, a body of the Paris Bar dedicated notably to the assistance of resourceless people accused of serious criminal offences;
partnering with the Paris Bar "Bus Solidarité" action to help needy and isolated people to freely access to justice and law;
contributing to the "Iter Justicia" action, a movement providing lawyers from Haïti and the Democratic Republic of Congo with legal and specialized publications;
giving advice to foreign law firms dealing with pro bono cases regarding the substantive and procedural criminal law rules applicable in France and in African countries (like Chad);
one of our lawyers representing an NGO acting as a civil plaintiff in a case relating to the Rwanda Genocide before the Paris Criminal Court.
Client Testimonials
CLIENT: Confidential
TESTIMONIAL: We have worked in 2018 with Bougartchev Moyne Associés on a product norm and quality issue. We were very satisfied on the outcome of the claim and very satisfied with the work done by Emmanuel Moyne and his colleagues.
They showed a good knowledge of the procedures, they followed a very efficient process leading towards a resolution of the claim without fines for the company but also with keeping and improving reputation of the company.
They have been working in good harmony with the group division and the different parties and have been very reactive.
---
CLIENT: Confidential
TESTIMONIAL: We appointed Bougartchev Moyne Associés law firm on several missions and it appeared clearly that:
– they understand quickly the issues at stake;
– they are efficient and reactive;
– they manage to leverage high level capabilities;
– they produce strong legal advice which is logically articulated and clearly exposed;
all of this making them a firm of excellence on the Paris market.
---
CLIENT: Confidential
TESTIMONIAL: Our firm frequently appoints Bougartchev Moyne Associés law firm for litigation, compliance or other matter issues.
The major qualities of this law firm led by Kiril Bougartchev are their reactivity and the precision of their answers and advices. The lawyers working in the firm are young, highly qualified, dynamic and efficient. The team combines sound legal knowledge with a full understanding of how companies operate which constitutes a fundamental asset for ongoing relationship and trust.
---
CLIENT: Confidential
TESTIMONIAL: Bougartchev Moyne Associés is an excellent law firm specialised in white-collar crime with a team of qualified, rigorous, reactive lawyers fully committed alongside their client and with a perfect knowledge of the French legal system. The strong client relationship enables work to be efficient and profitable on the long run.
---
CLIENT: Confidential
TESTIMONIAL: Bougartchev Moyne Associés has been working for our group and divisions with a great ability to understand the issues we were facing in order to provide tailor-made solutions which we were looking for and which differentiates them.
Apart their technical skills, I have myself been extremely impressed by their ability to place their advice in a global context.
---
CLIENT: Confidential
TESTIMONIAL: We have been working with Bougartchev Moyne Associés for a commercial and a criminal cross-border dispute. We appreciate Bougartchev Moyne Associés' ability and willingness to assist us on our litigation process. In our experience, Bougartchev Moyne Associés' team is a well-equiped law firm to handle large scale commercial and criminal cross-border disputes requiring numerous trials and various aspects. The team is very practical, well-informed and high-quality to be able to achieve good results.
---
CLIENT: Confidential
TESTIMONIAL: Kiril Bougartchev's services are invaluable in terms of legal strategy as well as the precision and rigor of his analysis and advice.
---
CLIENT: Confidential
TESTIMONIAL: Bougartchev Moyne Associés is one of our key partners with respect to legal issues. Beyond the cases strictly speaking, the firm and notably one of its partners, Emmanuel Moyne, is a privileged interlocutor with whom the largest number of legal issues of interest for a major company can be dealt with. Emmanuel elaborates his legal analysis taking into consideration the various issues at stake – legal as well as business oriented – making him a strategic expert to consult. Regarding the firm more generally, the skills of this closely-knit and dedicated team are particularly significant in litigation, white-collar crime and compliance, a practice that the firm has considerably developed over the last years.
---
CLIENT: Confidential
TESTIMONIAL: Bougartchev Moyne Associés assists us in the improvement of our compliance programme, notably with regards to Sapin II Law. We appreciate the quality of their listening and their proposals, as well as the availability and the great responsiveness of Emmanuel Moyne – who is in charge of our matters – and of his team.
---
CLIENT: Confidential
TESTIMONIAL: Bougartchev-Moyne is my go-to firm in Paris for litigation matters. I have worked with them on several matters and they have always shown outstanding skills. They combine the expertise and the level of services that you would expect from a first tier international firm with the clear benefits of being a highly specialized boutique firm
Top Tier Firm Rankings
Firm Rankings