Firm Profile > Elias Neocleous & Co LLC > Limassol, Cyprus
Elias Neocleous & Co LLC
Offices

Elias Neocleous & Co LLC
NEOCLEOUS HOUSE, 195 MAKARIOS III AVENUE, 1-5TH
LIMASSOL, CY-3030
Cyprus
Elias Neocleous & Co LLC > The Legal 500
Rankings
Elias Neocleous & Co LLC >
Firm Profile
The firm: Elias Neocleous & Co LLC is among the largest firms in South East Europe and the Eastern Mediterranean, with more than 150 lawyers and other professionals. All are English-speaking and members of staff speak most European languages, as well as major Asian languages. The firm is generally regarded as a regional leader, with a particular forte in cross-border work.  It advises international clients on all aspects of Cyprus and European law and handles the largest and most demanding cross-border assignments.
Having pioneered the development of business ties between Cyprus and Russia, the firm has widened its market focus to include China, Israel, the middle east, India, Asia, USA and South America. It acts for leading companies from these regions as they enter the European market. The firm is committed to continuous investment in its human resources and its infrastructure in order to provide clients with service of the highest quality.
Areas of practice
Admiralty and maritime: Deals with the registration of vessels and aircraft under the Cyprus and other flags and all aspects of ship finance. It also advises on ship sale agreements, charterparties and other types of contract. It also handles disputes and execution of judgments against assets of shipping and aviation companies worldwide including ship arrests.
Banking and finance: Advises on the Cyprus aspects of major cross-border
finance transactions, including all types of syndicated lending, asset finance and leveraged and acquisition finance. It has strong links with commercial and investment banks, trust companies and underwriters.  Clients are appreciative of our 'assistance and responsiveness'.
Financial Services and Regulation: Deals with the EU and Cyprus applicable framework on (i) banking and payment services, including those under the banking recovery and resolution regime and the deposit guarantee scheme, (ii) investment services and activities under the Markets in Financial Instruments Directives (MiFID II and MiFIR) as implemented in Cyprus, including under directives and circulars issued by European Securities Markets Association (ESMA) and the  Cyprus Securities and Exchange Commission (CySEC); (iii) the EU and Cyprus framework on listed equity and debt securities under the Prospectus Regulation and respective local laws, the Public Offer and Takeover Bids laws and regulations, the Market Abuse Regulatory and regulatory requirements regarding market disclosures and transparency towards regulators as well as capital markets transactions; (iv) the structuring, authorization, supervision and transactions of collective investments, such as alternative investment funds and their managers and UCITS and (v) the regulation of insurance and reinsurance undertakings and intermediaries, under the applicable Cyprus regime.
Corporate and commercial/mergers and acquisitions: Advises on formation, corporate management and governance of companies; formation and use of trusts; mergers and acquisitions of companies in Cyprus and abroad including private and public mergers, takeovers, demergers and disposals; joint venture agreements; corporate reconstruction and reorganisation, inward and outward domiciliation of entities, capital raising transactions and offerings, private equity, stock options and purchase and sale of securities work.
It has particular expertise in investment via Cyprus to and from Central and Eastern Europe, Asia and South America.
The department also advises local, multinational and international companies on matters of licensing, procurements, e-commerce, labelling, agency and distribution, consultancy services, consumer protection, concession and operating agreements, and the department specialises in regulatory matters relating to electronic communication, information technology, pharmaceuticals and data protection (GDPR and NIS Directives).
Competition and European Union law: Advises multinational enterprises investing in Cyprus on anti-trust  and merger control law issues under domestic and EU Competition Law and also on  distribution agreements and cartel investigations. Our firm has experience with the government and the Competition Authority and a deep understanding of local competition regulation. We offer our clients a tailored service. We also act as counsel to several administrative and quasi-governmental bodies, thus strengthening our relationships with the country's key stakeholders in competition law.
Employment Law: Elias Neocleous & Co LLC is skilled at advising senior employees as well as major national and multinational companies. It also advises the British High Commission on employment matters and it is the exclusive representative in Cyprus of the Employment Law Alliance Network, the largest and most prestigious network of labor and employment lawyers, with more than 3000 attorneys in over 100 countries. The team has particular expertise in drafting employment contracts and related documentation as well as in advising on a very wide range of employment law matters, including termination of employment, employee rights and obligations, statutory benefits, employee incentive schemes, transfer of undertakings and protection of employees (TUPE), health and safety at work, collective bargaining, etc. Nicholas Ktenas has considerable experience in this space. He has been acknowledged in a number of client testimonials to Legal 500 over the past years as a "first class" head of a "capable and responsive practice", "paying close attention to detail" and "remaining calm under pressure".
Energy : Our staff have more than 20 years' experience in advising potential investors in a wide range of energy projects ranging from onshore and offshore oil and gas exploration operations to renewable energy projects. We have up-to-date knowledge and experience of the relevant national, EU and international legal and regulatory environment applying to all types of energy projects. Our specialists in public procurement have extensive experience in assisting clients in preparing and submitting tenders to the relevant government authorities and in subsequent negotiations and finalisation of contracts. Our aim is to help clients identify profitable opportunities and exploit them as effectively as possible. We have assisted several leading participants in the energy market with projects such as applications for exploration licences, public procurement procedures and the negotiation and drafting of all types of energy agreements, including public contracts with joint operation agreements and energy suppliers or drilling contractors. Our unmatched tax expertise allows us to advise clients on the most tax-effective structuring arrangements, taking account of the international nature of the industry and the various tax regimes involved. In addition, we have long experience in dealing with the regulatory bodies involved in the monitoring of compliance with the requirements of Cyprus and EU environment, energy and oil and gas legislation.
Intellectual property: advises on the acquisition, registration and protection of all types of intellectual property. The firm specializes, inter alia, in advising international clients on the protection and exploitation of intellectual property using Cyprus-based structures in order to benefit from Cyprus' advantageous IP taxation regime. Existing clients include clients with household brands in business sectors which include software, electronic service payments, pharmaceutical products, sports and personal care products. Nicholas Ktenas heads the group.
Information Technology- Data Protection Regulation :The Information Technology- data protection privacy team is a multidisciplinary team with extensive experience in e-commerce and privacy laws as well as information security services. Consisting of both legal and technical experts, the team specializes in assisting clients to familiarize themselves with and to comply with their obligations as Controllers and/or Processors towards data subjects, including clients, employees and business partners, under the European General Data Protection Regulation and applicable Cyprus and international data protection laws. This is mainly achieved by assessing an organization's existing data protection procedures and developing effective organizational controls and governance structures using a number of specialized techniques and approaches such as gap analysis, data mapping, data protection impact assessments, data protection by design, raising awareness, defining and drafting of privacy notices and policies, managing data security breaches, and the provision of 'Data Protection Officer' services.
Litigation and arbitration:  Elias Neocleous & Co LLC is home to the strongest litigation and dispute resolution department, in terms of size and experience, in Cyprus.  In 2019 it was awarded Benchmark Litigation's (Europe) 'Law Firm of the Year – Cyprus' and, additionally in the same publication, Chrysanthos Christoforou, Partner and 'Head of Department' was named 'Lawyer of the Year-Cyprus'.
We are the law firm of choice for prestigious clients seeking assistance with international and domestic litigation and have been involved in many recent high-profile cases.  We are also highly experienced in all forms of 'alternative dispute resolution. Our client base includes leading international law firms (and their clients), leading financial institutions, investment firms, national and international business corporations and, private individuals.
Uniquely in Cyprus our team is divided into four specialist sectors under the guidance of partners Antonis Glykis, Anna Demetriou, Chrysanthos Christoforou and Christos Melides.  This separation allows for the development of specific expertise in each sector and plays an important role in ensuring that we achieve the best possible outcomes for our clients.
Infrastructure and project finance: the firm assists clients on landmark developments, global PFI and PPP projects. Advice is specifically tailored to dovetail with the corresponding commercial, banking and finance and tax aspects.
Tax and international tax planning:  Elias Neocleous & Co LLC has the largest and most experienced law firm tax department in Cyprus.  We have an excellent reputation for delivering high quality 'up to the minute' advice and planning.  Our tax and tax planning resource includes specialists with legal, accounting and financial backgrounds. This combination together with close cooperation with other teams across the firm enables us to provide our clients with robust, commercial solutions to their tax problems.
Our clients include international law firms, large domestic and international corporations, financial institutions, high net worth individuals and government organisations.  We have a marked expertise in cross-border transactions and associated tax planning issues and have been involved in numerous projects across Europe, Asia and the Americas.  We are well versed in contentious issues and corporate tax policy issues.  The expertise shown in our international work is mirrored in our domestic tax work where we also have significant capacity and experience.  Our clients say 'my sincere appreciation for your remarkable attitude, which is very rare.'
Real Estate and Immigration: Deals with all issues related to real estate, including acquisition and sale of immovable property, legal due diligence for property acquisitions,  estate planning and, particularly for HNWIs, succession issues. Extensive experience in citizenship applications, employment permits, permanent residence permits and other immigration matters.
Main Contacts
| Department | Name | Email | Telephone |
| --- | --- | --- | --- |
| Managing Partner, Companies, corporate management, trustee and fiduciary services, Tax/international tax planning | Elias Neocleous | elias.neocleous@neo.law | +357 25110110 |
| Tax/international tax planning, trustee and fiduciary services | Kyriacos Xenofontos | kyriacos.xenophontos@neo.law | +357 25110156 |
| Corporate finance, capital markets, securities | Demetris Roti | demetris.roti@neo.law | +357 25110161 |
| Corporate finance, capital markets, securities | Dimitris Papoutsis | dimitris.papoutsis@neo.law | +357 25 110145 |
| Real estate, immigration and residence, wills and administration of estates | Christos Vezouvios | christos.vezouvios@neo.law | +357 25110221 |
| Admiralty and shipping, Shipping companies, ship registration, ship finance and aviation | Costas Stamatiou | costas.stamatiou@neo.law | +357 25110141 |
| Banking and Finance, Corporate and Commercial, Employment Law | Andrea Kallis Parparinou | andrea.kallis@neo.law | +357 22110311 |
| Litigation and Dispute Resolution | Christia Middleton | christia.middleton@neo.law | +357 26110382 |
| Litigation and Dispute Resolution | Nicolas Tsardellis | nicolas.tsardellis@neo.law | +357 22110305 |
| Commercial and general litigation, Arbitration (local and international) | Chrysanthos Christoforou | chrysanthos@neo.law | +357 25110136 |
| Commercial and general litigation | Antonis Glykis | antonis.glykis@neo.law | +357 25110169 |
| Banking law, finance, insolvency | Demetris Roti | demetris.roti@neo.law | +357 25110161 |
| Banking law, finance, insolvency | Costas Stamatiou | costas.stamatiou@neo.law | +357 25110141 |
| Employment law, Intellectual property and trade marks, Internet, e-commerce and information technology law | Nicholas Ktenas | nicholas.ktenas@neo.law | +357 22110324 |
| Intellectual property and trade marks | Ramona Livera | ramona.livera@neo.law | +357 22110327 |
| Matrimonial and family law | Christos Melides | christos.melides@neo.law | +357 25110113 |
| Litigation and Dispute Resolution, Matrimonial, Family law and Mediator | Anna Demetriou | anna.demetriou@neo.law | +357 25110121 |
| Arbitration (local and international), Administrative law | Christos Melides | christos.melides@neo.law | +357 25110113 |
Staff Figures
Number of lawyers : 143 at this office : 80
Languages
Arabic Czech English French German Greek Hebrew Hungarian Italian Russian Spanish Turkish Ukrainian Urdu
Other
Other offices : Brussels Other offices : Budapest Other offices : Kiev Other offices : Nicosia Other offices : Paphos Other offices : Prague
Diversity
Elias Neocleous & Co LLC DIVERSITY POLICY
An important part of our corporate mission and strategy is the promotion of diversity and inclusion. As a firm we strongly support a diverse workplace, and we leverage the effects of this diversity to maintain and enhance our competitive business advantage. Our top diversity and inclusion priority is the recruitment and selection of a diverse workforce. We are proud of the fact that we employ talents from all over the world, with differences in background, skills, abilities, experiences and values. Our inclusive workplace promotes a cooperative, collaborative, open and fair culture, which offers equal opportunities to all employees. With a diverse and inclusive corporate culture, we comprehend and respond better to the needs of our clients, delivering the utmost in quality service.
Elias Neocleous & Co LLC CORPORATE SOCIAL RESPONSIBILITY
Our company, recognising the special importance of corporations for the entire community, has taken several initiatives with a very significant social footprint, in the framework of its corporate social responsibility. Some of these initiatives are summarised below:
The firm has established cash prizes in the schools of our city to inspire and reward excellent students. For Elias Neocleous and Co LLC, excellence is a concept of paramount importance that encompasses all its activities, from recruitment policy to final provision of legal services. It is, therefore, logical that the promotion of excellence should be an integral part of the corporate social responsibility policy that we pursue. The prizes are intended to encourage excellence and to foster an empathetic bond between future citizens and professionals.
The organisation of regular blood donation sessions for staff is also an activity that is part of our corporate social policy. We view it as being extremely important for the community to foster a culture of donating blood. Cyprus has a small and highly multi-cultural population and the strengthening of blood banks is a crucial factor in helping to save many of our fellow citizens' lives daily.
Elias Neocleous & Co LLC has also been very active in raising funds for a radio marathon. Bearing in mind the great dynamics of the medium of radio, we are trying to channel it to the benefit of social groups in need.
More than 30 members of the Elias Neocleous & Co LLC staff participated in the 5km International Run in Color, held in Limassol on October 13, 2018. This was part of the major international sporting event "Lemesia 2018". All funds raised by their participation were made available to the ELPIDA Foundation, which provides financial and psychological support to children with cancer and leukemia and their families, as well as free rooms for families of nursing children at the Maca Hospital Childhood Cancer Unit.
A two-man team from Elias Neocleous and Co LLC recently completed the "2019 Bicycle Challenge Campaign". The challenge was part of the co-funded European Programme 'CIVITAS DESTINATIONS'. The aim of CIVITAS DESTINATIONS is to develop innovative projects in order to implement sustainable mobility measures and actions in six European tourist cities.
International Capabilities
International presence
Elias Neocleous & Co LLC is a world-class law firm, which strives to protect the interests of clients and to help them identify and achieve their goals. Key to our success in obtaining these goals is the provision of prompt, professional advice of a consistently outstanding quality.
We are the largest law firm in Cyprus by a considerable margin and are generally recognised as a leading law firm in the South-East Mediterranean region. We have more than 150 professionals operating out of three offices in Cyprus and an international network of offices in the main destinations for investment via Cyprus.
The team
Elias Neocleous & Co LLC is made up of a diverse team of individuals, many with practical international experience in various countries, including:
Greece
United Kingdom
South Africa
Australia
Switzerland
Russia
Together, the staff of Elias Neocleous & Co LLC speak a range of languages including Greek, English, German, Italian, Spanish, Russian, Ukrainian, Czech, Hungarian and Bengali. So, wherever your business takes you, Elias Neocleous & Co LLC will be able to help you communicate in the local language.
Our staff have extensive and incomparable professional experience in assisting clients in cross-border investment projects in and through Cyprus to Western Europe and other jurisdictions in the CIS, Middle East, Asia, Africa and the Americas.
The network
Elias Neocleous & Co LLC is a multi-national firm with offices in Prague, Kiev, Budapest and, most recently, Brussels. Our expert lawyers in each office are qualified in their respective Bar Associations. Their prime focus is on issues of commercial, corporate and banking law. All have considerable experience in their fields of expertise, a fact which has resulted in considerable successes for their clients.
Despite an already impressive international presence, our firm regularly undertakes new initiatives designed to upgrade its international profile. The most recent of these relates to our Brussels office.
Brussels office
We have strengthened our presence in Western Europe with the acquisition of Jurispectrum, a niche business law firm which operates in Belgium and Luxembourg.
Our expanded Brussels office is headed by the experienced EU law attorney Nikos Korogiannakis. Nikos, a member of the Athens, Brussels and Luxembourg Bar Associations, holds a postgraduate diploma in European Law from the University of Brussels and has handled more than 150 cases before the EU Court of Justice as well as numerous complex international trade disputes.
The Belgian firm, which operates as a limited liability company under the name of Elias Neocleous & Associates, focuses on European law, including public procurement, competition, state aid, banking and tax law. It also represents parties in international trade disputes and, on behalf of its clients, engages with all major European institutions.
Our expanded presence at the heart of the EU establishment has added new, specialist resources to our firm and enables us to provide innovative and improved high-level services to our clients.
Client Testimonials
CLIENT: Mr. George Constantinides
COMPANY/FIRM: Group CFO, Invel Real Estate Management (Cyprus) Ltd
TESTIMONIAL: I would like to express my thanks to the entire Elias Neocleous & Co LLC team for its diligent and expeditious approach on all company matters.
---
CLIENT: Ms. Addressa LinFidelis
COMPANY/FIRM: Associate at Latham & Watkins LLP
TESTIMONIAL: Special thanks for Elias Neocleous & Co LLC lawyer's understanding regarding the outcome of our case. Our partnership with Elias Neocleous & Co LLC is most valuable for us.
---
CLIENT: Mr. Fraser Younson
COMPANY/FIRM: Consultant Solicitor from Keystone Law
TESTIMONIAL: I recently completed the sale of my house in Cyprus with Elias Neocleous & Co LLC and I was impressed with their Property lawyer who handled the matter. Her professional, calm and measured approach was amazing and really reassured us when things were not that straight forward. As a solicitor of some 40+ years in the private sector, I must say that I rarely came across a young lawyer with such a combination of professional and personal qualities.
---
CLIENT: Ms. Sarah Shaw
COMPANY/FIRM: Partner at Hogan Lovels International LLP
TESTIMONIAL: The client is very pleased with the result so we would like to express our appreciation for the assistance and responsiveness that the Elias Neocleous & Co LLC lawyers demonstrated.
---
CLIENT: Mr. Aristos Aristidou
COMPANY/FIRM: Director of Lordos United Plastics Public Ltd.
TESTIMONIAL: The lawyer of Elias Neocleous & Co LLC who handled my case prepared quite well documented and thorough written pleadings for our administrative recourse. I have been particularly satisfied with her assistance and the services of the Elias Neocleous & Co LLC team.
Interviews
Elias Neocleous, Managing Partner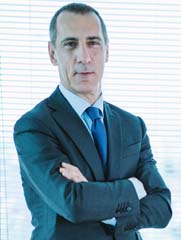 Elias Neocleous, Managing Partner of Elias Neocleous & Co LLC, reflects on the challenges facing a successful modern law firm.
What do you see as the main points that differentiate Elias Neocleous & Co LLC from your competitors?
The main feature that distinguishes Elias Neocleous & Co LLC from our competitors is our commitment to quality in depth as regards everything we do as a firm. The importance we attach to this is evidenced by the fact that we employ a Quality Assurance Manager. Our aim is to provide a consistent, comprehensive and forward-looking service to every one of our clients be they locally or internationally based.
Our clients expect us to possess the knowledge, experience and systems to provide a value-added service to them. To this end we have built a firm with the largest number of high calibre multi-discipline legal professionals in Cyprus. We also have several fully operational overseas offices. All our staff are multi-lingual. This gives us the knowledge, experience, flexibility and responsiveness to be able to deal with even the most complex cross border issues at relatively short notice without impairing our ability to deal with ongoing cases. We both compete with, and work alongside, distinguished large international law firms.
Our team is supported by a first-class Human Resources team which ensures that all staff receive ongoing training and mentoring to enable them to remain at the forefront of their chosen specialism and to achieve their full potential. The efforts of the team together with the international reputation of Elias Neocleous & Co LLC allows us to attract the brightest young lawyers and the best new trainees in Cyprus. This enables the firm both to avoid succession issues and to combine fresh talent and new ideas with experienced professionals.
Crucial to our delivering a quality service is also the fact that we recognise the importance of technology and digitalization in the modern world. Our firm has chosen to embrace technology in order to improve, and enhance, the services that we can offer our clients. To this end we employ a Chief Information Officer who not only oversees our IT department but who also has a prominent seat on the firm's Management Committee.
Elias Neocleous & Co LLC is the only law firm in Cyprus to be accredited with ISO 9001:2015; an independent validation of the consistency of our services. Our Human Resources team is one of just six in Cyprus to have been awarded a Gold rating in the 2019 Cyprus HR awards. Our firm, and named individuals within it, have been regularly recognised by independent legal rating agencies for many years. We don't just talk quality, we guarantee it!
Which practices do you see growing in the next 12 months? What are the drivers behind that?
It is always difficult to make definitive growth predictions as unanticipated events such as 'Coronavirus' and political upheavals can have unexpected consequences. In general, however, we regard the following as promising sectors.
Managed funds and financial services: A number of factors are at play here. In Cyprus the prevalence of negative interest rates means that investors are looking for somewhere to place funds which offers the prospect of a return but is still subject to the 'safety net' of
EU regulation. Alongside this, the NPL situation means that banks are risk averse to lending and so some larger funding projects will need to look elsewhere for investment and explore new forms of investment packages. Additionally, EU substance requirements may result in some funds choosing to relocate to Cyprus as a low-cost and geographically well-placed venue. Alongside all of this the drive to counter money laundering and terrorist financing will continue to produce regulation change.
Shipping: The EU Commission has approved the prolongation of Cyprus' unique tonnage tax scheme until December 2029. This should result in long term steady growth of the number of companies registered under the scheme.
Innovation, technology and sustainability. The commitment of the EU to its Green Deal strategy and to its financing structure offers a plethora of opportunities for business, including law firms, to engage in and advise on innovative projects that promote sustainable living.
Finally, for a limited period there will be opportunities linked to BREXIT. UK firms, for example, may now need advice re regulations on exporting to Europe and vice versa.
What's the main change you've made in the firm that will benefit clients?
We have made several changes which will benefit our clients. We are constantly seeking ways to improve our service and add value for our clients. In the past year there have been important changes relating to IT which are summarised in the question below. Additionally, our new Brussels office, at the heart of the EU, is now fully functional. It adds new, specialist resources which our clients can access and another means through which we can add value to their business.
Is technology changing the way you interact with your clients, and the services you can provide them?
As acknowledged previously, technology is having a huge impact on the way that we do business and the services that we can offer our clients. Our firm has recently introduced a state-of-the-art practice management and document management system which has greatly improved the efficiency of communication, electronic file sharing and work collaboration both across departments and directly with clients. In 2019 we also launched a Tier III Datacenter to massively upgrade our technological structure and accelerate our legal innovation movement. The Datacenter allows us to offer our clients IT management and processing solutions as well as providing tools to increase the efficiency of our lawyers and assist them in providing high-quality legal services.
Can you give us a practical example of how you have helped a client to add value to their business?
At Elias Neocleous & Co LLC our aim is always to direct our knowledge and experience in such a manner that they add value to our client's business. Our focus is on long term relationships where we can provide comprehensive legal support and strategic input.
For example, one of our clients is a major hotel which recently became independent of a large chain. We have utilised our specialist departments to work for it on various projects. These included a transfer of shares, the re-branding of the business and registration of new trademarks, competition advice and notification filing, employment law advice, and the performance of a full GDPR assessment and compliance exercise. The client now retains our services on an ongoing basis.
As a further example, we have, by building our own Datacenter, given our clients the opportunity to host their own data room thereby offering a facility to securely save their files and, to exchange them in a safe manner with their lawyers.
Are clients looking for stability and strategic direction from their law firms – where do you see the firm in three years' time?
Our clients are certainly looking to us for stability and strategic direction and our aim is to never disappoint them. Clients expect their lawyers to provide business added value through their knowledge and experience. In three years' time we intend to be, as we are now, 'ahead of the game'. Our focus is on retaining and growing our high-quality client list and providing them with a top-quality service that their confidence in us deserves.
Press Releases
25th August 2020
ELIAS NEOCLEOUS & CO LLC ADVISES GREENMONT AIFLNP LTD ON ITS INVESTMENT IN NACE ENERGIA IN SPAINDuring Q2 of 2020, our Financial Services and Regulation, Corporate and Commercial as well as Energy teams assisted our valued client, Greenmont AIFLNP Ltd ("
Greenmont
"), a Cyprus-authorized alternative investment fund on the Cyprus law aspects of its private equity investment in Nace Energía ("
NACE
").
9th June 2020
As Cyprus moves forward with its plans to build a Liquefied Natural Gas terminal on the Island, Elias Neocleous & Co LLC is proud to have advised and assisted Abamba Limited, a consortium of global engineering firms EPCM Consultants SA (Pty) Ltd, Global Maritime Consultancy Limited and iX Engineers (Pty) Ltd, with the submission of their tender application to the Natural Gas Infrastructure Company (ETYFA) for the Engineer Supervision Contract for the project to develop the infrastructure to import Liquefied Natural Gas (LNG) into the Republic of Cyprus. 
20th February 2020
Elias Neocleous & Co LLC is proud to have advised CPI Property Group ("
CPI
") on the Cypriot aspects of its recent acquisition of shares in Globalworth Real Estate Investments Limited ("
GREIL
"). CPI is a company listed on the Frankfurt Stock Exchange with a property portfolio of circa EUR 8 billion. The shares it successfully acquired had previously belonged to Mr. Ioannis Papalekas who held them via a Cyprus SPV. Mr. Papalekas is the founder of GREIL and was responsible for growing it into a successful business. GREIL is currently listed on the AIM of the London Stock Exchange with a market capitalization in excess of EURO 2 billion. Whilst, as a result of this transactions Mr Papelakis is now no longer a shareholder in GREIL, he remains as CEO and will continue to be actively involved in the business.
Legal Developments
22nd March 2019
Elias Neocleous & Co's Financial Services team assisted the Zarenkov family on Cyprus corporate and financial services law matters in their February 2019 disposal of a 25% shareholding interest in Etalon Group Plc to Sistema PJFC, a publicly-traded diversified holding company. Etalon Group Plc, one of Russia's largest and longest established development and construction companies,  is a Cyprus public company having Global Depositary Receipts (GDRs) traded on the Main Market of the London Stock Exchange since 2011. The relevant public announcements on this transaction are available in the website of the London Stock Exchange and of Etalon Group Plc.
25th April 2018
New Cyprus law on data system security
The Security of Networks and Information Systems Law, Number 17(I) of 2018, implements articles 8 and 9 of EU Directive 2016/1148 on measures to achieve a high common level of security of network and information systems throughout the EU. It designates the Commissioner for Electronic Communications and Postal Regulation (Commissioner), appointed under article 5 of the Regulation of Electronic Communications and Postal Services Law 112(I) of 2004, as the national competent authority for the purposes of article 8 of the directive, with responsibility for coordinating the implementation of the cyber-security strategy and monitoring the application of the directive at national level.
25th April 2018
In 2011, in response to public concerns over large multinational companies exploiting differences in national tax rules, the European Commission published a proposal for a Common Consolidated Corporate Tax Base (CCCTB) to unify tax rules throughout the EU. Individual countries would still be free to set their own tax rates, but anomalies between countries in terms of deductibility of expenses and recognition of income would be eliminated. The initial proposal met with considerable political resistance, particularly from the United Kingdom, and was not pursued. In October 2016, perhaps in anticipation of less resistance once Brexit was completed, the Commission issued a revised proposal to replace the earlier one. It aims to introduce a set of common rules for determining the tax base of companies with operations in several EU Member States and tax them in the country where their revenues are generated, and remove the anomaly of large companies paying what the public perceives as disproportionately low amounts of tax in countries where they have significant activities.
Top Tier Firm Rankings
Firm Rankings