V.D. Ikonomidis & Associates Law Firm > Athens, Greece > Firm Profile
V.D. Ikonomidis & Associates Law Firm
Offices

V.D. Ikonomidis & Associates Law Firm
112 VASILISSIS SOPHIAS AVE.
11527 ATHENS
Greece
V.D. Ikonomidis & Associates Law Firm > The Legal 500
Rankings
V.D. Ikonomidis & Associates Law Firm
offers extensive experience in disputes arising from a variety of industry sectors such as pharmaceuticals, cosmetics and food supplements, tourism, travel, software and computer services and franchising. The arrival of associate 
Paraskevi Tsamadou
 in July 2021 is set to strengthen the team. The practice is led by
Vassilios Ikonomidis
and
Georgia Patili
.
Practice head(s):
Vassilios Ikonomidis; Georgia Patili
Testimonials
'It is all about the team. The firm has great individuals who are always there for us, ready to listen to our problems and suggest the solutions in accordance with our needs. Upon our request, they send us a full description of the potential actions we should take, along with the effects of each action, and we cooperate in order to choose the one which seems to be more suitable for us.'
'Business oriented with deep legal knowledge. Fair billing, friendly culture, immediate responses.'
'Vassilis Ikonomidis is a born leader and a great negotiator. He grasps all the angles of business matters and guides his team successfully.'
'I'm never worried about not having an answer when I need it and especially regarding urgent matters. They are always available when you need them and this is one of the aspects I appreciate compared with other law firms.'
'I consider every individual in the firm as a real partner to our business. I have them in mind as one of us and not people who belong to a different organisation. I feel they really care about us and they treat our problems and difficulties as their own. We operate together as a team and they don't make us feel like clients.'
'I have worked on a number of occasions with Vasilis Ikonomidis. He is very efficient and can find clever solutions to address and resolve complex legal issues both in litigation cases as well as in commercial transactions.'
'The whole team was responsive and proactive.'
'Georgia Patili provides advice when needed, always on time and without delays. She always had time to give advice and provide clarifications, even when working to a tight deadline.'
Key clients
SSH Maritime Group of Companies
Cobaltair Ltd (in liquidation)
BMW HELLAS Car Trading S.A.
Future Health Ltd
Neotex S.A.
Riginos S.A.
Exelixis S.A.
Original Senses P.C.
Onda Tenders P.C.
Optimum S.A.
Senso in Terra S.A.
Leriva Group of companies
Agile Group of companies
Kentro Chara
Work highlights
Represented a stem cell bank in a lawsuit relating to a claim for €1m in compensation.
Represented an aviation company in proceedings seeking to claim €620,000 from three airline companies.
Advised an entrepreneur on data privacy issues and defended the client in a dispute with his former partners in a real estate investment group.
V.D. Ikonomidis & Associates Law Firm >
Firm Profile
V.D. Ikonomidis & Associates Law Firm (VDI Law Firm) was established in December 2009 by managing partner Vassilios D. Ikonomidis, who was already actively engaged in the areas of civil, commercial and criminal law. Since then, we have continuously provided our legal services, having gradually evolved from a small-sized law office into a dynamically growing boutique law firm.
Our firm is distinguished for its high standard of legal services in specialized areas of law, combining legal tradition and decades of experience with flexibility and understanding of contemporary challenges in financial and business environments.
The scientific excellence of our members in various areas of law, the reliability and swiftness in handling the cases assigned, ensure an integrated and interdisciplinary approach to legal issues that may arise in the course of carrying out any kind of business activity and constitute the basis of the firm's successful course until today. The professional relationships of our firm are characterized by continuity and mutual trust, with the firm having established an ever-expanding clientele, which includes Greek and international companies and groups, entrepreneurs, strategic investors and individuals.
The firm's aim is its evolution into a modern law firm, which along with the full legal expertise of its members, will fully meet the growing needs and demands of each business activity. The fundamental principle of our firm is to provide high quality legal services, as well as innovative and effective solutions.
Main Contacts
| Department | Name | Email | Telephone |
| --- | --- | --- | --- |
| Head of Corporate and Managing Partner, Dispute Resolution, Commercial Contracts, M&A, Real Estate, Tax Law, Healthcare & Pharmaceutical Law, Intellectual Property | Vassilios Ikonomidis | vikonomidis@vdilawfirm.com | +30 210 8847442 |
| Head of Dispute Resolution, Commercial Contracts, Real Estate, Employment Law, Data Protection Law, Restructuring & Insolvency, TMT | Georgia Patili | gpatili@vdilawfirm.com | +30 210 8847442 |
| Corporate Law, Commercial Contracts, M&A, Banking & Finance Law, Tax Law, Real Estate, Yachts, Intellectual Property | Despina Valtzi | dvaltzi@vdilawfirm.com | +30 210 8847442 |
Languages
Greek English German French Italian
Client Testimonials
CLIENT:
COMPANY/FIRM:
TESTIMONIAL: "Their immediate legal actions, their professionalism and their excellent performance are the strengths that make them special."
---
CLIENT:
COMPANY/FIRM:
TESTIMONIAL: "All the lawyers of the firm are hardworking, consistent, reliable and very experienced. They have excellent knowledge of Greek law and in general of the Greek law system. Mrs. Georgia Patili, Mrs. Aikaterini Pothoulaki, Mrs. Theodora Nikolopoulou, and of course Mr. Vassilios Ikonomidis himself are excellent colleagues."
---
CLIENT:
COMPANY/FIRM:
TESTIMONIAL: "Rapid responses on an unusual matter, and a sensible approach to handling litigation. Not afraid to deal with complex legal and expert issues, at a very reasonable rate."
---
CLIENT:
COMPANY/FIRM:
TESTIMONIAL: "Vassilios Ikonomidis is a great help on a difficult case with a good grasp of tactics and excellent English (I am instructing him from the UK)."
Diversity
Aim of "VDI Law Firm" is its evolution into a modern law firm, that along with the full legal expertise of its members will fully meet the growing needs and demands of each business activity. Fundamental principle of the firm is to provide high quality legal services as well as innovative and effective solutions. As the world entered a new and more digitalized era, people seek from law firms to be ahead of times, capable of understanding the new needs that may occur and give solutions directly without losing their anthropocentric character. That is something we here in VDI Law Firm always try to embrace. We put people and their needs first. We research in great depth the problems and needs and with our expertise we solve everything in time. We have created a trusted environment for our clients and that is shown in our numerous testimonials. Also, we try to create a trusting and loyal environment for our colleagues too. We are opposed discrimination of any kind, inside and outside of the company. That is something we try to maintain in our recruiting processes as well. We do not care about colour or race, as long as you are as passionate as we are at performing the law and you have demonstrated solid academic credentials. Our wide clientele shows that we do not discriminate clients as well. We take over every company or individual that come to us –if the problem is inside our firm's capabilities- and we always use our long-term expertise to help. Inclusion is how we unleash the power of diversity. We strive to foster belonging and empowerment inside and outside our workplace.
If a workplace consists of a diverse group of lawyers and staff, then it will be easier to grasp clients' needs better and provide them with innovative solutions, wherever the client is based. Innovation, motivation, inclusion and trust are some of the core values that our firm always tries to proceed with.
Interviews
Vassilios Ikonomidis, Managing Partner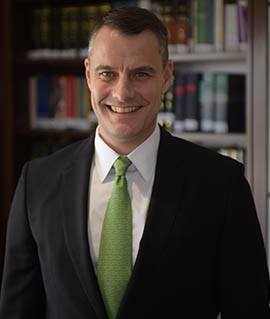 Vassilios Ikonomidis, Managing Partner of VDI Law Firm introduces company's vision and how they adapt to customers' challenging needs.
What do you see as the main points that differentiate [law firm name] from your competitors?
VDI Law Firm tries to always stay up to date with the emerging needs of society, and grasp clients' needs with immediacy and accuracy. We are constantly communicating with our clients, and try to be innovative looking for new ways of helping and using the law. We are an all-inclusive firm, we care about diversity, and we try to recruit people from different levels of education and social status. We are a self-created firm that always tries to be innovative and ahead of times.
Which practices do you see growing in the next 12 months? What are the drivers behind that?
Traditional law will be transformed into a more digitalized, as millennial clients want transparent information and cost and flexible methods of communication and billing. So, all practices should try and digitalize themselves, in order to better grasp peoples' needs. Family law, law enforcement and law about diversities will surely keep us busy in the near future. The most pressing issue is for law firms to find new more innovative ways to practice law and use technology to their advantage, such as AI and VR technologies.
What's the main change you've made in the firm that will benefit clients?
Our competitive charges along with the quick and immediate response to clients' needs and wide expertise, make us an ideal law firm. You can see from the numerous testimonials how much satisfied our clients are and how much they trust us.
Is technology changing the way you interact with your clients, and the services you can provide them?
Technology is of course changing, as everything is more digitalized nowadays, and with the Covid pandemic now, our clients' needs are even more pressing and seek for digital communication and solutions. We have established a whole new system where we can communicate with our clients faster and easier than before. We take pride in working in a fast paced technological environment and always educate ourselves for all the upcoming changes.
Can you give us a practical example of how you have helped a client to add value to their business?
One of the most fascinating and noteworthy recent cases we've handled is a dispute between one of our clients, a yachting company owning a first class commercial yacht, and a contractor who undertook certain refitting works on the yacht. By virtue of an interim order requested by the contractor, the yacht was arrested and prohibited to sail. At the time of arrest, the yacht was lying on a floating dock in Piraeus Port with its stern partially fragmented. In this context, in addition to loss of profit as a result of the inability to charter the yacht during that summer high season, our client was forced to pay large amounts as a daily fee for the use of the floating dock. Our dispute resolution department managed to find a viable and lawful solution in order for the yacht to move to another location for the completion of its reconstruction works. Being constantly in contact with all involved parties and authorities, we managed to convince the court which after many efforts finally accepted our claims, by permitting the shifting between berths of the yacht via towage, hence saving thousands of euros in the benefit of our client. The principal petition for interim measures of our opponent was also rejected, with a final positive outcome for our client. This is definitely a case to remember.
Are clients looking for stability and strategic direction from their law firms – where do you see the firm in three years' time?
In three years' time, we hope to widen our client list and maintain our trusting and loyal environment inside and outside the workplace. We want to expand our practices and at the same time our workforce. So many new lawyers need to advocate, and we need them to be by our side. We already give chances to new lawyers to come work with us, and we will continue to.