Kather Augenstein Rechtsanwälte > Dusseldorf, Germany > Firm Profile
Kather Augenstein Rechtsanwälte
Offices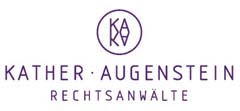 Kather Augenstein Rechtsanwälte
BAHNSTRAßE 16
40212 DÜSSELDORF
Germany
Kather Augenstein Rechtsanwälte > The Legal 500
Rankings
The team at
Kather Augenstein Rechtsanwälte
in Düsseldorf is one of the most sizeable IP boutiques in Germany, while their broad patent advisory portfolio is reflected in individual focal points of its key team members: litigator
Christof Augenstein
predominantly advises in the electronics, telecommunications, medicine and automotive sectors, while
Peter Kather

has a strong focus on cross-border proceedings.
Miriam Kiefer
, who is experienced in medical technology, heads the team, which also includes
Christopher Weber
(software, electronics, pharmaceuticals, chemistry, mechanics and plastics processing) and
Sören Dahm
, who is well versed in technology-related and often cross-border issues.
Benjamin Pesch
(computer-implemented inventions) made counsel in July 2022.
Practice head(s):
Other key lawyers:
Testimonials
'Highly qualified team that handles cases quietly, competently and focused in a very pleasant way.'
'Very powerful and efficient team, both for smaller and larger cases.'
'Miriam Kiefer: Trusting, very pleasant, close and very well coordinated cooperation in a number of infringement cases, expert opinions and SPC procedures.'
'Peter Kather stands out due to his great experience and calm negotiation skills. Christof Augenstein is very client-oriented and proactive. Even in complex cases, he has a comprehensive overview of both the legal and technical side. Miriam Kiefer is an excellent attorney who comes highly recommended in technically and legally complex patent proceedings.'
'Peter Kather: Very balanced, calm and yet very persuasive. Miriam Kiefer: Very goal-oriented and motivated. The oral presentations by Peter Kather and Miriam Kiefer before the Federal Court of Justice and the regional courts in Düsseldorf were precise, well prepared, to the point, convincing and had a common thread throughout.'
'Christof Augenstein and Christopher Weber: Always on top in technology-based patent litigation.'
'Peter Kather, Miriam Kiefer and Christof Augenstein: Targeted, very competent lawyers with an excellent understanding of technology. They are extremely convincing from a legal and strategic point of view and very pleasant to work with.'
'Christopher Weber: Very good technical understanding. Fast work.'
Key clients
Sigma-Aldrich
RHEFOR (Deutschland) GmbH
Volkswagen/Audi
BASF SE
Merck KGaA
B. Braun
Ericsson
Knorr-Bremse AG
HTC
Boston Scientific
Centripetal Networks Inc.
Coloplast
Work highlights
Representing Ericsson in a global dispute with Apple regarding the conclusion of a license agreement – including for standard-essential patents.
Representing Centripetal Networks Inc. in multinational patent infringement proceedings in the field of network components against Cisco, Palo Alto Networks and Keysight.
Representation of RHEFOR against Hilti in a series of vindication proceedings regarding a new drive technology for battery-powered nail setting tools.
Kather Augenstein Rechtsanwälte >
Firm Profile
The Firm
Kather Augenstein was founded by five established IP specialists at the beginning of 2016 and by now consists of 12 lawyers, who combine their expertise and experience for you. All of our lawyers have many years of experience acting in major cases for significant clients. Our size means that we are much more flexible than many large law firms.
We relish the challenging cases. Our passion is to disentangle complex situations, to decipher apparently contradictory facts, and to get to the root of a problem. We delve into the matter and never give up. Our focus: patents, trademarks, design and unfair competition. When it comes to intellectual property rights, we are second to none – all of us are specialised in this field.
We are a focused and very powerful team with the experience and know-how of the largest law firms. We work closely together, are highly specialised, and combine our knowledge effectively to your advantage. Naturally, this includes issues of international reach as intellectual property does not stop at borders. We work seamlessly with similarly experienced law firms around the world and coordinate international legal disputes.
We are thus able to supervise major mandates with complex issues. In court litigation we do not only master the strategy, we will also bring our creativity and ideas fully to the fore, to get the best possible outcome for you.
We work exclusively in litigation, because we prefer contentious disputes. Contentious and complex proceedings require a special approach and organisation. We appreciate your concern that your interests may not be heard with sufficient care and, also, the stressful situation and heavy pressure that legal disputes entail. We are aware of the impact that a dispute over monopoly rights may have, especially if a ban on production is at stake. We also have extensive experience with arbitration. We are regularly nominated as arbitrators, and are thus familiar with the other side of the bench.
Areas of Practice
Patents
Patents and utility models are the focus of our work at Kather Augenstein. We have enforced intellectual property rights in all technical areas, notably telecommunications, automotive, pharmaceutical, medical technology, bio-technology, nano-technology, engineering, chemistry and many more.
One of our core competencies is to make complex technical issues readily understandable. Our profession faces the challenge of the Unified Patent Court, an entirely new system, without established legal principles or precedent. In conjunction with colleagues at foreign law firms, we have engaged with the subject, and delved into the new law and procedure from different national perspectives. Since legal judges will be even more dominant at the Unified Patent Court, our role as translators is also set to become even more important in the future. The partners of Kather Augenstein were accepted as being readily qualified to act as judges for the new Unified Patent Court; an expertise that will be much to your advantage.
Trademarks and designs
Given the global division of labour, the decisive factor in the success of a company in Europe no longer hinges solely on production costs. That is because every business is now in a position to access cost-effective manufacturing options outside of Europe. Strong brands and distinctive designs are becoming increasingly important for your success, and we will help you protect them, to ensure that you remain distinctive, and that customers recognise true quality and originality. Strong brands and designs will always be subject to envy, but fear not! With us, you are in safe hands.
Unfair competition
Are you troubled by a competitor publishing misleading advertising, disseminating facts constituting trade libel, or otherwise violating laws against unfair competition? We will help you get matters back on track.
Equally, if someone accuses you of unfair behaviour or breach of intellectual property rights, you've come to the right place. We will defend your rights against unjustified claims.
Litigation PR
Patent and trademark disputes always attract a lot of attention. With our experience, we ensure that our clients also make a good impression in the public eye. If necessary, we offer Litigation-PR in cooperation with a trusted service provider.
Nowadays only those who take account of all communicative developments will emerge successfully from legal disputes – not only in court, but also in the public perception.
Staff Figures
Number of Lawyers : 13
Languages
German English French Italian Spanish
Memberships
AIPPI (Association for the Protection of Intellectual Property) EPLAW Union IP German Association for the Protection of Industrial Property and Copyright Law (GRUR) VPP German-British Lawyers' Association women in ip e.V.
Other
Managing Partner : Miriam Kiefer LL.M.