Sioufas & Associates Law Firm > Athens, Greece > Firm Profile
Sioufas & Associates Law Firm
Offices

Sioufas & Associates Law Firm
6A, NEOU FALIROU STREET
AGIOS IOANNIS RENTIS
182 33 ATHENS
Greece
Sioufas & Associates Law Firm > The Legal 500
Rankings
Sioufas & Associates Law Firm
 primarily provides
'direct, immediate and accurate services'
for clients in the banking industry, having represented a significant number of Greek banks in court litigation. The team's expertise includes intellectual property work, banking and finance, commercial, insolvency, employment and competition law disputes.
Marios Sioufas
has successfully handled numerous litigation cases, being a mainstay of the firm's bank-side work, as has
Olga Eftychidou
.
Nikolaos Katiforis
has an extensive experience in public law and arbitration, as well as commercial litigation.
Practice head(s):
Marios Sioufas; Olga Eftychidou; Nikolaos Katiforis
Other key lawyers:
Dora Antonopoulou; Ioanna Rapsomaniki; Konstantinos Konstantellos
Testimonials
'The firm is specialised in debt collection litigation and judgment enforcement procedure. The network of the law firm expands to the whole territory of the country, providing services and representing the client to any court of the Greek territory.'
'The firm provides regular monthly reports to the client, while the team is always available for any issue that may arise.'
'The team provides direct, immediate and accurate services. The availability of the team and the completion of the assignment in tight deadlines have always been appreciated during our collaboration.'
'The team is eager to understand the client's background and needs and will do its best to fulfill its expectations and reach a positive outcome.'
'The individuals we worked with have thorough knowledge of their respective field of the law and a very practical mindset when it comes to dispute resolution.'
'The firm's approach is to understand the business strategy, need and objective and provides specialised and value for money legal solutions aimed to achieve optimal results. Work is based on honesty, consistency, and transparency.'
'The firm is characterised by integrity, team spirit and great appeal to knowledge. Updated on new laws with strong legal background, while they have the ability to quickly adapt to changing circumstances.'
'The firm is empowered with managers that exceed the expectations in a professional collaboration.'
Key clients
A.G.E.T. Heraklis SA
Perfetti van Melle Hellas SA
PetroGaz S.A.
DEDDIE S.A.
WATT+VOLT SA
Fysiko Aerio Attikis
Kepenou Mills
Elmin Voxites S.A
LYDA SA
Heron SA
A firm with
'excellent collaborative skills'
,
Sioufas & Associates Law Firm
focuses on trade marks, designs and patents, providing both advisory and litigation expertise. Advising on availability issues of IP rights and avoidance of possible conflicts with existing rights is central to the practice.
Marios Sioufas
is experienced in handling cases of registration and protection of national, European and international trademarks and designs as well as representing clients before the Administrative Courts of Greece and the European Union Intellectual Property Office.
Other key lawyers:
Nikolas Katiforis; Eleni Sdrolia
Testimonials
'The team at Sioufas and Associates Law Firm has consistently displayed excellent collaborative skills. We felt that all lawyers involved had not only extensive knowledge of the legal framework, but also understood our needs and thoroughly worked on our cases.'
'Marios Sioufas has provided us with extensive legal advice and guidance on the registration of our trademarks and thoroughly explained every step of the process and the respective costs.'
'Their team thoroughly advised us on our options for the nature of the trademark and the specific categories we should apply for based on our company's field of work.'
'The partners and associates involved conducted detailed preliminary research in order to forewarn us about potential legal action we could face during or following the registration process.'
'Marios Sioufas kept us informed about every step of the trademark registration and made sure the chosen classes of our trademark aligned with every facet of our business.'
'We believe our matters were diligently and efficiently handled and would recommend them to anyone seeking protection of their intellectual property rights.'
'The team, and especially, Marios Sioufas, are highly skilled, motivated, and with good knowledge of the technological business sector as well.'
'Marios is always there for us, to support and consult our partners. He is an open minded professional, fully capable to understand and assess the clients' needs and consult them effectively.'
Key clients
Benestar Property Single Member Societe Anonyme
Goniry Single Member Societe Anonyme
Kailatzis Panagiotis
Chania Bank
Deals Societe Anonyme
CHERI UP P.C.
Oikonomakis Dimtrios Pan. and Co Limited Partnership
Aggelakis S.A
Ampelones Michalaki S.A.
KUBER S.A.
Aenorasis SA
Ambience Services P.C.
LUNA S.A.
Dimitris Grypakis SA
Di-Man SA
LYDA SA
Ellinikos Typos SA
Horosynthesi SA
Authentic Hospitality Ltd
Petros Petropoulos SA
Kolyperas P.C.
Grand Services Coffee and Restaurant SA
EPLATFORM SA
Glerby Private Company
Fariox Single Member Private Company
Lorbax Single Member Private Company
Pexmon Single Member Private Company
Tozzby Single Member Private Company
Orizor Single Member Societe Anonyme
Enetly Single Member Societe Anonyme
Cosmodrink Societe Anonyme
Watt and Volt
Archimedes Transfer Technology Office
Marras Industrial and Commercial S.A.
Pappas Elevators SA
Gavrilis Group
Sioufas & Associates Law Firm
, a team with
'very good coordination'
, acts for a range of financial institutions, servicers and foreign investment funds. The practice advises on due diligence concerning Greek NPL portfolios, in addition to handling a range of banking matters. Managing partner
George Sioufas
, who has an active transactional and advisory practice, leads the team alongside
Marios Sioufas
and
Olga Eftychidou
.
Practice head(s):
George Sioufas; Marios Sioufas; Olga Eftychidou
Testimonials
'The team works with very good coordination from within.'
'The client can rely on the firm and can be confident that the outcome of the legal cases will be successful.'
'They are always willing to find a solution to the most difficult legal problem or challenge.'
'All actions are planned with focus in target. Employees at any level are well chosen, trained and have excellent business manner.'
Key clients
National Bank of Greece
Special Financial Solutions S.A.
Alpha Bank SA
Pireus Bank SA
Hellas Capital Leasing SA
'Providing tailor-made and practical advice', Sioufas & Associates Law Firm is known for its real estate M&A and financing transactions work. Luxury resort properties and personal properties of high net worth individuals are particular area of expertise. The team is jointly led by George Sioufas, Olga Eftychidou, Neoklis Neokleous and Aikaterini Gkana.
Practice head(s):
George Sioufas; Olga Eftichidou; Neoklis Neokleous; Aikaterini Gkana
Testimonials
'Expanded team of lawyers of various levels & experiences.'
'They make extensive use of the new online tools introduced by the public authorities (e.g. electronic filing of applications to public services and the Land Registry, checking the electronic database of the Land Registry, electronic filing of documents) to provide fast-tracked and accurate services.'
'Dedicated team of lawyers highly skilled in handling legal issues of a significant complexity, providing tailor-made and practical advice on a variety of real estate issues within short time frames.'
Key clients
PQH
Exclusive Resorts Single Member Private Company
Bakos Nikolaos
Proodos Acumen Single Member Private Company
Tengvo
Chaviaras Andreas
Distinction Resorts Single Member Private Company
Blue Essence Resorts Single Member Private Company
Alpha Bank S.a.
Qquant Master Servicer
National Bank Of Greece
Pancreta Bank
Hellas Capital Leasing
Deddhe
Glerby Private Company
Lorbax Single Member Private Company
Pexmon Single Member Private Company
Enetly Single Member Societe Anonyme
Tozzby Single Member Private Company
Theocharis Athanassios
Paramount Resorts Single Member Private Company
Outstanding Resorts Single Member Private Company
Morsino Ltd
Cerved Property Services
Kuber Single Member L.t.d.
Pansil
C Cercle Single Member Private Company
M-pack S
Orizor Single Member
Eos Matrix Receivables Management From Loans And Credits Greece Single Member Societe Anonyme
Bain Capital Credit
Stavros Lanaras
City Dynamics
Watt And Volt
Monterock International
Damesin Ltd
Sioufas & Associates Law Firm >
Firm Profile
Sioufas and Associates Law Firm, was established in 1999 and has been incorporated as a Greek Law Firm by our partners, Mr George D. Sioufas  and Mr Marios D. Sioufas.
Our law firm has been providing legal services to all major Greek financial institutions, servicers and foreign investment funds and has been widely acknowledged by all Greek banks as a leading law firm in the banking law sector. We provide legal advice on banking law, due diligence services on NPL portfolios, and specialized services of added value (i.e. property title checks, monitoring third party auctions, post auction legal services, legal indexing, review of legal representations etc). Furthermore, our specialized banking law litigation team represents financial institutions in both out of court and court dispute resolution cases.
Sioufas and Associates Law Firm's dispute litigation team is currently handling numerous litigation cases per month, representing more than  400 corporate clients, from all areas of businesses.
Our law firm has offices in the three biggest cities in Greece (Athens, Thessaloniki and Patra) and maintains  an extensive network of collaborating lawyers, bailiffs and notaries with high business ethics and academic knowledge  in order to provide our clients with personalized and high quality legal services, all over Greece.
Our corporate and IP law departments have demonstrated a substantial growth of business within the last ten years, establishing long lasting business relationships. Our specialized lawyers support our clients with commercial advice on all necessary aspects of business and on their relationships with customers and suppliers, drafting commercial agreements and advising on intellectual property, branding, data protection, corporate legal matters and commercial litigation.
Our firm uses  high technology software and applications which along with  modern management practices, support our lawyers  and offer them the necessary tools to be able to work effectively and promptly in a large number of assignments.
Sioufas and Associates Law Firm's competitive advantage is its ability to provide tailor-made legal solutions and comprehensive advice to our clients, to maintain steadily, effective and frequent communication with them, while being able to successfully handle numerous  legal cases everywhere in Greece.
Languages
Greek English (fluent) French Spanish German Romanian
Memberships
Athens Bar Association AIJA - International Association of Young Lawyers The Legal 500 Hellenic Association of Law Firms
International Capabilities
The team:
Sioufas & Associates Law Firm has offices in three major cities of Greece (Athens, Patra and Thessaloniki) and in Romania (Bucharest). In 2020, a Sioufas & Associates representative office will begin its operations in Singapore. It has a diverse team of multi-disciplined lawyers with an international background having studied and worked in various countries, including:
United Kingdom
Romania
France
Spain
Mexico
Germany
Austria
Italy
Algeria
Most of the lawyers of our team are multilingual. Our team as a whole speaks a range of languages, including Greek, Romanian, English, French, Spanish, German, Italian, Turkish and Farsi.
The clients:
Sioufas & Associates Law Firm has long-term collaborations with more than 140 companies and financial institutions, many of which are affiliated companies of multinational groups.
The network:
Sioufas & Associates Law Firm is a member of the Athens Bar Association, the Association of Greek Law Firms, the International Association of Privacy Professionals (IAPP) and the International Association of Young Lawyers (AIJA), while maintaining close business relationships with law firms in China, India and Europe.
Diversity
At Sioufas and Associates Law Firm we truly believe that diversity is a direct route to excellence. Our solid team of attorneys' provide a diverse approach to any case assigned. Their international education and experience in all fields of law supports such fact. All members of the Firm are continuously educated on a non-stop basis in legal and business issues, thereby providing a holistic view in complex matters.
In our law firm we apply a non-discriminatory and equal opportunities policy to recruitment and evaluation procedures. Female representation in our firm is higher than 70% in all departments.
Inclusion and personal development of our younger lawyers is a core value for our law firm. We support young professionals by offering them the opportunity to develop their professional and interpersonal skills allocating personal responsibility of legal case handling, under the mentorship of senior associates.
At Sioufas & Associates, we give emphasis to our social responsibility actions such us:
· Organizing blood donations on a case by case basis for our employees and their families, to whom we also provide private health insurance.
· Providing Financial donations and goods to philanthropic institutions such as "Kivotos tou Kosmou" (2019), "Social Support" (2018), "O kalos Samareitis" (2017), "Nektar Agapis" (2017) and to special causes funds such as for the support of the victims of the wild fire in the area of Mati, Attika (2018).
Interviews
Marios Sioufas, Deputy Managing Director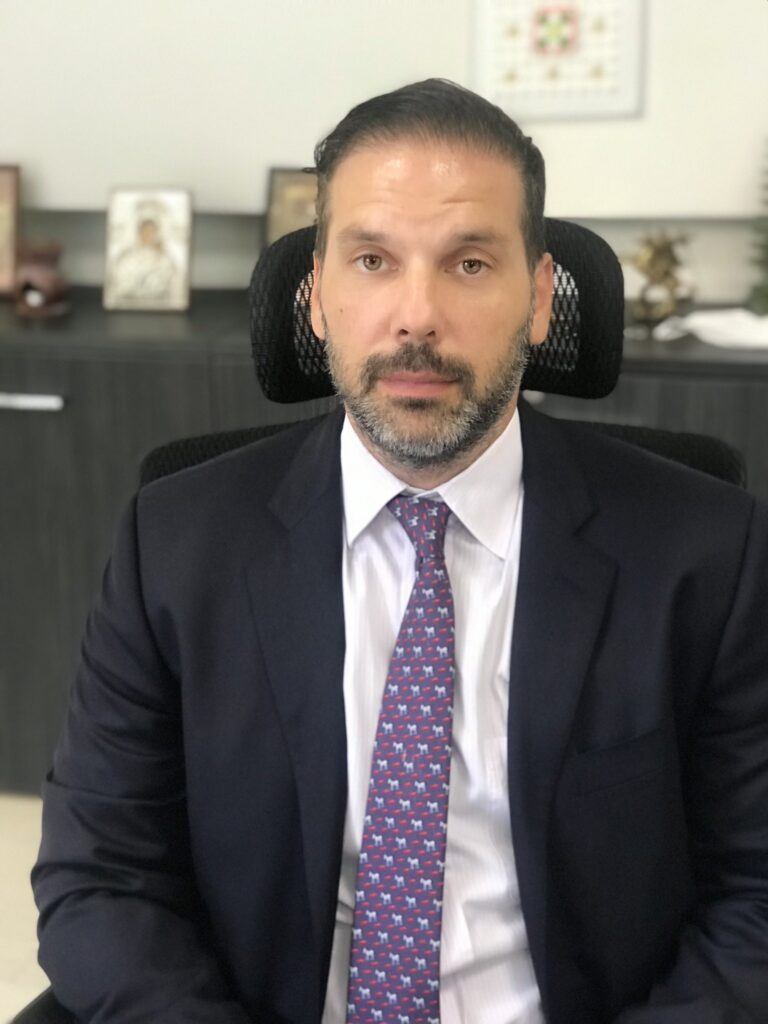 Deputy Managing Director, Marios Sioufas explains the vision and challenges that the firm will face in 2020 and how the managing team will address them.
What do you see as the main points that differentiate Sioufas & Associates Law Firm, from your competitors?
Sioufas & Associates Law Firm has been providing, since its establishment, legal services to Multinational entities, Greek companies and the Greek systemic Banks. Therefore it has established an extensive expertise on most Law fields. Our dispute resolution and out of court mediation departments have been developing extremely well, both in the amount of cases and recovered fees. The first reason, our Law Firm managed to be positioned and recognized as a leading Law Firm in banking law is our in-depth knowledge and effectiveness. On the same coin, our vast investments into new technologies and integrated management systems enabled us to manage centrally numerous legal cases, monitor performance and ensure provision of top quality legal services along with accurate and rapid reporting.
Which practices do you see growing in the next 12 months? What are the drivers behind that?
Our Law Firm advises investors in connection with the acquisition and restructuring of non-performing loans (NPL's). We expect securitizations to continue to play a critical role in the Greek NPL market. All Greek systemic Banks will try to reduce their NPE stock by 2021 by an average of around 20%. The Bank of Greece and the Hellenic Financial Stability Fund have publicly presented a solution combining securitization with state subsidy. In this context, we expect to continue to develop our banking law departments adding new tools and legal services in connection with NPL dispute and out of court resolution.
At the same time, we believe that restructuring business bad debt, will allow in the long-term the Greek economy to grow and help our corporate clients to rebalance their businesses towards export-oriented sectors and the Greek banks to focus on the new technological challenges ahead, including Fintech, Blockchain and the digital transformation of payment systems and subsequently this will pave the way for expansion of our legal services to this effect.
An additional sector we expect to continue to develop in Greece is the Real Estate sector. Our law firm has been advising foreign and domestic investors in the acquisition of real estate assets. Through our interdisciplinary approach, our teams of multi-lingual lawyers provide holistic legal solutions to our clients in relation to both property titles and corporations' legal due diligence (for asset and share transactions), drafting of services agreements (i.e. construction, renovation, lease, allotment etc.), the establishment of SVPs, legal opinions on regulatory issues etc.
Additionally, we expect more big investments projects to take place in the next twelve months also in the energy sector. The Greek Banks are actively looking to finance Renewable Energy Projects and so thorough due diligence, prudent development and project bankability are key. Greece also expands its interconnected network with new cables connecting Crete and the Cyclades islands.
What's the main change you've made in the firm that will benefit clients?
In our Law Firm, we always inquire what more we can offer to our clients. The affirmation of our dedication to constantly improve our legal services is expressed on our established procedures to perform annually customer and employees' satisfaction surveys. We try to always maintain feedback on our services, organize face to face meetings with our clients and continuously report back on cases.
We strongly value the importance of client relationships. In order to serve our clients' needs, we try to understand their business strategy and goals providing them with tailored-made and cost-effective legal solutions.
Is technology changing the way you interact with your clients, and the services you can provide them?
Sioufas & Associates takes pride in the active development of platforms and tools enhancing the client experience and driving down costs on more standardized projects and legal assignments. Our Law Firm collaborates with renowned international IT firms that provide software solutions in relation to data security and automation of data filing, using A.I. technology. Our data management platforms help us to provide our clients with accurate and fast reporting, accompanied with visual data presentations in order for them to better evaluate case trends, forecast their outcome and take their business decisions in connection with their legal cases, based on data evaluation.
Can you give us a practical example of how you have helped a client to add value to their business?
Our law firm has long professional experience and expertise in complex high value disputes and transactions. We always strive to give practical and business-oriented advice to our clients in order to optimize their costs and give them a fair evaluation of the potential gain at the end of a court trial against the benefits of a settlement under certain conditions before the trial or through it. We consistently provide legal advice and offer transaction support and judicial protection to local and international clients and therefore the examples where clients added value to their business are numerous. These include the restructuring of many client groups and the configuration of their tax liabilities, ensuring their continuing survival and profitability. In the Dispute Resolution field we have successfully defended clients from alleged claims on their assets in many high profile cases.
We adopt as a guideline the deep knowledge of the client's reality, which is a presupposition for our performance. Combining this with the specialized legal and technical knowledge we build solutions for critical cases, negotiated compositions and special projects.
Our advice to clients is not just legal, it is an advice directed at overall value creation and sustainability in its wider sense, especially at times of human crisis where organizations are expected to show their human side
Are clients looking for stability and strategic direction from their law firms – where do you see the firm in three years' time?
I strongly believe that businesses and employees are more than never attracted to purpose. We built our law firm around a set of values that we share among ourselves and also with our long term clients that is kindness, respect for all, truthfulness and serving people in need.
Stability and business continuity is one of the core concerns for our law firm. We seek to guarantee a balanced, positive and productive professional environment for our team of lawyers, to attract and retain talents and establish a broad and diversified network of clients. Being able to affect positively with our legal expertise and experience the banking, energy and trade sector is how we envision our firm in the next three years.