AP Legal > Athens, Greece > Firm Profile
AP Legal
Offices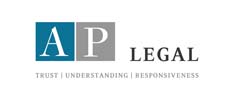 AP Legal
238 KIFISSIAS AVENUE
CHALANDRI
152 31 ATHENS
Greece
AP Legal > The Legal 500
Rankings
Aris Papaspyridis
 and
Alexandra Argyropoulou
, who jointly lead the practice at
AP Legal
, have a wealth of experience handling legal and regulatory matters for clients. The firm recently assisted UK telecoms company MITEL Networks with registering its licence before the competent Greek telecommunications authority. Other clients include names such as Philip Morris and Pierre Fabre.
Practice head(s):
Aris Papaspyridis; Alexandra Argyropoulou
Other key lawyers:
Afroditi Vasileiou; Ioannis Nakis; Stella Basiadaki
Testimonials
'AP Legal has in depth knowledge and strong experience in the telecoms sector, thus providing valuable support not only with relevant legal issues but also with business proposals and contacts.'
'The law firm is extremely responsive, and always focused on the production of results for the benefit of the client. AP Legal provides better value for money, as the firm is customer centric and provides end to end service.'
'Mr. Papaspyridis has deep knowledge and understanding of the telecoms industry, and strong legal skills. He is also a very good negotiator.'
'The overall level of service provided by AP Legal has been excellent throughout all these years. It is hard to find a Greek law firm with such deep knowledge and understanding of the TMT sector. AP Legal combines the required industry knowledge together with required legal skills that helps us significantly to grow our business.'
'Aris Papaspyridis is a skillful lawyer with a great balance of legal knowledge and market awareness. He is a TMT expert with longstanding experience in the areas of information technology and telecommunications.'
Key clients
Telecom Italia Sparkle
Mitel Networks Ltd
Bet 365
MCOMs
Neurosoft
ATU
NEWSPHONE SA
DAIMLER
AISIN
PORSCHE
NOVATEL
KAPOUANO INSURANCE BROKERS
Work highlights
Advised TIS SA on all GDPR processes with the TELECOM ITALIA GROUP, in addition to its advice on negotiations and drafting of a contract for the provision of telecommunication services with SPACE X.
Advised BET365 on a submission of application for the granting of a permanent licence for online gaming in Greece.
Advised NEUROSOFT SA on the drafting, negotiating and finalisation of a Master Service Agreement with Emirates NBD for the provision of Fintech Software Factoring Solution Services, with an approximate deal value of €30m.
AP Legal
has a strong presence in restructuring matters, assisting clients with drafting complex employment agreements and advising on standalone and collective dismissals. The team deals with various clients, ranging from local entities to multinational companies such as Accenture, Nielsen and Lusas. Notable work includes its advice to the local subsidiary of Tesla on issues of Greek employment law.
Alexandra Argyropoulou
 leads the practice.
Other key lawyers:
Stella Basiadaki; Afroditi Vasileiou
Key clients
NEUROSOFT SA
MOBILE TECHNOLOGY
MCOMs
TIS SA
ACCENTURE
MONEYGRAM
TESLA
FARMECO SA
WORLDSTRIDES
NIELSEN GREECE
INNERWORKINGS
INFOBIP
LUSAS
EL AL ISRAEL AIRLINES LTD
SYNEOS HEALTH
BRISTOL MYERS SQUIBB
Work highlights
Advised Tesla Greece on the production of localised employment agreements, the preparation of employees' boarding documents and the monitoring of recruitment for compliance with Greek labour legislation.
Advised Infobip Croatia on the recruitment of a new employee permanently located in Greece, where Infobip has no legal establishment, providing his work remotely, including drafting bilingual employment agreements and advising on issues of social contributions, employee benefits and tax obligations.
Advised Syneos Health on issues of Greek employment legislation, including overseeing the redundancy and suspension of personnel during Covid-19.
AP Legal
's team is regularly sought after by foreign investors for advice on investments in residential real estate in Greece. Development work is also a cornerstone of the practice, with it spanning office buildings, industrial estates and rural areas suitable for industrial exploitation. The group is also able to advise clients on lease agreements.
Aris Papaspyridis
 and
Ioannis Nakis
co-head the practice.
Practice head(s):
Aris Papaspyridis; Ioannis Nakis
Testimonials
'I really appreciate the business approach of the legal team, its flexibility and efficiency. They have deep experience of the Greek real estate market and they have created an unparalleled practice, giving added value services to clients.'
'Aris Papaspyridis is an excellent lawyer, combining business and legal knowledge to his work. He is very committed to what he is doing and is truly loyal to support its client in the best possible way. What stands out in the AP Legal real estate & construction practice from the competition, is its responsiveness and focus on details, which makes a big difference to our work and a true spirit of support which makes clients feel comfortable.'
'Diligent professionals with a good knowledge of the area of law in question.'
'Aris Papaspyridis is a very responsive and knowledgeable lawyer.'
Key clients
DUBAI IKE PROPERTIES DEVELOPMENT
PIMA SA
PFIZER SA
KERZNER
KUK GmbH
INTERNATIONAL STUDIES ABROAD
ULTRA WHITE SA
SUNMIX INVESTMENT PROPERTIES
EUCLID TRANSACTIONAL UK LTD
ORIZONTES TECHNIKI
ATHANASIOS KALAFATIS
ANTONOULAS FAMILY
SETAREH E- MAHAN LTD
Work highlights
Advised PFIZER on the long-term negotiation of lease agreements relating to new premises in Thessaloniki, Greece.
Advised Sunmix Investments Ltd on the conclusion of purchase agreements for residential properties, with a total value of €5m.  
Advised Athanasios Kalafatis, a high-net-worth private client, on the sale of land located in the centre of Athens of total value €1.7m.
AP Legal
 advises Greek and international clients across an array of matters, with expertise in M&A, private equity transactions, joint ventures, divestments and general corporate work. The team has experience in various sectors, including telecoms, technology, financial services and pharmaceuticals.
Aris Papaspyridis
 and
Alexandra Argyropoulou
 head the practice.
Practice head(s):
Aris Papaspyridis; Alexandra Argyropoulou
Other key lawyers:
Ioannis Nakis; Virginia Kokios; Stella Basiadaki
Testimonials
'AP Legal stands out from other law firms thanks to its responsiveness and devotion to its clients' needs.'
'Aris Papaspyridis is characterised by his practical and strategic mentality, which, combined with his profound experience in various international transactions, makes him stand out from other law practitioners.'
'Alexandra Argyropoulou is highly experienced in all corporate and commercial transactions and is distinguished for her passionate approach towards any case she engages with.'
'An excellent team, especially Alexandra Argyropoulou, who is very reactive to all our business needs.'
'Aris Papaspyridis and Alexandra Argyropoulou are excellent examples of the values of AP Legal: trust, understanding and responsiveness. They combine legal knowledge that is tailored to the client's business sector with a lot of effort, efficiency and commitment.'
'I am working closely with Aris Papaspyridis, who is taking care of our company's matters. In my view, he stands out for his integrity and exceptional responsiveness, no matter how busy is he. He is also stands out for his business-oriented approach, always trying to provide simple solutions to complex matters.'
Key clients
ASP Inc.
TUV Austria
BACARDI HELLAS SINGLE MEMBER LTD
MONEYGRAM
INNERWORKINGS INC
EUCLID TRANSACTIONAL UK LTD
SYNEOS HEALTH
PALADIN CAPITAL GROUP
BNY Mellon
INVOS LTD
COSMOPOLITAN INVESTMENTS S.A
TESLA INC.
TIS
NEUROSOFT S.A.
MCOMS S.A.
FARMECO S.A.
VENETIS
GAP S.A.
GREEN INVESTMENT GROUP
ELECTRON HOLDING
Work highlights
Advised Green Investment Group in the acquisition of 100% of the share capital of a local entity trading in the energy production sector.
Advised Electron Holding, a leading Hungarian renewable energy project developer and investor, on its acquisition of 100% of the share capital of a Greek entity trading in the energy production sector.
Advised Tesla Inc on the establishment of its subsidiary in Greece for the purposes of the operation of an R&D unit on the design of electric motors.
AP Legal >
Firm Profile
We are an Athens-based corporate boutique law firm specializing in the provision of  top quality legal services to local and international clients.
Our team consists of young talented attorneys, whom their enthusiasm and innovation is matched with the experience and deep knowledge of Senior Members of the firm. The combination of experience on niche business sectors matched with the international outlook and customer oriented mentality of our team, are the key factors that make AP legal the ideal legal partner who is capable to support any kind of legal task.
Over the years we have created strong legal practice in niche business sectors of Economy such as Telecommunications, Media and Information Technology, Green Energy, Real Estate and Property.
We are representing  and represented in the past sound local and international corporate clients coming from a broad range of industry sectors.  From high technology to traditional industries, from listed companies to start-ups.
In a period less than ten years we have built a  strong reputation  as a leading law firm in Greece on the grounds of our clientele, expertise and range of transactions. For many years , we are ranked as a top tier and leading law firm law firm in Greece in our main practice areas by well known international legal directories.
We are committed to our clients and the merits we represent. Trust to the relation we create with them, Understanding to their needs, Responsiveness to their requirements. This is AP Legal Law Firm.
Main Contacts
| Department | Name | Email | Telephone |
| --- | --- | --- | --- |
| Administrative | Afroditi Vasiliou | | |
| Corporate and commercial | Alexandra Argyropoulou | | |
| Corporate and commercial | Aris Papaspyridis | | |
| Criminal | Evgenia Kourebana | | |
| Energy | Alexandra Argyropoulou | | |
| Intellectual property | Ioannis Nakis | | |
| Banking and project finance | Stella Basiadaki | | |
| Labour | Afroditi Vasiliou | | |
| Litigation | Afroditi Vasiliou | | |
| M&A | Alexandra Argyropoulou | | |
| M&A | Aris Papaspyridis | | |
| Real estate and construction | Aris Papaspyridis | | |
| TMT | Alexandra Argyropoulou | | |
| TMT | Aris Papaspyridis | | |
Staff Figures
Number of lawyers : 10
Languages
English French German Greek Spanish Italian
Memberships
Athens Bar Association London Bar Association
Diversity
Diversity is a notion so meaningful that may not be overlooked by a professional environment, which aims to take advantage of the full potential of its staff and clients' background and ideas. 
Having this in mind, AP LEGAL Law Firm embraces the notion of diversity by proactively urging  all its lawyers and staff to develop their versatile skills at the maximum extent regardless of their origins, race, political and religious orientation.   
On the other hand, by cultivating the diversity of our team, we firmly believe that we may also be truly responsive to our highly diverse clients, hear and understand they needs and provide them with top quality support in the best feasible manner.  
Because for us, being respectful to diversity means being welcoming to the ever-growing needs and the constant changes around our profession.  
International Capabilities
AP LEGAL has aptly proven over the years that its legal services continuously meet international clients versatile expectations. Taking advantage of its team international orientation and professional experience in cross border transactions, AP LEGAL has been evidently capable of providing substantive advice to clients from various economic sectors by providing them with realistic and business- oriented solutions adapted to the inherent special features of the Greek jurisdiction. 
The Clients 
AP LEGAL Law Firm has dealt with cases, which have attracted international attention and have been considered as clear indications that the Greek market is currently offering notable opportunities for corporate growth. AP Legal international clientele is coming both from technology innovative sectors (telecommunications, Information Technology, Biotechnology, Renewable Energy) as well as traditional industry sectors (automotive, pharmaceuticals, financial, commercial). 
The Team 
Our team consists of attorneys who have been exposed to miscellaneous cultural, educational and jurisdictional backgrounds. In fact, this has been the booster allowing us to support and effectively deal with international requests for advice, since our team members are able to identify potential issues, adapt to their special traits and respond promptly to clients requests.  
This ability is further reinforced by the fact that correspondence with clients may take place in their local language as the members of the team are able to communicate with them in various EU languages such as English, German, and French. 
The Network 
Retaining and enhancing our network reflects our constant effort for excellence and adaptability. AP Legal takes advantage of its synergies in Greece and abroad in order to provide one stop solution and generate exceptional outcomes for its clients.  
AP Legal endeavours to broaden and optimise its international network by extending its already existing network of law firms, accountants, tax advisors and other professional experts around the globe for the benefit of its clients.  Our extensive network of law firms and other professionals enables our law firm to offer efficient, integrated cross border legal and regulatory advice to our clients, meeting their own high standards for the offering of something more than traditional legal advice.  
Client Testimonials
CLIENT: NEUROSOFT
COMPANY/FIRM: AP LEGAL LAW FIRM
TESTIMONIAL: The responsiveness of all individuals within AP Legal is definitely something not commonly met in the industry. We have entrusted AP LEGAL for matters ranging from dispute resolution to public procurement and regulatory compliance and thus, can safely tell that all teams are consisted of professionals we firmly know we can rely upon.
---
CLIENT: TIS SA
COMPANY/FIRM: AP LEGAL LAW FIRM
TESTIMONIAL: Intuitive and result-driven attorneys. There have been continuously there to stand aside us with their valuable advice and unparalleled skills. Year per year and project per project, their impressive knowledge have evidently safeguarded us through a great variety of transactions.
---
CLIENT: TFA BUSINESS SOLUTIONS
COMPANY/FIRM: AP LEGAL LAW FIRM
TESTIMONIAL: Professionalism and efficiency of AP Legal Corporate& Commercial Team do stand out. The overall level of service is excellent, with quick response times and strong industry knowledge. The team is very good at advising when the position is unclear.
---
CLIENT: MCOM SA
COMPANY/FIRM: AP LEGAL LAW FIRM
TESTIMONIAL: AP Legal team always understands the objectives and critical timelines and invests the appropriate time and energy to solve any problem. Deal-focused and efficient legal advice combined with thorough in-depth knowledge about the market. Very few have the commercial understanding that AP Legal team has.