Humphreys & Co. > Bristol, England > Firm Profile
Humphreys & Co.
Offices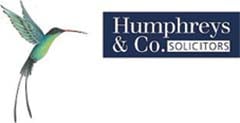 Humphreys & Co.
14 KING STREET
BRISTOL
BS1 4EF
England
Humphreys & Co. > The Legal 500
Rankings
The personal injury team at
Humphreys & Co.
specialises in representing clients suffering from lung cancer, pleural thickening and mesothelioma as a result of exposure to asbestos. The team's work includes acting for individuals who worked directly with asbestos, as well as those who did not but were exposed in their places of work. Practice head
Stephen Burbidge
has focused on this area for decades, with
Fabio Seccatore
 also specialising in these types of claims. Seccatore was promoted to partner in June 2021.
Intellectual property boutique
Humphreys & Co.
has decades of experience in this space, with expertise across IP registration, protection and licensing. The team stands out for the international nature of its practice, acting for clients from around the world in relation to global IP portfolios. Practice head
Robert Humphreys
is admitted to practice in the Republic of Ireland and Brussels, and frequently handles matters involving EU registrations.
Tristan Morse
 is also admitted in Ireland, and alongside
Ruth Annand
is active across contentious and non-contentious IP matters.
Humphreys & Co.
's '
commercial litigators punch well above their weight
' and '
have a reputation for working their socks off for their clients to secure the best outcome
'. The practice fields specialised units which focus on distinct areas of expertise; examples include litigation arising out of commercial transactions, fraud claims, IP litigation, construction proceedings and gambling and betting litigation.
Robert Humphreys
heads up the department, and
Tristan Morse
 handles IP claims and professional negligence issues.
Humphreys & Co. >
Firm Profile
This niche practice, working nationally and internationally out of Bristol, is known for its high-quality commercial legal work, including litigation, commercial transactional work, intellectual property and employment law, as well as planning and real estate. Private client specialisms include occupational disease (particularly asbestos-related) litigation, contested inheritance litigation, and shared ownership property work.
The firm: Humphreys & Co. is an independent solicitors' firm working for commercial and private clients, delivering a high-quality, cost-effective range of legal services with experience, energy and professionalism. Its lawyers work closely together; clients' affairs are not compartmentalised into unconnected issues of law.
The firm is not a legal factory turning out a mass-produced legal product. It offers an independent approach. Personal case-handling by solicitors working in a financially-disciplined way is the firm's approach.
The aim is always to be transparent about the legal process, giving advice and explaining options to clients in a concise and straightforward way, identifying clear courses of action, whatever the technical or legal complexities of the subject.
The costs approach is competitive, particularly by reference to the charge rates of large firms. Charges are generally by reference to time spent but the firm often agrees fixed fees for specific projects or in some cases, risk-adjusted funding structures.
Types of work undertaken
Commercial: A wide range of commercial legal work is done, including, for example: negotiating, drafting and explaining agency, distribution and supply agreements, partnership terms, conditions of trading, computer and IT contracts, franchising and outsourcing documentation.
Intellectual property and IT law: These are core practice areas. Registration, maintenance, transfer, licensing of and litigation about IP are long-established strengths. The firm'€™s lawyers work extensively with issues of: trade marks, patents, copyright, designs, trade secrets, know-how, employee obligations, media, publishing, the internet, trade libel and passing off.
Corporate transactions: These include company and partnership structure, company law and director compliance, shareholder arrangements, new ventures, joint ventures and share/asset sales and purchases.
Litigation: The firm has strength in depth in litigation of all types, aiming to make court, arbitration and mediation procedures work positively for clients. The litigation practice includes: contractual claims and recoveries, shareholder and partnership disputes, professional negligence claims, land and property claims, construction disputes, insurance and reinsurance litigation, defamation actions, receivership and liquidation claims, including mediation and other alternative dispute resolution processes.
Commercial property: All kinds of commercial property work are undertaken, including: developments (residential and commercial), acquisitions and disposals, investments, industrial properties, lease negotiations and other landlord and tenant work.
Planning: With The Planning Inspectorate for England and Wales located in Bristol, property planning work is a specialist strength through the firm's planning advice and representations unit, including: negotiation with councils, applications, appeals against refusals, objections, enforcement notices, appeals against enforcement, lawful development/use certificates and advocacy at hearings and inquiries.
Employment and human resources: Services include contracts and staff issues, occupational health and safety, redundancy, dismissal, discipline, severance compensation, unfair competition, post-termination restrictions, discrimination (including in relation to race, sex, age and disability), employment tribunal proceedings and industrial relations.
Private client: Work includes a long-established and highly regarded claimant occupational disease unit, in particular working with asbestosis, mesothelioma, respiratory diseases and other conditions. Contested probate and inheritance litigation is also a key area.
Residential conveyancing: The firm has a highly regarded, efficient practice in residential conveyancing (with a particular specialism in shared ownership property work) throughout England and Wales but centred on London.  Our team also undertakes property and negligence litigation for and against private clients.
Languages
English (fluent) French Spanish German Chinese (Mandarin) Chinese (Cantonese
Memberships
INTA - International Trademark Association Law Society London Solicitors Litigation Association Association of Personal Injury Lawyers (APIL)
Diversity/Community
Humphreys & Co. is committed to the principles of diversity. We believe that by recruiting, hiring, and promoting people of different cultures, backgrounds, beliefs and preferences, the quality of our work life is improved and the legal services that we provide to our clients is more creative.
We hold the fundamental belief that differences in talents, backgrounds, experiences, and cultures make the practice of law not only more enjoyable but also better serve our clients by providing innovative and creative solutions for business and legal problems.
The following values are of particular relevance to diversity and human resource policies in the firm:
merit-based employment
non-discrimination and diversity, and
fair, flexible, safe and rewarding workplace.
The firm has put in place measures to:
help prevent all forms of discrimination, whether direct or indirect
recognise the positive advantages of, and help make best use of, diversity in the workplace.
Our firm is dedicated to creating and maintaining an environment that promotes diversity and teamwork for all employees, regardless of gender, age, race, ethnicity, national origin, disability, religion, sexual orientation, or veteran status. We continually seek the best talent available, and value the perspectives diversity brings.
Humphreys & Co. is proud of its firm culture. For us, diversity is not a burden or something that we have to do; it is who we are.