Law firm Kavcic, Bracun & Partners, o.p., d.o.o. > Ljubljana, Slovenia > Firm Profile
Law firm Kavcic, Bracun & Partners, o.p., d.o.o.
Offices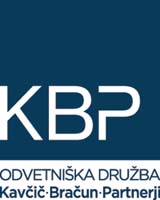 Law firm Kavcic, Bracun & Partners, o.p., d.o.o.
TRG REPUBLIKE 3
SI-1000 LJUBLJANA
Slovenia
Law firm Kavcic, Bracun & Partners, o.p., d.o.o. > The Legal 500
Rankings
Law firm Kavčič, Bračun & Partners, o.p., d.o.o.
is praised for its
'exceptional professionalism'
  under the leadership of
Matej Kavčič
 and
Simon Bračun
. The team advises both national and international financial institutions and companies on the full range of issues and also represents these clients before the courts, administrative bodies and regulators. It is frequently instructed in the largest corporate and M&A deals in the Slovenian market. The group has a strong track record of advising banks, creditors and debtors in many financings and restructuring matters. In addition the excellent team is adept at advising on competition and antitrust law and is also skilled at advising new start-up companies (particularly those in the blockchain sector). Other strengths lie in advising on real estate projects, intellectual property rights and in employment law as well as on a broad range of commercial and civil disputes. The team garners praise for its '
pragmatic advice
'.
Practice head(s):
Other key lawyers:
Testimonials
'We work with Matej Kavčič; and occasionally with Simon Bračun, partners at KBP. Matej is always 100% ready, professional, with the right suggestions and answers to the problem. Exact. Timely. Dynamic, but extremely respectful in communicating to the customer. Ready to help deep outside of business hours. An excellent trusted lawyer. Simon is excellent. He delivers what I want: competence, availability and results – cost effectively'.
'Law firm KBP  is very approachable, fast in replies and with excellent knowledge in the field of competition law. Aleksandra Mitić is very knowledgeable and experienced in competition. Matej is also a great expert in commercial and competition law'.
'KBP delivers services accurately, promptly, in observance of budget. We appreciate their local knowledge and their familiarity with the needs of multinational companies operating in their jurisdiction either directly or through local subsidiaries. We worked with Simon Bracun and Neza Grasselli –  their support was much appreciated. Questions were answered promptly and to the point. Correspondence and calls were not excessive. In our view, both Simon and Neza are worthy of recognition as capable professionals in their field due to their in-depth knowledge of law and best practice and their fine delivery of service'.
'Swift, complete and pro-business advices. Matej, Simon, and Aleksandra are always available to answer our questions via any channel we are using for communication. In Covid times we were provided with valuable summaries of the mandatory legislation. Matej , Simon and Aleksandra have full  knowledge and experience of pro-business advices. What I really admire is that no matter what the issue is,  I can be provided with the advice in a language (non-lawyer language) that I can understand. Regardless of the complexity the advice is understandable. Besides that deadlines are always respected and usually we get the comprehensive advices before the agreed deadlines'.
'I would like to mention the following experts: Matej – his knowledge, professionalism and communication skills are impressive. He is very focused and precise with impeccable management skills. Špela – she is very professional and organised with strong interpersonal and communication skills'.
'The team always works on the task from different aspects and guides the client to the solution. Even if the solution is something the client did not have in mind in the beginning. All the lawyers are very well equipped and follow new technological trends in providing the service to the clients. They put a lot of effort into understanding the problem and the landscape of the legal challenges. Billing is very transparent. The team is young. The partners put a lot of effort into shaping the young lawyers and having the service on the highest quality standards. The atmosphere in the team is relaxed but the workflows is still very consistent'.
'The most work we do I cooperate with partner Matej (trustworthy, exact, structured and systematic, honest and to the point), partner Simon  (honest, nice, structured, following the trends) and lawyer Katja Černivec (efficient, fast, systematic, knowledgeable). All the lawyers have very strong values and integrity, so the client knows that their challenge are in safe hands and will be handled with the highest degree of confidentiality'.
'KBP team is highly professional, dedicated, focused and understands the needs of the client. Compared to other firms, KBP team stands out with their broad view of matters and possibility to look at issues in different ways. Matej is an outstanding lawyer who understands business and client's goals and then offers practical advice. Aleksandra is extremely professional, responsive and technically excellent'.
Law firm Kavcic, Bracun & Partners, o.p., d.o.o. >
Firm Profile
The firm: Law firm Kavcic, Bracun & Partners, o.p., d.o.o. is an established Slovenian law firm, offering a complete range of legal services in selected areas of civil and commercial law. With a professional and pragmatic approach to business issues, the firm provides legal solutions tailored to a variety of client needs. Recognised for its understanding of clients' business operations, the team of lawyers is committed to delivering comprehensive and efficient legal advice and solving most complex legal situations.
Through its network of collaborating law firms, the firm can offer legal assistance to clients engaged in operations outside Slovenia. Law firm Kavcic, Bracun & Partners, o.p., d.o.o. is also one of the founding members of Adriala business law firm alliance, a network of independent premium law firms based in nine jurisdictions in the SEE region (Albania, Bosnia and Herzegovina, Bulgaria, Croatia, Kosovo, North Macedonia, Montenegro, Serbia, Slovenia).
Practice areas: Law firm Kavcic, Bracun & Partners, o.p., d.o.o. offers legal services in various fields of law. Division of work by industry sectors and areas of practice enables it to gain complete and in-depth understanding of its clients' business operations and markets on which they operate.
The firm's clients rely on its legal expertise and experience in following practice areas: commercial law; corporate law; mergers and acquisitions; competition law; financial restructuring and insolvency; banking, finance and capital markets; employment law; dispute resolution; intellectual property; public procurement; telecommunications and information technology; new information technology (blockchain, initial coin offering etc); media law.
Staff Figures
Number of lawyers : 14
Languages
Croatian English German French Serbian Slovenian
Memberships
Adriala Nextlaw
Other
: