Firm Profile > Legelata Law firm > Yerevan, Armenia
Legelata Law firm
Offices
Legelata Law firm
Erebuni plaza Business Center, office 412
26/1 Vazgen Sargsyan Street
Yerevan 0010
Armenia
Legelata Law firm > The Legal 500
Rankings
Legelata Law firm has a historically strong reputation in banking and finance, and is regularly instructed by banks including Evocabank, Ameriabank and credit organisations such as Express Credit UCO. In the intellectual property space, trade mark and patent attorney Alla Hakhnazaryan has been  assisting technology companies with patent filing and registration. Corporate partner Gor Margaryan chairs the practice.
Practice head(s):
Key clients
LC Waikiki
Samsung Group
Huawei Technologies
Corsan Corviam Construccion SA Armenian Branch
Invitro Laboratories
Express Credit UCO
Legelata Law firm >
Firm Profile
Who we are: LEGELATA is an Armenian law firm with a rich history of connecting businesses with law across a range of industries in innovative and dynamic ways. LEGELATA provides solutions for businesses involved in banking and finance, trade and logistics, health and pharmaceutical, life sciences and biotechnology, information technologies and telecommunications. We advise on highly complex issues connected with mergers and acquisitions, competition and intellectual property, foreign investments, tax and corporate matters. LEGELATA represents clients in all issues relating to litigation and arbitration matters.
Our team is always motivated and willing to take on new challenges and any matter within a specific industry as well as providing expert advice throughout each specialised field.   Our lawyers consistently outperform the expectations of our clients.
The firm's human resources continue to grow, thus ensuring a specialized team able to deal with any specific matter. The practice has expanded over time and now covers all vital spheres of the society we live and work in. Our lawyers work collaboratively to provide the capabilities needed for innovative solutions to the challenges our clients face within their various disciplines.
Main Contacts
| Department | Name | Email | Telephone |
| --- | --- | --- | --- |
| Foreign Investments,Corporate and tax,Mergers and acquisitions | Gor Margaryan | | |
| Antitrust and Competition,Intellectual property,Litigation and arbitration | Alla Hakhnazaryan | | |
| Corporate and tax , Intellectual Property , Litigation and Arbitration | Gurgen Grigoryan | | |
| Banking & Finance, Corporate and Tax, Information Technologist & Telecommunications | Davit Amiryan | | |
| Corporate and tax, Civil law | Anzhela Abrahamyan | | |
| Corporate law, Labor law, IP law and Civil Procedure | Maykl Hovhannesyan | | |
Lawyer Profiles
| Photo | Name | Position | Profile |
| --- | --- | --- | --- |
| | Miss Anzhela Abrahamyan | Junior Associate in Legelata Law Firm Representative matters: Preparation of legal documents… | View Profile |
| | Mr Davit Amiryan | Senior Associate in Legelata Law Firm agRIF Cooperatief of Netherland– Legal Due… | View Profile |
| | Mr Gurgen Grigoryan | Associate in Legelata Law Firm Representative Matters: BRfashion retail CJSC in litigation… | View Profile |
| | Miss Alla Hakhnazaryan | Partner in Legelata Law Firm.Representative Matters:Samsung Electronics Overseas BV in elimination of… | View Profile |
| | Miss Mane Hakobyan | Mane Hakobyan is a Junior Associate in Legelata LLC | View Profile |
| | Mr Maykl Hovhannesyan | Junior Associate at Legelata Law Firm | View Profile |
| | Mr Gor Margaryan | Managing Partner in Legelata Law Firm.Representative MattersagRIF Cooperatief of Netherlands in acquisition… | View Profile |
Staff Figures
Number of lawyers : 10
Languages
Armenian English French Russian Spanish
Memberships
The Lawyer Network
Client Testimonials
CLIENT: Ms. Goedele Van de Plas, Legal Counsel
COMPANY/FIRM: Legal Counsel Incofin Investment Management (Belgium)
TESTIMONIAL: "We are very pleased with assistance of Legalata. The team in Legelata has been very pro-active and available any time of the day working to meet the tight deadlines for regulatory permits. We are very satisfied with the competence and polished negotiation skills that Legelata contributed to the transaction"
---
CLIENT: Giorgi Dalalishvili
COMPANY/FIRM: Regional CEO LC Waikiki Retail AR LLC
TESTIMONIAL: "The direct and effective work of your company contributes to the improvement and development of our activities.
We are grateful for the conscientious approach and look forward to further cooperation."
---
CLIENT: Maggie Cheung, Partner
COMPANY/FIRM: Mayer Brown
TESTIMONIAL: "Legelata are experienced, professional and very responsive. Their team I worked with is also dedicated and reliable. I have enjoyed working with Legelata and would recommend them to others looking for legal service in Armenia.
We look forward to the next opportunity to work with Legelata.
– Partner at Leading International Law Firm"
---
CLIENT: Michael Hanna, Associate
COMPANY/FIRM: Kirkland and Ellis LLP
TESTIMONIAL: "Legelata's team has been invaluable in providing practical and solution oriented legal advice on anti-trust, intellectual property and other various issues within the frames of the multi-jurisdictional acquisition. They have been very proactive and easy to communicate with."
---
Interviews
Gor Margaryan, Partner, Banking and Finance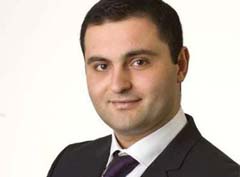 What do you see as the main points that differentiate Legelata from your competitors?
Specialisation by legal practice; We at Legalata have decided that the temptation of being the "generalist" law firm is not worth the undergone benefits of sharp and sophisticated advice that we provide to our clients. We will remain a business law firm concentrated solely on the business related legal needs of our clients.
Specialisation by industry: We add further benefit of our specialty for our clients through our specialisation in the selected industries where we provide services to our clients. Legelata has been traditionally strong in a number of industries such as banking and finance, retail, real estate, construction, hospitality and entertainment, health and pharmaceuticals etc. We have added to our portfolio the IT sector recently through our IT practice led by best talent with support from technical experts in the field.
Legal Management:  We have decided to part with the traditional transactional based view lenses of a law firm and take a lead in identifying the legal issues our clients may face instead of waiting for a request for solution of a problem. Our pro-active approach has provided solutions to many issues and created enormous value for our clients.
Business Knowledge and Acumen: Being guided by the principle of "know your client", we are strong believers in understanding the business of the client before we feel comfortable providing advice.We have added MBA knowledge to the team to be able to monitor the business processes of our clients and provide the relevant legal services matching the strategy and operations of the clients on a one stop-shop basis.
Which practices do you see growing in the next 12 months? What are the drivers behind that?
With the positive outlook for economic growth in the region overall, we believe the hospitality and entertainment industries will lead the growth. Retail industry is seeing new spaces added in the growing city while banks and financial institutions aggressively fund the businesses amid the low interest rates. Intellectual property practice to our opinion will see considerable growth due to the increasing GDP output of software products, technology transfer and licensing arrangements.
What's the main change you've made in the firm that will benefit clients?
We have introduced training program giving MBA skills to our legal team for understanding the business of our clients and sharpen the business acumen. While an independent law firm, we are progressing towards building an intimate business model with our clients where we simply become part of our clients operations in efficiently addressing their legal needs on pre-emptive basis. Through our close involvement we deliver our messages to the decision makers and enable them to make legally smart decisions.
Is technology changing the way you interact with your clients, and the services you can provide them?
In fact it would have not been possible to build out customer intimate business model without technology. Not only the technology gives us opportunity to monitor the business processes but also to deliver our service in the most convenient way to our clients.
An example would be the use of technology to run the enormous contractual portfolio of a big multinational client operating in a dozen of countries and wishing to have centralised decision taking point in the headquarters without undergoing the flexibility and use of the knowledge on the ground.
Through technology we are also able to build and standardise the risk management, legal and compliance portfolios and departments within our clients and provide real time management data on legal and risk related matters.
Can you give us a practical example of how you have helped a client to add value to their business?
We add value to our clients' businesses every day. A recent example of a strategic advice through our legal management practice would be our recommendation to the board of a multinational involved in manufacturing of ready and processed foods to dispense with development of a new product due to the anticipated change in regulations. Asset specific investments worth millions in USD would have been made to develop the new product which would be a sunk cost due to changing regulatory landscape of an economic union.
We are also proud in our ability of bringing polished negotiation skills and intercultural knowledge in any cross-border mergers and acquisitions (or any other transaction for that matter) deal. Our recent advice to the client has helped to bring the stakeholders with different interests together for concluding a multi-million dollar acquisition which would have fallen away otherwise.
Are clients looking for stability and strategic direction from their law firms – where do you see the firm in three years' time?
We are positioning the firm in three different directions:
First, it is the intimate business model that we are building through the use of technology, business knowledge and acumen. This will translate into large corporate clients benefiting from low legal costs and yet systematic and pro-active legal solutions which will prove strategic in the long run of the businesses.
Secondly, we are transgressing the national borders through fostering not only our eco-system of partners in different jurisdictions but also establishing our own foreign desks with first one being in UAE.  Meantime, with the accumulated knowledge and network in the country and in the wider region we are able to provide such legal and "know how" advice to our clients which greatly contributes to overcoming the liability of foreignness and protect ex ante the investments to be made.
Last, but not least, we see horizontal integration with finance and accounting practices to further be able to provide our clients more bespoke and strategic solutions on complex needs in the business. Likewise, our use of technology and data analytics should contribute to the success of our clients in their business.
Press Releases
26th June 2018
AGRIF COOPERATIEF U.A. is a fund managed by Incofin Investment Management in Belgium. Incofin Investment Management is an alternative fund manager which are focused on investments in emerging countries and are driven by desire to promote inclusive progress. Leading investors of agRIF Cooperatief U.A  are leading development funds, banks, insurance companies, pension funds, high net worth and retail investors.
Legal Developments
24th March 2020
Covid-19 has been declared as pandemic by WHO. The pandemic has caused the global markets tumble and triggered massive government intervention for saving the economy as the economic activity sharply fell and panic spurred in financial markets. Many businesses now face situations where it is much more onerous or near to impossible to perform their obligations vis a vis their employees, but more importantly their counterparts and contractors.
3rd March 2020
When attempting to create corporations that safeguard the interests of shareholders, many companies implement a two-tier corporate hierarchy. At the first level is the board of directors: elected by the shareholders and on the second tier is the upper management: hired by the board. The one-tier board provides a better understanding of the operational issues at board level and clearer direction; nevertheless, it can simultaneously be hard for other board members to challenge a powerful Chief executive Director (CEO) who is also the Chairman of the Board (Chair).
13th December 2019
Expansion of the business places the manager in front of the classical choice – grow organically or make an acquisition? Once the acquisition is decided to proceed upon and all other strategic considerations are satisfied, a business should decide whether the acquisition should proceed by acquiring assets or shares of a specific business.
22nd June 2018
IT industry in Armenia has seen a dramatic growth for the last few years. The industry size in 2017 has reached 765,1 million USD versus 559,1 million USD in 2015 which represents around 37% growth like for like (National Statistical Service of Armenia 2015, 2016, 2017).
22nd June 2018
Mergers and acqusitions in the banking industry has been buoyant for the past couple of years in Armenia. This activity has been fuelled by the regulatory requirements for increase of the charter capital of the banks due to the desire of the regulator, the Central Bank of Armenia, to see larger and predictable players in the market easy to supervise. This has been coupled with the increasing interests of international players and investors towards the robust banking sector or Armenia which has offered stable exchange rates and much higher interest on debt and equity compared to that of developed markets such as Western Europe, North America and Middle East.
Top Tier Firm Rankings
Firm Rankings