STELIOS AMERICANOS & CO LLC > Nicosia, Cyprus > Firm Profile
STELIOS AMERICANOS & CO LLC
Offices
STELIOS AMERICANOS & CO LLC
12TH DEMOSTHENI SEVERI AVENUE
6TH FLOOR
1080 NICOSIA
Cyprus
STELIOS AMERICANOS & CO LLC > The Legal 500
Rankings
At STELIOS AMERICANOS & CO LLC, the 'efficient and professional team' is jointly led by managing partner Stelios Americanos and Soteris Costa. It is best known for its involvement in cross-border M&A and also for its experience of advising on foreign direct investments in Cyprus, particularly those connected with the real estate, tourism and energy industries. The group also has considerable expertise in restructuring and insolvency matters. Michalis Zambyrinis primarily advises on joint venture arrangements and M&A, and he is also skilled at advising on share transfers/shareholder issues. Elsewhere, the team is noted for its knowledge of the issues relating to blockchain technology.
Practice head(s):
Other key lawyers:
Testimonials
'Very client-oriented approach and readiness to render very professional advice in a speedy way. The team will help you understand complicated matters, find a solution in a way that is most acceptable to you. Communication is very clear and precise. You can get straight answers to specific questions and that saves time when you need to make a business decision.'
'The team's understanding and solid grasp of the financial services sector's rules and regulations are outstanding and yet accessible even to budget conscious start-up businesses. The key members are continuously trained on new regulations and opinions issued by the various regulatory bodies in Europe and beyond and are always at the ready to support their clients' claims when called upon.'
'The principal partner Stelios Americanos is a smart individual of high intellect. He is a man of few words but a strong listener who is ready to whip out solutions to complex corporate legal issues that his clients are challenged by. He always tries to look at the underlying core of the issue and not what appears superficially to get a better grasp of the matter before advising the client on the best way to tackle it.'
'Despina Americanou – one of the greatest lawyers in Cyprus dealing with M&A and other matters – she builds relationships and helps you and your team reach the goals so that the business wins (both in the matter of time/decision making and money (budget)). She has a very bright personality and a very sharp mind – she gives you clear answers (showing how the law is applied in different business situations) and explains to you all the details so that you become fully informed and can take proper decisions. She is almost always in touch with the client – which gives a lot of comfort for the client.'
'Stelios Americanos – my dealings with Stelios cover more than 20 years. His quick responses and methodical process have always paid off. Also, he is always accessible, whether travelling, home or in the office and always with a welcome response. Michalis Zambyrinis and Thanos Fiaka – both follow in the footsteps of Stelios –  same attitude, same professionalism and full of enthusiasm to serve the client and have a great coordination between them and great communications among the team that always ensures that the client's needs will be met.'
'Great team that is always ready to collaborate in a very efficient and friendly manner.'
'The team is really very strong. They are very qualified and do their best in order to meet the requirements of each client and achieve the best result. Each member of the team, besides being very qualified, is a nice person, this is very important'.
'Excellent team and excellent service; personal service and Stelios Americanos is exceptional.'
Key clients
Business Process Outsourcing Solutions Company
Knafaim Holdings
Raiffeisenbank
EMEX Green Energy
Argus Group
Somai Group
Fortified Capital
Frontisa Ltd
Tinkoff Group
N-Tech Lab Ltd
Work highlights
Advising Global Knafaim in the acquisition of 49% of TUS Airways in a €10m transaction.
Worked with Dentons New York to assist Zubr Capital and the European Bank for Reconstruction and Development (EBRD) with a multimillion transaction in relation to their exit from the investment in Enterprise Agile Planning company Targetprocess, following its purchase from Apptio, a leading provider of technology business management solutions.
Advised the seller in a property transaction related to a plot in Mykonos to be developed as a luxury resort, at a transaction valued €15m.
STELIOS AMERICANOS & CO LLC
has a strong track record in high-value cross-border transactions. Under the joint leadership of
Despina Americanou
and
Stelios Americanos
, the team advises on acquisition finance, project finance, refinancings, real estate finance and syndicated and bilateral lending. Clients include local and international commercial and investment banks, investment funds, government institutions and corporate borrowers. It also receives a regular flow of work from major international law firms.
Practice head(s):
Other key lawyers:
Testimonials
'Stelios Americanos has a unique team of very experienced lawyers who can support on all types of banking transactions at a reasonable price. Olga Petrova is very responsive and always meets deadlines. Despina Americanou is always ready to help and resolve complex issues.'
'This law firm provides solid advice at reasonable prices and is reliable. We regularly use them in large multijurisdictional transactions. They work efficiently and manage to get the government authorities to issue and apostille documents just as quickly.'
'Stelios Americanos manages to get things done. He is the conductor of an orchestra that plays magnificently.'
'The team is very competent and highly motivated to provide seamless legal support. Russian speaking partners are always available. Olga Petrova helps to coordinate resources with the firm effectively communicating with Russian speaking client.'
'Stelios Americanos has a good banking and finance team. They respond to questions quickly and perform work in a timely manner. They have a good knowledge of the legal issues and are one of the better firms in Cyprus.'
'Stelios Americanos and Despina Americanou are both very knowledgeable and know the market well. We also work with Olga Petrova, who as a Russian native speaker, is useful to have on Russian deals.'
Key clients
VTB BANK (PJSC)
ZUBR CAPITAL
SAFE GROWTH INVESTMENTS AIFLNP V.C.I.C LTD
SBERBANK OF RUSSIA
EURASIA DEVELOPMENT BANK
RAIFFESENBANK S.A
CREDIT EUROPE BANK (RUSSIA) LTD.
ALFA BANK UKRAINE
TRUST BANK RUSSIA
EUROPEAN BANK FOR RECONSTRUCTION AND DEVELOPMENT
Work highlights
Advised the European Bank for Reconstruction and Development on senior secured financing of the 60 MW Potegowo South wind farm.
Advised the Raiffeisen Bank Romania on secured financing to a Romanian company.
Advised VTB BANK (PJSC) on the restructuring of the Brunswick Group of companies.
STELIOS AMERICANOS & CO LLC
covers a wide range of disputes for clients, such as family law matters, tort cases and commercial litigation. It also handles many banking and security enforcement cases against debtors who are in default of their obligations. Other areas of expertise include pre-emptive measures allowing for the freezing of assets on a global basis, as well as winding up and liquidation proceedings. The firm is also sought after for advice on the recognition and enforcement of foreign judgments and arbitral awards.
Stelios Americanos
,
Soteris Costa
and
Akis Koumas
 co-head the department.
Practice head(s):
Testimonials
'Professional team with reasonable fees. Soteris Costa – very cooperative. Good experience in cross-jurisdictional disputes.'
'Stelios Americanos & Co LLC has an outstanding team of lawyers who have in-depth knowledge of the fields they specialise in. They always deliver concise, easy to understand and practical advice. They have always been accessible and responsive to any request. Akis Koumas – hardworking, professional, efficient, responsive and reliable.'
'Akis Koumas – Hard working, professional, efficient, responsive and reliable.'
Key clients
Nicosia Mall and others
Tashir Group of Companies
Bank of Cyprus
CRI Group
EZTD
Altamira
Altius Insurance
Arricano Real Estate Limited
Alfa Bank Ukraine
Awendale Resources Inc
Work highlights
Acting on behalf of a nominee director of a company registered in Cyprus, who together with 29 other defendants are being sued by a Cayman Islands company, for damages, having as a cause of action fraud or breach of fiduciary duties or contractual obligations which resulted in the dilution of the plaintiff's interest in two Russian companies, owners of immovable property in Moscow. In particular the plaintiff is claiming that its interest in the two Russian companies which was 99% and 92.75% was diluted – reduced to 4.15% and 4.84 respectively. The dispute is valued at $160m.
Advising a client who invested in 3 large real estate projects being developed in Moscow, Russia, by way of providing loans to the Cyprus registered holding company. The debtor not only defaulted on the payment of the loan but to have defrauded the investor who is has now filed an action before the High Court in England, while at the same time an ancillary action was filed in Cyprus for the purpose of getting freezing injunctions over the assets of the debtor company in Cyprus. The claim is valued at €50m.
Advising a client who provided loans to an Ukrainian company, the repayment of which was guaranteed by a holding company in Cyprus. After the default of payment of the loans, the client demanded the payment by the guarantor in Cyprus and then initiated winding up proceedings, considering that the debt is undisputed and taking into account that the client obtained judgment against the primary debtor in Ukraine.
STELIOS AMERICANOS & CO LLC
's team has considerable expertise in handling cross-border transactions and there is regularly a multidisciplinary approach to its work. The group advises on property acquisitions and construction agreements, and it is also adept at advising on the development of projects, town planning permits and building permits. Other drivers of work include advice on environmental laws, real estate litigation, insolvency and tax issues.
Stelios Americanos
heads up the team, which also includes senior associate 
Thanos Fiakas
.
Practice head(s):
Other key lawyers:
Testimonials
'The team is experienced and has good connections. The individuals are willing to travel to complete the work by themselves instead of appointing other people.'
Key clients
Mantis Group
Spica SA
IMMOFINANZE
Fattal/Leonardo Group
Talos
Sharelink Financial Services (SFS Group)
Papantoniou Supermarkets
COFCO Agro
ADAMA Group
eWave
Olympic Capital
ClassOne Ltd
K. Athienitis Contractors Developers Public Ltd
PAP Medical
H&M Group (Cyprus)
Outono Limited
Work highlights
Advised a consortium of local investors on the acquisition by Bank of Cyprus of Nicosia Mall in a €100m transaction.
Acted as legal adviser to Ewave on the acquisition of a company that was the owner of a 4-storey building that consisted of 20 one-bedroom apartments and one commercial shop operated as a tourist holiday hotel in Larnaca. Also acted as legal adviser to Ewave on the acquisition of seafront property in Larnaca, which is currently operating as hotel apartments.
Advised Alf Mizzi of Malta on its joint venture with Lanitis Group to develop Limassol Greens Golf Resort in a €90m transaction.
STELIOS AMERICANOS & CO LLC
specialises in advising on international structures with a Cypriot dimension, in addition to assisting clients with local taxation issues. Areas of expertise include personal income tax, social insurance contributions for employers, employees and the self employed, as well as advising all types of entities (such as limited liability companies, foundations and investment trusts) on corporate tax matters.
Stelios Americanos
and
Andreas Michaelides
lead the team.
Practice head(s):
Testimonials
'We are happy to have been working closely with Stelios Americanos LLC for a long time. We were working a lot on a complex project where different practices were involved and it is absolutely amazing that you could refer almost ANY questions of yours to them, rather than needlessly run around looking for professionals. So the good thing is that since every and each big project touches different practices – you can rely on Stelios and their experience.'
Key clients
REVERA LEGAL AND TAX SERVICES
FTL ADVISERS LTD
CLIFF LEGAL SERVICES
URVISTA LEGAL LAW PRACTISE
ASB CONSULTING GROUP
CHELSEA GROUP LLC
FORWARD LEGAL
NICOSIA MALL HOLDINGS LTD
FINAMATICS
SAYENKO KHARENKO
CORPORATE DEALS LTD
Work highlights
Advised FTL ADVISERS LTD on DAC 6 and its effects in Cyprus structures and double tax treaties.
Advised CLIFF LEGAL SERVISES on the new Cyprus Russia Double Tax treaty effects on current and future structures.
Advised CORPORATE DEALS LTD on international tax planning for investors for the acquisition of property in Greece with a Cyprus holding structure.
STELIOS AMERICANOS & CO LLC >
Firm Profile
The firm: Stelios Americanos & Co LLC is a full-service commercial law firm with its headquarters in Nicosia, specialising in corporate and commercial law, banking finance, litigation, tax and financial advisory services.
The firm assembled a dynamic team working with cutting-edge technology and quickly established an enviable reputation for providing an efficient and competent service. It has become a leading niche firm for corporate work. The firm's clients are guaranteed continuous and tailored support combined with a positive and constructive approach, and the ability to solve complex legal and tax problems with a business-oriented mentality.
The firm has an impressive list of local and international clientele that includes major banking and finance institutions, investment firms, industrial organisations, major contractors, leading international law firms, multinational corporations and high-net-worth individuals.
The firm has worldwide contacts with reputable legal and advisory practices and is able to assist clients with all aspects of their cross- border transactions.
The firm regularly advises governmental and semi-governmental organisations, major financial banking institutions, public companies, single-owned start-ups and multinational corporations in high profile asset finance, project finance and securitisation and on complex cross-border transactions including mergers and acquisitions and restructuring.
The firm has also established an excellent reputation for its corporate litigation department, achieving remarkable results in a number of high profile litigation cases involving cross-border transactions.
Members of the firm are very active in various professional associations and take part as speakers in international conferences and seminars while regularly publishing articles and contributions in a variety of matters related to Cyprus law.
Recent awards include: 'Banking and Finance Law Firm of the Year in Cyprus for 2016' by Corporate International Global Awards and 'Cyprus Corporate and Commercial Law Firm of the Year 2017' by ACQLAW.
Areas of practice
Corporate: formation, acquisition and dissolution of companies in Cyprus and abroad; corporate governance management and secretarial services; insolvency services; trustee fiduciary services; advising on shareholders issues, including advice on the drafting negotiation and implementation of subscription and shareholders' agreements; capital increases, equity contribution and differentiation of class rights venture capital financing; and redomiciliation of companies.
Commercial: cross-border transactions and joint ventures; agency, distributorship and franchise agreements; private and public offerings and takeovers; sophisticated structures involving Cyprus entities; securities law compliance; and all intellectual aspects of commercial transactions.
Real estate and construction:  The firm's real estate team deals with all matters related to immovable properties.
The firm advises both individual and corporate clients on:
 

Property due diligence

Advising on and negotiating the terms of acquisitions, sales and transfers
Advising on financing and licensing involving commercial and residential property
Sale-purchase agreements
Acquisition of property by non-residents
Property management for non-residents
Review, negotiation, drafting and conclusion of construction agreements and rental agreements.
Wills, probate and re-sealing's and estate administration
Mergers and acquisitions: structuring and tax optimisation of mergers, acquisitions and joint ventures; financial and tax due diligence in connection with acquisitions involving Cyprus companies; drafting and negotiation of subscription/share purchase agreements, shareholders and joint venture agreements; legal and tax advice on corporate, regulatory, securities, competition, labour and enforcement matters.
Banking and finance: reviewing or drafting of project finance and security documentation; advice on the priority, perfection and enforcement of different types of securities; advice on corporate and tax matters; advice on stamp duty and proper execution of documents; advice on conflict of law issues; issuance of the relevant legal opinions covering corporate power authority and the legality, validity and enforceability of the Cyprus law governed documents.
Litigation and arbitration: national and international arbitration; banking and financial; stock exchange and securities legislation; taxation; bankruptcy; enforcement of foreign judgments and arbitration awards; pursuing interim pre-emptive remedies.
Innovation and blockchain: Regulatory and legal compliance of blockchain companies concerning licensing, GDPR, structure, jurisdiction, criminal litigation and digital asset investigation.
Main Contacts
| Department | Name | Email | Telephone |
| --- | --- | --- | --- |
| Corporate, commercial and M&A | Stelios Americanos | | |
| Corporate, commercial and M&A | Soteris Costa | | |
| Banking and finance | Despina Americanou | | |
| Banking and finance | Olga Petrova | | |
| Banking and finance | Michalis Zambyrinis | | |
| Litigation and arbitration | Soteris Costa | | |
| Litigation and arbitration | Akis Koumas | | |
| Litigation and arbitration | Chrysanthi Epifaniou | | |
| Litigation and arbitration | Andreas Parpas | | |
| Corporate management and fiduciary services | Juliana Kyriakides | | |
| Financial services | Len Judes | | |
| Real estate and construction | Michalis Zambyrinis | | |
| Real estate and construction | Thanos Fiakas | | |
| Immigration and citizenship | Stelios Americanos | | |
| Immigration and citizenship | Thanos Fiakas | | |
| International tax planning | Michalis Louca | | |
| International tax planning | Len Judes | | |
| Trusts and inheritance | Michalis Zambyrinis | | |
| Public procurement/administration | Stelios Americanos | | |
| Capital markets, IPOs and securities | Despina Americanou | | |
| Capital markets, IPOs and securities | Michalis Zambyrinis | | |
| Energy | Stelios Americanos | | |
| Intellectual Property | Despina Americanou | | |
| Financial and Investment Regulatory Compliance | Charis Savvides | | |
| Restructuring, Receivership and Liquidation | Charis Savvides | | |
| Innovation and Blockchain | Charis Savvides | | |
| Accounting and Taxation | Andreas Michaelides | | |
| Innovation and Blockchain | Menelaos Kesisoglou | | |
| Banking and Finance | George Andreou | | |
Lawyer Profiles
| Photo | Name | Position | Profile |
| --- | --- | --- | --- |
| | Ms Chloe Americanos | Lawyer – Associate | View Profile |
| | Mr Stelios Americanos | Managing Partner, Advocate, Head of the Corporate and Commercial Department, the Mergers &… | View Profile |
| | Ms Despina Americanou | Partner, Advocate, Head of the Banking and Finance Department. The focus areas of… | View Profile |
| | Mr George Andreou | Associate, Advocate. He specializes in practice areas of drafting, negotiating and reviewing of… | View Profile |
| | Mr Soteris Costa | Partner, Advocate, Head of the Litigation & Arbitration Department. He is currently heavily… | View Profile |
| | Ms Chrysanthi Epifaniou | Associate Lawyer, member of the Litigation & Arbitration Department of our law firm.… | View Profile |
| | Mr Thanos Fiakas | Associate, Advocate member of three departments of our law firm, (i) Litigation &… | View Profile |
| | Mr Gregores Fylaktou | Associate Lawyer | View Profile |
| | Ms Georgia Georgiadou | Associate, Advocate. She specializes in Civil and Criminal Law. | View Profile |
| | Ms Ioanna Katsidima | Associate, Advocate. She specializes in the areas of Administrative Law and Civil Law. | View Profile |
| | Mr Menelaos Kesisoglou | Associate, External Lawyer | View Profile |
| | Mrs Koulla Kizi | Associate, Lawyer. She practices at areas of commercial and banking litigation with a… | View Profile |
| | Mr Akis Koumas | Mr. Koumas is Senior Associate in our firm since October 2016. He… | View Profile |
| | Mrs Helen Minti | Associate, Advocate. Ms. Minti joined our law firm as an Associate in… | View Profile |
| | Ms Fotini Ntorzi | Lawyer – Associate | View Profile |
| | Mr Andreas Parpas | Associate, Advocate. Mr. Parpas is Associate and member of four Departments of our… | View Profile |
| | Ms Olga Petrova | Associate, Advocate. Ms. Petrova specializes in Banking & Finance and Corporate & Commercial… | View Profile |
| | Dr Charis Savvides | Partner, Lawyer, Lecturer, Head of three Departments of our law firm, namely: (i)… | View Profile |
| | Ms Antri Tasou | Associate, Lawyer, AML & Compliance Officer. Her responsibilities included, among others, inspections… | View Profile |
| | Mr Michalis Zambyrinis | Associate, Lawyer. He is member of three departments: (i) Banking & Finance, (ii)… | View Profile |
Staff Figures
Number of lawyers : 24 at this office : 20
Languages
Arabic English French Greek Hebrew Russian Ukrainian
Memberships
International Bar Association Cyprus Bar Association International Tax Planning Association STEP IR GLOBAL IGAL Leaders in Law Legal 500 Chambers & Partners
Other
International offices : Athens, Israel
Interviews
Stelios Americanos, Managing Partner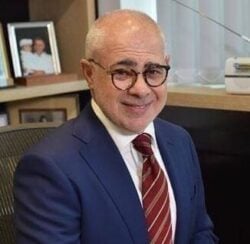 Stelios Americanos introduces the legal industry landscape in Cyprus and the management of the clients' needs.
What do you see as the main points that differentiate Stelios Americanos & Co LLC from your competitors?
Our Law Firm as a team has showed increased level of soft skills, apart from legal skills, for which we receive heartwarming feedback from our clients. Empathy, Honesty, Responsiveness, and business-oriented thinking are the main points that are being highlighted by our clients and other colleagues with whom we cooperate.
Which practices do you see growing in the next 12 months? What are the drivers behind that?
Following the crises that took place the recent months (pandemic, crises in Belarus, Israel, Palestine, Brexit, etc), people's focus has shifted to subjects, countries and industries with more stability while others have seen opportunities to expand their businesses to more socially, financially, medically developed countries. Furthermore, established businesses have also been asking a lot about green energy, tokenization of real estate, lending through blockchain and mining. Taking those factors in consideration, our departments that we expect to see growing are Corporate & Commercial, and Blockchain & Innovation
What's the main change you've made in the firm that will benefit clients?
During work from home and restrictions period our main concern was to not lose touch with our team, colleagues, and clients. For this reason, we quickly deployed a series of internal and external webinars, and discussions regarding different legal aspects that our law firm focuses on. Moreover, we dramatically increased our social presence with legal developments and newsletters that focused on informing the public about trending issues analyzed from a legal perspective.
Is technology changing the way you interact with your clients, and the services you can provide them?
The technology is changing the way we do everything, and we grasp every opportunity to automate and make our service provision and internal operations more efficient. It is without doubt that the pandemic boosted the adaption of technology to non-tech clients as well, regarding communication, meetings, online reviewing, signing of documents, sharing of data and consulting. We are now in the process of creating a moodle-like environment for our clients which will give access to their court folder through a unique code and which further include the arrangements with the lawyer, a memo, info of the lawyer, place of the data, and we will add features according to the needs.
Can you give us a practical example of how you have helped a client to add value to their business?
It is in our culture to promote interdependence. To help our clients and make promote synergies between our clients if we see common ground of cooperation or reciprocal fulfilment of needs with breaking potentials while always taking in consideration the legal secrecy and information sensitivity. It is something that our clients want and that our clients are benefited from, which results in successful merges, acquisitions, funding of start-up companies and settling disputes.
Are clients looking for stability and strategic direction from their law firms – where do you see the firm in three years' time?
Clients nowadays look far more that just a legal advice. They are looking for a business consultant as well, with a slight knowledge on tax matters, on corporate matters, on litigation matters and on wealth management matters. When a client comes to us, we act as a mentor whose success is determined by the success of the client. Of course, no one can know it all, that's why we continuously expand our team increasing and adding diverse expertise in our team portfolio to better safeguard and promote the interests of our clients. Our short-term goals for the Law Firm are to minimize the carbon footprint, increase the workflow efficiency through technology, and maximize our clients' and employees' satisfaction and well-being.
Press Releases
9th August 2022
On 30 June 2022, the Cyprus Parliament enacted amendments to the Income Tax Law and the Assessment and Collection of Taxes Law in relation to transfer pricing regulations in accordance with recommendations of the Organisation for Economic Co-operation and Development on Transfer Pricing Guidelines.
9th August 2022
Cyprus is a small EU member state country but the third largest Island in the Mediterranean Sea with a population almost one million. Whereas Greek is the official language, English is widely spoken and the language in which business is generally conducted.
9th August 2022
On 26 July 2022, the new amended articles 8(21) and 8(23) of the Income Tax Law were published in the Gazette aiming to attract foreign investors and high-profile foreign employees.
11th April 2022
CySEC's call for views
The Cyprus Securities and Exchange Commission has launched a call for views on establishing a Regulatory Sandbox[1]. The
Call
and accompanying
Press Release
were circulated on 16th March 2022 on CySEC's Website (the "Call") and invites stakeholders across the financial services industry to provide their own feedback on establishing a Regulatory Sandbox for the promotion of innovation in the industry. The Call refers to and concerns regulated entities, Financial Technology (FinTech) [2], Regulatory Technology (RegTech) [3] companies, their professional associations from Cyprus or abroad and in general, any interested party with views as to the merits of establishing a Regulatory Sandbox, its scope and its testing process.
5th January 2022
Cyprus companies corporate tax residency
On 9 December 2021, the Cyprus Parliament approved the expansion of the definition of corporate tax residency for Cyprus companies to additionally include the incorporation test.
16th November 2021
Stelios Americanos & Co LLC advised the Israeli group Global Knafaim in a $5 million transaction pursuant to which the later acquired a 49,9% in the share capital of TUS AIRWAYS LTD, a Cypriot airline headquartered in Larnaca. Existing shareholder, Kenneth Woolley also invested an additional $4 million increasing the amount of the total transaction to $9 million.
16th November 2021
The Government presented the new strategy for attracting skilled workforce and companies in Cyprus on Friday 15 October 2021. This new strategy is mainly focused on high technology, shipping, innovation, and research and development. The new strategy includes a series of incentives concerning residency, taxation, employment and simplification and digitization of the current procedures. The scheme will come into force on the 1st of January 2022.
9th September 2021
Our Partner Dr. Charis Savvides delivered and intense seminar at Global Training (Cyprus), on Tuesday, 07 September 2021, at 09:00am. The seminar presented the current and under development regulatory framework on digital assets, addressing the key legislations and regulations which affect or be affected by the disruptive nature of crypto-transactions. You can view the presentation on the firm's website link attached bellow.
7th May 2021
Chloe Americanos and Arianna Mouskou, of Stelios Americanos & Co LLC delivered a Webinar regarding Start-up companies, their formation, development, growth and the challenges that aspiring entrepreneurs are facing during their entrance to the start-up world.
7th May 2021
Coinfirm, the industry-leading RegTech provider and Stelios Americanos & Co. LLC, a highly innovative Cypriot law firm, today announce their joint cooperation.
7th May 2021
Stelios Americanos & Co LLC has joined Dentons New York in assisting Zubr Capital and the European Bank for Reconstruction and Development (EBRD) in a multimillion transaction in relation with their exit from the investment in Enterprise Agile Planning company Targetprocess, following its purchase by Apptio, a leading provider of technology business management solutions. 
7th May 2021
Pursuant to the provisions of Regulation 6(2) of the Aliens and Immigration Regulations, the Minister of Interior has decided to revise the current permanent residency programme (the "Programme") to include additional investment criteria other than investment in real estate with the purpose of attracting foreign investors and their families to invest in Cyprus.
1st March 2021
Coinfirm, the industry-leading RegTech provider and Stelios Americanos & Co. LLC, a highly innovative Cypriot law firm, today announce their joint cooperation. - 23rd February, London, UK / Nicosia, Cyprus.
28th January 2021
It is our great pleasure to announce that our partner Dr Charis Savvides has been invited to join the Expert Panel of the European Blockchain Observatory and Forum.
28th January 2021
Thanos Fiakas
 and 
Andreas Parpas
, lawyers of Stelios Americanos & Co LLC delivered a webinar on the acquisition of real estate in Cyprus.
5th March 2020
The Cypriot law firm
Stelios Americanos & Co LLC
organized on 17 February 2020 its first international conference for the year in Tel Aviv in Israel.
4th October 2019
The scope for enhancing economic relations and business ties between Kazakhstan and Cyprus is immense, Cyprus' Minister of Finance said in his opening address at the Conference "CIS – Kazakhstan – Cyprus – Business Cooperation Heralding the New Era", held Thursday in Limassol.
31st May 2018
Stelios Americanos & Co LLC, participated at Intax Forum Ukraine 2018 which took place in Kiev, between 21 and 22 May 2018.
7th May 2018
Cyprus Tax Department has announced that, as of June 1st 2018, the following taxes, not bearing interest and charges, can ONLY be paid via JCCsmart (website www.jccsmart.com.cy). JCCsmart is a Cyprus portal used to contact payments to various organizations including the Government. This measure follows the successful implementation of the Pay As You Earn (PAYE) tax withheld from employees through JCCsmart.
18th April 2018
A. Pledge
A pledge is by definition a possessory security interest and thus involves the delivery of possession, actual or constructive. A security interest is valid and enforceable once it has been attached to the asset and is perfected. A security interest that has been attached and perfected is enforceable as between the pledgor and pledgee. The effect of attachment is that the security interest fastens on the asset so as to give the creditor rights in rem.
6th April 2018
THE MAIN PROVISIONS OF THE LEGISLATION WHICH IS UNDER DISCUSSION BEFORE THE HOUSE OF THE REPRESENTATIVES FOR THE LEGALISATION OF THE IMPORTATION AND/OR PRODUCTION AND/OR CULTIVATION OF PHARMACEUTICAL CANNABIS
6th April 2018
The Central Bank of Cyprus has on 9/4/2016, activated the procedure for the payment of compensation amount from the Deposit Guarantee Fund for Banks for deposits held in FBME Bank Ltd – Cyprus branch.
6th April 2018
1. Scope of the Stamp duty Law.
1.1.Stamp duty is governed by Stamp Duty Law (19/1963) (hereinafter the "Law"). The Law (article 4 (1)) provides that the documents that are specifically named in its first schedule (and only such documents) are subject to stamp duty provided these documents relate to: (i) assets situated within the Republic of Cyprus; or (ii) matters or things to be performed or done in Cyprus; irrespective of the place of execution of such documents.
22nd March 2018
Cyprus' strong economic recovery will continue in 2018 with the GDP expected to be 3.2% (2017: 3.8%) which is well above the European Union average. Inflation forecast shows an increase in 2018 to 1.2% (2017: 0.7%) well within the healthy limits, with unemployment expected to be near the 10% mark in comparison with 13% of the year before.
13th March 2018
Cyprus Tax Authorities announce the 10 year bond yield for Notional Interest Deduction (NID) purposes
The Cyprus tax authorities have announced the interest yield of the 10 year government bonds as at 31st December 2017 which increased by 3% grants tax allowance on new capital introduced into the Cyprus company.
13th February 2018
Cyprus consistent efforts to modernize its regulatory environment for investment funds, has created a legal framework bearing hallmarks of the regimes in Luxembourg and Ireland, and has strengthened Cyprus' profile as an emerging European funds and asset management domicile.
20th December 2017
Stelios Americanos & Co LLC advised Athienitis Group over €100 million debt restructuring
The high profile transaction was one of the most complex restructuring in Cyprus as involved bank debt, bond holders issues and related litigation, financing provided by the Cyta Provident Fund, minority shareholder considerations and the construction and management of the Nicosia Mall a project with a construction cost of over €uro100million.
20th December 2017
The Law firm of Stelios Americanos & Co LLC, with pleasure announces the appointment as new Partners / Directors:
11th August 2017
On the 14th of July the Cyprus Parliament passed a law amending the Income tax law of 2002 as to the requirements of tax residency of individuals in Cyprus.
14th July 2017
The Cyprus Tax Department ("TD") has issued an interpretative Circular on 30th of June as to the tax treatment of intra group back to back financing arrangements. This follows the TD announcement that it will cease applying the minimum accepted profit margin on back to back loan schemes as agreed in July 2011.
14th July 2017
Stelios Americanos & Co LLC, participated in DC Finance conference in Israel on the 13th of June 2017. The seminar took place at Hilton, Tel-Aviv.
18th April 2017
Stelios Americanos & Co LLC advised on Cyprus law issues the joint venture between Fattal, the Israeli hotel management chain and ISSTA, Israel's largest tourism company in the acquisition of hotels Cypria Maris, Cypria Bay and Laura in Paphos, Cyprus.
20th March 2017
With new additions to its already established legal team, Stelios Americanos & Co LLC Law firm welcomes 3 new lawyers aiming to strengthen further it's litigation and corporate practices and continue serving its clients with integrity, personal commitment, dedication and professionalism.
2nd March 2017
Cliff Law Firm of Moscow and Stelios Americanos & Co LLC (Cyprus) host conference on "The Global Exchange of information: The business world on the threshold of a new era"
The new Multilateral Agreement on the Automatic Exchange of Financial Information between tax authorities and controlling bodies that has been signed by 83 countries, the Russian Federation inclusive, has launched a new era for the international business. The Exchange of Financial Information Agreement obliges the banks and generally financial institutions to disclosure information on the final beneficiaries of corporate accounts, as well as on international transactions. This newly emerging requirements will force the businesses to review their current setups and practices under the light of the new rules and directives.
2nd March 2017
Advantages, risks legal and tax structuring
Stelios Americanos & Co LLC, participated in Saint Petersburg conference on the 13th of December 2016, the topic of which was "Properties Overseas: Advantages, risks legal and tax structuring". The seminar was co-organized with Delovoy Saint Petersburg and Maxima Legal and took place at Grand Hotel Europe.
2nd March 2017
Stelios Americanos & Co LLC completed a successful visit to China, having met with clients and partners and participated in two conferences in Shanghai and Beijing in October/November 2016.
Following a successful visit to China in May, 2016, Stelios Americanos & Co LLC made a second trip to China, in order to participate in two conferences in late October, and early November 2016, in Shanghai and in Beijing. The Firm was represented by Len Judes who spoke about and presented the Cyprus Citizenship and Permanent Residency by investment programs.
Legal Developments
22nd September 2022
The future of NFTs seems bright and promising. NFTs are evolving into an asset class that, at its core, serves as the world's greatest digital evidence of ownership. As NFTs grow, their role as digital proofs of ownership will provide innovative and lucrative use cases for future digital economies.While digital art and collectibles presently dominate the realm of non-fungible tokens, this is just the tip of an enormous iceberg.
9th August 2022
The banking sector is showing an incremental appreciation of the use of cryptoassets and their correlation with banks' traditional retail functions. The existing legal framework is maturing to the regulation of cryptoassets, allowing for the effective supervision of such digital assets.
9th August 2022
A growing number and class of investors is shifting towards sustainable and ESG-compliant markets and products. Environmental and social considerations are assuming a growing importance, with the EU focusing its efforts to the greening of the economies of its Member States.
8th June 2022
Staff relocating to Cyprus earning more than €55,000 will benefit from a 50% tax exemption on their salary
20th February 2022
There is an ongoing race at the national and international, regulatory and private sector levels, to take advantage of the increasing demands for digitalization and acquire a first mover advantage in those sectors where digitalization is having the most impact. The heavily digitally-influenced reality that many countries and industries have had to rapidly adapt to, has provided an opportunity for Cyprus to distinguish itself as an innovation-friendly jurisdiction and set the groundwork for fostering new technologies and market trends connected to the digital space.
7th May 2021
The film industry constitutes a complex and ever-flourishing sector in the global economy. The industry's operation occupies multifaceted stages, engages a selection of distinct stakeholders and experts and presents plenty opportunities for all parties who choose to get involved. Committed to boosting this highly promising sector, the government of the Republic of Cyprus introduced a package of incentives, encouraging international producers to choose Cyprus as their next film destination.
7th May 2021
Asset tokenization constitutes a relatively new process. Yet, it has been receiving increasing levels of attention across several jurisdictions, with positive indications as to its ability to revolutionize the way different assets are held, traded and used.
7th May 2021
Following the 2007-2009 global financial crisis, the financial services sector has been subjected to a process of intense regulatory overhauling, leading to many of the complex laws that are applicable today in relation to funds, banks, investment and insurance firms. In the context of this legal and regulatory reshaping, new entrants have made their appearance, including Financial Technology (FinTech) and Regulatory Technology (RegTech) firms.
7th May 2021
This note seeks to provide an overview of some of the key recent developments in the area of competition law with regards to the challenges brought about by the Covid-19 pandemic ("the pandemic") and the disruption induced by digitalization and online marketplaces.
3rd February 2021
The Cyprus Investment Program seemed problematic from the beginning and even the amendments could not save and protect the abuse of the Program. The Cyprus Government decided to terminate the Program with final submission date the 30th of October 2020 after amending the Law regulating the Citizenship by Investment Program. The new policy of the Government let to many rejections of new applications and initiated many revocation procedure for investors who had already received the Cypriot passport.
3rd February 2021
Globally, it has been highlighted the importance and the need for extended transparency, in business and corporate entities, to combat money laundering, terrorist financing and more generally, the abuse of the financial systems by criminals.
27th April 2020
Force Majeure & the Doctrine of Frustration in Cyprus Law
Introduction
The recent outbreak of Covid-19, which the World Health Organisation classified as a pandemic, has brought to the fore significant issues for businesses. The disease has a profound impact on the performance of businesses and their underlying contractual relationships.
5th July 2019
Our Family Grows Ch. P. Savvides & Associates LLC is a highly reputable, young and energetic law firm based in Nicosia actively involved in Financial & Investment Regulatory Compliance, Litigation & Insolvency, Corporate Law and a pioneer in providing legal advice for innovative technology business ideas and Blockchain.
5th June 2019
Anti-Tax Avoidance Directive. The Cyprus Ministry of Finance has presented to the Parliament legislation in view of the implementation of the European Union Anti-Tax Avoidance Directive.
21st May 2019
On the 15th of May 2019 the Cyprus Minister of Foreign Affairs Mr Nicos Christodoulides and the First Deputy Prime Minister and Minister of Finance of Kazakhstan Mr. Alikhan Smailov has signed the new Double Taxation and the Prevention of Fiscal Evasion treaty between the respective countries.
24th April 2019
The Cyprus Investment Programme has been redesigned by the Cyprus Government in order to continue to attract high net worth individuals to settle and do business in Cyprus. The Key Changes will be applicable from the 15th of May 2019 and include the following:
24th April 2019
Cyprus has introduced the General Healthcare System (GHS) that will cover its entire population. The GHS is a modern, patient-centric healthcare system with the aim of delivering equal and quality healthcare services to beneficiaries.
14th March 2019
The Cyprus flag has had unprecedented success in the last few years, rising to a position of prominence in world shipping.
Shipping is dominant in Cyprus due to the country's excellent geographical position, the significant number of bilateral treaties for the avoidance of double taxation concluded by Cyprus and the favourable taxation regime which has been maintained even after the accession to the European Union. 
13th February 2019
Stelios Americanos & Co LLC, participated in WORLD SHIPPING LAW FORUM in Athens that has taken place on the 25th January 2019. The conference took place at N.J.V. Athens Plaza.
8th February 2019
BLOCKCHAIN AND DIGITAL CURRENCIES
DECENTRALIZED NICOSIA CHAPTER CONFERENCE
Stelios Americanos & Co LLC and Ch. P. Savvides & Associates LLC, being the consortium law firms of BL ADVISORY INTERNATIONAL, www.bla-international.com, participated at the Blockchain and Digital Currencies event, held at the University of Nicosia and organized by the Decentralized Nicosia Chapter on 23rd of January, 2019.
12th December 2018
The British Virgin Islands are rushing to pass by the end of December the new economic substance legislation to avoid the EU's blacklist of tax haven jurisdictions.