Lakatos, Köves and Partners > Budapest, Hungary > Firm Profile
Lakatos, Köves and Partners
Offices
Lakatos, Köves and Partners
MADÁCH IMRE ÚT 14
1075 BUDAPEST
Hungary
Lakatos, Köves and Partners > The Legal 500
Rankings
Lakatos, Köves and Partners
is a highly regarded for its ability to handle complex, cross-border transactional and advisory work. The firm is especially experienced in sovereign bond issuances, financial regulation, infrastructure project financing, securitisation transactions, and asset-backed capital markets transactions in the aviation space.
Szabolcs Mestyán
 and UK-qualified 
John Fenemore
jointly lead the team. Counsel
Pál Rahóty
focuses on financial regulation, while
Gabriella Szabó
is impressive in her handling of energy and infrastructure projects with a public financing aspect.
Péter Köves

,
Gergely Kántor
and
Botond Horváth
are also key contacts. At the associate level,
Balázs Rokob
is noted.
With a strong international presence and leading transactional and advisory capabilities, Lakatos, Köves and Partners is regularly trusted by clients in the energy, financial services, telecoms and FMCG sectors. The vast majority of its client base is made up of foreign-owned entities. Iván Sólyom was recently promoted to department head, with 20 years' experience handling some of the firm's most complex corporate and M&A work across a wide range of industries. Alongside Sólyom, the key contacts at leadership level are Ádám Máttyus

and Richard Lock

. Máttyus has notable expertise in non-regulated sectors such as IT and FMCG, as well as in the heavily regulated energy sector. Richard Lock

, Viktória Szilágyi, Pál Rahóty, György Tóth and Kornél Dirner are also recommended.
Lakatos, Köves and Partners
is particularly valued for its industry-specific knowledge in the finance, telecoms, life sciences, real estate and construction sectors. With recent efforts to broaden the diversity of the team and its ability to cater to international clients, the team now has members fluent in English, French, Italian, Spanish and German, as well as Chinese and Japanese.
Eszter Ritter

co-leads the department with a focus on antirust, merger control, consumer protection and unfair competition cases, most notably representing Meta Ireland in its highly publicised case against the Hungarian Competition Authority.
Iván Sólyom
acts alongside Ritter, with clients benefitting from his multidisciplinary cross-border experience. Associate
Adrienn Mándoki
has significant experience in competition law, including consumer protection and cartel cases.
Ádám Máttyus

 is also a key asset for the firm.
Operating as an extension of the firm's corporate wing,
Lakatos, Köves and Partners
' data protection team has longstanding relationships with leading clients in the finance, telecoms and energy sectors across Central and Eastern Europe. More recently, the firm has attracted a growing client base in the automotive and tech sectors.
Iván Sólyom
leads the team with a strong corporate stance and extensive experience in intellectual property, data protection and GDPR.
Alekszej Dubalár
focuses on data protection related to M&A transactions, particularly in the energy sector.
Éva Bognár
is another key name.
Lakatos, Köves and Partners
' is well versed in representing clients before domestic and international governing bodies, with notable capabilities in international arbitration, investment treaty arbitration, commercial and M&A-related disputes, tax litigation and employment disputes, and follow-on damages litigation. Recently, the firm achieved a successful outcome for TVOT in a high-impact competition and monopoly case before the ECHR.
Balázs Fazakas
 heads up the team with considerable experience in corporate governance and related disputes. Founding partner
Péter Lakatos

 and seasoned litigator
Péter Köves

are also key senior contacts.
Gabriella Szabó
,
Adrienn Mándoki
 and
Sára Darnót
complete the roster of core team members.
Lakatos, Köves and Partners
has historically been involved in some of the highest impact infrastructure projects in Hungary, namely motorway concession projects. The firm has recently seen an uptick in mandates concerning logistics and industrial property for the automotive sector, as major players seek to diversify into electric vehicle production. The team has a growing renewable energy client base, and also continues to advise on social infrastructure projects including healthcare and education, as well as numerous transport and aviation mandates. The team is led by industry heavyweights
Péter Köves

,
Péter Lakatos

and
Ádám Máttyus

. Partners
Attila Ungár
and
Viktória Szilágyi
, and associates
Kornél Dirner
and
Ágnes Hegyi
 round out the team.
Lakatos, Köves and Partners
' sizeable team of dedicated property lawyers continues its highly regarded work in the real estate sector, with a strong focus on development, finance, acquisitions and portfolio management. The team is known for its diverse client list, comprising both domestic and international names.
Attila Ungár
leads the team with a focus on sales, acquisitions and leases, as well as considerable corporate and regulatory experience.
Tamás Balogh
is another key contact. The group also fields a large bench of associates with significant corporate, tax and M&A expertise.
With a strong background in radio, print media, online media and television, the longstanding TMT team at Lakatos, Köves and Partners has recently enjoyed growing mandates in the technology space, representing notable clients such as Vodafone. The team often advises clients from a regulatory, GDPR, and consumer protection point of view, as well as offering multidisciplinary transactional support. Iván Sólyom leads the department, advising clients in the telecoms, media and technology sectors on IP, data protection, M&A and competition law. Seasoned litigator Péter Lakatos

 is a core member of the team, with nearly 30 years' experience in the field. György Tóth and Nóra Szigeti are noted at the associate level.
Lakatos, Köves and Partners
offers clients broad employment law capabilities across employment framework, data protection, restructuring, and employee relations issues, as well as employment-related litigation, and labour issues arising from mergers and acquisitions. Counsel
Éva Bognár
, who '
knows all there is to know about employment
', heads up the practice.
Katalin Losonci
and
Petra Rózsahegyi
are noted at the associate level.
Lakatos, Köves and Partners
specialises in brand protection, IP dispute resolution, trade mark filings and renewals, and due diligence in the context of IP acquisitions. The firm sports a growing client base in the tech space. Corporate expert
Iván Sólyom
leads the team with a focus on data protection.
Alekszej Dubalár
is noted for his IP work related to mergers and acquisitions, and his sector-specific experience in the utilities and energy sector.
With considerable cross-border capabilities,
Lakatos, Köves and Partners
regularly advises clients on the tax implications of complex and multijurisdictional corporate, finance and M&A transactions. The team is also well versed in VAT planning issues and assessment of tax risks. The diverse client base spans the energy, financial services, automotive and telecoms sectors.
Balázs Kántor
 leads the team with a decade of tax-specific experience. Associate
Petra Rózsahegyi
focuses on issues at the intersection of tax and employment law.
Lakatos, Köves and Partners >
Firm Profile
Firm overview: Lakatos, Köves and Partners (LKT) is an independent internationally focused full service commercial law firm based in Budapest. It has a predominantly international client base, offering cutting-edge know-how and matching innovative legal solutions to business needs. The firm has been independent since 2009 having been Clifford Chance's office in Budapest from 1993 to 2009. LKT's market standing is reflected in top tier rankings in many areas including banking and finance, capital markets, corporate/M&A, competition, dispute resolution, real estate, and TMT. The firm works with leading law firms from around the world, in relation to their Hungarian activities and issues. LKT is a member of the Budapest Bar Association, International Bar Association, Multilaw, Interlaw, INSOL and the Loan Market Association.
Practice areas: Aviation, banking and finance, capital markets, competition/antitrust, consumer protection, corporate/M&A, dispute resolution, employment, energy, GDPR/IP, life sciences, real estate, tax advisory, telecommunication/media/technology
Main areas of practice
M&A: The firm advises on the full range of M&A transactions, representing foreign investors both in relation to Hungary specific transactions and also regional or global transactions, on which the firm assists in relation to the Hungarian aspects of such deals.
Corporate/regulatory/compliance: The firm advises many corporates, in particular the subsidiaries of international companies on the issues facing them in their operations in Hungary, ranging from general corporate establishment and maintenance through their compliance with all local regulatory requirements (eg sectoral regulation, investigations, competition law). Notably active sectors in the firm's practice are financial services, real estate, automotive, aviation, energy, life sciences and TMT/IT/technology.
Contact: Iván Sólyom Tel: +36 20 344 8089
Email: ivan.solyom@lakatoskoves.hu
Banking and finance and capital markets: The firm's banking and finance practice includes asset financing, structured financing, real estate projects, corporate and aviation financing, both on the lender and the borrower side, banking regulation, M&A in the banking sector, banking products, NPL, restructuring, insolvency and banking litigation. Capital market mandates include securitizations, share and bond issuance (including sovereign bonds), complex equity and debt securities offerings, dual-listings, IPOs, derivatives, structured products, structured finance and asset management issues, as well as regulatory matters (Brexit, Prospectus Directive, MiFID, EMIR, etc.)
Contact: Szabolcs Mestyán Tel: +36 20 938 0395
Email: szabolcs.mestyan@lakatoskoves.hu 
Contact: John Fenemore Tel: +36 20 921 5034
Email: john.fenemore@lakatoskoves.hu
Competition/antitrust: The firm has longstanding expertise on all types of matters in this area, including merger filings, competition/anti-trust issues, cartel proceedings, abuse of dominant position and representation during investigations by the Hungarian Competition Office and court litigation procedures. LKT's consumer law practice is outstanding, including dealing with Unfair Commercial Practices (UCP).
Contact: Iván Sólyom Tel: +36 20 344 8089
Email: ivan.solyom@lakatoskoves.hu
Contact: Eszter Ritter Tel: +36 20 228 2552
Email: eszter.ritter@lakatoskoves.hu
Aviation: LKT has an aviation group, which is unique in Hungary and market leader in the CEE region. LKT acts on aircraft finance, JOLCO transactions, securitisation of aircraft lease receivables, aviation regulatory, financial and operating leases, sale and leaseback transactions, pooling of engines, security interests, insurance and reinsurance liability, litigation and dispute resolution with strong trial capability, repossession of aircraft and tax issues.
Contact: Szabolcs Mestyán Tel: +36 20 938 0395
Email: szabolcs.mestyan@lakatoskoves.hu
Real estate: LKT's real estate team is the largest and has a dominant position in the real estate market in Hungary. The firm advises on the entire spectrum of real estate matters, including acquisition and structuring, construction and development, asset and property management with a special expertise on logistic properties and project development.
Contact: Attila Ungár Tel: +36 20 9725 878
Email: attila.ungar@lakatoskoves.hu
Dispute resolution: LKT successfully represents clients in international arbitration proceedings before the ECHR, ECJ, and ICSID and in litigation proceedings at ordinary courts.
Contact: Balázs Fazakas Tel: +36 20 482 4133
Email: balazs.fazakas@lakatoskoves.hu
Employment: LKT advises clients in relation to employment and executive contracts, pension schemes and benefit programs, employment disputes, HR aspects of M&A transactions, works council and trade union relations. The firm has extensive experience in managing international restructuring and redundancy projects, mobility and remote/hybrid work schemes. The team is increasingly involved in IT related issues i.e. GDPR, employee surveillance practices, employment aspects of AI etc.
Contact: Éva Bognár Tel: +36 1 429 1300
Email: eva.bognar@lakatoskoves.hu
Energy: LKT's energy practice includes involvement in the full range of energy sources from nuclear through conventional power to renewables, with broad experience in regulatory issues, project development, financing and M&A. In the renewables field, the activities are mainly in solar and thermal projects.
Contact: Ádám Máttyus Tel: +36 20 461 5095
Email: adam.mattyus@lakatoskoves.hu
Contact: Viktória Szilágyi Tel: +36 30 417 7989
Email: viktoria.szilagyi@lakatoskoves.hu
IP/GDPR: Advising in brand protection, trade mark filings, renewals and due diligence, IP litigation and disputes, Tech related matters, GDPR and data protection, including full GDPR audits.
Contact: Iván Sólyom Tel: +36 20 344 8089
Email: ivan.solyom@lakatoskoves.hu
Tax advisory: LKT fully integrates tax advice into its legal work. The tax practice head is a certified tax advisor and a qualified lawyer. LKT's tax team advises on the full range of tax issues connected to the clients' businesses, in particular in corporate, real estate and employment matters.
Contact: Balázs Kántor Tel: +36 20 929 4549
Email: balazs.kantor@lakatoskoves.hu
Telecommunication/media/technology: LKT works on ground-breaking transactions in the telecommunications, media and technology sectors in Hungary with a broad base of expertise in regulatory aspects of market liberalization and consolidation, including M&A transactions and frequency tenders. LKT advises on all aspects of telecommunication law, internet and e-commerce (i.e. data protection, M&A, corporate, competition and regulatory).
Contact: Péter Lakatos Tel: +36 20 952 8799
Email: peter.lakatos@lakatoskoves.hu
Contact: Iván Sólyom Tel: +36 20 344 8089
Email: ivan.solyom@lakatoskoves.hu
Managing partner: Dr Péter Lakatos LL.M.
Number of partners: 10
Number of lawyers: 50, including tax advisors
Languages: English, German, French, Italian, Japanese, Chinese, Russian, Hungarian, Romanian, Serbian, Spanish
Languages
English Hungarian Russian Romanian Spanish French German Serbian
Memberships
International Bar Association (IBA) Budapest Bar Multilaw Interlaw Loan Market Association INSOL Hungarian Private Equity and Venture Capital Association (HVCA)
Client Testimonials
COMPANY/FIRM: Lakatos, Köves & Partners ("LKT") M&A, TMT and Competition Group (Iván Sólyom)
TESTIMONIAL: "Thank you for all of your hard work – your dedication and responsiveness was very much appreciated during a process which certainly had its challenges" and "cannot tell you how grateful we are for your enormous effort in helping the company reach this point. We put great demands on your team and you responded amazingly".
---
COMPANY/FIRM: LKT Competition Group (Eszter Ritter)
TESTIMONIAL: "Yes well done team! Very good news… Thanks for all the hard work on this!"
"Thanks again for having managed this proceeding so well!"
---
COMPANY/FIRM: LKT Employment Group (Éva Bognár)
TESTIMONIAL: "Eva has been invaluable in assisting us with any and all labor relations challenges that have (or will) face our Budapest facility."
---
COMPANY/FIRM: LKT Employment Group (Éva Bognár)
TESTIMONIAL: "We have always appreciated your quick and reliable advice."
---
COMPANY/FIRM: LKT M&A and Capital Markets (Péter Lakatos, Pál Rahóty)
TESTIMONIAL: "Thanks again for all your help and support throughout, which has been fantastic. Hope to work with you again on something soon."
---
COMPANY/FIRM: LKT
TESTIMONIAL: "Want to thank you for the good cooperation, and your responsiveness and prudent advice."
---
COMPANY/FIRM: LKT banking team (Szabolcs Mestyán, Pál Rahóty)
TESTIMONIAL: "Many thanks for making this happen and for the sacrifices made over the last year or so."
---
COMPANY/FIRM: LKT (Pál Rahóty)
TESTIMONIAL: "Your assistance in this challenging and complex process has been much appreciated. Quite an intense ride!"
---
COMPANY/FIRM: LKT (Richard Lock, Pál Rahóty)
TESTIMONIAL: "Words can't express my gratitude for your effort."
Interviews
Péter Lakatos LL.M., Managing Partner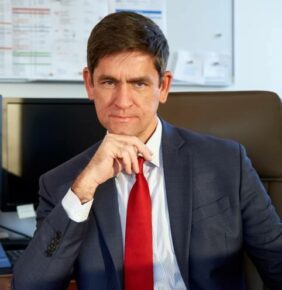 Dr. Péter Lakatos LL.M., Managing Partner of Hungarian leading law firm, Lakatos Köves and Partners (LKT) gives an impression how the firm is combining business solution with an innovative approach and local market knowledge with global expertise adapting to clients' changing needs.
What do you see as the main points that differentiate LKT from your competitors?
We believe that we occupy a small niche between the international network firms and local firms, and combine the best of each of those groups. Most of us trained in the international firms and work principally for international client and yet we have the flexibility and independence of a local firm and have been established in the local market for as long as anyone.
Which practices do you see growing in the next 12 months? What are the drivers behind that?
We have been expanding for several years and see that continuing, not necessarily specific to particular practice areas. However we anticipate increased demand in a number of areas, for example, in our M&A team with a particular focus on certain sectors e.g. energy, telecoms and healthcare. In finance we anticipate the fallout from the financial distress caused by the pandemic. The amount of work handled by our litigation practice continues to grow. Tax, labour law and consumer protection are also growth areas for us. The drivers behind most of that growth will be a mixture of positive and negative trends in the economy – on the positive side, the continuing attractiveness of Hungary as a relatively low cost base close to the main European markets, in particular for Asian companies as they review their supply chains. On a more negative side the stresses and strains caused by the pandemic and trends such as digitalization will be important.
What's the main change you've made in the firm that will benefit clients?
I would highlight two changes, one specific to our firm and one relevant to all firms but which we believe we have handled well. This specific development is the continuing refinement of our Time Mind practice management system which unlike many such systems is tailored specifically to the needs of law firm. This system is a comprehensive "integrated" system embracing client and BD data base, time recording, document and e-mail management, multicurrency billing, and financial reporting system, which operates on a real time base information. Attesting to its value is the fact that several firms in Hungary and around the region have adopted this system. The more general change is the switch to online working which went extremely smoothly.
Is technology changing the way you interact with your clients, and the services you can provide them?
I generally believe that the tech capabilities determines the competitiveness of all industries nowadays, and the legal business is not exempted from that. Our efficiency and profitability are very much depends on the successful implementation and application of the information technologies in our practice, and it is also a requirement of most of the clients even during the day to day interactions. We must follow the latest trends as well.
Can you give us a practical example of how you have helped a client to add value to their business?
In the last couple of years we have had several examples of introducing clients to transaction, which goes beyond the service normally expected of lawyers. Our creative thinking has often helped our clients find innovative solutions in groundbreaking transactions. Life in Hungary over the last thirty years has been interesting and often challenging, and it certainly continues to be so. Feedback from our clients confirms that our firm is seen as one of the leading law firms in Hungary. Using the knowledge and experience we have gained during the past three decades we look forward to continuing to respond to these challenges and working together with our current and new clients.
Are clients looking for stability and strategic direction from their law firms – where do you see the firm in three years' time?
We certainly believe that our clients appreciate our track record and the fact that we have been active in this market on the highest level for many years. Equally I believe our clients appreciate our focus on assisting foreign investors in relation to their investments and activities in Hungary. We see that foreign investment into Hungary is continuing and we aim to be advising those new investors in addition to those already here.