Firm Profile > Michael Kyprianou & Co. LLC > Nicosia, Cyprus
Michael Kyprianou & Co. LLC
Offices

Michael Kyprianou & Co. LLC
2 AGIAS ELENIS STREET
6TH AND 7TH FLOORS
1060 NICOSIA
Cyprus
Michael Kyprianou & Co. LLC > The Legal 500
Rankings
Michael Kyprianou & Co. LLC >
Firm Profile
The firm: Founded in 1991 in Nicosia, Michael Kyprianou & Co LLC has grown over the years to become one of the leading law firms in Cyprus, with offices in Nicosia, Limassol and Paphos. In addition, the firm has developed internationally over the years and currently counts nine offices in six countries – Nicosia, Limassol, Paphos in Cyprus, Athens and Thessaloniki in Greece, Dubai in the United Arab Emirates, Kiev in Ukraine, Birkikara in Malta and most recently London in the United Kingdom.  Across its offices, the firm employs over 90 people, 54 of whom are qualified lawyers.
It is the firm of choice in Cyprus for many major international law firms based in London, Europe and Russia and, over the years, the firm has acted in a large number of complex cross-border projects. The quality of its lawyers, its size and its international affiliations enable it to produce excellent results on a consistent basis.
Michael Kyprianou & Co LLC has been awarded the 2014 and 2017 Cyprus Export Award by the Cyprus Chamber of Commerce and Industry and the Ministry of Energy, Commerce, Industry and Tourism, for services provided to international clients.
Areas of practice: Banking and finance: it is recognised as a leading adviser of banks, financial institutions, borrowers and security providers in multi-jurisdictional as well as domestic financing transactions involving Cypriot vehicles. Among others, the team specialises in international leveraged finance, asset and project finance, financial restructuring, security enforcement and distressed debt.
Corporate and commercial: it has extensive experience across the spectrum of corporate, mergers and acquisitions law. The work undertaken includes the incorporation and acquisition of Cypriot and offshore companies, corporate reorganisations and restructuring, cross-border and domestic mergers, corporate governance issues, joint ventures and re-domiciliation.
Dispute resolution and arbitration: it advises clients on all aspects of corporate and commercial disputes and has extensive experience in cross-border litigation.
International tax planning: the firm's tax experts provide advice on tax structures, holding companies and trust settlements in Cyprus and abroad. They also represent clients before the tax authorities and negotiate tax disputes on their behalf.
Capital markets: it specialises in the incorporation, setting up and assistance in the regulation of Cypriot investment firms and in compliance matters. It also assists investors in relation to the formation, licensing and regulation of funds such as closed-ended funds, mutual funds, UCITS, alternative investment funds and the respective set up and assistance in their management and control.
Intellectual property: it specialises in all aspects of IP, including the filing of national applications for Cyprus trade marks and patents, as well as European and international applications.
Immovable property: it assists clients in all matters regarding Cyprus immovable property law and represents clients before the land registry, the tax authorities and the stamp duty authority. It provides legal advice in all aspects of a Cyprus property purchase up until the closing of the transaction.
Immigration law: it assists clients in all aspects of Cypriot immigration law and, in particular, Cypriot citizenship applications, Cyprus permanent residence, employment permits, visitor permits, Cypriot visas, registration of companies with foreign activities with the migration department to employ third-country nationals and other relevant permits.
Energy, Shipping & Transport: it provides legal advice and assistance on a wide range of matters relating to the shipping industry. The team's experience includes advising on and negotiating transactions and issuing legal opinions on a range of ship financing transactions, guarantees, securities and other documentation. The firm also undertakes the registration and deletion of ship mortgages at the Cyprus Ships Registry and other securities registered with the Registrar of Companies in Cyprus. The firm further provides advice and assistance in relation to vessel registration under the Cyprus flag and the chartering, sale and purchase of ships as well as the financing of these activities.
Main Contacts
| Department | Name | Email | Telephone |
| --- | --- | --- | --- |
| Admiralty and international trade | Menelaos Kyprianou | | |
| Admiralty and international trade | Esme Palas | | |
| Admiralty and international trade | David Meli | | |
| Admiralty and international trade | Andreas Lytras | | |
| Banking, finance and insolvency | Tonia Antoniou | | |
| Banking, finance and insolvency | Lambros Soteriou | | |
| Banking, finance and insolvency | Lorena Charalambous | | |
| Banking, finance and insolvency | Ioanna Solomou | | |
| Banking, finance and insolvency | David Meli | | |
| Banking, finance and insolvency | Christos Tourvas | | |
| Banking, finance and insolvency | Dimitris Papadopoulos | | |
| Corporate | Tonia Antoniou | | |
| Corporate | Ilias Tsintavis | | |
| Corporate | Khamis Abulhawa | | |
| Corporate | Lorena Charalambous | | |
| Corporate | Ioanna Solomou | | |
| Corporate | Dimitris Kotsionis | | |
| Corporate | David Meli | | |
| Corporate | Chrystalla Philippou | | |
| Corporate | Christoforos Andreou | | |
| Corporate | Christos Tourvas | | |
| Corporate | Dmitry Perevozchykov | | |
| Corporate | Theo Antoniou | | |
| Corporate | Maria Parouti | | |
| Corporate | Mark Gatt | | |
| Corporate | Michael Carbone | | |
| European law | Savvas Savvides | | |
| European law | Ilias Tsintavis | | |
| European law | Dimitris Kotsionis | | |
| European law | Kyriakos Constantinou | | |
| Franchising and M&A | Tonia Antoniou | | |
| Franchising and M&A | Lambros Soteriou | | |
| Franchising and M&A | Lorena Charalambous | | |
| Franchising and M&A | Ioanna Solomou | | |
| Franchising and M&A | Dmitry Perevozchykov | | |
| Litigation and arbitration | Menelaos Kyprianou | | |
| Litigation and arbitration | Christos Galanos | | |
| Litigation and arbitration | Constantina Zantira | | |
| Litigation and arbitration | Christiana Panayiotou | | |
| Litigation and arbitration | Panayiotis Yiannopoulos | | |
| Litigation and arbitration | Eleni Kozi | | |
| Litigation and arbitration | John Kampouris | | |
| Litigation and arbitration | Costas Apokides | | |
| Litigation and arbitration | John Orfanidis | | |
| Litigation and arbitration | Georgios Chatzidimitriou | | |
| Real estate/wills/estate administration | Savvas Savvides | | |
| Real estate/wills/estate administration | Rallia Drakoulakou | | |
| Real estate/wills/estate administration | Andromachi Kleanthous | | |
| Real estate/wills/estate administration | Yiannis Fanides | | |
| Real estate/wills/estate administration | Arthouros Kiourtsides | | |
| Ship registration and finance | Lambros Soteriou | | |
| Ship registration and finance | Tonia Antoniou | | |
| Ship registration and finance | Esme Palas | | |
| Ship registration and finance | Eleni Drakou | | |
| Ship registration and finance | David Meli | | |
| Tax and international tax planning | Lambros Soteriou | | |
| Tax and international tax planning | Ilias Tsintavis | | |
| Tax and international tax planning | David Meli | | |
| IP | Agis Charalambous | | |
Staff Figures
Number of lawyers : 63 at this office : 6
Languages
English French German Greek Russian Ukrainian Chinese Spanish
Memberships
IFG Multilaw Worldlink for Lawyers ITPA INTA ITMA MARQUES CIPA AIPP AIPPI ECTA FOPDAC IACC IFA
Other
Contact : Michael Kapsos Other offices : Athens Other offices : Birkirkara Other offices : Dubai Other offices : Kiev Other offices : Limassol Other offices : Paphos Other offices : London Other offices : Thessaloniki
Diversity/Community
Diversity and equality
At Michael Kyprianou& Co diversity and equality are ingrained in our culture. We believe that people flourish in an environment that supports and promotes diversity and equality and we embrace these values across all our operations. Recognising the value of diverse teams has enabled us to create a culture of inclusion, harness the diverse experiences and backgrounds of our people and provide better services to our clients.
Corporate Social Responsibility and pro-bono
Michael Kyprianou & Co is committed to actively building deep roots in the communities in which we operate. We understand that for some worthy organisations, costs can often be a barrier to obtaining legal support. We have, therefore, provided both fund-raising and legal support to a number of charities and has sponsored awards at local schools. Some notable examples are:
One Dream, One Wish Charity Organisation
The firm is a long-standing supporter of the commendable efforts of One Dream, One Wish, a charity that provides support to children suffering from cancer and their families to provide them with life incentives and to come closer to achieving their dreams and wishes.
Our firm has organised a number of fund-raising events over the years and provided pro-bono support on IP related matters.
Music & Dance Theatre of Employees and Retirees of the Cyprus Telecommunications Authority (CYTA) in Paphos
The Association was formed by enthusiastic members and retirees of CYTA, the well-known telephone services company in Cyprus. The group are volunteers who obtain play scripts from Greece and build experiences around the play. These plays are produced and staged with a small access fee which is also affordable to financially vulnerable groups.
We have assisted the clients with legal issues relating to the registration of the organisation and continue to support with legal advice on a pro-bono basis.
Paphos Kidney Association
The aim of the association is to support all those that attend the Paphos General Hospital Renal Unit by raising funds for vital equipment. They also assist people with kidney problems from around the world who wish to visit Cyprus and are concerned with continuing their treatment whilst in Cyprus.
The firm has provided ongoing legal support to the association on a pro-bono basis and has been involved in the association's plans to upgrade the local Kidney Dialyses Ward aiming to safeguard the patients who are particularly vulnerable to hospital illnesses.
Michael Kyprianou&Co Law Studies Award at one of the oldest schools in Cyprus
The firm sponsors the award in memory of the firm's founder at one of the most prestigious schools in Cyprus. The aim is to inspire students in their final year of secondary education to become lawyers. The submissions are open to students who are considering to study law at University. Themes focus on topical legal concepts that have far-reaching impact on society such as protecting the right to a fair trial and the extent of punishment for heinous crimes.
Client Testimonials
CLIENT:Partner at silver circle law firm
COMPANY/FIRM:Silver circle law firm in relation to an international banking transaction
TESTIMONIAL:I genuinely think you are a top tier firm.
---
CLIENT:Divisional Head at International Bank
COMPANY/FIRM:International bank in relation to a dispute
TESTIMONIAL:
I would like to thank you and your respective team members for the efforts you have made to reach this settlement. I am convinced that without your experience, your great creativity, outstanding legal skills and team spirit across your offices and with Cyprus, we would not have got so far.
---
CLIENT:International office of a US law firm
COMPANY/FIRM:International office of a US law firm in relation to an international finance transaction
TESTIMONIAL:Many thanks to you for all your hard work under this transaction. We very much appreciate your professionalism and commitment! It has been a pleasure working with you.
---
CLIENT:Private client
COMPANY/FIRM:Private client in relation to real estate matters
TESTIMONIAL:Mr Savvas Savvides was recommended to us by a professional Architect to assist and advise with a challenging property purchase. Savvas was highly knowledgeable and helpful throughout, and his engaging and approachable personality made our dealings with him a pleasure. We were grateful that his integrity and expertise were available to us and we would not hesitate to contact him regarding legal matters in the future. We therefore unreservedly recommend him.
---
CLIENT:Christos Kyliakoudis, Managing Director of Bazaraki.com (no. 1 website in Cyprus for Classified Ads)
COMPANY/FIRM:Bazaraki.com
TESTIMONIAL:Marina is the ideal lawyer when you require a smart listener and a DOER to care about your needs. She resembles octopus and grabs each case from different angles so that there is only one option, winning. She is an excellent lawyer that you can trust.
---
CLIENT:Banking client
COMPANY/FIRM:Alpha Bank Cyprus
TESTIMONIAL:Mr Savvas Savvides is an excellent associate of our bank with a lot of knowledge on legal banking issues. He has given us his legal advice and has found solutions to many difficult cases. I would like to mention his exceptional character and his willingness to always help and give solutions.
---
CLIENT: Major Russian businessman
COMPANY/FIRM:Local representative of above client in high value litigation dispute currently pending in the Cyprus Court.
TESTIMONIAL:(To Menelaos)'You and Christos have been doing a really great job with this legal case. I know you/Christos have been put under pressure at times.  Grateful for all your professional service!  The client is pleased as well…  Note: when anyone asks me who I think is the best lawyer in Cyprus, I always state your name!'
---
CLIENT:Corporate client
COMPANY/FIRM:Corporate client in relation to a dispute
TESTIMONIAL:In the course of 12 months I had the opportunity to admire the diligent fact checking of Ms Hadjisoteriou, her careful legal research, and her concise logic how to best build a case in a comprehensible way. I cannot but recommend her passionately for all litigation matters. She was and is at my service in a 24/7 basis which gives peace of mind in the most challenging situations. 
---
CLIENT:International bank
COMPANY/FIRM:International bank
TESTIMONIAL:You are efficient, diligent and pleasant to work with.
---
CLIENT:Lambros Potagas, Country Manager
COMPANY/FIRM:Diesel Hellas
TESTIMONIAL:I had the pleasure of working with Marina in her capacity as the local legal representative of our company working on a very complex and multifaceted case of fraud, which went well beyond the borders of Cyprus. She is a very dedicated and motivated professional with a solid grasp of a multitude of legal aspects. She is relentless and innovative and played a major role in us winning all of the cases we had. I highly recommend her as a standout partner and advisor to any legal issues.
---
CLIENT:Silver circle Law firm
COMPANY/FIRM:Silver circle law firm as part of an international banking transaction
TESTIMONIAL:Thank you, Lorena and Tonia, for your efforts and excellent work on this transaction. We really appreciate this.
---
CLIENT:Private hospital in Cyprus
COMPANY/FIRM:Private hospital in Cyprus in relation to a dispute
TESTIMONIAL:I would like to take this opportunity to commend and thank the whole team of Michael Kyprianou & Co for the high level of professionalism, responsiveness and legal intellectual insights provided regarding the case.
---
CLIENT:Institutional client
COMPANY/FIRM:Institutional client in relation to a complicated banking and finance transaction
TESTIMONIAL:Ioanna, you are a star. Thank you, and thanks for expediting this. We now know why Lambros speaks so highly of you.
---
CLIENT:Institutional client
COMPANY/FIRM:Institutional client in relation to real estate matters
TESTIMONIAL:Mr. Savvides is our advisor for all our needs including investment, legal requirements etc. for many years now. Mr Savvides and his law office always provide excellent service, demonstrating professionalism and personal attention to all details. He and his staff are amazing, knowledgeable and available when needed. We always have a positive experience and always recommend to our family and friends.
---
CLIENT:Private client
COMPANY/FIRM:Private client in relation to real estate matters
TESTIMONIAL:Savvas Savvides has guided us through a complex building plot purchase and subsequent permissions and then advised us throughout the build helping us through many difficulties with contractors. We have always found him totally professional, knowledgeable and most importantly to us very considerate and approachable. We highly recommend him for all legal services.
Interviews
Marina Hadjisoteriou, Partner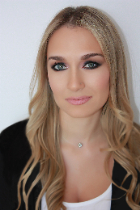 Partner, Marina Hadjisoteriou, provides an insight into the success story of MICHAEL KYPRIANOU & CO. LLC.
What do you see as the main points that differentiate MICHAEL KYPRIANOU & CO. LLC from your competitors?
MICHAEL KYPRIANOU & CO. LLC is one of Cyprus' largest full-service firms and we are able to advise our clients on a broad spectrum of their businesses, from corporate and tax matters to dispute resolution.
It is one the few Cyprus firms with 3 offices in the main cities of Cyprus (Nicosia, Limassol and Paphos). Its international presence has expanded significantly with offices in Greece (Athens and Thessaloniki), Malta, the United Arab Emirates (Dubai), the Ukraine (Kyiv) and, the most recent addition, London in the UK. We are the only firm in Cyprus which has a substantive presence in so many countries.
We are invited members of exclusive and specialised networks such as the International Fraud Group, a select group of 20 firms specialising in asset tracing and recovery (as well as Multilaw and World Link for Law). We combine our close relationship with other international law firms and our international presence to provide assistance worldwide for our clients' benefit. That's a real differentiator for us.
Furthermore, we are frequently and repeatedly asked to partner with firms in other jurisdictions, providing local advice and support to internationally renowned firms.
Which practices do you see growing in the next 12 months? What are the drivers behind that?
The Cyprus Council of Ministers with the aim to further encourage Foreign Direct Investment and to attract high net worth individuals to settle and do business in Cyprus, has approved very recently a series of changes in the Cyprus Investment Program in order to make it more targeted and trustworthy. The said changes will take effect from May 2019. Very briefly, there is now a requirement on the applicant to hold a Schengen Visa, a mandatory contribution to the Foundation for Research and Innovation will have to be made and the investment must be retained for a period of at least five years instead of three years. We believe that the said changes will not have an adverse effect in the number of people applying to obtain Cyprus citizenship and this practice will continue to grow.
Additionally, the establishment of a Cyprus Commercial Court, which will accommodate and attract high-value commercial disputes, is underway.
Initially, the plan was for the Cyprus Commercial Court to be set up in the beginning of 2018, however there was some delay as it was later decided for the Admiralty cases to be also dealt by the new court under its new name 'Commercial and Admiralty Court'. We are following these developments closely and we understand that the Legal Service will soon complete the legislative review of the relevant bill that has been prepared by the Ministry of Justice.
The establishment of this new Court which will deal with cases of a commercial nature only if the disputed amount exceeds €2.000.000, is highly anticipated as it will provide a quick resolution to commercial disputes (the goal is for such disputes to be resolved within 9-12 months from filing). This would obviously provide more confidence to clients when choosing Cyprus as a jurisdiction in which to establish and operate their business.
What is important to note is that the new Court will have the possibility to hear disputes in relation to international transactions when none of the parties has its residence in Cyprus, provided that the parties have agreed in writing that the dispute should be heard by the said new Court.
A judgment of such a Court would easily be enforceable in all EU Member States but may also be enforceable outside of the EU, depending on the applicable international conventions or bilateral treaties concluded between the Republic of Cyprus and the relevant foreign country. Accordingly, we believe that the new Court will be a new alternative to international commercial dispute resolution.
Furthermore, the Cyprus funds industry has also been developing for the last few years, especially after the recovery of the economy following the financial crisis and the sovereign rating of the country being upgraded to investment grade. The latest developments in the legal and regulatory sector, and the continuous efforts of the Cyprus Securities and Exchange Commission ("CySEC") to modernize and enhance the regulatory regimes and stay compliant with European standards, have had a very positive impact on the sector, with the number of funds and assets under management growing rapidly in the last years, and the outlook for the future looking promising.
The Registered Alternative Investment Fund ("RAIF") is one of the latest investment vehicles introduced in the last amendment of the Law; the novelty introduced lies with the fact that these Funds, contrary to traditional AIFs, will not fall under the sphere of regulation of CySEC, and hence need not be licensed by the Commission. To fulfil the managerial, compliance and supervisory needs of a RAIF, the Law stipulates that an Alternative Investment Fund Manager ("AIFM") must be appointed to provide the necessary services essential for the functioning of the Fund.
What's the main change you've made in the firm that will benefit clients?
To ensure that our firm is best in class, in all respects, in the markets we operate in, we refocused substantial internal resources to further improve the way our firm is managed; that is, identify and implement improvements in the way we work. To that end, we recruited a manager with a legal background from the UK, with experience both from law firms and in-house legal teams to lead the way. As we bring about improvements to the way we operate and manage our business, our lawyers' time will be freed up to deal with what matters most – serving our clients. Clearly, our clients only stand to benefit from this change!
Is technology changing the way you interact with your clients, and the services you can provide them?
It does! We always try to keep abreast of the latest technological developments to make efficiency gains and adapt to an increasingly popular agile working culture.
We try to keep clients up to date by posting about the latest amendments to legislation and new interesting judgments on the firm's website and also sharing these links via social media.
We also appreciate that clients may need to contact us outside regular office hours for very urgent matters and we can always be contacted via a number of different channels. This is always balanced with the need to ensure that communications and the clients' information remain secure at all times.
Furthermore, we have easy and speedy access to online worldwide databases, an essential for legal research purposes.
Finally, our experienced in-house IT department ensures that the firm's operations run smoothly and securely.
Can you give us a practical example of how you have helped a client to add value to their business?
MICHAEL KYPRIANOU & CO. LLC was set up more than 25 years ago and since then we have provided effective and efficient legal solutions for our clients numerous times, taking into consideration not only the legal but also their business needs and objectives. Therefore, it is difficult to identify only one practical example.
We take pride in ensuring that our clients receive the best possible service at all times. We always ensure that we really understand what is at stake for the clients' businesses. We believe that the most important skills in building any client relationship are listening and flexibility which means thinking outside the box, on the spot and under pressure. It also means that we appreciate that great service can vary from client to client and that by asking the right questions and addressing the clients' concerns promptly and efficiently, we can always be one step ahead.
Particularly in relation to the area of Dispute Resolution, which I specialise in, we have been successful in complex and high value court cases in which novel points of law were raised.
Are clients looking for stability and strategic direction from their law firms – where do you see the firm in three years' time?
Nowadays the clients expect us to have a deeper understanding of their needs and industry specifics, in order to be able to provide them with strategic directions and not merely legal advice.
Our diverse team of lawyers with their combined skills and insightful knowledge of various industries across different jurisdictions, can provide holistic guidance in relation to strategic business directions.
In the next three years, we aim to expand our international presence and grow our market share by taking the time to attract and retain the best talent and remain a leading law firm, supporting its domestic and international clients' needs on an everyday basis.
Press Releases
11th November 2019
The International Federation of Intellectual Property Attorneys (FICPI) 18th Open Forum was held in the Austria Trend Savoyen hotel on the 9th - 12th of October of 2019.
11th November 2019
Our firm is proud to announce its contribution to 2019 Multilaw Litigation Practice Group's guide on enforcement of foreign judgments and arbitral awards.
11th November 2019
We are proud to announce that our firm's Banking & Finance and Corporate/M&A practices have been highly ranked, for the second year in a row, by IFLR1000.
11th November 2019
Gina Panayiotou
, Global Head of Shipping & Energy at Michael Kyprianou & Co LLC, discusses "NEW HORIZONS IN SHIPPING: MASTERING CHANGE" in the September 2019 issue of Gold magazine. The issue features a focus on the upcoming
Maritime Cyprus conference
, to be held during the 6th-8th of October in Limassol. Maritime Cyprus, a bi-annual event, is the largest international maritime event that takes place in Cyprus, attracting over 1500 delegates from around the globe.
11th November 2019
We are proud to announce that Michael Kyprianou & Co LLC has been shortlisted as the Law Firm of the Year – Malta and Cyprus in the IFC Awards 2020.
11th November 2019
Gina Panayiotou
, Global Head of Shipping & Energy at our firm, having great expertise in shipping legal strategy, will be a speaker at Global Liner Conference Asia, to be held in the context of Shipping Transformation Asia, in Singapore on the 17th – 19th of September, 2019.
11th November 2019
Gina Panayiotou
, Global Head of Shipping & Energy at our firm, being a Board Member of WISTA Cyprus and an active supporter of female and youth empowerment, will be a speaker at the inaugural "Women in Shipping Summit" to be held in the context of London International Shipping Week, on the 10th & 11th of September, 2019.
11th November 2019
It gives us great pride, that MICHAEL KYPRIANOU & CO. LLC, has once again been ranked among the top 5 law firms in Cyprus, according to GOLD's leading law firms list. GOLD magazine compiled its first listing of the island's leading law firms in 2011, titled at the time 'Top 50' presenting the firms in alphabetical order and, since then, it has regularly been updated and expanded. In fact, the latest list published on Sunday, 18th August 2019, features more than 80 law firms, ranked according to the number of lawyers employed.
11th November 2019
No matter how successful a business or individual may be, it goes without saying that away from its own assemblage of talent and expertise, there will always be a network of trusted lawyers and consultants behind the scenes helping to inform, guide and shape the way in which it operates.
Legal Developments
4th June 2020
Menelaos Kyprianou, partner, discusses a recent judgment issued by the Supreme Court of Cyprus in the context of a certiorari (prerogative order) application, in which he was involved, where the Supreme Court of Cyprus examines the following issues:
How service of court documents relating to a pending Cyprus case can be effected on a person residing in Russia on the basis of the European Convention on Mutual Assistance on Criminal Matters ('the Convention').

The way in which international conventions should be interpreted.

 
10th January 2020
Τhe tragic situation of the country's public hospitals is often witnessed by the citizens of Cyprus. In relation to other European Union States, Cyprus has the lowest position on public health spending money. As a result, public hospitals suffer from staff shortages and a lack of adequate equipment and medicines. The level of patient care is significantly degraded and inadequate, while many patients wait for months on waiting lists until they are provided with the necessary treatment. Another major issue is the fact that Cyprus does not have an emergency unit dedicated to children.
10th January 2020
Today, a 'No Deal Brexit on 31 January 2020 remains a real possibility. Put simply, a 'No Deal Brexit' means that the UK leaves the EU without having reached an agreement on the terms of its departure and the future relationship. This article looks at the effect of No Deal Brexit on the enforcement of UK judgments in the EU and vice versa.
9th January 2020
The Cyprus Investment Program had come under attack in recent weeks, after it was reported that persons with close links to their home country's authoritarian regime had been granted Cypriot citizenship. Over the weekend it was further revealed that a businessman wanted by the authorities of his home country and elsewhere, had been granted Cypriot citizenship in 2015.
9th January 2020
Today, a 'No Deal Brexit on 31 January 2020 remains a real possibility. Put simply, a 'No Deal Brexit' means that the UK leaves the EU without having reached an agreement on the terms of its departure and the future relationship. This article looks at the effect of No Deal Brexit on the enforcement of UK judgments in the EU and vice versa.
15th November 2019
The well-known policy of selling Swiss Franc-linked loans in the past decade, and in particular during the period 2006 - 2009, has lead bank borrowers, into a deeply troubled situation. The negative impact of their exposure to mortgages denominated on foreign currencies, and in particular the Swiss Franc, has created for the European state institutions and governments some major concerns as to how they could deal with strong consumer reactions throughout the European continent.
15th November 2019
Technological disruption to the legal profession profoundly reforms the manner in which law firms operate in the legal industry. Client expectations are on the rise and lawyers must stay up to date with the latest technological developments if they want to survive in the competitive legal industry. The application of technological innovation, such as Artificial Intelligence (AI) and blockchain, in the legal profession promises to allow law firms to handle high volumes of administrative tasks, such as document reviewing more efficiently and deliver faster services to clients.
15th November 2019
Under the Maltese Civil Code, damages may be awarded for either tortious liability or contractual liability. In respect to the former, an action for damages will aim to place the individual in the same position before the damage occurred, and in respect to the latter, the action may be brought to either enforce the contract, or to liquidate damages for failure to perform such contract.
15th November 2019
In the event of a no deal Brexit, UK passport holders will lose their right of free movement within the EU. All valid UK passports will still be useable for international travel to and from the EU after Brexit, even though precise details are yet to be finalised (including on the terms of any travel visa that might be required).
13th November 2019
As has been previously noted in the "Trade in Counterfeit and Pirated Goods: Mapping the Economic Impact" report of the Organisation for Economic Co-operation and Development & European Union Intellectual Property Office, counterfeiting hits almost ½ trillion euros a year. This can be traced from fashion and medicine to the fruits market and entails damage to the business reputation, lost sales and litigation costs among others.
12th September 2019
A recent landmark decision by the First Hall of the Civil Court has confirmed for the first time that in order for a precautionary warrant to remain in force, it must be preceded or followed (within 20 days), by a court case filed in Malta or in the European Economic Area (EEA).
11th September 2019
Protection of financial market investors and prevention of unlawful disclosure of inside information and financial market manipulation is provided and guaranteed by the EU
Market Abuse Regulation (Regulation 596/2014) (MAR)
and the
Directive on criminal sanctions for insider dealing and market manipulation (Directive 2014/57/EU) (CSMAD),
which collectively replace the previous Market Abuse Directive (MAD) and together is known as MAD II.
11th September 2019
The UK government intends to introduce a new register of People with Significant Control over Overseas Companies, "the PSCOC Register", in order to improve transparency of beneficial ownership for foreign entities which own UK properties. The Bill will be introduced to Parliament in 2019 and is intended to become operational by 2021.
8th August 2019
In the words of WARREN BUFFET:
"IT TAKES 20 YEARS TO BUILD A REPUTATION AND FIVE MINUTES TO RUIN IT.  IF YOU THINK ABOUT THAT, YOU'LL DO THINGS DIFFERENTLY."
8th August 2019
Recently, the Maltese courts may have possibly brought about the beginning of the end of a legal and social question concerning landowners who were, and still are, subjected to pre-1995 rent laws. The judgement given in Anthony Debono et v. Avukat Generali et., may prove to be a milestone in Maltese rent laws.
26th July 2019
Recognizing the political, economic and social importance of shipping, as from 1963, Cyprus managed to develop the country into a fully-fledged shipping centre combining both a sovereign flag and a resident shipping industry, which is renowned for its high-quality services and standards of safety.
26th July 2019
Since April 2019, the new rules regarding capital gains tax have been implemented in UK. The intention of the implementation of new rules is to remove the advantage of non- UK residents who did not pay tax over the gains from the disposal of all their property in UK.
26th July 2019
It has been many times that my clients have expressed the question as to when and how the rental amounts increase.  This question is voiced by both Landlords and Tenants of real estate.
19th July 2019
Is terrorism the new norm for shipping?
THE STORY
On the 13/06/2019, two oil tankers were victim to what has been described as "sabotage" attacks in the Gulf of Oman, leaving one ablaze and both adrift. Following, a similar incident involving four tankers, which took place one month ago, on the 12th of May, 2019.
19th July 2019
The Information Commissioner's Office ('ICO') which is the UK's data protection supervisory authority, recently issued a fine of £100,000 to EE Limited, a telecoms company operating in the UK. The fine was issued in response to EE Limited having sent two and a half million unsolicited direct marketing messages to its customers, back in early 2018. The direct marketing messages were sent without EE Limited having first obtained the required consent to send them to its clients.
19th July 2019
British Airways ('BA') may be hit with what will be the highest-ever penalty which the Information Commissioner's Office ('ICO'), the UK's data protection supervisory authority, has handed out.
19th July 2019
Issued by the Ministry of Finance in the United Arab Emirates ('UAE'), the Tax Domicile Certificate (also referred to as the Tax Residency Certificate) enables eligible government entities, companies and individuals to take advantage of double taxation avoidance agreements on income signed by the UAE.
19th July 2019
In a judgment of the General Court of the European Union of the 19th June 2019, Adidas saw their hopes of extending their three stripes trademark dashed, as the court ruled that there was no distinctiveness in the three stripes trademark. Furthermore, the court held that the Adidas had failed to prove that the mark had acquired distinctive character through use throughout the member states of the EU.
19th July 2019
Working in the crypto and DLT space is like being on an emotional rollercoaster with feelings which range from curiosity, excitement, euphoria, revelation, shock, disappointment, hope, wonder and determination – did I miss any?
18th June 2019
Over the past twenty odd years, Malta has become an international hub for foreign direct investment (FDI). A solid services sector combined with seasoned professionals across a multitude of industries have helped the FDI business model flourish, placing Malta on the map within the European Single Market as a business base of choice for many.
11th June 2019
The proposed UK-EU agreement has been rejected for a third time by the Members of Parliament in UK. Consequently, uncertainty persists due to no deal and therefore the following concerns arise: whether a deal will happen at all, what the terms of that deal might be and whether there will be a second referendum.
31st May 2019
Translations are frequently required for various documentations for official use before public authorities, institutions and courts internally or abroad. It is a matter of public law of each country to determine when an "official" translation is required and what comprises the elements of such translations in order to be regarded as legally valid and accepted documents.
31st May 2019
This article will address the unfortunate position whereby a significant portion of citizens of the Republic of Cyprus have signed supplementary guarantee agreements, being in most cases relatives, friends, colleagues and/or in other relationships with the borrower, and have been called on to guarantee the repayment of and compliance with the loan agreement terms of the principal debtor party, as a means of securing the loan amount and avoiding the freezing of the borrower's assets.
23rd May 2019
Introduction
Bankruptcy: New Regulation means new opportunities!
21st May 2019
MICHAEL KYPRIANOU & CO. LLC has been selected as an exclusive contributor to the Legal 500: Construction 2nd edition Country Comparative Guide, dated May 2019, a privilege reserved for legal firms which have been ranked in The Legal500.
25th April 2019
What is the ePrivacy Regulation?
The ePrivacy Regulation[1] ('ePR') is an unfinished EU law first published in January 2017 that is meant to become an extension of the European Union's General Data Protection Regulation ('GDPR').[2]
14th January 2019
The Unfair Contract Terms Law 93(1)/1996 (the "Law") as amended, implements the EU Directive 93/13/EEC of 5 April 1993 regime into national law. The objective of the aforementioned legislation is the protection of consumers in the European Union from unfair terms and conditions which might be included in a standard contract for goods and services they purchase. It introduces the notion of 'good faith' to avoid any significant imbalance in mutual rights and obligations.
14th January 2019
Recently there were a lot of publications within the European Union expressing concerns about the allegedly very high number of Cypriot passports being given to foreign investors the last few years. The Council of Ministers has decided on 9th January 2018 with the decision with number 84.069, to impose a stricter supervision of all the parties involved in the Scheme for the naturalisation of non-Cypriot investors in Cyprus by exception.
14th January 2019
In order to harmonize the Acquis Communautaire on the Taxation of untapped and undeveloped plots of land, the Cyprus Government enacted, on 03/11/2017, relevant legislation for the imposition of 19% Value Added Tax (VAT) on these properties, with a date of enforcement being 02/01/2018. The relevant legislation refers to plots/pieces of land offered and/or provided for construction for economic purposes.
27th February 2017
The Cypriot banking system is currently being confronted with the issue of providing foreign loans and in particular Swiss francs to both locals and foreigners to cover their housing requirements. Of principle concern in Cypriot and European Courts are the banking practices used in attracting clients to these financial institutions. It seems that misinformation through the use of various means of bank notifications and practices point towards the use of the distortion and the concealment of essential information to borrowers. The Cypriot banking system (that is sanctioned by European banking) in the provision of Swiss Francs did not in most cases provide a complete and proper briefing of the risks involved in these types of loan contracts that also incorporated exchange and interest rate fluctuations.
11th November 2016
On 13th of September 2016, the Cyprus Council of Ministers has approved the amendments to the Scheme for Naturalisation of Investors in Cyprus by Exception. The said scheme is based on subsection (2) of section 111A of the Civil Registry Laws of 2002-2015.
Top Tier Firm Rankings
Firm Rankings