Djingov, Gouginski, Kyutchukov & Velichkov > Sofia, Bulgaria > Firm Profile
Djingov, Gouginski, Kyutchukov & Velichkov
Offices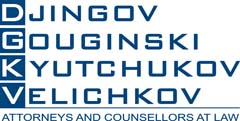 Djingov, Gouginski, Kyutchukov & Velichkov
10 TSAR OSVOBODITEL BLVD.
1000 SOFIA
Bulgaria
Djingov, Gouginski, Kyutchukov & Velichkov > The Legal 500
Rankings
With one of the largest banking and finance teams in the market,
Djingov, Gouginski, Kyutchukov & Velichkov
 advises its roster of both domestic and international clients on the full spectrum of matters in the finance sector, including debt capital markets transactions.
Nikolai Gouginski
, who heads the project finance and international lending practice groups, jointly leads the team alongside '
exceptional
'
Georgi Tzvetkov
, who is noted for his expertise in regulatory mandates and transactional work, and
Vessela Stancheva-Mincheva
, who also oversees the capital markets and insurance group.
Praised as one of '
the best teams in the market
',
Djingov, Gouginski, Kyutchukov & Velichkov
has practice group with '
partner depth
' and is well-placed to handle the full spectrum of local and cross-border transactions in Bulgaria. The team, which is noted for its expertise in the IT, banking, energy, pharma and real estate sectors, boasts an impressive roster of clients, such as PPF and JP Morgan.
Zdravka Ugrinova
, who is noted for her expertise in acquisitions, reorganisations and complex corporate mandates, jointly leads the practice alongside
Violetta Kunze
, who acts for clients in the TMT sector on cross-border transactions.
Djingov, Gouginski, Kyutchukov & Velichkov
 '
has a long-established practice
' and fields one of the largest teams in the market, which leverages its interdisciplinary expertise to handle high-value commercial and administrative disputes, in addition to international arbitration cases. '
Brilliant litigator'
Angel Ganev
 leads the practice, as well as the firm's anti-fraud sub-group, and is noted for his experience in bankruptcy and insolvency matters. The practice counts BMW, Facebook and Gazprom among its impressive roster of clients. Counsel
Anton Krustev
represents energy-sector clients, while counsel
Valentin Bojilov
 focuses on banking and financial disputes.
Djingov, Gouginski, Kyutchukov & Velichkov
's energy and utilities practice counts ContourGlobal Maritsa East III, ČEZ and Axpo Trading, among its roster of notable clients, as well as several banks, financial institutions and funds investing in the energy sector. Full-time energy specialists
Milan Pandev
  and
Georgi Goudiniski
lead a large team of practitioners. Recommended for pipeline development, power generation and distribution projects, Pandev has notable experience in the power and oil and gas sectors, while Goudiniski focuses on project financing, M&A, privatization and international commercial transactions in this space.
Djingov, Gouginski, Kyutchukov & Velichkov
's caseload includes the full spectrum of competition and antitrust mandates, including merger control, cartel investigations, and matters concerning restraint of trade and abuse of dominant position. The '
top-notch
' team counts leading domestic and multinational companies, including TikTok, British American Tobacco and UEFA, among its roster of clients.
Nikolai Gouginski
, who has extensive experience in representing clients in investigations and proceedings before the Bulgarian Commission on Protection of Competition, jointly leads the practice alongside TMT and corporate partner 
Violetta Kunze
.
Praised as a '
top-tier practice for healthcare and life sciences
',
Djingov, Gouginski, Kyutchukov & Velichkov
 acts for well-known pharma companies on all aspects of their operations in Bulgaria, from corporate, regulatory and commercial matters to dispute resolution and IP issues. '
Tenacious
' partner
Kalina Tchakarova

leads the pharma regulatory practice and has well over two decades of experience advising on advertising and distribution of medicinal products and IP protection, including patent validity and infringement mandates. Recent client gains include Pharmascience and Novartis Pharma Services, among others.
Djingov, Gouginski, Kyutchukov & Velichkov
's IP practice group counts Facebook, Instagram and Carlsberg Breweries, to name a few, among its roster of notable clients. The team handles the full scope of contentious and non-contentious matters, from registration and enforcement of patents, trademarks, designs, geographical indications and copyrights to execution of licensing. Team leader
Kalina Tchakarova
, who regularly advises clients on strategies to secure enforceable brand protection, has built the practice over 20 years and is supported by senior associates
Desislava Iordanova
,
Kamen Gogov
and associate
Patricia Cherkezova
.
Praised for its '
detailed knowledge and deep experience
',
Djingov, Gouginski, Kyutchukov & Velichkov
's projects development practice advises on the full cycle of infrastructure utilities and transport projects, as well as acting for local governments and financial institutions on both the financing and sponsor side of high-profile concessions and PPP projects. Combining interdisciplinary expertise from across the firm, the team is jointly led by public procurement and energy expert
Milan Pandev
, head of real estate and construction
Stephan Kyutchukov
, and
Nikolai Gouginski
, who focuses on the financing aspects of infrastructure, construction and financial projects.
Djingov, Gouginski, Kyutchukov & Velichkov
has an impressive portfolio of high-profile real estate transactions and projects, and handles the full scope of matters, including acquisitions, financing, leasing, zoning and construction, among others. A work highlight includes advising oil producer Kaliakra on the sale of its assets, comprising a plant in Dobrich, to Bulgarian manufacturer Oliva. Practice leader
Stephan Kyutchukov
, whose expertise in real estate mandates is unmatched, is supported by counsel
Kaloyan Krumov
, who focuses on project financing aspects of property acquisitions.
Djingov, Gouginski, Kyutchukov & Velichkov
 counts multinational technology companies, platforms and service providers among its noteworthy list of clients, whilst also being praised for its '
knowledge of the market and network in the Bulgarian telecoms sector
'. Together with White & Case LLP as lead international counsel, the team advised the private investment group PPF a.s. on the Bulgarian law aspects of the $2.1bn acquisition of Central European Media Enterprises. '
Tenacious advocate
' and partner
Violetta Kunze
leads the practice group, and is supported by senior associate
Milka Ivanova
.
Djingov, Gouginski, Kyutchukov & Velichkov
has an impressive client list which includes well-known airlines including Ryanair, Wizz Air and Turkish Airlines, among others. The interdisciplinary practice is well-placed to advise on the life cycle of major infrastructure and transport projects, from corporate, financing, public procurements and real estate to regulatory and dispute resolution. Practice co-leader and M&A partner
Zdravka Ugrinova
assists transport-sector clients with acquisitions, concessions and other corporate matters, and fellow practice head
Milan Pandev
 focuses on public procurement procedures.
Djingov, Gouginski, Kyutchukov & Velichkov >
Firm Profile
The firm: DGKV is one of the largest, oldest, most prominent independent law firms in Bulgaria, known for its solid record of pioneering projects on the Bulgarian market. Founded in 1994, its asset is the unique combination of profound legal knowledge, experience in international transactions and ability to handle large-scale transactions. With 15 partners and over 55 lawyers, DGKV has resources to assemble the right team to address the most complicated matters. Its ever-growing portfolio of over 4,000 multinational clients is a fair attestation of its high-quality legal services.
Areas of practice
M&A: DGKV has a reputation for advising the largest M&A in Bulgaria and significant global transactions in relation to their Bulgarian law aspects. The firm has advised: the biggest M&A deal for 2018 in Bulgaria – the EUR 810m acquisition of the Bulgarian assets of Telenor; the biggest deal in 2017 – the EUR 252.9m acquisition of Paradise Center shopping center in Sofia; CK Holdings Co. Ltd. in relation to the USD 7.1bn sale of Fiat Chrysler's Magneti Marelli to Japan's Calsonic Kansei; KKR on the Bulgarian aspects of the acquisition of the margarine and spreads business of Unilever. Other key clients: Equinix, Fairfax Financial Holdings, GTC, Mitsui & Co. Ltd., Call Point New Europe, Dell, etc.
Banking and finance: DGKV focuses on secured transactions, corporate finance, public finance and regulation of financial and investment services. DGKV consulted IFC, AIG, CAIB, MKB and State General Reserve Fund of Oman for the acquisition of shares in major Bulgarian banks; OTP and DSK Bank, the World Bank, EBRD, JBIC, BSTDB, Deutsche Bank, EIB, Procredit Bank, GTC Group on financing of various infrastructure, construction and financial projects in Bulgaria, etc.
Energy and utilities: DGKV provides full-scope legal assistance to clients interested in investing or otherwise engaged in the energy sector in Bulgaria. The firm has advised ABB, AES, the Bulgarian Government, Citibank and US Exim Bank, ContourGlobal, EBRD, GE Power & Water, Marubeni, RWE Power; EZ, Chevron and Lukoil regularly on local operations; Gazprom Marketing & Trading, J.P. Morgan Energy Europe, Merrill Lynch, OMV Trading and Vitol on energy trading matters; China Development Bank, SINOSURE, Credit Suisse, Gamesa, Mitsui&Co, Raiffeisen, Statkraft, Toshiba, Verbund in numerous renewable energy projects; and Gazprom and MOL on gas pipeline projects.
Competition: with a strong competition practice, DGKV has made a significant contribution to the Bulgarian Commission for Protection of Competition. It's advised Aurubis, Bunge, MasterCard Europe on competition regulatory issues; Aurubis, Metro Cash and Carry, Nokia, KBC, Devnya Cement, Visa Europe, Coca Cola in relation to antitrust investigations by the regulator and other antitrust matters.
Real estate: DGKV has a strong reputation in the real estate market, advising the acquisitions of: the most expensive real estate in Bulgaria – the EUR 252.9m Paradise Center; NIS Petrol and OMV; numerous operating mall acquisitions; land acquisition and construction and/or acquisition of residential, office, retail and mixed-use developments; large-scale commercial real estate financings. Other recent projects include: Equinix on site acquisition for the establishment of its second data centre in Bulgaria and VMware on the largest office lease deal in Bulgaria in the last 10 years.
TMT: DGKV offers a 'one-stop shop' for technology companies with operations in Bulgaria. It represents Google on a regular basis in relation to legal issues associated with online services and customers support in Bulgaria; Deutsche Telekom; Facebook LLC; Instagram LLC; Univeral 1440 Entertainment LLC; Telecom Italia; Tata Communications; Swisscom; PCCW Global; VOXBONE; Progress Software, etc.
Litigation and arbitration: with an outstanding dispute resolution track record DGKV's litigation team is one of the best in Bulgaria. DGKV represents clients in the commercial, construction, financial or administrative fields. Currently it represents Bulgarian Acquisition Company II, CEZ Electro Bulgaria, Financial Supervision Commission, Glorient Investment BG, SE Bordnetze, etc. For the last year the DGKV could boast with an impressive successful track record in major court cases with very high success rate, including commercial and administrative litigation, and international arbitration with total value of more than EUR 737m.
Intellectual property: Google Inc., Facebook Inc., Instagram LLC, Warner Bros., Teva Pharmaceuticals Europe BV (confidential), Carlsberg Bulgaria, Pierre Fabre Dermo-Cosmetique S.A., Deutsche Telekom AG, Tchibo GmbH, Cargill Inc., Marie Brizard Wine and Spirits Distribution Bulgaria EOOD, Guess Inc are among our IP clients.
Labour and social security: DGKV's employment team excels as one of the few stand-alone employment law practices on the Bulgarian market. Its employment lawyers are heavily involved in providing legal field specific knowledge to clients with a view to optimizing every aspect of their operations in Bulgaria and strives to ensure their specific employment needs are met in an ever-changing business world. Major clients are Yazaki Corporation, Turkish Airlines, Ryanair, Volkswagen, Coca Cola, AES Maritza East I, Takeaway.com, ABB Bulgaria, Grohe Adria, etc.
Main Contacts
| Department | Name | Email | Telephone |
| --- | --- | --- | --- |
| M&A | Zdravka Ugrinova | | |
| M&A | Violetta Kunze | | |
| General corporate | Assen Djingov | | |
| General corporate | Zdravka Ugrinova | | |
| Banking and finance | Nikolai Gouginski | | |
| Banking and finance | Georgi Tzvetkov | | |
| Energy and utilities | Georgi Gouginski | | |
| Energy and utilities | Milan Pandev | | |
| Competition | Nikolai Gouginski | | |
| Real estate and construction | Stephan Kyutchukov | | |
| Project finance and capital markets | Nikolai Gouginski | | |
| Project finance and capital markets | Georgi Tzvetkov | | |
| TMT | Violetta Kunze | | |
| TMT | Kalina Tchakarova | | |
| Intellectual property | Kalina Tchakarova | | |
| Litigation and arbitration | Angel Ganev | | |
| Tax | Viara Todorova | | |
| Labour and social security | Kalina Tchakarova | | |
| Labour and social security | Youliana Naoumova | | |
Lawyer Profiles
| Photo | Name | Position | Profile |
| --- | --- | --- | --- |
| | Ms Rusalena Angelova | Senior Associate | View Profile |
| | Mr Peter Angov | Associate | View Profile |
| | Mr Vladislav Antonov | Senior Associate | View Profile |
| | Ms Silviya Apostolova | Senior Associate | View Profile |
| | Mr Galin Atanasoff | Senior Associate | View Profile |
| | Ms Tsvetelina Bayraktarova | Senior Associate | View Profile |
| | Mr Valery Blagoev | Associate | View Profile |
| | Mr Valentin Bojilov | Counsel | View Profile |
| | Mr Kamen Gogov | Senior Associate | View Profile |
| | Mr Nikolai Gouginski | Partner, working in the competition law, EU and regulatory, project finance, secured… | View Profile |
| | Ms Ralitsa Gougleva | Counsel | View Profile |
| | Ms Milka Ivanova | Senior Associate | View Profile |
| | Ms Dessislava Ivanova | Associate | View Profile |
| | Ms Lilia Kisseva | Senior Associate | View Profile |
| | Mr Kaloyan Krumov | Partner | View Profile |
| | Mr Anton Krustev | Partner | View Profile |
| | Ms Gergana Monovska | Counsel | View Profile |
| | Ms Youliana Naoumova | Partner, working in the employment, social security, M&A, JVs, corporate law practice… | View Profile |
| | Mr Omourtag Petkov | Partner, working in the general corporate law, commercial law, M&A, infrastructure, concessions,… | View Profile |
| | Mr Ivan Punev | Senior Associate | View Profile |
| | Ms Elena Shopova | Senior Associate | View Profile |
| | Ms Kalina Tchakarova | Partner, working in the IP, labour and social security, corporate, pharmaceutical law,… | View Profile |
| | Ms Zdravka Ugrinova | Partner, working in the M&A, JVs, corporate, private equity and privatisation practice… | View Profile |
Staff Figures
Number of lawyers : 55
Languages
English French German Russian
Other
Contacts : Assen Djingov Contacts : Marius Velichkov Other offices : Berlin