LGV Avvocati Studio Legale > Milan, Italy > Firm Profile
LGV Avvocati Studio Legale
Offices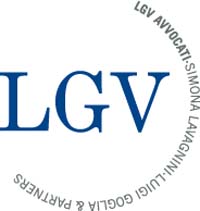 LGV Avvocati Studio Legale
VIA PRIVATA CESARE BATTISTI N.2
20122 MILAN
Italy
LGV Avvocati Studio Legale > The Legal 500
Rankings
LGV Avvocati Studio Legale
has a well-reputed IP practice, with an offering ranging from patents to trademarks, and additional expertise in IP matters in the technology field. Founding partner
Simona Lavagnini
is a recognised copyright lawyer. Co-founder
Luigi Goglia
is a very active litigator and concentrates on licensing, distribution and contractual disputes. Dually qualified
Tankred Thiem
is admitted at the German and Italian bars and completes the team at partner level.
Alessandro Bura
is also noted.
Practice head(s):
Simona Lavagnini; Luigi Goglia; Tankred Thiem
Other key lawyers:
Testimonials
'Luigi Goglia and Tankred Thiem are very competent and reliable partners in patent litigation matters. Tankred Thiem's admittance to both the German and the Italian bar makes him invaluable in cross-border matters. Their input in working out complex strategies is always helpful and to the point.'
'This firm has expertise in copyright law and the latest Italian/EU jurisprudence, particularly as it relates to the creative sectors. They provide seamless service throughout the pandemic via email and Zoom.'
'The team members are all fluent in English, both written and spoken. Their technical knowledge is excellent, and they also deliver very thoughtful, practical advice. They are an absolute pleasure to work with.'
'Simona Lavagnini, an exceptional professional. Always available and ready to support us for any eventuality. During the years of consultancy, an excellent relationship has been established both with the lawyer.'
'The LGV team is unique in its ability to support us on a daily basis on the most varied issues of international law.'
'The professionalism and precision with which Simona Lavagnini and Margherita Stucchi assist and support us are commendable. They have the ability to involve us and inform us through an appropriate language but understandable to the layman.'
'It is a boutique that – precisely because of its characteristics and dimensions – is able to devote particular attention to the customer. Professionals are always prepared on the needs of the company that they follow step by step and of which they know the business and dynamics.'
Key clients
SKY Italia Srl
IIDEA
Keywords
HSD S.p.A.
GPQ Srl
BSA
FPM
Value+ S.r.l.
SKY Italia Srl
IIDEA
Keywords
HSD S.p.A.
GPQ Srl
BSA
FPM
Value+ S.r.l.
Work highlights
Assisting Sky Italia in relation to its exclusive rights for the broadcasting of the Italian football championship.
Advised GPQ, holder of various patents in the field of cosmetics and medical device, in setting up enforcement campaign and IP value – building strategy.
Assisting the Software Alliance since 2003 in enforcing exclusive rights on software.
LGV Avvocati Studio Legale >
Firm Profile
LGV Avvocati is an independent law firm founded in 2003 in Milan (Italy). LGV is specialized in IP (patent, copyright, trademark, design), IT, unfair competition, privacy & cybersecurity, advertising and has a large client base, both domestic and foreign.
The firm is recognized amongst Italian IP leading firms. Clients especially appreciate the firm's good knowledge of Italian and European IP laws, as well as the deep understanding of their needs and the capacity to develop and create tailored strategies for each case.
LGV values a dynamic and international professional team environment and has a broad experience in dealing with trans-border issues, involving Europe, USA and Asian countries, with a business desk dealing with Germany and other German-speaking countries.
In litigation LGV offers an unrivaled competence, acquired over the years in relation to enforcement programs concerning both national and international profiles.
Staff Figures
Simona Lavagnini : Founding Partner Luigi Goglia : Founding Partner Tankred Thiem : Partner Brenda Villa : Senior Associate Alessandro Bura : Senior Associate Giorgio Rapaccini : Associate
Languages
Italian English German Spanish
Memberships
INTA - International Trademark Association AIPPI (The International Association for the Protection of Intellectual Property) German Association for the Protection of Industrial Property and Copyright Law (GRUR) EPLAW ITechLaw Association DAV
Diversity
Since its foundation in 2003 LGV Avvocati has been highly committed to gender diversity, offering equal opportunities on each internal level of seniority. In LGV we are convinced that equality will be achieved when everyone, regardless of gender, has the right to adequate flexibility. Therefore, in LGV app professionals can take advantage of ad hoc solutions, studied on the specific needs of the individual, aimed at allowing the compatibility of professional commitments with those of private life. As an example, LGV has adopted flexible and individually tailored solutions in order to respond to necessities of parental leave, equally applied to both men and women. Moreover, LGV has started to apply working methods such as smart working, suitable to increase gender balance, since 2010 and thus well ahead of the trend. LGV Avvocati has taken the diversity path since its foundation and still strongly believes in it.
Client Testimonials
CLIENT: Thalita Malagò – Director General
COMPANY/FIRM: IIDEA (Italian Interactive Digital Entertainment Association)
TESTIMONIAL: I consider LGV a go-to law firm. The team is incredibly client-focused and solution-oriented. They are very attuned to the priorities and objectives of their clients. LGV is a professional boutique law firm with a high level of expertise especially in the field of intellectual property, and a reasonable price applied. I consider LGV a fundamental asset for our association.
---
CLIENT: Daniele Roncarà – Senior Manager at Sky Italia s.r.l. – Copyright & Intellectual Property
TESTIMONIAL: LGV is an excellent boutique law firm with very good, talented lawyers with good knowledge in Italian and European IP law. One of their strengths is their speed in responding to our requests and their constant availability.
---
CLIENT: IP legal counsel
COMPANY/FIRM: Leading company in the sporting goods industry
TESTIMONIAL: LGV is an excellent IP law firm combining deep knowledge and round understanding of IP and digital laws. I am very satisfied with all the services provided so far and their reasonable fees. We position LGV as an extension of our in-house team and value their partnership a lot, and appreciate LGV attorneys' strategic mindset, commitment, business acumen, negotiation skills and flexibility. I would definitely recommend LGV to other companies facing IP challenges in Italy!
---
COMPANY/FIRM: E-commerce company specialized in the sale of shoes, clothes and other accessories
TESTIMONIAL: Mr. Thiem is a very trusted partner with a great expertise in IP law. We value him because he understands our interests and needs as a client. With Mr. Thiem we have successfully dealt with numerous complex IP law matters.
---
CLIENT: Luca Vespignani – CEO
COMPANY/FIRM: DcP – Digital Content Protection
TESTIMONIAL: LGV is a professional boutique law firm with a high level of expertise in our market segment, and a reasonable price applied. There is a personal relationship, and they modulate consultancy on the basis of the client's needs.
---
CLIENT: Director of Litigation
COMPANY/FIRM: Entertainment industry association
TESTIMONIAL: LGV has a team of talented lawyers with excellent knowledge in Italian and European copyright law. They always provide sound strategic advice and have an understanding of complex legal questions at the cross-roads of law and new technologies. We can highly recommend LGV.
---
COMPANY/FIRM: international technical and creative services provider
TESTIMONIAL: I consider LGV at the top in every respect. They are always available and it's very easy to have contact with them. They are strongly committed for the entire duration of the trials, keeping in mind that they always try to prevent litigation with very valuable advice. They are able to manage complexity, even abroad. Last but not least, you get very good value for your money, especially if you compare them to other firms. The firm is our first choice without a doubt. We consider LGV a precious partner that helps us manage our business.
---
COMPANY/FIRM: BSA | The Software Alliance
TESTIMONIAL: It is a pleasure to work with the LGV team. I have worked closely with them, and they are achieving excellent results. They are organized and very responsive.
---
CLIENT: Alberto Romagnoni – Managing Director
COMPANY/FIRM: Value+
TESTIMONIAL: What LGV are good at doing is speaking the same language as the IT engineers. They are able to interpret the IT side. This is hard to find in other lawyers. They have done a very good job, understand the needs of our IT team and were able to speak the same language. When I call, they answer. They are always available.
---
CLIENT: Jean-Claude Tytgat – CEO
TESTIMONIAL: LGV are not just trying to get things done. I was impressed by the solution oriented lawyers and their level of comprehension of the cross-border case. I found LGV always prepared and ready for a short intensive discussion. This is how I like legal consultation.
---
CLIENT: Alberto Castiglioni
COMPANY/FIRM: Alba Srl
TESTIMONIAL: I think they are an excellent law firm. Their strength is their speed in responding to our requests and their constant availability. They always approach cross-border issues with the utmost willingness and efficiency.
International Capabilities
LGV is an international team that responds to the needs of a globalized market and to any demands for assistance, without regards for borders. A natural consequence of LGV's strong focus on new technologies is an approach overcoming a simple domestic perspective, both in regard to consultancy and litigation in the most relevant fields of law for technical development.
The team
All professionals have extensive experience dealing with not only domestic clients, but also foreign and extra-European individuals and corporations, whom we assist during international operations and transactions. Study and work experiences in foreign countries as well as the permanent participation in working groups of international professional organizations are features of all team members on every level of seniority. Versatile linguistic capabilities and intercultural experience are key factors in LGV's ability to offer cross border assistance.
On account of the international team, LGV has a solid business desk dealing with Germany and other German-speaking countries. In particular, regarding the trademark practice, LGV also assists clients in opposition procedures before the competent trademark offices and manages these proceedings in several jurisdictions with the support of a solid and well-established network of partners located in various countries, such as USA, Russia, South Korea, China, Hong Kong, Brazil and Saudi Arabia.
The clients
LGV is one of the few Italian independent law firms with a significant majority of foreign clients. Since its founding in 2003, the firm's specialization in fields such as IP and IT, data protection and antitrust, has attracted clients from the world's most advanced economies. Today LGV is assisting clients from many different types of businesses, including some of the most renowned companies in the fields of software, fashion, automotive and broadcasting on a great variety of legal sectors.
The activities
Relying on a strong and long-established international network, LGV is supporting both domestic and international clients in coordinating litigation outside Italy. LGV applies recognized international standards to all its activities, both in terms of working methods, reporting, and billing, to make the consultancy relationship dynamic, fluid, effective and perfectly manageable by the client according to his policies and needs.