Firm Profile > LGV Avvocati Studio Legale > Milan, Italy
LGV Avvocati Studio Legale
Offices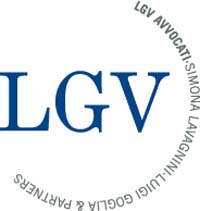 LGV Avvocati Studio Legale
VIA PRIVATA CESARE BATTISTI N.2
20122 MILAN
Italy
LGV Avvocati Studio Legale > The Legal 500
Rankings
LGV Avvocati Studio Legale has an excellent reputation for all types of non-contentious IP work in relation to copyrights, patents, designs and trademarks, as well as related disputes. The firm stands out for advising on innovative matters, including mechanical ventilators (in connection with COVID-19), open source licensing and esports regulations. Simona Lavagnini, who has 'long been extremely successful' in the field of copyright and new technologies, co-heads the practice with trade secrets and design expert Luigi Goglia. Alessandro Bura is well regarded for his expertise in industrial property law.
Practice head(s):
Simona Lavagnini; Luigi Goglia
Other key lawyers:
Alessandro Bura; Tankred Thiem; Margherita Stucchi
Testimonials
'The entire team is highly responsive and offers sound, customer-focused advice. '
'The firm has excellent credentials in IP and they are agile and able to deliver personalised, high quality service. '
'Simona Lavagnini is a pleasure to deal with and is accommodating in making herself available. She has particular expertise in copyright and is across all the most recent legal developments. Her advice is always very practical. She is supported by Alessandro Bura, who is very competent and responsive.'
'Margherita Stucchi and Simona Lavagnini have great knowledge of IP and IT. They do tailored strategies and they are really reachable.'
'In addition to competence, which is certainly the main feature of this firm, what makes the LGV team unique is the availability and promptness in processing requests, always taking into account the client's needs.'
'Simona Lavagnini has long been an extremely successful professional. She continues to approach the client, and with the issues that are submitted to her, with the utmost availability and with the desire to get involved even on new issues. The same goes for Margherita Stucchi, whose attitude is equally distinguished by the extreme availability and the practical approach to the issues submitted, making herself available even outside the hours that characterize the normal operations of a law firm'
Key clients
BSA – Business Software Alliance
Microsoft
IIDEA (formerly AESVI)
IBF (International brand firm)
Empsol
Ofy Milano S.r.l.
H&H Sports Protection Group
HSD S.p.a.
Value +
Ode S.r.l.
FIPE (Federazione Italiana Pubblici Esercizi)
LGV Avvocati Studio Legale >
Firm Profile
LGV Avvocati is an independent law firm founded in 2003 in Milan (Italy). LGV is specialized in IP (patent, copyright, trademark, design), IT, unfair competition, privacy & cybersecurity, advertising and has a large client base, both domestic and foreign.
The firm is recognized amongst Italian IP leading firms. Clients especially appreciate the firm's good knowledge of Italian and European IP laws, as well as the deep understanding of their needs and the capacity to develop and create tailored strategies for each case.
LGV values a dynamic and international professional team environment and has a broad experience in dealing with trans-border issues, involving Europe, USA and Asian countries, with a business desk dealing with Germany and other German-speaking countries.
In litigation LGV offers an unrivaled competence, acquired over the years in relation to enforcement programs concerning both national and international profiles.
Lawyer Profiles
| Photo | Name | Position | Profile |
| --- | --- | --- | --- |
| | Avv Alessandro Bura | Senior Associate | View Profile |
| | Avv Luigi Goglia | Founding Partner – Lead of IP Department | View Profile |
| | Avv Simona Lavagnini | Founding partner – Lead of IP Department | View Profile |
| | Avv Giorgio Rapaccini | Senior Associate | View Profile |
| | Avv Margherita Stucchi | 2019 to present: Partner; 2011 – 2018: Senior Associate | View Profile |
| | Avv Tankred Thiem | 2019 to present: Partner; 2006 – 2018: Senior Associate | View Profile |
| | Avv Brenda Villa | Senior Associate | View Profile |
Staff Figures
Simona Lavagnini : Founding Partner Luigi Goglia : Founding Partner Tankred Thiem : Partner Margherita Stucchi : Partner Brenda Villa : Senior Associate Alessandro Bura : Senior Associate Giorgio Rapaccini : Associate Paolo Passadori : Junior Associate
Languages
Italian English German Spanish
Memberships
INTA - International Trademark Association AIPPI (The International Association for the Protection of Intellectual Property) German Association for the Protection of Industrial Property and Copyright Law (GRUR) EPLAW ITechLaw Association DAV
Diversity
Since its foundation in 2003 LGV Avvocati has been highly committed to gender diversity, offering equal opportunities on each internal level of seniority. In LGV we are convinced that equality will be achieved when everyone, regardless of gender, has the right to adequate flexibility. Therefore, in LGV app professionals can take advantage of ad hoc solutions, studied on the specific needs of the individual, aimed at allowing the compatibility of professional commitments with those of private life. As an example, LGV has adopted flexible and individually tailored solutions in order to respond to necessities of parental leave, equally applied to both men and women. Moreover, LGV has started to apply working methods such as smart working, suitable to increase gender balance, since 2010 and thus well ahead of the trend. LGV Avvocati has taken the diversity path since its foundation and still strongly believes in it.
Client Testimonials
CLIENT: Senior Trademark Attorney
COMPANY: IP consulting company
TESTIMONIAL: prominent firm with outstanding experience in litigation on both trademarks, patents and copyright. In addition to litigation skills, they can deal with international clients because of their good knowledge of the English language in addition to a perfect command of German of its partner Luigi Goglia. Founder of LGV Avvocati, Luigi has the unique skill of being a successful litigator both in trademark and patent matters, with an extra-ordinary ability to understand technical issues.
---
CLIENT: Senior Director
COMPANY: Broadcasting company
TESTIMONIAL: LGV is a very successful Team, with an inclusive approach given the important presence of qualified and particularly talented women lawyers and a very skilled and experience leader (Avv. Simona Lavagnini), characterized by a solid constantly updated knowledge in IP and Copyright, by an effective organization and with an empathetic and constructive relation with in-house lawyers.
---
CLIENT: Entrepreneur
COMPANY: Food industry
TESTIMONIAL: I would like to thank LGV Avvocati for their constant presence, their continuous and coordinated performance and their speed of reaction, which I believe is what every client expects from a professional firm, but unfortunately it is not always so.
---
CLIENT: Entrepreneur
COMPANY: Food industry
TESTIMONIAL: trustworthy partner with great accuracy and very detailed file research. Excellent strategists.
---
CLIENT: Corporate Counsel
COMPANY: Software House
TESTIMONIAL: For me, LGV is my "go to" firm in Italy. LGV really takes their time to understand my business and each matter I refer to them. Given their deep knowledge of the Italian market, LGV provides prompt and customer-focused legal solutions. It's the kind of client service a lot of other firms could learn from.
---
CLIENT: Deputy Director of Global Litigation
COMPANY: Industrial sector association (recording)
TESTIMONIAL: We have worked with Simona and Alessandro at LGV on a large and complex case. They have much expertise in intellectual property law and are abreast of all the latest developments in this area.  We value their practical advice, clear communication skills and adaptability.  They really go over and above to deliver excellent service and are a pleasure to work with.
---
CLIENT: General Director
COMPANY: Industrial sector association (video entertainment)
TESTIMONIAL:We have worked with LGV Avvocati for many years and consider them a fundamental asset for our association. Our reference partner, Simona Lavagnini, is an exceptional professional who combines an unparalleled academic background with a practical approach that is always oriented towards finding workable solutions that meet the client's needs. Her great experience and expertise, especially in the field of intellectual property, is combined with a constant attention to business dynamics and to the evolution of the reference market, as well as with an uncommon ability to respect the often very tight deadlines for carrying out the required work. I also had an excellent experience with Alessandro Bura, a well-prepared, attentive, and precise professional.
International Capabilities
LGV is an international team that responds to the needs of a globalized market and to any demands for assistance, without regards for borders. A natural consequence of LGV's strong focus on new technologies is an approach overcoming a simple domestic perspective, both in regard to consultancy and litigation in the most relevant fields of law for technical development.
The team
All professionals have extensive experience dealing with not only domestic clients, but also foreign and extra-European individuals and corporations, whom we assist during international operations and transactions. Study and work experiences in foreign countries as well as the permanent participation in working groups of international professional organizations are features of all team members on every level of seniority. Versatile linguistic capabilities and intercultural experience are key factors in LGV's ability to offer cross border assistance.
On account of the international team, LGV has a solid business desk dealing with Germany and other German-speaking countries. In particular, regarding the trademark practice, LGV also assists clients in opposition procedures before the competent trademark offices and manages these proceedings in several jurisdictions with the support of a solid and well-established network of partners located in various countries, such as USA, Russia, South Korea, China, Hong Kong, Brazil and Saudi Arabia.
The clients
LGV is one of the few Italian independent law firms with a significant majority of foreign clients. Since its founding in 2003, the firm's specialization in fields such as IP and IT, data protection and antitrust, has attracted clients from the world's most advanced economies. Today LGV is assisting clients from many different types of businesses, including some of the most renowned companies in the fields of software, fashion, automotive and broadcasting on a great variety of legal sectors.
The activities
Relying on a strong and long-established international network, LGV is supporting both domestic and international clients in coordinating litigation outside Italy. LGV applies recognized international standards to all its activities, both in terms of working methods, reporting, and billing, to make the consultancy relationship dynamic, fluid, effective and perfectly manageable by the client according to his policies and needs.
Top Tier Firm Rankings
Firm Rankings