Firm Profile > Shekel & Co. > Tel Aviv , Israel
Shekel & Co.
Offices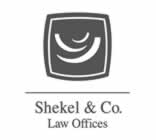 Shekel & Co.
3 AZRIELI CENTER
TRIANGULAR TOWER, 33RD FLOOR
TEL AVIV 67023
Israel
Shekel & Co. > The Legal 500
Rankings
Tax Tier 1
Shekel & Co. is one of Israel's oldest and largest tax boutiques and acts for international corporates as well as many of Israel's largest banks and public and private companies. The firm is well known in the telecoms and financial services sectors, and provides tax advice to clients such as Noble Energy and Delek Group in relation to all of the operating gas fields in Israel. Ofer Elboim is representing Isracard, Leumi Card and CAL - the three major Israeli credit card companies - in a VAT assessment concerning the clients' operations abroad, including commissions on forex transactions and payments made by Visa, MasterCard and Amex. Recently promoted senior partner Binyamin Tovi assists private equity funds with tax structuring issues associated with their M&A activity, and has also advised on the offshore tax structuring for overseas hedge fund activity. Yaniv Shekel is also recommended.
Shekel & Co. >
Firm Profile
Introduction
Shekel & Co. was founded in 1992 by Dr. Moshe Shekel, Adv., and soon became a leading firm in the various areas of taxation, serving a wide range of industries from mid-size businesses to the most prominent companies in the Israeli marketplace, as well as non-profit organizations, municipal authorities, governmental institutions, international companies and foreign individuals, operating or investing in Israel.
Shekel and Co. has extensive expertise in all taxation areas. The firm advises, offers assistance and professional opinions, and handles income tax matters, international taxation, real estate taxes, municipal taxes, VAT, customs and litigation related to taxation issues. The firm enjoys vast litigation experience in the district courts as well as in the Israel Supreme Court. It also deals in commercial law, litigation, real estate and corporations.
The firm has more than 3,000 clients in a wide range of areas. It represents government companies, large corporations (both public and private), universities, various municipalities, and foreign companies and individuals operating or investing in Israel.
Taxation – Main Field of Specialization
General
Shekel & Co. has extensive experience and expertise in issues related to all tax fields. The tax department of the firm offers services related to a wide range of taxation laws, including income tax, corporate taxation, capital gains taxes, international taxation, VAT, municipal taxes, real estate taxes and more. This department provides personalized advice for entrepreneurs, and unique solutions in matters related to real estate taxes, mergers and acquisitions, capital market taxation and international taxation.
Shekel & Co. is considered a "boutique" firm, in the taxation area, and its clientele in this area includes the largest Israeli holding companies, public companies traded in Israel and in overseas markets, privately held corporations, high net worth individuals, government authorities, non-profit organizations and municipal authorities, as well as international companies and foreign individuals, operating and/or investing in Israel. As a result of its vast client base, and due to the specialization of the firm in the institutional and business sectors, the firm enjoys the direct and personal contact with the Israeli tax authorities.
Services
The firm not only provides detailed, comprehensive written opinions regarding the Israeli tax laws and proposed activity schemes, but also attains various rulings from the Israeli tax authorities, allowing the commencement of activity in Israel and the optimization of such activity's tax structure. In this manner the firm has managed to save its foreign clients millions of Euros, following the approval of income tax withholdings exemptions and reductions or VAT payments returns, all made in a strictly confidential manner, without the publication and menace involved in the court proceedings. Furthermore, the firm has tailored specific solutions to employees in multinational companies allowing the tax efficient issue of share options, and other benefit plans.
Shekel & Co. is well acquainted with the taxation of non-profit organizations in Israel, and as the fiscal counsellor of some of the biggest organizations and institutions in Israel, has achieved significant reductions of the taxes levied upon such organizations.
The firm also represents its clients, both domestic and international, in all sorts of tax litigation, including pre-litigation procedures within the tax authorities' internal departments. The firm litigation experience and Supreme Court precedents in the last decade are unparalleled. The known professionalism of the firm in the litigation procedures on the one side, and its close connections with the state counsels and high ranking ITA officials, on the other side, assist in resolving the case in peaceful terms even after litigation is initiated.
Publications
The firm publishes regularly in various taxation related publications and journals, and in specializing internet sites, including the firm's web site: www.shekel-tax.co.il. The firm was also a contributor to the chapter on Israeli tax laws in the CCH, International Tax Planning Manual, published by Horwath International, and the writher of the Israel VAT chapter in Bloomberg BNA (www.bna.com).
Main Contacts
| Department | Name | Email | Telephone |
| --- | --- | --- | --- |
| Income and corporate taxation | Yaniv Shekel | | |
| Income and corporate taxation | Ofer Elboim | | |
| International taxation | Yaniv Shekel | | |
| International taxation | Binyamin Tovi | | |
| Value-added tax | Ofer Elboim | | |
| Value-added tax | Moti Eilon | | |
| Real estate tax | Ofer Elboim | | |
| Not-for-profit organisations | Yaniv Shekel | | |
| Not-for-profit organisations | Yaniv Hershcovitz | | |
| Taxation of hi-tech companies and employees | Binyamin Tovi | | |
| Taxation of hi-tech companies and employees | Dotan Einav | | |
| Tax rulings | Ayelet Hillel-Birenzwig | | |
| Tax rulings | Dotan Einav | | |
| Mergers and acquisitions | Yaniv Shekel | | |
| Mergers and acquisitions | Dean Klaro | | |
| Import/export taxation | Moti Eilon | | |
| Import/export taxation | Yaniv Shekel | | |
| Trusts and estates | Binyamin Tovi | | |
| Trusts and estates | Ayelet Hillel-Birenzwig | | |
| Taxation of new immigrants | Yaniv Shekel | | |
| Taxation of new immigrants | Binyamin Tovi | | |
| Real estate and construction | Ofer Elboim | | |
| Real estate and construction | Yaniv Hershcovitz | | |
| Commercial | Yaniv Hershcovitz | | |
| Tax litigation | Ofer Elboim | | |
| Tax litigation | Yaniv Shekel | | |
| Tax incentives | Ayelet Hillel-Birenzwig | | |
| Tax incentives | Binyamin Tovi | | |
| Corporate | Yaniv Shekel | | |
| Corporate | Yaniv Hershcovitz | | |
| Gas and oil taxation | Yaniv Shekel | | |
| Gas and oil taxation | Dean Klaro | | |
| Voluntary disclosure | Ayelet Hillel-Birenzwig | | |
Staff Figures
Number of Partners : 7 Number of lawyers : 20
Languages
English Hebrew Russian Turkish
Memberships
International Fiscal Association (IFA)
Top Tier Firm Rankings
Firm Rankings