Law Office TSG Belgrade > Belgrade, Serbia > Firm Profile
Law Office TSG Belgrade
Offices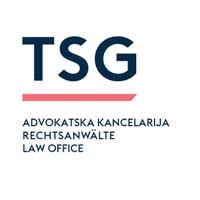 Law Office TSG Belgrade
CARICE MILICE 3
11000 BELGRADE
Serbia
Law Office TSG Belgrade >
Firm Profile
Law office TSG Belgradewas founded in 2000 by a group of Serbian lawyers of international orientation, just after the political shift in Serbia at the time when the domestic market opened for foreign investors. For the past 22 years the office has counselled renowned international companies in their investment decisions in Serbia.
Today, the TSG partners Ljubica Tomić, Predrag Groza and Saša Sindjelić are leading a highly professional team of specialist lawyers who render efficient, solutions-oriented support to their clients.
The firm is dynamic, focused and efficient in achieving its clients' goals. It has superb legal expertise and confident knowledge of the local legal scene, and it always ensures cost-effective options for its clients. The firm believes it is important to have strong client relationships. In communication with its clients it clarifies in detail the commercial and legal aspects of the solutions it offers. It is always there to provide counsel to its clients in person, communicating in German, English, Russian and Serbian. The effects of this approach are clearly visible in a report by one of its clients in The Legal 500, stating:
"these lawyers find the time to understand client's business, before giving advice… its attentive approach is outstanding".
TSG works as a team to find the best solution. Therefore, it sets up teams depending on its clients' requirements. Creative thought and work is essential to operations in the very dynamic legal environment of the Serbian market. New legal regulations are being developed and interrelated, and it is the firm's creativity that is key to its success. It works out practical and efficient solutions, tailored to the business needs of its clients.
Practice areas: TSG provides services in all its practice areas, fine-tuning its expertise to meet the clients' needs efficiently, punctually and bearing in mind clients' future in Serbian and international markets. The firm considers demanding situations a challenge, which is why reputable clients in Serbia seek its advice.
"Clients' success is the firm's success"
This approach has resulted in successful relationships with clients and won the firm the reputation of one of the leading law offices in the Serbian market.
Legal services are rendered in German, English, Russian and Serbian.
Attorneys of Trust: The TSG team are attorneys of trust of the German Embassy in Belgrade, the Embassy of Spain in Belgrade, the Swiss Embassy in Belgrade and the Austrian Chamber of Commerce and the German–Serbian Business Association in Belgrade (AHK Serbia).
Memberships: TSG is a member of the Italian Chamber of Commerce in Serbia, Swiss-Serbian Chamber of Commerce, Slovenian Business Club, the German-Serbian Chamber of Commerce in Belgrade (AHK Serbia), CBBL, WLL, DIRO and Business Intelligence Institute Belgrade.
Miscellaneous: TSG is a winner of the Corporate INTL Legal Awards for 2015 as the "Corporate Governance Law Firm of the Year in Serbia". TSG was named "Foreign Investment Law Firm of the Year in Serbia" at the Corporate INTL Global Awards for 2016.
Staff Figures
Managing partner : 1 Partner : 4 Attorneys at Law : 10 Legal trainees : 4 Back office : 6
Languages
English German Russian Serbian
Memberships
Serbian Bar Association Serbian-German Business Association INTA Serbian Arbitration Association Swiss-Serbian Chamber of Commerce Camera di Commercio Italo-Serba Slovenian Business Club NUMS (Serbian National Association of Mediators) Forum of German-Serbian Lawyers in Belgrade Association of Serbian Jurists Business Intelligence Institute Belgrade CBBL - Cross Border Business Lawyers DIRO - Das Kanzlei-Netzwerk aus Europa für die Welt WLL - World Link for Law™ a leading network of international law firms
Client Testimonials
CLIENT: Aleksandar Zivulovic
COMPANY/FIRM: Grammer System d.o.o.
TESTIMONIAL: Our company – Grammer System – has a long and successful cooperation with TSG Law Office. Based on more than 10 years of collaboration that created thriving professional experience, TSG Law Office has been recognised as a reliable business partner who steadily supports our company in all legal matters.
Thanks to TSG Law Office, our company perfectly responds to the legal challenges it is faced with in the day-to-day business environment. Consequently, I would emphasise the extensive court proceedings where TSG diligently managed all of these cases, most of them being complex litigation, thus providing the most favourable outcome for our business.
In terms of the professional relationship we built – TSG Law Office has a strong sense of flexibility. From our perspective, we feel that TSG is a genuine, cordial and trustworthy business partner. They managed to perfectly understand the nuances of our business in order to tailor their services based on our specific needs.
TSG team always takes care of our legal matters, including the anticipation of the prospective issues by providing the pro bono legal updates relevant to our business. This is one of the most appreciated initiatives, highly valued by Grammer System. Finally, the long and successful partnership we have with TSG Law Office has created a model we would like to transpose to all our business partnerships. In that manner, we at Grammer System wish nothing but a successful continuation of this remarkable cooperation.
---
CLIENT: Dusan Marjanovic
COMPANY/FIRM: Hödlmayr Serbia
TESTIMONIAL: Hödlmayr Serbia is a longstanding client of TSG Law Office. After all these years, I can confidently say that we are all more than satisfied with the legal services TSG provided to us, 2019 not being an exception. As a foreign investor in Serbia, Hödlmayr recommends TSG Law Office as a reliable partner to provide legal support in doing business in Serbia. Therefore, Hödlmayr has the proper legal partner in Serbia, and appreciates the legal expertise, quality and solution-oriented approach of TSG. Hence, we are looking forward to continuing our successful cooperation.
---
CLIENT: Erwin Truskaller
COMPANY/FIRM: StoGes.m.b.H. (Croatia)
TESTIMONIAL: The cooperation with TSG Law Office is pleasant and highly professional. The whole TSG team is above all competent and dedicated to their clients. TSG Law Office successfully guided us through the process of the branch office formation in Serbia, and we are sure that this is just the beginning of our collaboration.
---
CLIENT: Melisa Junuzović
COMPANY/FIRM: Siemens Healthcare d.o.o. (Serbia)
TESTIMONIAL: Due to our fruitful cooperation for almost two years now, I would with no hesitation recommend TSG Law Office as top-tier professionals for a broad spectrum of legal services.
Siemens Healthcare Serbia was always promptly supported by TSG. As a client we are at ease to rely on sound legal judgement and high-quality legal advising and guidance.
Availability of TSG lawyers, as well as their full engagement and dedication to clients' needs is the perfect match for the corporate clients who are seeking for the efficient and specialised solutions.
Their passion for law is impressive, as well as their profound understanding of a highly demanding industry such as healthcare. That is the reason why TSG is able to offer us the outstanding legal service.
---
CLIENT: Dušan Jovanović
COMPANY/FIRM: SAGlobal d.o.o. (Serbia)
TESTIMONIAL: Highly professional, trustworthy, detail-oriented and customer-focused lawyers with relevant industry background who are ready to protect clients' interests at all times.
From the first moment of our cooperation, we had an open-flexible communication which resulted in very efficient and feasible outcomes.
TSG legal services represent the best combination of timely delivery and high quality. All recommendations!
---
CLIENT: Hazim al Madani Attorneys & Legal Consultants (Saudi Arabia)
TESTIMONIAL: Our cooperation with TSG Law Office started on a demanding transaction that assumed the opposite interests of parties involved. We are very pleased to have had TSG on our side on this particular project. Their legal advice, great understanding of business aspects as well as their experience and knowledge of Serbian law were highly valuable to guide us through the process since the Serbian market was unknown to us at the time. Now, after the project is successfully completed, we are continuing this fruitful and, I believe, long-term cooperation with the TSG team. Therefore, I would recommend TSG Law Office as its team shows excellent skills and determination and has been always fast-responding and goal-oriented in circumstances that have definitely been challenging.
Diversity/Community
At TSG Law Office, we treasure the importance of creating an environment in which all our employees, lawyers and legal trainees can feel respected, included and empowered to render efficient, solutions-oriented support to our clients.
We recognise that each of our lawyers draws on unique expertise and experience, all vital to provide legal services to our international clients. Therefore, our goal is to foster an environment that is an incubator for great thinkers, attractive to the best talent, and creating a sincere feeling of belonging and contentment across our TSG Law Office.
Our diversity and inclusion efforts will therefore focus on:
– Embracing diverse cultures, ethnicities, genders and sexual orientations
– Generating a workplace environment that encourages development and progress
– Engaging with our clients in a way that reflects and values their unique positions and experiences
We are actively creating a social environment for our lives and work through social responsibility of our Law Office.
Our pro bono work is focused on projects aimed at contributing to a healthier Serbia in general. We are very proud of our involvement in successful leading projects such as:
Help for children without parental care of Vera Blagojevic Home in Banja Koviljaca, in coordination with Mercedes-Benz Srbija i Crna Gora d.o.o. (2007)
– Assistance to Serbian delegation at 21st World Congress of Dermatology, Buenos Aires, Argentina (2007)
– Assistance to Serbian delegation at "ASCDAS 7. Annual meeting and exhibition", Las Vegas, Nevada (2008)
– Assistance to Danijela Jovanovic, the first disabled person to conquer Aconcagua, Argentina, (2008 /2009)
– Founding the first Mothers' Milk Bank in Serbia organized by Vracar Municipality, Belgrade (2009)
– Help for Humanitarian Organisation for Assisting Mentally Disabled Persons "Decije srce"" (2011, 2013, 2015)
– Legal assistance to organisation "Radosni centar" in facilitating the festival "Human District" (2014)
– Help for the flood victims organized by the Government of the Republic of Serbia (2014)
– Humanitarian aid for Syrian refugees in Belgrade (2015)
– The Mt. Kopaonik School of Natural Law (2015, 2017, 2018)
– Assistance to team of students of the Law Faculty of the University in Belgrade for the participation at prestige Arbitration and International Commercial Law contest – Willem C. Vis International Commercial Arbitration Moot (2012, 2016, 2017, 2018, 2019)
– Assistance to the Center for reproductive ethics "ZA BEBE" and counseling centre" NISI SAMA" and for their projects (2018)
Diversity
We at TSG Law Office cherish a 20 year-long tradition where the utmost attention has always been paid to the creation of an inclusive environment in which all our employees, lawyers and legal trainees feel respected and empowered to evince all their expertise and experience, in order to render proficient and solution-oriented support to our clients.
That being the case, we recognise that each of our lawyers draws on unique expertise and experience, all indispensable to providing first-class legal services to our international clients. Therefore, our goal is to foster an environment that is a hub for great thinkers, attractive to young talents passionate about law, where at the same time each and every individual has a sincere feeling of belonging and contentment by being the member of TSG family.
Our diversity and inclusion efforts therefore focus on:
Respecting and embracing diverse cultures, ethnicities, genders and sexual orientations
Creating a workplace environment that encourages development and progress
Engaging with our clients in a manner that reflects and values their unique positions and experiences
Our team is highly aware of the importance of social responsibility placed on each individual and organisation within society. As a result, our pro bono work is focused on projects aimed at contributing to a better, more open and diverse society in the Republic of Serbia in general, particularly a healthier one. We are very proud of our continuous involvement in major projects such as:
Contribution to 'Vera Blagojević Home' in Banja Koviljača (Serbia) for children without parental care, in coordination with Mercedes-Benz Srbija i Crna Gora d.o.o. (2007)
Support for Serbian delegation at 21st World Congress of Dermatology, Buenos Aires, Argentina (2007)
Contribution to Serbian delegation at "ASCDAS 7. Annual meeting and exhibition", Las Vegas, Nevada (2008)
Assistance to Danijela Jovanović, the first disabled person to conquer Aconcagua, Argentina, (2008 /2009)
Foundation of the first Mothers' Milk Bank in Serbia organised by Vračar Municipality, Belgrade (2009)
Grant for Humanitarian Organisation for Assisting Mentally Disabled Persons "Dečije srce" (2011, 2013, 2015)
Legal assistance to organisation "Radosni centar" in setting up the festival "Human District" (2014)
Support for the flood victims, coordinated by the Government of the Republic of Serbia (2014)
Humanitarian aid for Syrian refugees in Belgrade (2015)
Contribution to The Mt. Kopaonik School of Natural Law (2015, 2017, 2018, 2019, 2020)
Grant to support the team of students of the University of Belgrade Faculty of Law for the participation in the prestigious Arbitration and International Commercial Law contest – Willem C. Vis International Commercial Arbitration Moot (2012, 2016, 2017, 2018, 2019, 2020)
Support for the foundation and projects of the Center for reproductive ethics "ZA BEBE" and counselling centre "NISI SAMA" (2018)