Firm Profile > Nestor Nestor Diculescu Kingston Petersen > Bucharest, Romania
Nestor Nestor Diculescu Kingston Petersen
Offices

Nestor Nestor Diculescu Kingston Petersen
201 BARBU VACARESCU STREET, 18TH FLOOR
GLOBALWORTH TOWER, 2ND DISTRICT
020276 BUCHAREST
Romania
Nestor Nestor Diculescu Kingston Petersen > The Legal 500
Rankings
Nestor Nestor Diculescu Kingston Petersen >
Firm Profile
Nestor Nestor Diculescu Kingston Petersen (NNDKP) is a promoter of business law in Romania, providing integrated legal and tax services on the local market.
For over 30 years, corporations, financial institutions, private equity funds and entrepreneurs from diverse industries, including innovative and niche sectors, have provided us the opportunity to work together on both landmark transactions and projects that have contributed to the evolution of the local business environment. We have also provided strategic legal and tax advice on regular operations, helping clients move forward with their business initiatives.
NNDKP's team brings together knowledgeable, talented and dedicated lawyers and tax advisors active in Romania, with an impressive track record that reflects a mix of industry insights, courtroom experience and practical business sense. Over 130 lawyers and tax and IP counsellors and 70 business services professionals form one of the largest and most respected teams of independent professional services providers in Romania. We are on the ground where needed, working either from our headquarters in Bucharest or from our regional offices located in some of the most important economic, academic and social hubs of Romania, including Timisoara and Cluj-Napoca.
To continuously add value to the services that would benefit our clients, NNDKP has established strong connections with leading international law firms and high-profile professional networks. On the domestic front, NNDKP has formed alliances with non-legal advisers with deep knowledge of the Romanian market to help clients pursue their business interests including outside the legal spectrum.
Committed to constant advancement and enhanced performance, NNDKP formalized in 2019 its Center of Excellence in Fiscal Disputes (or NNDKP CELF), an initiative built with the aim to provide clients access to highly specialized advice and best practices in fiscal disputes. Through NNDKP CELF, local and international companies as well as entrepreneurs benefit from integrated legal and tax services throughout all stages of a fiscal dispute.
In over three decades of practice, we have fostered a culture of continuous improvement to meet our clients' needs and to adapt to the fast-changing economic landscape. As a pioneer of business law in Romania, we have also embraced technology and implemented tools to increase efficiency in the fields of information management, knowledge management, business development and finance. We are constantly looking for new feasible ways to evolve and adapt, for the direct benefit of our teams and clients.
Areas of practice: Along the years, we have expanded our practice areas to cover virtually all key areas of business law and to keep pace with clients' evolving businesses. Our expertise covers: advertising, banking and finance, capital markets, competition and state aid, consumer protection, corporate / M&A and commercial, data protection, dispute resolution, employment, energy and natural resources, environment, EU law, gaming, immigration, insurance and private pensions, intellectual property, pharmaceuticals and healthcare, infrastructure, public procurement and PPP, real estate and construction, tax and telecommunications and media.
Industry wise, we frequently act in matters related to agribusiness, automotive, aviation, aerospace and defence, financial sector, healthcare, infrastructure and construction, IT and technology, manufacturing, mining, oil and gas, power and utilities, renewables, retail and consumer goods, transport and logistics.
Lawyer Profiles
| Photo | Name | Position | Profile |
| --- | --- | --- | --- |
| | Mrs Roxana Abrasu | Roxana is a Partner and Head of the Employment and Labour law… | View Profile |
| | Alexandru Aparaschivei | Alexandru Aparaschivei has 15 years of professional experience and is a Tax… | View Profile |
| | Mr Silviu Badescu | Silviu Badescu is a Tax Partner at NNDKP Tax Advisory Services. With… | View Profile |
| | Mr Lucian Barbu | Lucian Barbu is a Tax Partner at NNDKP Tax Advisory Services. Specialized… | View Profile |
| | Mr Emil Bivolaru | Emil Bivolaru is a Partner in the Dispute Resolution practice at NNDKP.… | View Profile |
| | Mrs Ruxandra Bologa | Ruxandra Bologa is a Partner and Co-Head of Corporate/M&A and Energy and… | View Profile |
| | Mrs Gabriela Cacerea | Gabriela Cacerea is a Partner and Co-Head of Corporate/M&A and Energy and… | View Profile |
| | Mrs Adina Chilim-Dumitriu | Adina Chilim-Dumitriu is a Partner and Head of Telecommunications and Media Practice… | View Profile |
| | Mr Radu Damaschin | Radu Damaschin is a Partner in the Dispute Resolution practice at NNDKP… | View Profile |
| | Mrs Ana Diculescu-Sova | Ana Diculescu-Sova is a Senior Partner heading NNDKP's Dispute Resolution Department. Her… | View Profile |
| | Mrs Georgeta Dinu | Georgeta Dinu has over 17 years of experience in the legal field… | View Profile |
| | Mrs Corina Dumitru | Corina Dumitru is a Partner in the Corporate/M&A and Public Procurement and… | View Profile |
| | Mr Marius Ezer | Marius Ezer is a Partner in the Dispute Resolution Department at NNDKP.… | View Profile |
| | Eva Forika | Eva Forika is a highly seasoned Romanian law qualified lawyer with over… | View Profile |
| | Mrs Adriana Ioana Gaspar | Adriana Ioana Gaspar has over 28 years in the legal field and… | View Profile |
| | Mrs Daniela Gramaticescu | Daniela Gramaticescu is a Partner in the Dispute Resolution practice at NNDKP.… | View Profile |
| | Mrs Roxana Ionescu | Roxana Ionescu is a Partner heading NNDKP's Environment and Data Protection practices… | View Profile |
| | Mr Marius Ionescu | Marius Ionescu has over 23 years of professional experience and is a… | View Profile |
| | Mrs Lavinia Ionita-Rasmussen | Lavinia Ionita-Rasmussen is a Partner in the Real Estate practice at NNDKP.… | View Profile |
| | Mr Valeriu Mina | Valeriu Mina is a Partner in the Dispute Resolution practice at NNDKP.… | View Profile |
| | Mrs Ioana Niculeasa | Ioana Niculeasa has over 21 years of experience in the legal field… | View Profile |
| | Mrs Sorina Olaru | Sorina Olaru is a Partner in the Dispute Resolution practice at NNDKP.… | View Profile |
| | Mrs Oana Partenie | Oana Partenie is a Partner in the Dispute Resolution practice at NNDKP.… | View Profile |
| | Ciprian Paun | Ciprian Păun is a Romanian law qualified lawyer with over 16 years… | View Profile |
| | Mrs Alina Radu | Alina Radu has over 24 years of professional experience and is a… | View Profile |
| | Mrs Peggy Suica-Neagu | Peggy Suica-Neagu has 26 years in the legal field and is a… | View Profile |
| | Mr Vlad Tanase | Vlad Tanase is a Partner in the Real Estate practice at NNDKP.… | View Profile |
| | Mrs Alina Timofti | Alina Timofti is a Tax Partner and Co-Head of Tax Advisory Services… | View Profile |
| | Mr Razvan Vlad | Răzvan Vlad is a Partner in the Corporate/M& and Public Procurement and… | View Profile |
| | Mr Valentin Voinescu | Valentin Voinescu has 16 years of experience and is a Partner in… | View Profile |
Staff Figures
Number of lawyers : 138 (including partners)
Languages
English French
Memberships
The South East Europe Legal Group (SEE Legal) Lex Mundi World Services Group
Other
Contacts : Ion Nestor (ion.nestor@nndkp.ro) Contacts : Manuela Nestor (manuela.nestor@nndkp.ro) Other offices : Cluj-Napoca Other offices : Timisoara
Diversity
Diversity
NNDKP respects, promotes and bases its success on value, including personal value and value resulted from the mix and interaction of perspectives. Thus, we have tended to and accommodated variety in every respect and at all levels, in the most natural manner.
Reflective of our belief in value, our overall teams have organically developed to comprise a diversity of groups, regardless of gender, ethnicity, religion and other distinguishing trait. That is how we have built a diverse and inclusive working environment, with equal chances for all.
NNDKP's programmes, activities and initiatives are designed to accommodate equality and diversity and are carefully monitored and adjusted so as to pave the way for both personal and firm's development and success, without prejudice. NNDKP's continued policy has been to attract and retain top talent irrespective of differences. All members of our teams have benefitted from the same access to projects, training and rewards and have been encouraged to assume responsibilities and to achieve leading roles in the legal environment. We recognize individual contributions and reward professionals fairly, based on performance, accomplishments and contribution to the firm's development.
A defining aspect of NNDKP's corporate culture is encouraging female lawyers to achieve leading roles in the legal profession. We are a strong supporter of women and have always empowered them to reach their full potential, and this is reflected in our firm's leadership –60% of our partners are women. At firm level, +60% of our professionals are women.
NNDKP was recognized as "Best Firm in Romania" for gender diversity three times at Euromoney's "European Women in Business Law" Gala. The firm was also invited as expert at the "Equality Pays Off" business forum, organized as part of the European Commission's initiative for gender diversity.
We believe that an inclusive environment creates a safe workplace, where professionals can grow. This also contributes to the quality of the services we provide to our clients, and also drives innovation and development.
A promoter of business law in Romania with 30 years of experience on the local market, NNDKP has proven that solid knowledge, professional skills, ethics and dedication are gender and age-neutral and that success can only be based on value.
CSR
NNDKP is committed to conducting its operations in a responsible way from a business, social and environmental perspective. We work towards building and maintaining best practices when it comes to running our business responsibly. Moreover, we are genuinely interested in finding ways to reduce the impact of our organization on the environment.
Our law firm also supports a number of causes and organisations that promote projects in the areas of education, health, community development or civil society. Specific programs we have recently supported include some that:
respond to the needs of the elderly members of our community that find themselves in vulnerable situations,
support children affected by autism spectrum disorders,
service children and adults with disabilities in Romania, or
prepare model teachers or professors, and support them to become factors of transformation in education.
We are devoted to a continuous exploration and broadening of our perspective and approach, and always look for ways in which our organisation can make an impact when it comes to corporate social responsibility.
International Capabilities
As one of Romania's largest and most respected independent business legal services providers, NNDKP has constantly strived to innovate to become increasingly more effective counsel for our clients.  
Committed to providing outstanding legal and tax services and dedicated to helping clients navigate challenges wherever they might occur, we have connected with peers who share our vision and approach and have developed long-standing relationships with  
global law firms and major top-tier international law firms 

and

 

leading independent advisory boutiques

 
with whom we work and team up regularly. 
In addition, thanks to our firm's reputation in this profession and to our standing in the domestic legal market, NNDKP is the exclusive member firm in Romania of high-profile global and regional affiliations such as:  
NNDKP is also a member or affiliate in organizations dedicated to specific practice areas, such as: 
The Energy Law Group (ELG)

 – the most extensive network of experts in energy and natural resources law in Eur

ope, the Middle East and Africa

 

Vogel Global Competition Network

 – a network 

of 

professionals

 

specialized

 in 

competition

 

law

 

A 

leading

 legal service 

provider

 in 

employment

, 

immigration

 

and

 

pensions

 

law

, 

including

 over 1500 

professionals

 

Various global or regional associations dedicated to the intellectual property professionals and brand owners

 
In addition, at local level, we are a long-standing member of the American Chamber of Commerce in Romania (AmCham) and of the Foreign Investors Council (FIC) and an affiliated member of ARB (the Romanian Association of Banks). 
Thanks to our strong international connections, we are able to guide clients and help them access high-quality legal services in foreign jurisdictions, to ensure that their projects run smoothly.
Doing Business In
Romania
Introduction
Romania is going through two processes of transformation.
One process, which has started more than 30 years ago, is one of continuous modernization and convergence with its EU more developed counterparts. Albeit for the average Romanian this may not be entirely apparent, Romania has indeed evolved dramatically from an economic standpoint, in many years showing more than 3-4% real GDP growth, well above the European median.
The second is one of recent transformation from facing a deep medical crisis, lockdowns and constant restrictive measures which have divided the population between pro and anti COVID measures, vaccines, etc. It is difficult to predict how this process will change mentalities, the approach with regard to the state, or the relationship between the private and public sector, in the long run.
Romania through the coronavirus crisis
In a nutshell, Romania went through the crisis surprisingly well, by comparison with some of the more developed states, as well as with what was expected (an almost catastrophic meltdown of the economy).
Some still comment that this is just "the calm before the storm" and that inflation, for once, is coming. Inflation has simply ravaged Romania in the 90s and is well kept in mind by the National Bank of Romania, an institution that is very conservatively oriented towards controlling this metric as a zero priority, before any others.
Others question the country's further capacity to grow due to the very low level of financial intermediation (a quarter of the EU average) and the staggeringly high level of commercial credit, which can quickly turn into a complete blockage of the supply chain (and it has in the past, in the 90s and early 00s as well).
Vaccinations
Romania's COVID-19 vaccination campaign started on December 29, 2020. Structured as a 3-phase process, the campaign has as objective the vaccination of 10.4 million people (or 70% of the country's population) by the end of September 2021, according to official declarations.
Up-to-date information and data on the status of the campaign are available here (in Romanian) https://datelazi.ro/ and here (in English) https://ourworldindata.org/covid-vaccinations
Romanian drought
The COVID-19 pandemic was not the only one ravaging the Romanian economy. In 2020, 2.2 million hectares of arable land, a quarter of Romania's cultivated land was subject to extreme drought. As agriculture remains one of the important business activities in Romania (with more than 20.5% of the active population working in the agricultural sector according to the data published by INS1), Romania has dealt with a great blow as a result of the extreme drought.
The impact of the drought is shocking when looking at the crops yield in 2020 compared to the previous year. The production of grains (wheat, corn, oat) has seen an important drop of 37,6% compared to the previous year due to lack of irrigation systems2.
2021 is so far expected to over perform many previous years in terms of crop yields and is another encouraging element going forward, but the "scarring" left in the economy by the 2020 drought still remains to be assessed.
The Romanian economy
Romania's economy was indeed hardly hit by the first lockdown measures enacted, registering a 12.2% contraction in the second quarter of last year. However, the economy rebounded by 5.8% innthe third quarter of 2020, the last quarter of the year will most likely show a weakened economic activity as a result of the new wave of infections that led to reinforced restrictions.
According to the European Economic Forecast3, real GDP is expected to grow by 3.8% in 2021 and by 4% in 2022. Given that more people have access to vaccines and restrictions may start to be lifted, forecasts expect that private consumption shall also recover strongly from the second half of 2021.
Source: ECFIN
The National Bank of Romania Financial Stability Report dated June 20204 warns that the risks to financial stability, already greatly impacted by the COVID-19 pandemic, can also be heightened by the interactions with the structural vulnerabilities of the Romanian economy:
The weak payment discipline in the economy and vulnerabilities in the company's balance sheets: Romania has a relatively high value of overdue payments in the economy and also a notable share of companies with equity below the minimum requirements set by law.
Low financial intermediation: we continue to rank last in Europe, while other countries in our region boast significantly higher values of financial intermediation (34.7% in Hungary, 51.9% in Poland, 53.3 in Bulgaria, 53.4% in Czech Republic).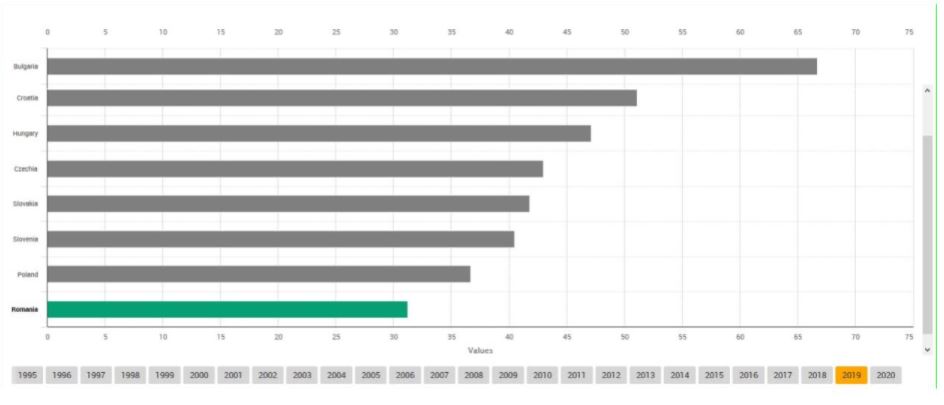 Source: Eurostat5
The demographic problem: the number of elderly persons increased further, reaching 17% of the total population, while the persons aged below 14 years amount to merely 14.6% of the total population.
World economies are also struggling with rising unemployment rates and Romania is no exception. According to the data published by the Romanian National Institute of Statistics, the unemployment rate in 2020 was 5%, 1.1% higher than the previous year (3.9% in 2019) and, unfortunately, the highest unemployment rate was among young people (a rate of 17.3% for people aged between 15 and 24 years old).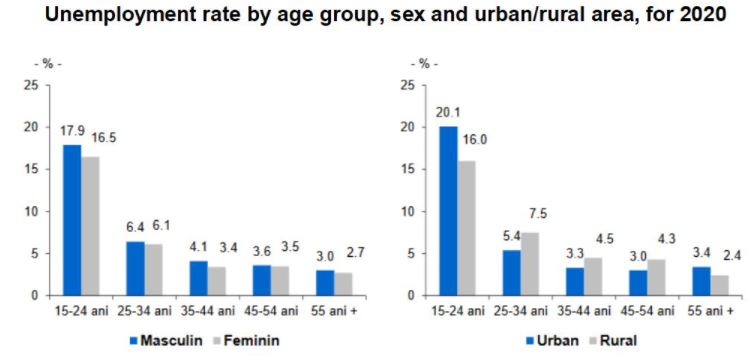 Source: The Romanian National Institute of Statistics (INS)6
Corporate insolvencies during the pandemic
There is no doubt that lockdown measures intended to prevent the spread of the coronavirus have been a hard hit for companies across all Romanian industries, as most business activities have declined and some were even brought to a halt.
The past financial crisis has shown that such a decline of economic activity is closely linked to surges in insolvency fillings. Therefore, in an endeavor to implement the lessons of the 2008 global financial crisis, certain temporary measures with respect to the insolvency obligations of companies were launched during the state of alert enacted in Romania (which is still currently in place). The measures which intended to implement relaxed conditions for the initiation of insolvency proceedings seem to have stemmed, at least for a while, the looming tide of insolvencies, as the insolvency cases dropped in 2020 compared to 2019.
Source: Romanian Trade Registry7
However, the support programs will be eventually withdrawn and the economic effects of the pandemic will most likely be visible on the long term, meaning that business insolvencies are likely to surge in the following years.
As the feared wave of insolvencies was postponed rather than prevented, and since Romania lacks a diverse toolkit that could enable a distressed debtor to swiftly restructure their business, we still face a great challenge ahead, should measures not be taken.
In the Doing Business 2020 report8, Romania currently ranks 56th worldwide in resolving insolvency, four places down compared to the previous year. The average duration of proceedings is much longer in Romania (3.3 years) compared to the average duration for Europe (2.3 years), the recovery rate is also low (34.4 per cent while in high-income OECD countries the indicator can go up to 70.2 per cent) and at relatively high costs (10.5 per cent of the asset value).
Source: Doing Business 2020, World Bank Group
Opportunity for reform
The implementation into Romanian national law of the Directive (EU) 2019/1023 on restructuring and insolvency (the "Directive") could represent the opportunity to reform the entire Romanian insolvency and restructuring system.
Romania is bound to adopt and publish, by July 17 2021, laws and regulations implementing into national law the provisions of the Directive. To this end, a draft law which aims to amend the existing insolvency law (i.e. Law no. 85/2014 on insolvency prevention procedures and insolvency proceedings) has already been made available for public consultation in March – April 2021.
There are however certain key aspects prescribed by the Directive which seem to have been overlooked, at least at this stage, by the draft law. These would need to be further addressed in order to provide for a truly modernized and enriched reform of the Romanian restructuring proceedings, such as:
the implementation of early warning signs which would help to timely address a crisis;
introducing a new regulated profession, namely the "restructuring practitioner";
a proper definition of the concept of "difficulty", a central component of the new legislation; and
designing restructuring frameworks that can work efficiently without excessive involvement of courts, or extensive bureaucratic processes.
Footnotes
1. https://insse.ro/cms/sites/default/files/com_presa/com_pdf/somaj_2020r.pdf
2. https://insse.ro/cms/sites/default/files/com_presa/com_pdf/prod_veg_r20.pdf
3. https://ec.europa.eu/info/sites/info/files/economy-finance/ip144_en_1.pdf
4. https://www.bnr.ro/DocumentInformation.aspx?idDocument=35334&idInfoClass=19968
5. https://ec.europa.eu/eurostat/databrowser/view/TIPSPD25/bookmark/bar?lang=en&bookmarkId=31557070-ce85-46b3-9af6-3a2125c72820
6. https://insse.ro/cms/sites/default/files/com_presa/com_pdf/somaj_2020r.pdf
7. https://www.onrc.ro/index.php/ro/statistici?id=252
8. https://www.doingbusiness.org/content/dam/doingBusiness/country/r/romania/ROM.pdf
Piece authored by Valentin Voinescu, Partner, Banking & Finance
Top Tier Firm Rankings
Firm Rankings