Firm Profile > Nestor Nestor Diculescu Kingston Petersen > Bucharest, Romania
Nestor Nestor Diculescu Kingston Petersen
Offices

Nestor Nestor Diculescu Kingston Petersen
201 BARBU VACARESCU STREET, 18TH FLOOR
GLOBALWORTH TOWER, 2ND DISTRICT
020276 BUCHAREST
Romania
Nestor Nestor Diculescu Kingston Petersen > The Legal 500
Rankings
Nestor Nestor Diculescu Kingston Petersen >
Firm Profile
The firm: Nestor Nestor Diculescu Kingston Petersen (NNDKP) is one of the largest, most reputed law firms in Romania, providing integrated legal, tax advisory services and intellectual property counselling through its specialised entities.
Areas of practice
Corporate/M&A: the firm handles all levels of complex transactions, including assistance with transaction structuring and risk mitigation strategies.
Banking and finance: the team assists clients in banking operations, assets, corporate and project finance transactions, restructuring of financing facilities.
Dispute resolution: NNDKP assists clients in complex litigations, administrative proceedings, domestic and international arbitrations.
Energy: NNDKP assists in the privatisation and acquisition of energy companies, financing of energy projects and development and distribution of natural resources.
Real estate: NNDKP's advice covers all areas of real estate transactions, including greenfield investments, construction agreements, financing and related securities.
Competition: NNDKP assists clients on all competition matters, including competition investigations and litigation, compliance in day-to-day business, mergers and state aid.
Taxation: NNDKP's tax lawyers and consultants advise clients on various fiscal matters, covering direct and indirect taxation, transfer pricing, double taxation and tax disputes.
Intellectual property: NNDKP assists clients in patent and trade mark matters as well as the acquisition, protection, use, licensing and sale of technology.
Infrastructure and PPP: NNDKP advises on major projects in infrastructure design, financing, construction, rehabilitation, operation and maintenance.
Public procurement: NNDKP interprets and resolves legal questions on behalf of the firm's clients on both major projects and day-to-day procurement issues.
Capital markets: the firm handles significant financing transactions, including revolving and term loans, trade finance, issuance of debt instruments, derivative transactions and public offerings.
Employment: the firm provides advice on all employment matters, including collective or individual labour contracts, conflicts of rights, occupational health and safety, internal regulations and policies.
Environment: NNDKP assists clients with respect to all environmental aspects of implementing projects in Romania, including drafting relevant contractual provisions.
Data protection: NNDKP advises clients on all data protection matters with respect to business transfers, projects and mergers, database sharing, marketing or employment activities.
Pharmaceuticals and healthcare: NNDKP advises on regulatory approvals, importations, packaging and labelling, marketing authorisations, as well as corporate and operational structures.
Consumer protection: NNDKP advises on all consumer protection matters, including labelling, product liability and recall, warranties, distance contracts, promotional activities.
Gaming: the firm provides a full range of legal services for companies operating or involved in the gambling sector (including joint ventures with state monopoly).
Immigration: NNDKP assists corporate clients in connection with the relocation of foreign personnel to Romania.
Main Contacts
| Department | Name | Email | Telephone |
| --- | --- | --- | --- |
| Corporate/M&A | Adriana Gaspar | | |
| Corporate/M&A | Adina Chilim-Dumitriu | | |
| Corporate/M&A | Gabriela Cacerea | | |
| Corporate/M&A | Ruxandra Bologa | | |
| Banking and finance | Manuela Nestor | | |
| Banking and finance | Alina Radu | | |
| Banking and finance | Valentin Voinescu | | |
| Dispute resolution | Ana Diculescu-Sova | | |
| Energy | Gabriela Cacerea | | |
| Energy | Ruxandra Bologa | | |
| Energy | Adina Chilim-Dumitriu | | |
| Real estate | Ioana Niculeasa | | |
| Competition and state aid | Georgeta Dinu | | |
| Taxation | Alina Timofti | | |
| Taxation | Marius Ionescu | | |
| Intellectual property | Alina Tace | | |
| Infrastructure and PPP | Adriana Gaspar | | |
| Public procurement | Adina Chilim-Dumitriu | | |
| Capital markets | Manuela Nestor | | |
| Employment | Gabriela Dinu | | |
| Employment | Roxana Abrasu | | |
| Environment, data protection | Roxana Ionescu | | |
| Gaming, consumer protection | Alina Tace | | |
| Immigration | Alexandru Lupu | | |
Lawyer Profiles
| Photo | Name | Position | Profile |
| --- | --- | --- | --- |
| | Alexandru Aparaschivei | Alexandru Aparaschivei has 14 years of professional experience and is a Tax… | View Profile |
| | Mr Silviu Badescu | Silviu Badescu is a Tax Partner at NNDKP Tax Advisory Services. With… | View Profile |
| | Mr Lucian Barbu | Lucian Barbu is a Tax Partner at NNDKP Tax Advisory Services. Specialized… | View Profile |
| | Mr Emil Bivolaru | Emil Bivolaru is a Partner in the Dispute Resolution practice at NNDKP.… | View Profile |
| | Mrs Ruxandra Bologa | Ruxandra Bologa is a Partner and Co-Head of Corporate/M&A and Energy and… | View Profile |
| | Mrs Gabriela Cacerea | Gabriela Cacerea is a Partner and Co-Head of Corporate/M&A and Energy and… | View Profile |
| | Mrs Adina Chilim-Dumitriu | Adina Chilim-Dumitriu is a Partner and Head of Telecommunications and Media Practice… | View Profile |
| | Mr Radu Damaschin | Radu Damaschin is a Partner in the Dispute Resolution practice at NNDKP… | View Profile |
| | Mrs Ana Diculescu-Sova | Ana Diculescu-Sova is a Senior Partner heading NNDKP's Dispute Resolution Department. Her… | View Profile |
| | Mrs Georgeta Dinu | Georgeta Dinu has over 16 years of experience in the legal field… | View Profile |
| | Mrs Corina Dumitru | Corina Dumitru is a Partner in the Corporate/M&A and Public Procurement and… | View Profile |
| | Mr Marius Ezer | Marius Ezer is a Partner in the Dispute Resolution Department at NNDKP.… | View Profile |
| | Eva Forika | Eva Forika is a highly seasoned Romanian law qualified lawyer with over… | View Profile |
| | Mrs Adriana Ioana Gaspar | Adriana Ioana Gaspar has over 27 years in the legal field and… | View Profile |
| | Mrs Daniela Gramaticescu | Daniela Gramaticescu is a Partner in the Dispute Resolution practice at NNDKP.… | View Profile |
| | Mr Marius Ionescu | Marius Ionescu has over 22 years of professional experience and is a… | View Profile |
| | Mrs Roxana Ionescu | Roxana Ionescu is a Partner heading NNDKP's Environment and Data Protection practices… | View Profile |
| | Mrs Lavinia Ionita-Rasmussen | Lavinia Ionita-Rasmussen is a Partner in the Real Estate practice at NNDKP.… | View Profile |
| | Mr Valeriu Mina | Valeriu Mina is a Partner in the Dispute Resolution practice at NNDKP.… | View Profile |
| | Mrs Ioana Niculeasa | Ioana Niculeasa has over 20 years of experience in the legal field… | View Profile |
| | Mrs Sorina Olaru | Sorina Olaru is a Partner in the Dispute Resolution practice at NNDKP.… | View Profile |
| | Mrs Oana Partenie | Oana Partenie is a Partner in the Dispute Resolution practice at NNDKP.… | View Profile |
| | Ciprian Paun | Ciprian Păun is a Romanian law qualified lawyer with over 15 years… | View Profile |
| | Mrs Alina Radu | Alina Radu has over 23 years of professional experience and is a… | View Profile |
| | Mrs Peggy Suica-Neagu | Peggy Suica-Neagu has 25 years in the legal field and is a… | View Profile |
| | Mr Vlad Tanase | Vlad Tanase is a Partner in the Real Estate practice at NNDKP.… | View Profile |
| | Mrs Alina Timofti | Alina Timofti is a Tax Partner and Co-Head of Tax Advisory Services… | View Profile |
| | Mr Razvan Vlad | Răzvan Vlad is a Partner in the Corporate/M& and Public Procurement and… | View Profile |
| | Mr Valentin Voinescu | Valentin Voinescu has 15 years of experience and is a Partner in… | View Profile |
Staff Figures
Number of lawyers : 144 (including partners)
Languages
English French
Memberships
The South East Europe Legal Group (SEE Legal) Lex Mundi World Services Group
Other
Contacts : Ion Nestor (ion.nestor@nndkp.ro) Contacts : Manuela Nestor (manuela.nestor@nndkp.ro) Other offices : Brasov Other offices : Cluj-Napoca Other offices : Timisoara
Doing Business In
Romania
Introduction
At the time of this writing, more than half of 2020 has passed and the world is in a volatile, uncertain, complex and ambiguous state, maybe like never before. It is one thing to read about this state in strategy manuals1 and quite another to experience them, in a big, global lesson, for all of us to learn and adapt (or else).
In this situation, you are almost 100% certain to fail in making any successful predictions about Romania's immediate future, other than the simple, evergreen, prediction: it will be something we did not (fully) anticipate; reality tends to be a better source for fiction novels than imagination itself.
Romania is no stranger to ambiguity and uncertainty, of course. Situated at the junction of deep geopolitical divides, Romania has seen many crises during the last 100 years or so: two world wars, a brutal communist regime, a very volatile transition period in the 90s with rampant inflation, many unsuccessful privatizations and social unrest, a bumpy accession to the EU, and a EU membership marked by low levels of EU funds absorption and many corruption scandals.
Looking with a microscope, this place is always in some turmoil, especially from a political standpoint. However, in the long run, Romania has seen more than 3% on average of GDP growth each year, since the 90s, for almost 30 years, and is constantly reaching a higher level of development.
Now Romania is facing yet another crisis, so unexpected and yet so usual and almost predictable for this part of the world.
For business, it is time again to look carefully at risks, opportunities and plan for a rough but possibly very lucrative next decade. We see great things ahead for those cunning enough to seize the day.
Romania's handling of the virus during an election year
Romania has gone through a severe lockdown phase starting 16 March (when a state of emergency was declared) for a period of around 2 months, followed by a gradual relaxation period during a so called "state of alert". While measures have been taken, gradually, starting 15 May, to ease the initial very strict conditions, one cannot be too enthusiastic about the results.
If you want to see a full chronological view of the lockdown measures and updates please click here.
At the time of this writing, Romania exhibits a growth in new cases similar to the US and very dissimilar to the rest of Europe. As of mid-July, the growth in new cases is significant (the peak in mid-July has been 30% higher than the peak in April).
If you look at the projections, they are quite sobering. Will these predictions be accurate? On this issue, you will not find two Romanians agreeing, especially since 2020 is an electoral year and misinformation, from all angles, is pouring.
While the acute phase of the coronavirus pandemic is starting to pass, a more chronic, long-term effect is starting to show: a looming recession (3-6 quarters), possibly even a depression (which means years, maybe even a "lost decade").
The Romanian economy – a very quick guide
Romania is arguably one of the fastest growing economies of Europe, as it was growing at an annual rate of around 4% (although mainly driven by private consummation) prior to the COVID-19 pandemic.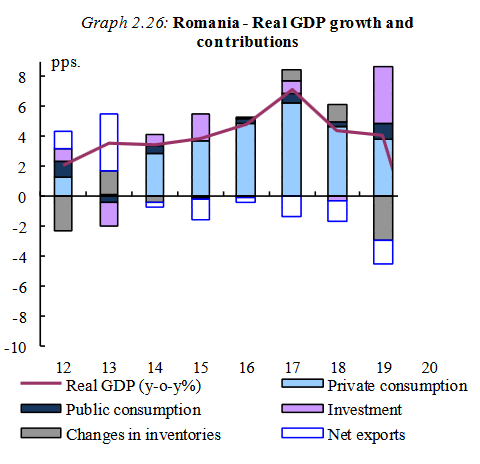 Source: ECFIN
However, according to the European Economic Forecast2, a sharp drop in the real GDP growth is expected in the second quarter of 2020, as the private consumptions continues to decline following the movement restrictions and the lower income of individuals. Economic activity is nevertheless forecast to gain traction in the second half of 2020 and to further pick up in 2021.
Source: ECFIN
Business in Romania (distribution of top 1000 companies by turnover, across counties)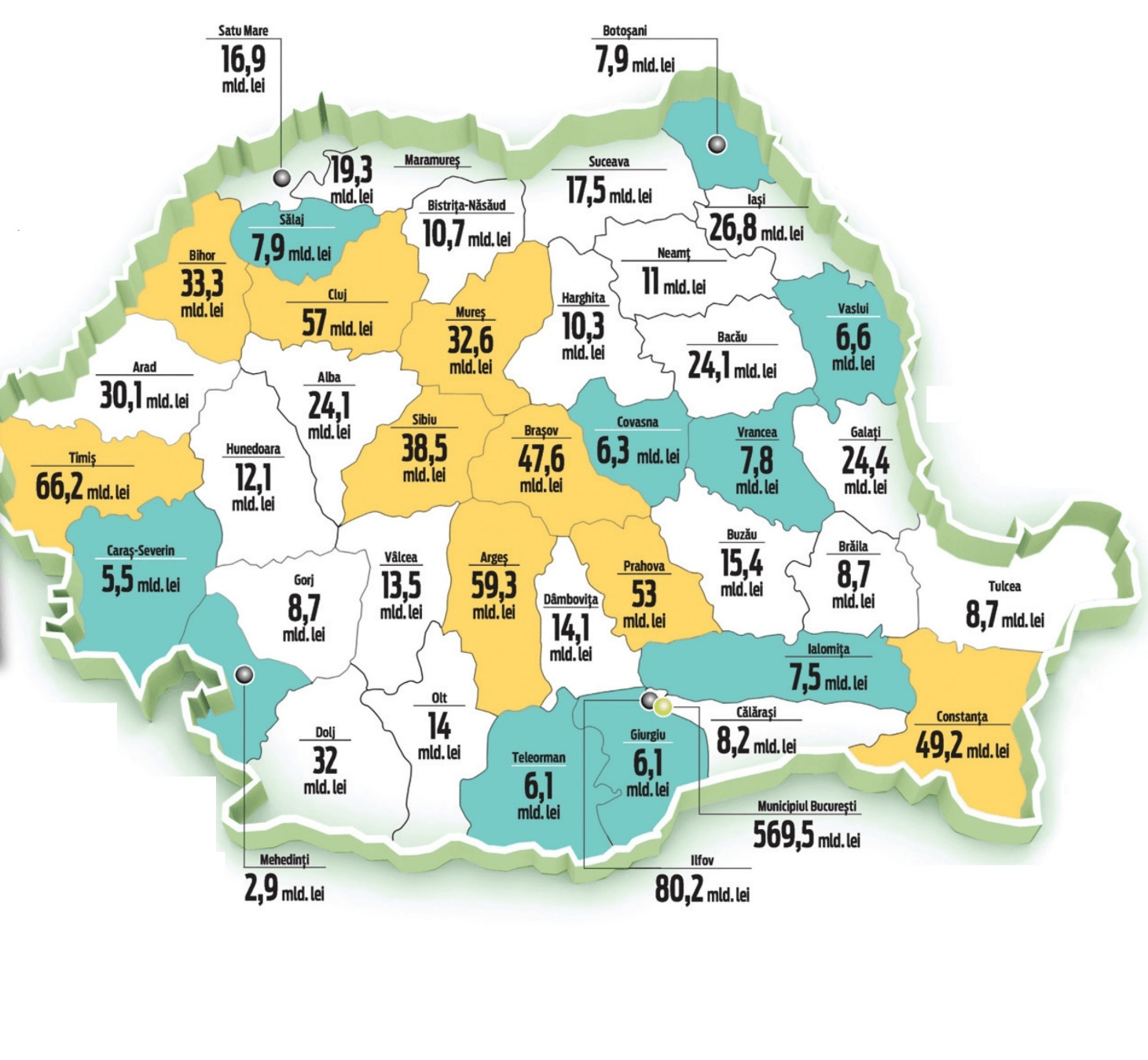 Source: Ziarul Financiar3
Following the end of the communist rule in 1989, Romania's businesses have continued to grow year by year. Most recently, the turnovers of the country's most important companies are considered to be double than those registered 10 years ago4. The capital, in particular, Bucharest, draws the majority of business interest, which generates almost 38% of the total turnover in the Romanian economy. If you also count the economies along the Bucharest-Brașov route (therefore includin Bucharest and Ilfov, Prahova, Brașov counties) together they amount for more than 50% of business in Romania.
Six other areas attract, in aggregate, about as much business as the Bucharest-Brasov route:
Cluj – a very strong IT hub and arguably the economic center of Transylvania, a Romanian region;
Timișoara – western city hosting a great number of regional centers for automotive, industrial and other global players, due to logistical ease of access towards western Europe;
Argeș – the home of Romania's largest car manufacturer, Dacia, a subsidiary of Renault which brings almost 40% of the county's annual turnover;
Constanța – which includes most of the Black Sea shore and one of the largest ports in the Black Sea and in Europe),
Sibiu – a German heritage county and the home of the current president of Romania, who is of German descent; and
The western border counties of Arad and Oradea – both benefit from the high level of trade with Western Europe.
However, Romania is quite divided from a development point of view – on one hand there are several counties that generate a great deal of business and on the other hand, counties that seem insignificant in comparison. Take for example the Mehedinți county which had a total turnover in 2018 of LEI 2,9 mld. – contrarily, in Ilfov county there are five companies that individually have a turnover bigger than that of all the companies in Mehedinți.
The gap is so obvious between Romanian counties that, for example, seven other counties (such as Botoșani, Vaslui, Vrancea, Covasna, Giurgiu, Teleorman and Caraș-Severin), combined, make less than one of the developed ones, be it Cluj, Prahova or Constanța.

Source: Economic development and opportunities in Romania: local business environment index (LBEI)
The most important sectors of Romania's economy in 2018 were industry (26.1%), wholesale and retail trade, transport, accommodation and food services (20.2%) and public administration, defence, education, human health and social work activities (14.5%). The biggest companies of the Romanian economy (based on the 2018 annual turnover) are OMV Petrom Marketing, Rompetrol Downstream, Kaufland Romania, British American Tobacco (Romania) Trading and Lidl Discount, which goes to show which economic sectors are more profitable in Romania.
Romania is currently particularly attractive for the IT industry as well, with quite a few guides placing Bucharest, Cluj and Iasi on the global and European map as cities of interest.
Source: Tech Cities of the Future – fDi and TNW (The Next Web)
For a synthesis of various other details about Romania, please click here.
Catching up with developed Europe
While Romania has grown a lot, there is still a lot of room for further development. Just looking at a few figures, you can see the gap between Romania and the top 3 EU economies: Germany, France and Italy, and again, between Romania and V4 (the Visegrad Group).
Life expectancy
The entire Europe is getting older and, naturally, Romania is following this trend.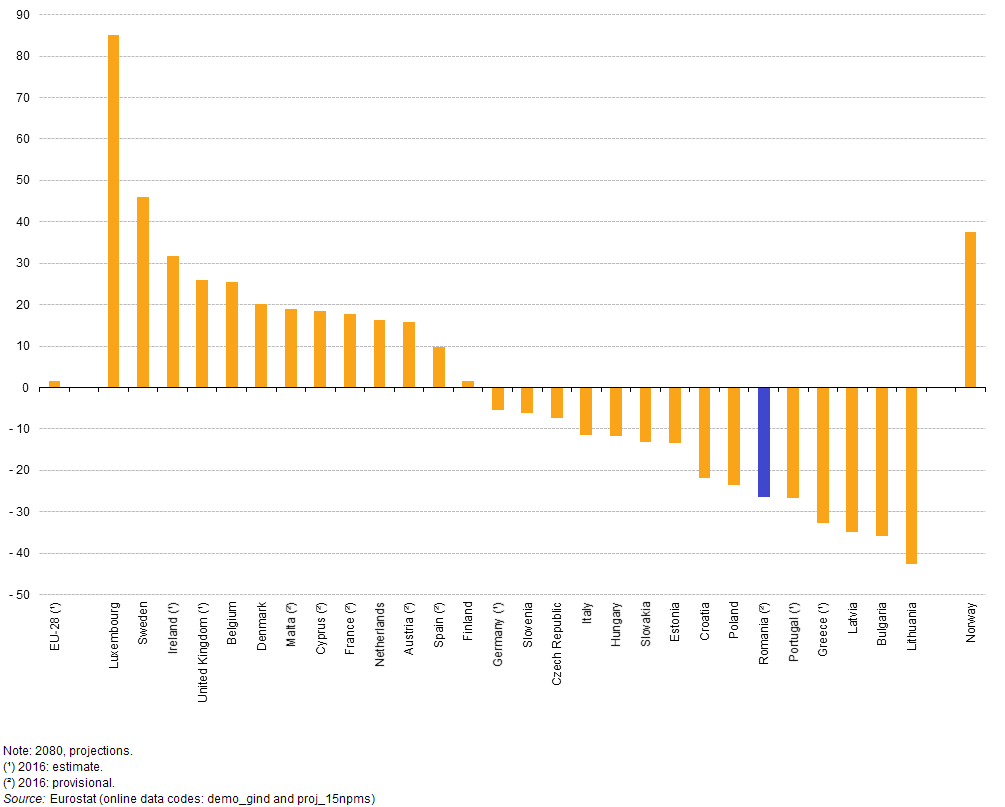 What is more, Romania is considered by the Romanian National Institute of Statistics an emigration country, as this is the second most common cause for the population decline. In 2018 alone, the number of emigrants has surpassed the number of immigrants by 57.000 individuals. Moreover, this is particularly worrisome given that young people are the ones most likely to leave Romania in the search of better opportunities in Western Europe.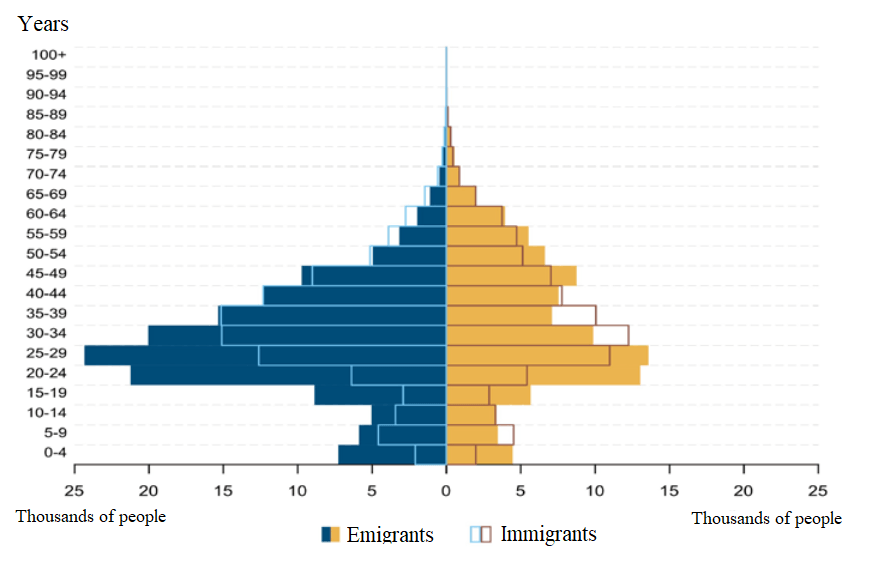 Source: INS
Life expectancy is one of the lowest in the European Union, almost 6 years below the EU Average. There are also high disparities in life expectancy by gender and education level. According to the State of Health in the EU – Romania publication5, the least educated men can expect to live about 10 years less than the most educated. Romania's life expectancy is also attributable in part to the health spending which is one of the lowest in the EU as well, both on a per capita basis (EUR 1 029, EU average EUR 2 884) and as a proportion of GDP (5 %, EU 9.8 %).
Km of highway
Even though Romania is on the 12th place in Europe by size and is the 7th largest among EU members states when it comes to population, it only has 823 kilometers of highways. This is less than Croatia and Hungary which are far smaller countries than Romania. Additionally, the highways are distributed across the country in such manner that they do no really connect regions between each other.
Source: Eurostat6
Romania only has 0,043 km of highway per 1000 inhabitants and around 3,5 km of highway per 1000 km2. In comparison, France has 18 km per 1000 km2 and Germany boasts about 36,7 km per 1000 km2. The difference between Poland and Romania is not as significant, Poland only has 5,2 km per 1000 km2. Czech Republic on the other hand has 15,8 km per 1000 km2.
Financial intermediation
According to the National Bank of Romania Financial Stability Report dated June 2019, the financial intermediation gap between Romania and the euro area remains significant, the former still recording the lowest level of the indicator in the European Union.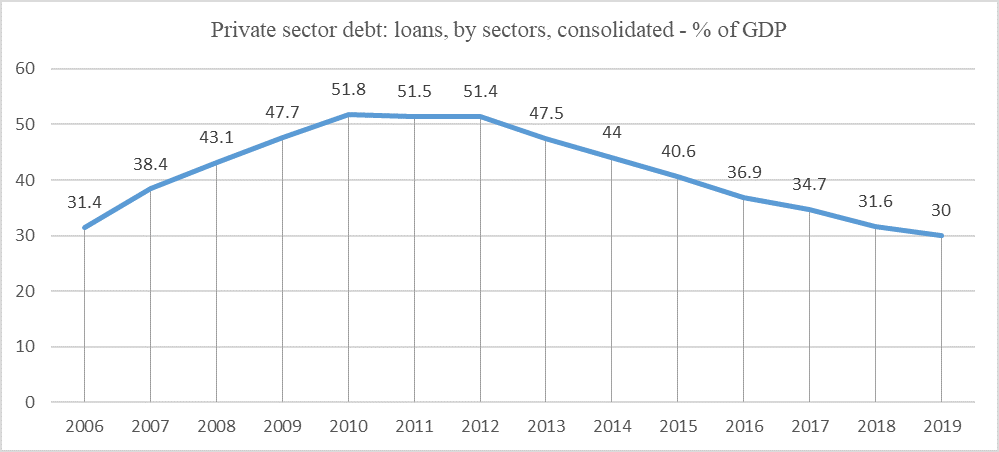 Source: Eurostat
The acute and the chronic effects of the COVID crisis
Immediate measures taken by the Romanian Government
At the onset of the crisis, there has been a massive call to action by the business community for legislative measures to preserve value and allow a smooth recovery after lockdown.
The response by the Romanian Government and the National Bank of Romania cannot be yet evaluated, and for some of the measures it may be years until we can fully understand the consequences.
In line with many other jurisdictions, measures have focused on (i) stay of proceedings and insolvency prevention, (ii) moratorium measures.
For a summary of the legislative measures taken, please click here.
Medium and long-term impact of the crisis
Economic outlook
It is difficult to make an accurate assessment with respect to the outcome of the crisis. While the Romanian Government boasts a 0.3% GDP increase in the first quarter of 2020, many commentators see a very bearish second quarter (below -10% contraction) and a year ending with a GDP decrease of -7% or lower.
Challenge areas
We have focused on 3 relationships which are particularly put at test during these times, namely those between (i) lenders and borrowers, (ii) landlords and tenants and (iii) the State and various stakeholders, including tax payers and public investment beneficiaries.
Lenders and borrowers
Commercial credit as opposed to bank debt dominates disproportionately. Romania has one of the lowest financial intermediation rates in Europe, and commercial credit, as opposed bank credit, makes up a worryingly high percentage of overall indebtedness of companies in Romania.
On the retail side, consumer credit has increased steadily along with mortgage credit during the past years, but there is a point of concern as regards sustainability and NPL risk, with raising unemployment which may surpass 10-12% in line with the expected trend at the EU level.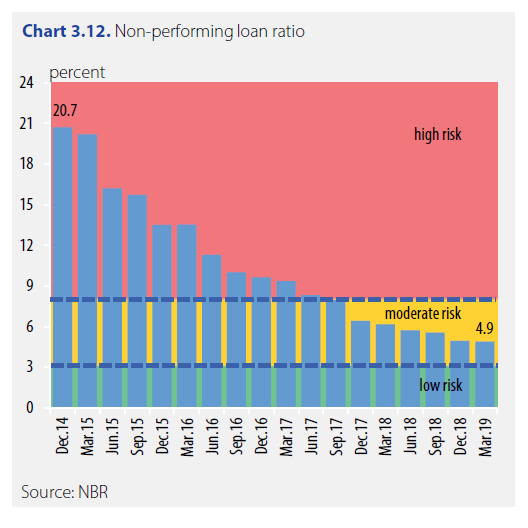 Source: ECFIN
According to the data published by the Romanian National Institute of Statistics, the unemployment rate in the first trimester of 2020 was 4,3%, increased by 0.4 percentage points compared to that recorder in the previous quarter and by 0.2 percentage points compared to the same period of the previous year.
As a response to the impending crisis, the Romanian government has promoted moratorium legislation for which companies and individuals have applied, which will be effective for most of 2020 (the legislation allows suspension of loan payment until 31 December, at the latest).
The system will come to a real test in the beginning of 2021 when all these measures will wear off, together with the fiscal relief measures taken during 2020.
Preventive restructuring versus insolvency
The Romanian banking sector has experienced in the past a very high level of NPLs (non-performing loans) and it has dealt with these by either formal processes of enforcement (mostly bankruptcies for corporate exposures) or selling them off on the market to NPL purchasers.
In dealing with distressed debt, the track record of the banking system is very much skewed towards formal insolvencies ending in a vast majority (95-98% according to most accounts) in bankruptcy liquidation. Very few companies have actually survived a distress situation.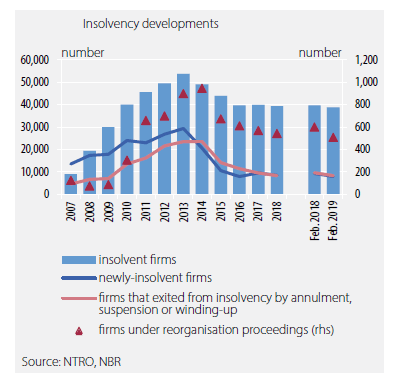 Currently, most companies facing insolvency end up in bankruptcy, successful restructurings are rare and preventative procedures rarely used.
The issuance of legislation that would create an efficient restructuring framework is one of the measures that might prevent the occurrence in many companies of a serious state of degradation, which may cause the closing or bankruptcy thereof.
In the meantime, Romania is also bound to transpose into national legislation the Directive (EU) 2019/1023 on preventive restructuring frameworks until 17 July 2021. Therefore, this is an opportunity for the Romanian legislator to implement a wide range of legislative reforms in order to improve the options available to debtors in financial difficulty.
First and foremost, the Directive recognizes that among EU member states current processes are very formal and take a very long time, without having a successful outcome in most cases. This is why the Directive mainly aims to prevent the build-up of non-performing loans, reducing the risk of loans becoming non-performing in cyclical downturns and therefore mitigating the adverse impact on the financial sector. To this end, the Directive is extremely flexible when it comes to methods of implementations.
There is a great deal of measures that the Directive proposes to member states that would greatly benefit Romanian debtors which are likely to become insolvent. The implementation of the Directive will enable debtors accessing preventive restructuring procedures to remain totally, or at least partially, in control of their assets and the day-to-day operation of their business. Furthermore, introducing protection for new financing, interim financing and other restructuring related transactions along with the stay of individual enforcement actions would greatly increase the prospects of a successful restructuring.
Landlord and tenants
The lockdown measures have put a strain on the property lease relationships. Both landlords and tenants were in full cry, calling for immediate measures in order to share the property-related costs and business risks of the COVID-19 crisis in a proportionate and measured way. As a response, the Romanian government enacted legislation with a view to provide rent payment facilities during the emergency period.
Economic operators, practitioners of the liberal professions and legal entities whose activity has been discontinued or whose incomes or revenues have decreased by at least 15% in March 2020 compared to the average of the last calendar year, in the period of application of the state of emergency, as well as individuals directly or indirectly affected during the period of application of the state of emergency, may postpone on request, without payment of interest and penalties, the payment of rent for the use of real estate registered as headquarters, workplaces or residences during the state of emergency and one month after its completion.
The payment of rents to landlords for these categories of tenants shall be made by the competent territorial tax authority, on behalf of the landlords, at the request of the tenants under certain conditions. Tenants will pay subsequently to the tax authority.
Individual taxpayers who during 2020 reduce the price for the use of the real estate, established in cash and/or in-kind, according to the contract concluded between the parties, by at least 30% compared to the price for the use of the real estate for February 2020 are exempt from rental/sublease or usufruct income tax.
Revenues from the transfer of the use of real estate obtained on the basis of lease / sublease or usufruct contracts by taxpayers paying corporate income tax as well as taxpayers paying microenterprise tax are taxable only in proportion of 80% of their value, provided the minimum reduction 20% of the lease, compared to February. This incentive is applicable for the period for which the decrease in the value of the right to use the real estate was negotiated, but not longer than December 31, 2020.
The State and tax payers
Romanian government has also enacted different types of facilities for tax payers.
One of the most important ones is that tax obligations due after 21 March 2020 and which are unpaid are not subject to late payment interest and penalties and enforcement proceedings against tax payers are suspended until 25 October 2020.
The State and public investment beneficiaries
Contrary to other economic areas, the effects of the current pandemic did not significantly impact the infrastructure projects unfolding in Romania, such as motorways and railways as well as other major projects of national and local interest.
The main reasons why infrastructure projects continued at their usual pace were: (i) the fact that the Romanian contracting authorities already have accessed the funds for such projects under the 2014-2020 European absorption funds plan and they continued to pay the contractors for the latter's works; (ii) despite the restrictions imposed under the emergency state period, the contractors have not been restricted to unfold their activities with observance of hygiene and distancing rules and (iii) the construction activities as well as transport of construction materials have been exempted from relevant restrictions during such period (this was also the case under EU).
A significant part of the infrastructure projects in Romania (those exceeding EUR 5 mill) are carried out based a public procurement contract which, at its turn, is a FIDIC based agreement. To this end, it should be outlined that Romania used entirely the FIDIC form (yellow and red) for the projects carried out until January 2018, but, as of this date, the government has enforced a specific form of the contract adapted to the Romanian market particularities.
Chronological view of the lockdown measures
Following the alarming situation in Italy, on the 26th of February 2020 the Romanian Ministry of Health issued an order that provided a 14-day quarantine for citizens returning from the affected regions.
On the 8th of March 2020, all indoor or outdoor activities involving the participation of more than 1,000 people were banned. The maximum number of participants was subsequently amended as the number of cases spiked. On the 9th of March, officials announced the cessation of flights from Italy. On the same day, all schools in Romania have been closed.
The Romanian President issued the Decree no. 195 of 16 March 2020 enacting the state of emergency for a period of 30 days. Following the Military ordinance no. 1 of 18 March 2020, all cultural, scientific, religious, sport and other activities have been suspended and cafés and restaurant can only provide take-away or drive-in services.
From the 21st of March to the 29th of March 2020, various military ordinances were issued, further strengthening the imposed fines and restrictions on movement, requiring individuals to fill in a standard form in order to leave their homes. During this period, international travel was banned and Suceava city along eight adjacent communes is the first city to have been placed under total quarantine.
On the 14th of April, the Romanian President issued Decree no. 240 which extends the state of emergency up until the 15th of May, keeping in place the restrictions imposed. On the 18th of May the state of alert is enacted and the Romanian Parliament establishes several measures through Law 55/2020 with regard to insolvency proceedings, the economic sector, public health, employment etc. During the state of alert period several relaxation measures are enacted, allowing people to travel freely in Romania. Additionally, certain international travel restrictions are lifted and restaurants, cafes and commercial centers are slowly opened.
As of 16 June 2020 the state of alert has been extended for 30 days. However, there is a constant surge in the coronavirus cases that made the Romanian leaders to reconsider imposing a state of emergency, depending of the development of the situation. It therefore remains to be seen whether we really approach a new wave which would entail a new state of emergency in Romania.
Key facts about Romania
Population: 19,414,458 (as of 1st of January 2019, according to the Romanian National Institute of Statistics)
Size: 238,397 square kilometers, approximatively the same size as the United Kingdom, place in Europe by size: 12;
Geographic location: South East Europe, bordering the Black Sea
Official language: Romanian (a latin/romance language, such as French, Spanish, Italian or Portuguese)
Capital: Bucharest, having 2,139,439 citizens (population by domicile, according to the Romanian National Institute of Statistics)
Main seaports: Constanța, Mangalia
Currency: lei (RON). Romania however undertook the obligation to adopt the euro once the nominal, legal and real convergence criteria are fulfilled. At the moment, Romania is committed to joining the euro area, targeting the year 2024. In 2019, the average exchange rate was 4.7452 RON/EURO.
Regime: Semi-presidential republic
EU Membership: EU member state since 2007
NATO Membership: NATO member since 2004
Climate: Temperate continental
Standard time: GMT + 2 hours (East European Zone Time)
Legal system: Civil law system. Contrary to a Common law system, the
Romanian legal system does not recognize case law or judicial precedents as legal sources, therefore since they do not "create law", they are not binding upon other courts.
Corporate matters in Romania
Types of companies
One alternative to conducting business in Romania is to establish a Romanian legal entity, having its own legal personality. Romanian law provides five main categories of companies, as follows:
(a) general partnership (Romanian: societate în nume colectiv);
(b) limited partnership with shares (Romanian: societate în comandită simplă);
(c) limited stock partnership (Romanian: societate în comandită pe acţiuni);
(d) joint stock company (Romanian: societate pe acţiuni); and
(e) limited liability company (Romanian: societate cu răspundere limitată).
Joint stock companies and limited liabilities companies are the most common entities established in Romania. However, between these last two, we note that the Romanian market consists mainly of limited liability companies – for reference, according to the Romanian Trade Registry, between 1st of January and 30th of April 2020 21,115 limited liability companies have been set up. Conversely, only 13 joint stock companies have been established during the same period.
Limited liability companies seem to be preferred due to the less strict requirements, both when it comes to setting up the company, as well as during the life of the company. On the contrary, joint stock companies entail a far more intricate framework and certain restrictive conditions, meaning they generally may be viewed as more trustful to a financer, for example.
Furthermore, joint stock companies are allowed to have their shares listed and they can also issue bonds in order to raise funds. However, market practice has proved that the flexibility of limited liability companies is preferred.
Incorporation process
Prior to starting its activity, a Romanian company must register with the Romanian Trade Registry Office by submitting documents such as a certificate issued by the Trade Registry Office proving the availability and reservation of the company name, the articles of association, proof of payment of the subscribed share capital etc.
Being part of the European Union means that Romania has to comply as well with the European legislation. Consequently, the Directive (EU) 2015/849 on the prevention of the use of the financial system for the purposes of money laundering or terrorist financing had to be transposed into national law, giving way to certain obligations when setting up a Romanian company. Therefore, entities that are subject to the obligation to register with the Trade Registry must submit to the relevant Trade Registry, upon incorporation, a declaration concerning the ultimate beneficial owner of the company.
The ultimate beneficial owner is considered to be any natural person(s) who ultimately owns or controls a legal entity and/or the natural person(s) on whose behalf a transaction or activity is being conducted. The criterion is considered to be fulfilled in the case of a natural person holding at least 25% + 1 of the shares within a company, or the participation in the equity of the legal entity in a percentage of over 25%.
Legal requirements
When it comes to the shareholder structure, limited liability companies may have minimum one shareholder and no more than fifty shareholders. Additionally, we note that there are certain restrictions for limited liability companies with a sole shareholders, such as: (i) a company or an individual cannot be a sole shareholder in more than one limited liability companies and (ii) a limited liability company cannot have as sole shareholder another limited liability company which, at its turn, is controlled by a sole shareholder. However, the Romanian President recently enacted a piece of legislation amending the Companies' Law which essentially repealed these prohibitions.
On the other hand, joint stock companies must have at least two shareholders, without any limitation on the maximum number.
Under Romanian law shareholders' agreements are not expressly regulated, but they are not prohibited either. Therefore, as long as they are compliant with both the law and the articles of association, shareholders may enter intro such agreements for any envisaged purpose.
The minimum share capital of limited liability companies is of RON 200 (approximately EUR 43), paid entirely upon incorporation and the minimum value of shares is required to be RON 10 (approximately EUR 2).
Joint stock companies however shall have a minimum share capital of RON 90,000 (approximately EUR 18,500) and at least 30% of the subscribed share capital shall be paid at the moment of registration of the company). The minimum value of shares has to be RON 0,1.
As for shares transfer, limited liability companies have more restrictive rules when it comes to third parties, as an approval of shareholders holding ¾ of the registered capital is required, while among existing shareholders shares may be transferred freely.
On the contrary, unless otherwise provided in the articles of association, joint stock companies' shares are freely transferable between shareholders and third parties.
Furthermore, we note that generally a company is not allowed to subscribe its own shares. However, there are certain instances where a joint stock company may acquire its own shares – certain legal requirements have to be observed nonetheless.
Dividends may be distributed after the approval of the annual financial statements of the company by its shareholders. The shareholders may decide to distribute them on quarterly basis based upon the interim financial statements.
When it comes to requirements for entering certain company transactions, we note that there are certain operations that require the approval of the general meeting of shareholders of joint stock companies (one of the most common is the acquisition, transfer or lease of assets amounting to over half of the book value of the company's assets). Additionally, the articles of association may provide such a requirement for certain transactions.
Furthermore, transactions between affiliates must be carried on at arm's length, meaning that the taxpayers are obliged to prepare a transfer pricing file.
Finally, shareholders' liability is limited to their contribution to the share capital of the respective company if such liability is derived from the normal course of business conducted by a limited liability company. Liability of the shareholders in joint stock companies is limited to the contribution to the share capital.
We draw your attention to the fact that the principle of piercing the corporate veil is expressly regulated under Romanian law, providing that hat shareholders who abuse of the limitation of their liability and the distinct personality of the company, therefore deceiving the company's creditors, will be held liable without limitation for the company's outstanding debt. Additionally, it is explicitly provided that a shareholder is considered to be abusive when the shareholder uses the company's assets as if they were his own, or when diminishing the company's assets for his own or third parties' benefit, while aware that in doing so the company is hindered in performing its obligations.
Management of companies
Limited liability companies may be managed by one or several directors, while joint stock companies may choose between two systems of management – unitary system (Board of Directors and, if decided so, a General Manager) or a two tier corporate system (Directorate and Supervision Board).
The law expressly provides for joint stock companies a prohibition with respect to extending loans to the companies' directors (or their spouses and relatives up to the forth degree). This also applies when the loans are granted to companies where these persons are directors or hold at least 20% of the subscribed share capital.
These restrictions do not apply to (i) operations with a cumulated enforceable value of which is lower than the RON equivalent of EUR 5,000; (ii) operations concluded by the company in its ordinary course of business, and where the terms of the operation are not more favourable to the abovementioned persons than those usually practicable against third parties.
Summary of the Legislative Measures
Payment moratorium
While the coronavirus pandemic took its toll on the economy, Romanian companies found themselves in financial distress, due to the obvious decrease in economic activity, being forced to make cutbacks and lay off thousands of individuals. Consequently, both companies and individuals suddenly found it difficult to comply with their payment obligations under loans and other financing instruments, as a result of the decline in proceeds and income.
As a response to this impending crisis, the Romanian Government acted in line with other EU member states, launching temporary measures with a view to giving debtors (companies, as well as individuals) some breathing space in the aftermath of the pandemic. One such measure is the legal moratorium, established by the Governmental Emergency Ordinance no. 37/2020 (GEO 37/2020).
In compliance with the EBA Guidelines on legislative and non-legislative moratoria on loan repayments applied in the light of the COVID-19 crisis, GEO 37/2020 essentially provides that credit institutions and non-bank financial institutions are required to grant borrowers, impacted by the coronavirus pandemic, a payment relief of up to 9 months, but no longer than 31 December 2020. GEO 37/2020 therefore enables debtors to obtain a stay of their obligations to pay installments, interest or fees, should they meet certain eligibility criteria. Still, when it comes to loans granted to companies, interest does accrue during the postponement period and the amount thus accrued is capitalized at the end of the suspension period, meaning that interest will apply to this increased amount of principal.
The moratorium shall apply only upon the borrowers' request and the deadline for submitting these requests was 15 June 2020. The process is also intended to be quite straightforward and not too formalistic, allowing parties to amend their financial agreements through a notification, rather than concluding further addenda.
Despite the legal moratorium launched by GEO 37/2020, Romanian banks have also launched their own support measures in the interest of debtors directly or indirectly affected by the pandemic, but it remains to be seen whether this non-legislative moratorium complies with the EBA Guidelines in order to avoid the classification of exposures under the definition of forbearance or as defaulted under distressed restructuring.
According to a press release of the Romanian Bank Association, as of 18 May 2020, Romanian banks have processed around 83% of the 317,000 legislative and non-legislative payment moratoria requests submitted by both individuals and companies.
Insolvency measures
The stay of all economic activity during the imposed lockdown dealt a blow to businesses, resulting in lower revenue (and naturally less cash flow), leading companies into financial difficulty. Past crises have shown us that market disruptions are usually followed by a significant increase in the number of corporate insolvencies (see Chart 1 for Romania's situation), which is why several EU countries have launched, during their complete lockdown period, temporary measures with respect to the insolvency obligations of companies.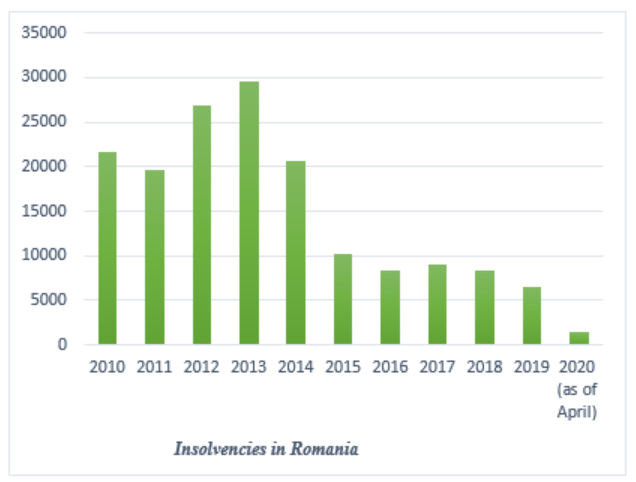 Source: Romanian National Trade Register Office
However, in Romania, during the enacted state of emergency (16 March – 15 May 2020), insolvency proceedings' situation was quite unclear, given that litigation was suspended. With no legislative measure in place, companies that found themselves in an insolvency scenario were still bound to file an insolvency claim, as failure to do so is a criminal offence for the company's directors.
Although moratoria has been launched with respect to bank loans, Romanian companies are still under pressure when it comes to insolvency, as Romania is well known for having one of the lowest level of financial intermediation in the European Union, and, at the same time, an extremely high level of supplier credit. Therefore, in view of giving viable companies a fair chance of survival, measures had to be taken.
Following the state of emergency, Romania entered into the 'state of alert' for a period of 30 days (which could be further extended up to 60 days), which meant further measures. This time, the Romanian legislator directly addressed insolvency proceedings situation through Law no. 55/2020 on some measures to prevent and combat the effects of the COVID-19 pandemic (Law on the state of alert).
Who can file an insolvency claim. The Law on the state of alert introduced a relaxation of the obligation of companies directors to file an insolvency claim, should the company be in an insolvency scenario, and therefore no criminal liability is incurred for failure to file such claim. Moreover, creditors' actions were restricted when it comes to opening insolvency proceedings for a company that has partially or totally interrupted its activity following the prevention measures enacted by authorities, as they are required to reasonably try to conclude a 'payment agreement' with debtors, prior to filing an insolvency claim.
Conditions for initiating insolvency proceedings. Prior to the Law on the state of alert, a claim for opening the insolvency procedure could be filed only if the level of the amounts owed to State budget is lower than 50% of the total declared debt of the relevant debtor. Therefore, it is obvious that an insolvency claim is highly dependent on the level of amounts owed to budgetary creditors. However, during the state of alert, this condition has been eliminated, enabling debtor with a high level of budgetary credit to enter insolvency.
Moreover, while prior to these measures, the procedure could be initiated if the company had an outstanding debt of at least RON 40,000 (approximately EUR 8,000), during the state of alert the threshold is of RON 50,000 (approximately EUR 10,300) for companies who partially or totally interrupted their activity during the state of emergency period.
Other measures. The state of alert measures also extended certain legal deadlines of the insolvency proceedings, such as for the negotiations on the arrangements with the creditors (in Romanian concordat preventiv), extending the debtor observation period, the deadline for proposing a reorganization plan, as well as extending the imposed period for the execution of the reorganization plan.
In July 2020 the Romanian legislator saw fit to implement definitively some of the insolvency which were originally intended to be in effect during the state of alert. Consequently, as of 8 July 2020, a company is considered to be insolvent if its outstanding debt is of RON 50,000. Additionally, the amounts owed to State budget does not have to be lower than 50% of the total declared debt of the relevant debtor in order to file a insolvency claim.
State guaranteed loans for SMEs – "IMM Invest"
According to a survey conducted by the Romanian National Institute of Statistics7, small and medium sized enterprises (SMEs) are expected to be the most affected by the coronavirus crisis, managers of such companies estimating that there is a risk of reducing their activity by 50% or even closing down definitively.
Given the large number of SMEs in Romania, it is obvious that measures had to be taken in order to prevent a complete economic turmoil. Consequently, the Romanian Government launched the IMM Invest platform which intends to be a support measure for SMEs affected by the COVID-19 crisis. The platform is said to have gathered (according to Romanian press) over 1,000 companies eager to obtain financing in the first hour after it went live.
Through the IMM Invest program, the Government is willing to guarantee up to 90% of the value of loans granted to SMEs by credit institutions (which are part of the program). In 2020 only, the threshold for the guarantees that can be granted within the program is of RON 30 billion.
The support under this scheme aims to help companies whose businesses were affected during the coronavirus pandemic by granting them loans with a view to covering their working capital or investment needs. The maximum value of the credits / credit lines for the financing of the working capital is of RON 5,000,000 (approximately EUR 1 million), and for the investment credits it is of RON 10,000,000 (approximately EUR 2 million). What is more, the State is also subsidizing the interest.
The maximum duration of the financing is 72 months in the case of investment loans and 36 months in the case of working capital loans / lines of credit. The credits / credit lines for the working capital can be extended by a maximum of 36 months.
According to a press statement of the Romanian Ministry of Public Finances, as of 3 June 2020, more than 2,355 companies have accessed the IMM invest funds, which amounts for a total of RON 1,85 billion (approximately EUR 380 million) already granted.
Footnotes
VUCA, as they call it in strategy parlance, describing a state of pronounced inability to take straightforward, predictable actions leading to predictable results.
https://www.zf.ro/zf-24/top-zf-1-000-cele-mai-mari-companii-din-romania-harta-de-business-a-18924834
According to an analysis by the consulting company Frames.
https://www.euro.who.int/__data/assets/pdf_file/0009/419472/Country-Health-Profile-2019-Romania.pdf?ua=1
Contributed by Valentin Voinescu, Partner in the Banking and Finance practice
Top Tier Firm Rankings
Firm Rankings