Firm Profile > Scordis, Papapetrou & Co LLC > Nicosia , Cyprus
Scordis, Papapetrou & Co LLC
Offices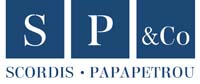 Scordis, Papapetrou & Co LLC
30 KARPENISI STREET
PO BOX 20533
1660 NICOSIA
Nicosia
Cyprus
Scordis, Papapetrou & Co LLC > The Legal 500
Rankings
Scordis, Papapetrou & Co LLC >
Firm Profile
The firm
Scordis, Papapetrou & Co was established in 1973 as a result of the merger of the practice of its founding members, Andis Scordis and Michalis Papapetrou. In 2011 the firm merged with Adamos K. Adamides & Co and in 2018 with Michaelides & Michaelides (one of the oldest law firms in Cyprus, established back in 1922 by the late Andreas G Michaelides in Famagusta).
Building on the first successful merger and the co-founding in 2012 of SPA Financial Services Ltd, a successful licensed financial services company, the latest merger further enhances the multi-faceted practice of the firms, creates synergies and joins practices, as well as lawyers and other professionals, who share a common culture and vision, a reputation for excellence and creates a firm with nearly two centuries, in the aggregate, of history, practice and expertise.
Scordis, Papapetrou & Co refers to the legal practice and the consultancy and associated services practice of Scordis, Papapetrou & Co LLC (a regulated lawyers' limited liability company, Reg. no.003), Scordis, Papapetrou & Co (Corporate Services) Ltd & Scordis, Papapetrou & Co Consultants Ltd (Malta) (regulated fiduciary – corporate services providers), JSC Scordis, Papapetrou & Co (Russia), SPA (Financial Services) Ltd (a regulated financial services company) and their affiliated businesses, each a separate legal entity and, together with other entities, each a member of Scordis, Papapetrou & Co International. In accordance with the common terminology used in professional organisations, reference to an 'office' means an office of any such member.
The firm now comprises 36 advocates and legal consultants, 16 in-house qualified professionals of related disciplines and around 55 paralegal, administrative and other personnel.
Offices in: Nicosia, Limassol, Moscow, Athens and Valletta.
Areas of practice
The firm provides a comprehensive range of services through lawyers and qualified professionals from other disciplines, with particular expertise in:
Company and commercial law matters: the firm has acted or advised on a multitude of multi-million financial transactions, most with a cross-border element, and the provision of specialised advice on a variety of corporate and commercial matters forms part of its day-to-day practice. Such matters include shareholder agreements, mergers and acquisitions, venture capital and real estate investments, joint ventures, escrow arrangements, reorganisations and other complex commercial projects.
Domestic and international litigation: apart from its long-standing strong general domestic litigation practice which includes acting on behalf of banks and other financial institutions, municipalities, public bodies, companies and individuals, the firm has established a 'beyond the borders' reputation having acted, instructed or advised in relation to international multi-million claims resulting in litigation in Cyprus, the US, UK, BVI, Switzerland, Russia, Greece or arbitration in Cyprus, London (LCIA), Zurich (ZCC), Stockholm (SCC), International Court of Arbitration (France), International Chamber of Commerce and Moscow (ICAC). The international practice includes numerous highly publicised and hotly contested litigation and arbitration cases.
Company and tax structuring, provision of corporate services: the firm is a leader in the field of company and group structuring, including tax advisory, tax planning, formation and in the establishment and organisation of structures for international investments. A wide range of services, including corporate, tax and VAT advisory, accounting, secretarial, banking support, escrow and trusteeship services, is provided by Scordis, Papapetrou & Co (Corporate Services) Ltd and other group entities through in-house tax consultants, accountants and other qualified professionals who deal with the day-to-day needs of the firm's clients.
Main Contacts
| Department | Name | Email | Telephone |
| --- | --- | --- | --- |
| Corporate | Kyriacos Scordis | | |
| Corporate | Matheos Papapetrou | | |
| Mergers and acquisitions | Kyriacos Scordis | | |
| Mergers and acquisitions | Christos Scordis | | |
| Banking and finance | Alexandros Gavrielides | | |
| Banking and finance | Penelope Papapetrou | | |
| Litigation/dispute resolution | Christos Scordis | | |
| Litigation/dispute resolution | Penelope Papapetrou | | |
| Shipping and admiralty | Matheos Papapetrou | | |
| Shipping and admiralty | Makis Chrysomilas | | |
| Tax planning | Kyriacos Scordis | | |
| Tax planning | Christos Scordis | | |
| Investment immigration | Makis Chrysomilas | | |
| Investment immigration | Christos Scordis | | |
| Trusts | Christos Scordis | | |
| Trusts | Constantinos Adamides | | |
| Estate planning and administration | Constantinos Constantinides | | |
| Immovable property | Penelope Papapetrou | | |
| Immovable property | Constantinos Adamides | | |
| Competition/european | Kyriacos Scordis | | |
| Competition/european | Alexandros Gavrielides | | |
| Labour and employment | Constantinos Constantinides | | |
| Labour and employment | Michalis Marcou | | |
| Public procurement and administrative | Alexandros Gavrielides | | |
| Public procurement and administrative | Constantinos Adamides | | |
| Stock exchange | Adamos Adamides | | |
| IT and telecommunications | Dr Michael Frendo | | |
| Intellectual property | Michalis Skoufaris | | |
Staff Figures
Number of lawyers : 26 at this office : 18
Languages
English Greek Russian
Other
Other offices : Athens Other offices : Limassol Other offices : Moscow Other offices : Valletta
Top Tier Firm Rankings
Firm Rankings