Firm Profile > Werksmans Attorneys > Johannesburg, South Africa
Werksmans Attorneys
Offices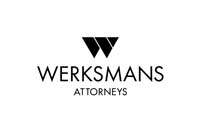 Werksmans Attorneys
THE CENTRAL, 96 RIVONIA ROAD
SANDTON
JOHANNESBURG 2196
South Africa
Werksmans Attorneys > The Legal 500
Rankings
Werksmans Attorneys >
Firm Profile
The firm
Established in the early 1900s, Werksmans Attorneys is a leading South African corporate and commercial law firm, serving multinationals, listed companies, financial institutions, entrepreneurs and government.
Operating in Gauteng and the Western Cape, the firm is connected to an extensive African legal alliance through LEX Africa. LEX Africa was established in 1993 as the first and largest African legal alliance and offers huge potential for Werksmans' clients seeking to do business on the continent by providing a gateway to Africa.
Areas of practice
With a formidable track record in mergers and acquisitions, banking and finance, and commercial litigation and dispute resolution, Werksmans is distinguished by the people, clients and work that it attracts and retains. Werksmans' more than 200 lawyers are a powerful team of independent-minded individuals who share a common service ethos. The firm's success is built on a solid foundation of insightful and innovative deal structuring and legal advice, a keen ability to understand business and economic imperatives and a strong focus on achieving the best legal outcome for clients.
Go to www.werksmans.com for more information.
Main Contacts
| Department | Name | Email | Telephone |
| --- | --- | --- | --- |
| Head of Banking & Finance | Richard Roothman | rroothman@werksmans.com | +27 11 535 8115 |
| Head of Insolvency, Business Rescue and Restructuring | Eric Levenstein | elevenstein@werksmans.com | +27 11 535 8237 |
| Director, Insolvency, Business Rescue & Restructuring | Rael Gootkin | rgootkin@werksmans.com | +27 21 405 5236 |
| Head of Competition | Paul Coetser | pcoetser@werksmans.com | +27 11 535 8290 |
| Head of Labour & Employment | Anastasia Vatalidis | avatalidis@werksmans.com | +27 11 535 8472 |
| Director, Labour & Employment | Jacques van Wyk | jvanwyk@werksmans.com | +27 21 405 5142 |
| Director, Environmental | Justin Truter | jtruter@werksmans.com | +27 21 809 6143 |
| Head of Business Crimes & Investigations | Bernard Hotz | bhotz@werksmans.com | +27 11 535 8106 |
| Head of Healthcare and Life Sciences | Neil Kirby | nkirby@werksmans.com | +27 11 535 8198 |
| Head of Investment Funds & Private Equity | Shayne Krige | skrige@werksmans.com | +27 21 405 5161 |
| Head of Litigation and Dispute Resolution | Corlett Manaka | cmanaka@werksmans.com | +27 11 535 8145 |
| Chairman, Litigation and Dispute Resolution | David Hertz | dhertz@werksmans.com | +27 11 535 8283 |
| Head of Construction & Engineering | Jason Smit | jasonsmit@werksmans.com | +27 (0)11 535 8359 |
| Director, Corporate M&A | Kevin Trudgeon | ktrudgeon@werksmans.com | +27 11 535 8169 |
| Head of Corporate M&A | Gerhard Johannes | gjohannes@werksmans.com | +27 11 535 8107 |
| Head of Mining, Environmental & Resources | Chris Stevens | cstevens@werksmans.com | +27 11 535 8467 |
| Director, Construction & Engineering, Corporate Mergers & Acquisitions, Infrastructure, Energy & Projects | Dave Walker | dwalker@werksmans.com | +27 21 809 6158 |
| Head of Property & Real Estate (Johannesburg) | Fatima Rodrigues | frodrigues@werksmans.com | +27 11 535 8318 |
| Head of Property & Real Estate (Western Cape) | Hendrik Kotze | hkotze@werksmans.com | +27 21 910 9018 |
| Head of Tax | Ernest Mazansky | emazansky@werksmans.com | +27 11 535 8448 |
| Banking & Finance, Corporate Mergers & Acquisitions | Danny Andropoulos | dandropoulos@werksmans.com | +27 11 535 8248 |
| Banking & Finance, Corporate Mergers & Acquisitions | Paul Tindle | ptindle@werksmans.com | +27 11 535 8311 |
| Head of Arbitration | Des Williams | dwilliams@werksmans.com | +27 11 535 8234 |
Staff Figures
Number of lawyers : 213 Number of lawyers at all 3 WC offices : 62
Languages
English Afrikaans French Chinese
Memberships
The Lex Africa Alliance
Other
Other offices : Sandton Other offices : Stellenbosch Other offices : Tyger Valley
Client Testimonials
TESTIMONIAL: "Excellent. The partners are very engaged and they don't waste time and money on unnecessary processes and drafting.
---
TESTIMONIAL: "Their work ethic is phenomenal, they have an eye for detail and their work is marked by excellence."
---
TESTIMONIAL: "This is just a short note to tell you about the positive experience that I had with the team from Werksmans that worked on the Liquid deal with MTN.

It was a long road with many obstacles and some hair raising issues that needed to be resolved. Suffice to say that I sincerely appreciate the efforts of the Werksmans team that worked on this.

You could throw just about anything at them and they would come through for MTN. That says a lot about the team, the work ethic, knowledge, experience and just good common sense that they exhibited. So to the team a major thank you from me and to you (David, Chairman, Werksmans) as well that create the environment where they want to do this for a client.

May 2019 bring about a few more occasions for such teamwork. "
Interviews
David Hertz, Chairman, Werksmans Attorneys
What do you see as the main points that differentiate Werksmans Attorneys from your competitors?
Our strategy and market differentiators remain:
1) Independence
2) Size
3) LEX Africa (our networks)
4) Specialist work
5) Relationships on all levels with clients and staff – our people remain our greatest asset.
Which practices do you see growing in the next 12 months? What are the drivers behind that?
The three practice groups that Werksmans envisages growing over the next 12 months are:
Corporate and debt restructuring;
Tax; and
Business crimes and Investigations.
The negative economic position within South Africa is likely to persist, at least in the short term. As more and more corporates are placed under pressure, there will be an escalating need to restructure their businesses and address their mounting debt.
With the slowdown in economic growth the fiscus is making more aggressive demands for payment of tax and that area of Werksmans' practice, which has experienced exponential growth, envisages that the growth will continue. We are also advising an increasing number of high net-worth individuals in relation to the structuring of their personal affairs and corporates, their business affairs which is contributing to this growth.
With the endemic corruption that has plagued the country and the desire to eradicate it, there has been an ever increasing demand for the services offered by our Business Crimes and Investigations practice group.
What's the main change you've made in the firm that will benefit clients?
The most recent viable metric is our key client programme. This focused programme extends across the firm and provides us with the ideal platform to regularly engage with clients in order to facilitate measured improvement and client growth.
As is set out above, Werksmans' size is regarded as one of its key differentiating metrics. A quality service is delivered by a focused team of individuals who are the leaders in their chosen fields.
Is technology changing the way you interact with your clients, and the services you can provide them?
Yes, we look inside-out for (revenue) growth e.g. operational efficiencies and growing talent organically.  Our focus remains being able to offer clients cost effectiveness and predictability based on continuous service delivery improvements and adoption of new technologies.  Having the constant dialogue with our clients ensures we keep our services relevant to their business agendas and immediate business needs.
For our staff, we constantly keep looking for ways to re-engineer certain processes to help lawyers become more efficient and technically astute.  We also encourage our lawyers to maintain and grow their levels of digital knowledge so that we continue to thrive in the future digital world.
Werksmans is in the process of adopting AI technology which will enable us to enhance the cost effective nature of the services we provide.
Can you give us a practical example of how you have helped a client to add value to their business?
By building relationships with our clients we gain an understanding at the coalface as it were as to their business imperatives and are therefore able to partner with them in addressing their requirements as opposed to merely being a service provider.
Are clients looking for stability and strategic direction from their law firms – where do you see the firm in three years' time?
As the first demographically representative major South African legal firm. Werksmans has lead the way in identifying trends within the market and as a thought leader is in a position to guide clients' as opposed to react to their needs.
Top Tier Firm Rankings
Firm Rankings