Firm Profile > Duncan Lewis Solicitors > Harrow, England
Duncan Lewis Solicitors
Offices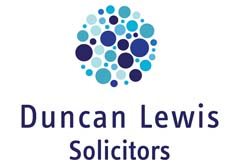 Duncan Lewis Solicitors
SPENCER HOUSE
29 GROVE HILL ROAD
HARROW ON THE HILL
HA1 3BN
England
Duncan Lewis Solicitors > The Legal 500
Rankings
Duncan Lewis Solicitors >
Firm Profile
Duncan Lewis Solicitors, established in 1998, serves both corporate entities and private individuals from a number of offices across England and Wales. Employing over 600 personnel, Duncan Lewis is accredited with the Investors in People Gold Accreditation Quality Standard Mark, and one of the first to achieve the Law Society's Lexcel accreditation in 1999, which they have since retained.
Duncan Lewis practices in over 25 areas of law and as the largest legal aid practice in the UK, 70% of the firm's client base is publicly funded. They hold 11 franchises in: actions against public authorities, child care, clinical (medical) negligence, community care, crime, family, housing, immigration, mental capacity/court of protection, mental health, public law and welfare benefits. Serving publicly and privately funded individuals and corporate entities, Duncan Lewis is committed to providing a reliable and practical legal service to ensure access to justice for all.
The firm is dedicated to excellence in staff training and development and they are permitted by the Law Society to offer close to 100 training contracts in any given training period. They take pride in their commitment to equality, diversity and inclusion; currently 60% of the firm's staff are from an ethnic minority and its workforce speak over 50 languages; ensuring their staff are able to best serve the clients and communities they assist.
Type of work undertaken:
Immigration, Public Law, Civil Liberties and Human Rights: The Duncan Lewis public law department carries out both publicly and privately funded work, representing in immigration and asylum, regulatory fitness to practice, environment and planning cases. The department has a niche specialism in immigration claimant judicial review matters and costs litigation; unlawful immigration detention cases with high-net claims for damages; immigration removal cases; prison law claimant; and the provision of social welfare services.
The department also expertly represent vulnerable clients/victims of torture or trafficking in immigration detention-related matters. The department also have a high level of experience assisting with asylum applications, in-country asylum and appeals, and experience in all aspects of judicial review claimant work, including obtaining emergency orders and other interim relief to prevent breaches of human rights; following up judicial reviews with actions for damages in both the County and High Courts; and successfully pursuing judicial review matters to the Court of Appeal and Supreme Court.
Court of Protection: Duncan Lewis' dedicated Court of Protection team offer sensitive and in-depth assistance with the preparation of deputyship applications, preparing powers of attorney, the health and welfare of an individual lacking capacity, financial issues, and disputes both domestic and international relating to powers of attorney and deputyship applications.
Business Immigration: As one of the UK's leading immigration firms, Duncan Lewis offers assistance in numerous business immigration matters including the right to work in the UK; Tier-2 visa applications and appeals; student and graduate visas; spousal visas; and visa overstays. Their specialist business immigration solicitors will advise businesses and individuals on any changes to UK immigration law during Brexit negotiations and following the UK's departure from the EU. They offer a full service to SME business clients on all aspects of the Points-Based System (PBS), sponsorship licence applications, and immigration strategy/compliance advice.
Family, Matrimonial and Child Care: The Duncan Lewis family and child care department consists of a number of solicitors who have achieved the Law Society's Children Law and Family Law Advanced accreditations, and specialises in all aspects of family and both private and public children law matters. The department holds a niche practice in representing victims of domestic abuse and has experience in handling complex divorce and financial matrimonial matters relating to the breakdown of marriages or relationships. They also have an established Islamic and Sharia Law department which specialises in Islamic divorce, Islamic financial settlement and mehr claims under English Law.
Children / Public Law Matters: The team has a broad practice representing parents, guardians, family members and children through guardians in children public law proceedings. They conduct cases on behalf of the official solicitor and are regularly appointed to represent babies and young children. The department has extensive experience representing very vulnerable clients in matters involving parents with mental health issues; young children in care proceedings that involve severe non-accidental injuries; sexual, physical and emotional abuse; drug and alcohol misuse; neglect; factitious illness and rare illness. As a direct result of the team's diversity they are regularly appointed by guardians to represent children in culturally complex care cases.
Children / Cross-border disputes: The firm conducts high-profile international child abduction cases and engages in wardship proceedings for the return of children taken out of the jurisdiction as well as cross-border care proceedings. It is one of only a small number of firms that are on the International Child Abduction and Contact Unit (ICACU) referral list.
Housing: The housing department represents both landlords and tenants and has niche expertise in possession, disrepair, and unlawful eviction cases. It also has a significant presence in County Court possession duty schemes throughout London, enabling them to specialise in defending social tenants in possession and unlawful eviction cases. They offer representation in all proceedings including reviews, appeals and judicial review proceedings relating to homelessness, succession for tenants, and neighbourhood disputes against local authorities.
Criminal Defence: Majority of the solicitors within the firm's crime department are police station representatives, and a large number are highly experienced higher court advocates who have experience in providing advocacy in serious matters, including murder and rape. The department has a significant practice defending clients in serious and complex criminal cases, particularly gang-related crime, including drug importations. They also have expertise in representing clients that have significant mental health problems in insanity defence cases.
In addition, the firm has established practices in motoring law, prison law, and actions against public authorities, and are able to advise on appealing a conviction or sentence.
Commercial Litigation and Dispute Resolution: Duncan Lewis has acknowledged expertise in advising corporate clients on litigation matters, as well as advising private individuals in cases where litigation is an option. The litigation and dispute resolution team provide clear and concise legal advice to resolve commercial disputes for both clients based in the UK, and international businesses. The team works with clients to create a goal focused vision, prepare strategies and successfully execute solutions to deal with a dispute either by ADR or Court Litigation, whilst minimising cost and risk.
Clinical (medical) Negligence:  The clinical (medical) negligence team has significant experience acting in an array of claims, varying from accident and emergency failures and GP negligence claims, to misdiagnosis and wrongful death claims. They also act for individuals who have suffered profound and permanent brain, spinal, or neurological injuries and associated disabilities as a consequence of failings in medical care by both the NHS and private hospitals.
Personal Injury: Duncan Lewis' personal injury practice has extensive experience representing clients who have sustained injuries as a result of a range of accidents, including accidents at work, road traffic accidents, accidents suffered abroad, children's accidents and many more. A particular focus of the practice is acting in claims on behalf of victims of fatal injuries. Other broad specialist areas include claims against local authorities for slips and trips in public spaces; occupiers' liability; and asbestos related illnesses.
Other areas of law covered: Business Crime/Investigation; Charity; Commercial Property Services; Community Care; Debt and Insolvency; Education Law; Employment; Mental Capacity; Mental Health; Regulatory and Compliance Law; Welfare Benefits; Wills, Probate and Tax.
Notable Cases:
Supreme Court success in the immigration nationality case of Hysaj & Ors, R which significantly changed the case law on deprivation and nullity of British Citizenship under the British Nationality Act 1981.
In a judicial review against the Lord Chancellor, Duncan Lewis has successfully challenged the blanket refusal to provide legal aid funding for judicial reviews where permission was refused on the papers. The result will assist legal aid providers representing some of the most vulnerable in society and should in turn enhance access to justice.
The firm are the successful claimant in a claim for judicial review of the Legal Aid Agency's refusal to backdate legal aid certificates. Their contention in the litigation is that the Legal Aid Agency and Lord Chancellor have failed to recognise that the legal aid regulations must contain an implied power to backdate certificates, or are ultra vires. In response to that claim, the Government has agreed, in open correspondence, to amend the Civil Legal Aid (Procedure) Regulations 2012 to expressly allow for legal aid certificates to be backdated to the date of application for legal aid.
In June 2019, clients NN and LP have settled their claims with the SSHD conceded that their policy – which allows identified victims of trafficking to receive support for only 45 days following a conclusive grounds decision – is unlawful and incompatible with the European Convention on Human Trafficking (ECAT).
Acted in the 2017 immigration Court of Appeal matter of LC (Albania) which led to the Home Office to acknowledge that out of date country guidance evidence had been relied on in error by the Home Office and Courts for over 5 years to dismiss domestic violence, trafficking and sexual identity related asylum claims from Albania.
In July 2017, acted in a Libya country guidance case that successfully challenged removals to Libya, based on the lack of state protection for civilians. It became an authoritative precedent that anyone from Libya, regardless of the region they are to be returned to, would be at risk of return contrary to international and EU law.
Acted in a lead immigration judicial review challenge that led to the High Court ruling that the 'Fast Track Procedure Rules' used by the Home Office to consider asylum cases until 2014 were unlawful. The case has enabled more than 10,000 asylum seekers to potentially request to have their cases reconsidered.
Represented torture victims in an unlawful detention claim that successfully challenged the Home Office's "Adults at risk in immigration detention policy". Consequently, the High Court declared the Government's immigration detention policy for torture victims to be unlawful as it wrongly allowed many who had been recognised as tortured overseas by 'non state actors' to still be detained. The Home Office was ordered to review its policy on incarcerated torture survivors and release those unlawfully detained as a result.
Acted in an immigration detention case where the Home Office was found to have acted unlawfully by locking up a Kenyan asylum seeker in segregation, in a so-called "punishment room" for too long. Despite several thousand people being placed in immigration detention segregation every year by the Home Office, this case was reported to be the first challenge regarding the use of segregation in immigration detention centres.
Advising two unions, the Locum Doctors Union (LDU) and Healthcare Professionals Union (HPU) in relation to allegations that NHS Improvement (NHSI) continues to instruct NHS Trusts, contrary to its own guidance, to apply a blanket determination that all locum doctors and nurses are inside IR35 so that National Insurance and Tax had to be deducted at source.
Represented the M, in a case concerning her four children. M, worked as a secretary for the X High Commission. The family entered the UK with diplomatic rights and privileges prior to M leaving that employment. There were two key issues in the case; the first concerned the court's jurisdiction to make final care orders in respect of the children if those children continued to have diplomatic immunity. The second consisted of classic welfare issues in children public law proceedings which require threshold criteria to be satisfied. Following intensive legal work, the court further concluded it is in the best interests of the children to return to the care of M following a period of rehabilitation managed by the Local Authority.
Acted for the tenant in the 2016 landmark Court of Appeal social housing case of Cardiff County Council v Lee (Flowers). The case changed the law, confirming that all landlords, whether social or private, are required to seek the permission of the County Court in order to obtain a warrant of possession for breach of a suspended possession order with costs sanctions if not followed, providing an additional level of protection for tenants.
Represented the respondent in the 2015 Supreme Court case of Gohil v Gohil, a divorce financial settlement case which established the principles in relation to material non-disclosure and the basis upon which an agree financial consent order can be set aside and the case re-opened if a party has not provided full disclosure at the time of the original trial.
In 2016, represented the imprisoned convicted killer Joanna Dennehy in her claim for damages on account that her two year solitary confinement in prison breached her human rights.
Key offices across England and Wales include:
London: Barnet, Croydon, Hackney, Harrow, Shepherd's Bush
Outside London: Birmingham, Bradford, Cardiff, Kent, Leeds, Leicester, Luton, Manchester, Milton Keynes and Swansea.
Lawyer Profiles
| Photo | Name | Position | Profile |
| --- | --- | --- | --- |
| | Ms Kawther Al-Aaraji | Kawther Al-Aaraji is a solicitor in the immigration department based at Duncan… | View Profile |
| | Ms Sulaiha Ali | Sulaiha Ali is a solicitor and supervisor within the public law department… | View Profile |
| | Mr Fahad Ansari | Fahad Ansari is a consultant in the immigration and public law departments,… | View Profile |
| | Ms Tamana Aziz | Tamana is a director in the private/business immigration department at Duncan Lewis… | View Profile |
| | Ms Linda Barker | Linda is a consultant solicitor in the crime department at Duncan Lewis… | View Profile |
| | Ms Krishma Bathia | Krishma Bathia is a business immigration solicitor based in the firm's Harrow… | View Profile |
| | Mr Jamie Bell | Jamie Bell is a solicitor in the public law and immigration department… | View Profile |
| | Mr Simon Connolly | Simon Connolly is a consultant solicitor at Duncan Lewis and specialises in… | View Profile |
| | Ms Helen Cummings | Helen is a solicitor within the Court of Protection and public law… | View Profile |
| | Mr Nicholas De Freitas | Nicholas De Freitas is a director in the criminal defence department at… | View Profile |
| | Ms Sobashni De Silva | Sobashni is a director in the litigation department at Duncan Lewis Solicitors.… | View Profile |
| | Ms Zofia Duszynska | Zofia Duszynska is a director in the immigration department at Duncan Lewis… | View Profile |
| | Ms Vilash Gami | Vilash Gami is solicitor in the immigration department based at Duncan Lewis… | View Profile |
| | Mr Laurence Grant | Laurence Grant is a consultant solicitor at Duncan Lewis' Harrow office. Laurence… | View Profile |
| | Mr Toufique Hossain | Toufique Hossain is a director of public law and immigration at Duncan… | View Profile |
| | Mr Rubin Italia | Rubin is a director in the criminal law department at Duncan Lewis… | View Profile |
| | Ms Manjinder Kaur Atwal | Housing director Manjinder Kaur Atwal has over 10 years' experience in housing… | View Profile |
| | Mr Lewis Kett | Lewis Kett is a solicitor in the public law and civil liberties… | View Profile |
| | Ms Alia Lewis | Alia Lewis is a director within the family and childcare department at… | View Profile |
| | Ms Ravi Kaur Mahey | Ravi Kaur Mahey is a solicitor-advocate and director within the family and… | View Profile |
| | Ms Jiban Miah | Jiban Miah is a solicitor in the criminal law department at Duncan… | View Profile |
| | Ms Adeeba Naseem | Adeeba Naseem is a director of family and child care at Duncan… | View Profile |
| | Mr Anthony Okumah | Anthony is a director in the civil litigation department at Duncan Lewis.… | View Profile |
| | Ms Krutika Patel | Krutika Patel is a solicitor in the immigration department based at Duncan… | View Profile |
| | Mr Alex Peebles | Alex Peebles is a director in the public law and Court of… | View Profile |
| | Ms Krisha Prathepan | Krisha Prathepan is a solicitor in the Public Law and Immigration departments… | View Profile |
| | Mr Vicash Ramkissoon | Vicash Ramkissoon is a director in the business and private immigration department… | View Profile |
| | Ms Caroline Roche | Director Caroline deals with all aspects of wills and probate including; drafting… | View Profile |
| | Ms Shilpa Sehgal | Shilpa Sehgal is a commercial litigation solicitor in Duncan Lewis' Harrow branch.… | View Profile |
| | Ms Nilma Shah | Nilma Shah is a solicitor in the personal injury, clinical negligence and… | View Profile |
| | Ms Sangita Shah | Sangita Shah has over 20 years of experience and focuses on publicly… | View Profile |
| | Ms Rebecca Thomas | Rebecca is a director of clinical negligence and personal injury at Duncan… | View Profile |
| | Mr Raja Rajeswaran Uruthiravinayagan | Raja Rajeswaran Uruthiravinayagan is a solicitor in the public law department at… | View Profile |
| | Mr Stefan Vnuk | Stefan is a solicitor in the public law department at Duncan Lewis… | View Profile |
| | Mr Sheroy Zaq | Sheroy Zaq is a solicitor and supervisor within the public law department… | View Profile |
Staff Figures
Number of UK partners : 50 Number of other UK fee-earners (including consultants) : 519
Languages
Punjabi Urdu Dutch Afrikaans Hindi Bangla Polish German Russian Lithuanian French Norwegian Turkish Bulgarian Farsi Twi (Ghanaian) Swedish Gujarati Albanian Italian Croatian Spanish Bosnian Macedonian Greek Welsh Czech Slovak Arabic Hungarian Cantonese Romanian Malay Swahili Tamil Marathi Filipino Portugese Amharic Bengali Creole Dari Pashtu Kurdish Shona Somali Telugu Yoruba
Memberships
Law Society of England and Wales Resolution CILEx Association of Lawyers for Children ELA (Employment Lawyers Association) Society of Trust and Estate Practitioners (STEP) Association of Personal Injury Lawyers (APIL)
Client Testimonials
CLIENT: Ms Bambot
COMPANY/FIRM: n/a
TESTIMONIAL: Thank you for your support and thank you for making me smile again. Your services can never be undermined. Always ready to answer my calls. Reply to my messages timely without delays. Giving me the best advice.
---
CLIENT: Ms Wood
COMPANY/FIRM: n/a
TESTIMONIAL: Fantastic service, friendly & professional staff. The solicitor made me feel at ease & explained the court process and my case in laymen's terms, very reassuring.
---
CLIENT: Mario
COMPANY/FIRM: n/a
TESTIMONIAL: Very happy with the excellent service provided by Duncan Lewis Solicitors. Very efficient manner to address unexpected issues that shows great experience and professionalism of the team. Also, during the development of the case there was always great communication through emails and phone.
---
CLIENT: Mr Deria
COMPANY/FIRM: n/a
TESTIMONIAL: I have always been pleased with the service I receive at your branch office. Hence, [my lawyer's] professionalism and enthusiasm to get to the root of the issue promptly exceeded my expectations. Just within one day, your colleague resolved the first issue in my benefit. I felt secure and handled properly. I was given the best service possible. The empathy [my lawyer] has shown towards my family is exceptional and has made be believe in the legal system in England.
---
CLIENT: Negina
COMPANY/FIRM: n/a
TESTIMONIAL: Best lawyers anyone could ever ask for. High level of professionalism. In a very short time they made sure to do whatever they could to help me and went extra mile to get me my BRP. I would highly recommend Dunce Lewis you will never be disappointed!
---
CLIENT: Mr Abdelrahman
COMPANY/FIRM: n/a
TESTIMONIAL: They are the best because there are no delays, quick response solving problems, good advice. Thank you for all your help and I am lucky to have found Duncan Lewis.
---
CLIENT: Ms Owusu
COMPANY/FIRM: n/a
TESTIMONIAL: I really appreciate what Duncan Lewis Solicitors has done for me. I recommend Duncan Lewis solicitors to everyone, that's the right place to go to solve all your problems, they're there to help everyone.
---
CLIENT: Ms Rivero
COMPANY/FIRM: n/a
TESTIMONIAL: Duncan Lewis Solicitors have been absolutely brilliant in supporting me to get my right to stay in this country. They gave me very honest advice and supported me as a friend throughout the process.
---
CLIENT: Mr Elhashmi
COMPANY/FIRM: n/a
TESTIMONIAL: As far as my experience, Duncan Lewis Solicitors is the best choice for those looking for legal aid advice. The staff are highly qualified and motivated.
---
CLIENT: Ms Singh
COMPANY/FIRM: n/a
TESTIMONIAL: I was overall treated with friendly smiles, great people, and I would recommend to all my friends if needed to as they give great legal advice brilliantly.
---
Top Tier Firm Rankings
Firm Rankings