Firm Profile > AKD > Amsterdam, Netherlands
AKD
Offices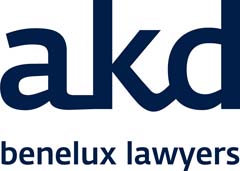 AKD
PO BOX 59280
1040 KG AMSTERDAM
Netherlands
AKD > The Legal 500
Rankings
AKD >
Firm Profile
The firm: AKD is one of the largest law firms in the Benelux. With a team of approximately 280 committed lawyers, civil law notaries and tax lawyers, AKD delivers high quality legal services and tax matters in nearly all legal fields, based on a full-service approach. The firm's client base varies from large multinational companies (whether stock-listed entities or family owned businesses) to high net worth individuals, from financial institutions to municipalities and hospitals.
Main areas of practice: Banking and finance: AKD advises on matters of national and international transactions, financial supervision regulations, and setting up investment institutions and investment vehicles.
Commercial contracting: the firm's involvement comprises the negotiation of contracts relating to the business set-up (joint ventures and alliances), the sales channel (sales, supply, license, distribution, agency and franchise) and the procurement channel (production and license).
Corporate/M&A: the firm's lawyers, civil-law notaries and tax lawyers assist clients in the acquisition and sale of enterprises, controlled auctions, private equity transactions, venture capital investments, management buy-outs, reorganisations, setting up joint ventures and raising equity and loan capital.
Corporate/structuring: the firm's lawyers, civil-law notaries and tax lawyers assist national and international clients in advising on and implementing the most efficient corporate structure and corporate governance, by combining a solid knowledge of the legal and regulatory framework with creative solutions to the requirements of the client and/or the transaction.
Dispute resolution: the firm's lawyers assist corporate clients in solving complex disputes, such as shareholders disputes, disputes with financial institutions, dispute on international) commercial contracts, cases of D&O liability, M&A claims and disputes on aborted negotiations.
Employment and pensions: the firm advises on the employment aspects of mergers and acquisitions, redundancies, reorganisations, restructuring, bonus caps, employment participation, collective bargaining agreements, strikes, international labour relations and pension law.
EU, procurement and competition: the firm's Brussels-based experts are recognised in the areas of competition law, public procurement and State aid. The firm advises in proceedings concerning these areas as well as the areas of private international law and the free movement of persons, goods, services and capital (in the EU).
Insolvency and restructuring being often appointed by the Dutch courts as receivers in complex bankruptcy cases, the firm is equipped to assist companies in financial distress with restructuring and refinancing issues, issues related to selling off secured assets as well as cases of post-bankruptcy D&O liability.
Intellectual property: AKD has dedicated specialists in all fields of intellectual property law. AKD plays an active part in combating counterfeiting through international custom seizures and has its own trademark and design prosecution department. The firm's practice group is also actively involved in professional training courses, e.g. the training course for Benelux trademark and design agents.
IT and data protection: ongoing legal developments in the ICT landscape and data protection law are becoming more and more important for internationally operating companies. AKD delivers in-depth knowledge in these fields of expertise.
Real estate and construction: the firm's expertise covers the following legal areas: procurement law, construction law, regional development, property transactions, landlord and tenant law, infrastructure, public-private partnerships, DBFMO contracts, property development and property law.
Regulatory and governmental affairs: the team are specialists in general administrative law, governmental liability, environmental law and planning and zoning. The team advises and litigate on claims, permits, expropriations, governmental tolerance policies and matters relating to nature conservation regulations and rail transport.
Tax: the firm's tax lawyers pro-actively advise clients on the Dutch, Luxembourg and international tax aspects of their activities, help them structure business activities tax-efficiently, optimise their tax position, minimize tax risks and take care of clients' tax compliance needs.
Transport and energy: AKD combines specialised knowledge of the complex legislation and regulations in this sector. The firm has a longstanding tradition of unconventional thinkers and innovators in the field of shipping, ship finance, offshore, aviation, terminals and logistics, international trade and energy.
Private client: AKD represents a wide range of closely held businesses and families focusing on the firm's clients' specific objectives. The firm serves as their counsellor enabling them to fulfil their business and personal targets. Together with their clients, the firm develops and implements clear, fair and flexible plans allowing for optimising their strategies for the preservation and transfer of their assets now and for future generations while minimising taxes.
International work: with offices in the Netherlands, Belgium and Luxembourg, AKD offers integrated, independent and international legal and tax services in stable jurisdictions. Business arrangements, financial structures and digitalisation readily transcend international boundaries. The firm's specialists look across borders and beyond the confines of their own disciplines in order to ensure seamless end-to-end service. AKD is the exclusive member firm in the Netherlands for Interlaw, the premium international association of independent law firms with lawyers in nearly 80 jurisdictions and more than 130 cities worldwide (www.interlaw.org). AKD also has an Asia Desk, German Desk, Turkish Desk and USA Desk, all of which form fully integrated teams that assist its clients in their global activities from start to finish.
Main Contacts
| Department | Name | Email | Telephone |
| --- | --- | --- | --- |
| Banking and finance | Vincent Bettonville | | |
| Corporate/M&A | Carlos Pita Cao | | |
| Dispute resolution | Patrick Haas | | |
| Employment | Pieter Huys | | |
| EU, procurement and competition | Pieter Kuypers | | |
| Environmental law | Jos van der Velden | | |
| Healthcare | Klaas Meersma | | |
| Insolvency and restructuring | Barend de Roy van Zuidewijn | | |
| Intellectual property | Martin Hemmer | | |
| Private equity | Nathalie van Woerkom | | |
| Project finance and PFI | Marc Wintgens | | |
| Real estate and construction | Marc Wintgens | | |
| Tax | Huub Laauwen | | |
| Transport and energy | Jos van der Meché | | |
| Civil law notaries | Monique Verkuilen | | |
Staff Figures
Number of lawyers : 280
Languages
Chinese Dutch English French German Italian Japanese Norwegian Portuguese Russian Spanish Swedish
Other
Contacts : Erwin Rademakers (erademakers@akd.nl) Contacts : Marc Wintgens (mwintgens@akd.nl) Other offices : Breda Other offices : Brussels Other offices : Eindhoven Other offices : Luxembourg Other offices : Rotterdam
Diversity
We believe that everyone working at AKD will only get the best out of themselves if they are allowed to be themselves. That is why we are an equal opportunity employer and are committed to providing an open, diverse, safe and inclusive environment.
AKD is a place where people, regardless of race, religion, gender, gender expression, age, national origin, disability, marital status or sexual orientation, can thrive and reach their full potential.
AKD has joined nearly 100 leading companies and 35 other law firms in subscribing to the Equal in Legal Diversity & Inclusion Statement.
AKD is also a friend of Stichting FORWARD, whose mission is to promote the acceptance, validation and visibility of LGBTQ+ within the Dutch legal profession. All of our lawyers, tax advisers, civil-law notaries and support staff have received inclusive leadership and unconscious bias training, helping to propagate diversity as part of our daily routine. After all, we believe it is the responsibility of every AKD colleague to contribute to the open, diverse, safe and inclusive working environment we provide.
Press Releases
15th June 2020
AKD has appointed six new partners in Belgium and the Netherlands. Following the appointment of three new partners in Luxembourg earlier this year, AKD thus further increases its Benelux footprint.
18th December 2018
Benelux law firm AKD expands its Brussels office by adding McGuireWoods' Brussels team, following AKD's strategy to be the first choice full-service legal and tax services provider in the Benelux. The incoming team consists of partners Hubert André-Dumont, Paul van den Bulck, Timothy Speelman, Steven Ongena, counsel Pol Cools, and four associates.
Top Tier Firm Rankings
Firm Rankings