SKW Schwarz > Hamburg, Germany > Firm Profile
SKW Schwarz
Offices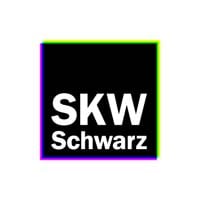 SKW Schwarz
Ludwig-Erhard-Straße 1
20459 Hamburg
Germany
SKW Schwarz > The Legal 500
Rankings
SKW Schwarz Rechtsanwälte
's media and entertainment department is able to act across several key markets as well as globally. For instance, the new esports focus group around senior associate
Moritz Mehner
was able to assist with the establishment of a world league in esports and thus with the development of new regulations and models. Furthermore, the firm offers strategic advice on the new media state treaty and in negotiations, for example related to short-time work collective agreements. In the latter area,
Mathias Schwarz
, an expert in film and television production as well as copyright and personal rights, excels in particular.
Martin Diesbach
focuses on national and international digital business models.
Norbert Klingner
heads the practice.
SKW Schwarz Rechtsanwälte
's data protection practice assists with digital transformation and cloud strategies as well as issues pertaining to the commercial and industrial use of artificial intelligence among others. Due to its close cooperation with other practice groups such as media, publishing and IP, as well as with the sector group automotive, these competencies represent a crucial part of the firm's advice offering, whereby the practice also advises clients on cyber security, data protection impact assessments and risk assessments for the development of new business models. At contentious level,
Matthias Orthwein
's group recently excelled in representing Schufa in a GDPR court case, with
Oliver Hornung
and
Franziska Ladiges
taking the lead.
Elisabeth Noltenius
 made partner in January 2021.
SKW Schwarz Rechtsanwälte
 successfully assists medium-sized companies as well as large international corporations such as Adidas, Apple and LinkedIn with digitization issues; notably, the group recently particularly often advised on digital business model development. In addition, the practice frequently acts in the mobility sector and advises, for instance, automotive companies on the procurement of vehicle software and on development cooperations, and in close cooperation with the firm's IP department also covers matters related to discontinued components of internet infrastructures. The group is also experienced in relevant regulatory matters.
Matthias Orthwein
heads the team, which also includes
Elisabeth Noltenius
, who made partner in January 2021, and
Daniel Meßmer
; the latter is particularly experienced in IT infrastructure and network protection.
As part of the firm's full digital business offering,
SKW Schwarz Rechtsanwälte
's team led by
Matthias Orthwein
advises medium-sized companies and corporations on the development and expansion of digital business models and the execution of IT projects and outsourcing projects. Through close cooperation with other practice groups, the team offers a 360-degree service which also includes representation in outsourcing disputes and advice on the commercial and industrial use of AI and virtual reality. The client base encompasses numerous clients from regulated sectors such as  banking and automotive. 
Elisabeth Noltenius
 made partner in January 2021.
SKW Schwarz Rechtsanwälte
is a particularly good choice for competition law matters in the areas IT, digital business and media. With an advisory focus on branded content, influencer marketing and eSports, practice head
Sascha Pres
and his team clearly stand out among competitors. Growth was noticeable in the medicinal cannabis, sports goods and FMCG fields. In addition to its activity in the development of protection strategies for goods and services, the group also handles disputes, increasingly in cross-border proceedings. The in-house legal tech initiative offers clients tailor-made solutions to increase the efficiency of advice.
Ulrich Hildebrandt
moved to
Hildebrandt
in January 2021, while in January 2022,
Oliver Stöckel
from
von BOETTICHER Rechtsanwälte Partnerschaftsgesellschaft mbB
, who is particularly well versed in trade mark and competition law in the pharmaceutical industry, joined the team.
SKW Schwarz Rechtsanwälte
's advice on trade mark law mirrors the firm's industry focus on the IT, digital economy, media and technology sectors. Among the key topics are e-sports, branded content, including influencer marketing, as well as medicinal cannabis and the growth area FMCG, especially pertaining to the food and cosmetics industries. The service offering also includes strategic portfolio advice and licensing agreements, including distribution matters, and the increasingly busy litigation practice. The latter primarily expanded with cross-border mandates, with additional expertise from the TerraLex network, among others. The importance of legal tech was emphasised with the founding of the SKW@Tech GmbH. Led by practice head
Sascha Pres
in Berlin, the group also includes
Margret Knitter
and
Dorothee Altenburg
in Munich, who have longstanding expertise in IP, Berlin-based
Sandra Sophia Redeker
,
Markus Brock
as well as 
Markus von Fuchs
and
Magnus Hirsch
in Frankfurt.
Ulrich Hildebrandt
joined
Hildebrandt
in January 2021.
SKW Schwarz Rechtsanwälte
's media team, headed by
Konstantin Wegner
, also fields an established press and publishing law practice whose expertise further covers the interface to IP and digital business;
Johann Heyde
regularly represents publishers on consent declarations for digital content, while counsel
Pia Sökeland
frequently assists with judicial and extrajudicial disputes pertaining to freedom of speech and privacy. The group recently advised a publisher on a high-volume matter in the pharmaceutical publishing sector, which related to the digital cooperation between Google and the Federal Ministry of Health.
In foreign trade law,
SKW Schwarz Rechtsanwälte
primarily advises on customs and export control law as well as excise law. Clients are also represented before financial courts and the ECJ, which often involve fines and criminal proceedings.
Jürgen Sparr
heads the practice and advises on the entire spectrum of foreign trade law with a particular focus on anti-dumping law and customs audits. Counsel
Sven Pohl
is well versed in customs law and excise tax law, he also conducts internal compliance reviews.
SKW Schwarz Rechtsanwälte
's expertise in commercial, distribution and logistics law includes advising on contracts, commercial agency and antitrust law as well as merger control and clients' representation in court. Innovative topics, such as trade 4.0 are also becoming increasingly more important, for example in the development of a legal tech tool for distribution companies. The practice is headed by
Oliver Korte
and
Niels Witt
, with the former being responsible for commercial and distribution law matters and the latter handling logistics. Retail companies and departments are mainly advised by
Jürgen Sparr
on project and contract-related matters and antitrust issues.
SKW Schwarz Rechtsanwälte
is experienced in corporate, commercial, finance and liability law issues and has most recently been entrusted with contentious supply chain matters and cross-border trade disputes. The firm has a longstanding focus on technology and media and thus also covers related IT and data protection disputes.
Arndt Tetzlaff
, who is experienced in mediation and arbitration, heads the group, which also includes counsel
Kerstin Aust
, who acts before state and arbitration courts, and
Oliver Korte
, who specialises in commercial and distribution law disputes.
Andreas Seidel
joined 
Schalast & Partner Rechtsanwälte
in late summer 2020.
SKW Schwarz Rechtsanwälte
's '
always very committed and very constructive
' procurement law practice has expertise across all procurement matters in relation to emergency services and civil protection. 
René Kieselmann
in Berlin heads the practice and has particularly made a name for himself with two successful ECJ cases. The team often cooperates across practices and also assists with procurement in the healthcare sector, in relation to planning and construction projects and in the IT sector.
SKW Schwarz >
Firm Profile
Ihre Herausforderungen von morgen sind unser Antrieb von heute.
SKW Schwarz ist eine unabhängige Kanzlei mit über 300 Mitarbeitenden. Wir haben über 130 Anwältinnen und Anwälte, vier Standorte und einen gemeinsamen Anspruch: Wir denken weiter. In einer Welt, in der alles in Bewegung ist, braucht es eine Rechtsberatung, die Veränderung als Chance erkennt. Die da weitermacht, wo andere aufhören. Die sich komplexen Themen ebenso leidenschaftlich widmet wie neuen Technologien, neuen Märkten und neuen Herausforderungen. Eine Rechtsberatung, die auf Partnerschaft basiert und nicht nur redet. Sondern etwas bewegt.
Obwohl wir uns intensiv mit Zukunftsthemen beschäftigen, arbeiten wir täglich mit einer Technik, die es schon sehr lange gibt: Wir hören zu. Wir analysieren und schaffen Klarheit. Wir denken voraus und finden neue Antworten. Wir versuchen das Unmögliche, um das Mögliche zu erreichen. Denn nur so können wir auch Rechtsfragen kompetent beantworten, für die es noch keine Antworten gibt. Dies erfordert Mut und eine vertrauensvolle Zusammenarbeit als Team. Nicht nur vor Ort, sondern auch mit allen Beteiligten weltweit: Als Mitglied von TerraLex sind wir eine international operierende und global vernetzte Kanzlei. Davon profitieren Sie doppelt: Sie erhalten noch mehr Kompetenz und können sich darauf verlassen, dass wir Ihre Interessen überall dort vertreten, wo es erforderlich ist. Schnell, konsequent und erfolgreich. Wir nennen das: Vernetztes Handeln für nachhaltige Ergebnisse. Unsere Mandanten nennen es: Typisch SKW Schwarz!
Als Full-Service-Kanzlei beraten wir in allen relevanten Gebieten des Wirtschaftsrechts. Auch in einem Bereich, der für Unternehmen besonders wichtig ist: der Zukunft. Deshalb arbeiten wir schon heute in den wesentlichen Rechtsbereichen von morgen. Digitaler Wandel, disruptive Technologien und innovative Geschäftsmodelle verändern alles. Die juristischen Fragen, die hier täglich neu entstehen, sind unsere Leidenschaft. Dabei sind wir in den Bereichen IT & Digital Business, Intellectual Property sowie Medien und Entertainment besonders stark. Über Digitalisierung reden wir übrigens nicht nur, sondern leben sie. Deshalb haben wir einen eigenen Legal Tech Bereich aufgebaut und unsere Aktivitäten seit 2018 konsequent weiterentwickelt, um Prozesse zu vereinfachen, neue Lösungen anzubieten und kosteneffizienter zu arbeiten.
Sie finden SKW Schwarz nicht nur in Berlin, Frankfurt am Main, Hamburg und München, sondern auch in der internationalen Fachpresse. Zum Beispiel in der Handelsblatt-Liste Deutschlands Beste Anwälte 2020 oder im JUVE-Ranking Top50 2020. Obwohl uns diese Bewertungen freuen und motivieren, gibt es etwas, das uns noch wichtiger ist: Ihre Meinung. Denn wir wissen, dass man Vertrauen nicht gewinnen kann. Man muss es sich erarbeiten.
Staff Figures
Anzahl der Anwälte und Anwältinnen : 120 Anzahl der Partner und Partnerinnen : 70
Languages
German English
Memberships
TerraLex
Press Releases
25th November 2021
SKW Schwarz advised the French-listed Bilendi Group, a leading European market research technology and data company, on its acquisition of German panel provider Respondi.