Firm Profile > GÖRG Partnerschaft von Rechtsanwälten mbB > Cologne, Germany
GÖRG Partnerschaft von Rechtsanwälten mbB
Offices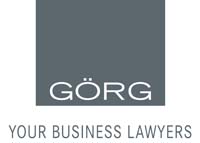 GÖRG Partnerschaft von Rechtsanwälten mbB
KENNEDYPLATZ 2
50679 COLOGNE
Germany
GÖRG Partnerschaft von Rechtsanwälten mbB > The Legal 500
Rankings
GÖRG Partnerschaft von Rechtsanwälten mbB >
Firm Profile
The firm: GÖRG is one of Germany's leading independent business law firms.
With 300 lawyers and tax advisors in total, GÖRG advises well-known domestic and foreign businesses from all areas of industry, banking, real estate, trade, media and services on all core areas of business law. GÖRG achieves top rankings and client references for its work in corporate law, real estate and insolvency/restructuring, among other fields. All teams have proven expertise with transactions and project development.
With five offices throughout Germany, clients are guaranteed local and personal advice – no matter where they are. In addition, the partner-oriented approach means that a fully informed contact person is available at all times. Tailor-made solutions are what clients expect from GÖRG – and what they get. The partners are involved in every single assignment, applying a wealth of experience to develop unique solutions that also succeed where more conventional thinking reaches its limits. The matters clients retain GÖRG for cover all aspects of business law. To meet this challenge the firm has created distinct practice groups with experienced specialists in each particular field.
Close cooperation between groups of experts across different offices allows GÖRG to offer a unique combination of specialist skills and teamwork that characterises the high quality of its work. The firm is always committed to its clients' success and its accumulated knowledge can be accessed by the individual lawyer and the team alike. Since many of the firm's projects have an international element, GÖRG regularly teams up with leading law firms in other countries, with whom GÖRG has developed strong links. A further advantage of GÖRG'S independent status is the fact that it can precisely deliver the right kind of international expertise that is needed for the case at hand.
Areas of practice: GÖRG's core specialisations include: Antitrust Law, Auditing & Consulting, Banking & Banking Supervision Law, Finance Commercial & Distribution Law, Compliance & Internal Investigations, Corporate Law, Data Protection, Energy Law, Health Law, Insolvency & Restructuring, Insolvency Administration, Insurance Law, Intellectual Property, Investment Law & Regulatory Requirements, IT & Outsourcing, Labour & Employment, Litigation & Arbitration, Mergers & Acquisitions, Notarial Services, Private Equity, Venture Capital, Public Law & Procurement, Real Estate Law, Stock Corporation & Capital Markets Law, Tax Law & Tax Advice.
Staff Figures
Number of lawyers : 300
Languages
Afrikaans Albanian Arabic Chinese Croatian Czech Dutch English German Farsi French Greek Italian Japanese Persian Polish Portugese Russian Serbo-Croatian Spanish Swedish Turkish
Other
Management : Dr. Jens-Dietrich Mitzlaff Management : Dr. Marcus Richter Management : Dr. Christian Wolf
Client Testimonials
CLIENT: Senvion Group
COMPANY/FIRM: Senvion Group
TESTIMONIAL: Following restructuring of the international company in the wind energy sector in 2019, GÖRG successfully advised on the sale of Senvion's European onshore service business to Siemens Gamesa.
---
CLIENT: SCP Group S.à r.l.
COMPANY/FIRM: SCP Group S.à r.l.
TESTIMONIAL: Advising SCP Group S.à r.l. on the acquisition of the supermarket chain real from Metro AG. After a selling process of almost two years, SCP takes over the total of 276 real stores with around 34,000 employees and 80 properties as well as all companies belonging to real. The closing was successfully completed on June 25, 2020.
---
CLIENT: Fraport AG
COMPANY/FIRM: Fraport AG
TESTIMONIAL: Advising on procuring green-sourced electricity for the operation of Frankfurt Airport in order to implement the airport operator's climate protection targets. The procurement process will be undertaken by way of competitive bidding in a so-called "negotiated procedure". GÖRG advises primarily on the structuring of the procurement process in compliance with applicable laws and supported its procurement counsel with specific energy industry expertise.
---
CLIENT: paydirekt GmbH
COMPANY/FIRM: paydirekt GmbH
TESTIMONIAL: Advising paydirekt GmbH on the acquisition of giropay. In the future paydirekt GmbH will also provide the online payment procedure giropay and will take over all relevant parts of the giropay GmbH. The German banks and savings banks are thus combining their two account-based online payment methods. As a payment method in German e-commerce, giropay currently processes over one million transactions per month in a wide variety of industries.
---
CLIENT: BONITA GmbH
COMPANY/FIRM: BONITA GmbH
TESTIMONIAL: Advising on the successful conclusion of an investor process. The company's creditors' committee unanimously approved the management buy-out by an investor group of industry experts. The parties have agreed to maintain confidentiality regarding the contractual details of the transaction. In June, the fashion brand BONITA, founded in 1969, had had to apply for a protective shielding procedure at Hamburg Local Court due to the loss of sales caused by the Corona crisis. Since then, the BONITA management has been supported by experienced GÖRG reorganisation experts Dr. Thorsten Bieg and Prof. Dr. Gerrit Hölzle as well as attorney Detlef Specovius (law firm Schultze & Braun) in the course of the court reorganisation proceedings.
---
CLIENT: MK-Kliniken AG
COMPANY/FIRM: MK-Kliniken AG
TESTIMONIAL: Advising MK-Kliniken on the sale of 19 nursing homes to the French investor Icade Healthcare Europe.
International Capabilities
INTERNATIONAL 
Modern businesses and globalisation go hand in hand. As one of Germany's leading independent business law firms, GÖRG has a consistent international orientation and offers you a structure that guarantees professional, comprehensive cross-border legal advice in all sectors that are relevant for you. 
A network of independent law firms 
We maintain close relationships with international firms that are leaders in their respective jurisdictions. With this established international network of independent law firms, we are able to put together a cross-border team of specialists at any time that is tailored to your needs. 
GÖRG is independent, which means that we are not bound to specific partner firms. For this reason, we also collaborate as partners with any other firm of your preference in order to achieve your goals.  
GÖRG brings together colleagues from all over the world. Colleagues with 30 different nationalities, speaking over 20 languages, work with us. We use the unique blend of experience, skills and personalities from our multicultural team to find the ideal solution for each client. 
Dutch Desk 
The intense cross-border exchange between German and Dutch business partners creates a great need for qualified consulting in both legal systems. Our team of Dutch-speaking lawyers provides comprehensive advice on German-Dutch commercial law. In cooperation with our established network of Dutch law firms, we offer full-service consultation from a single source. 
China Desk 
With more than ten years experience, our China Desk offers the optimal structures and required expertise to ensure that you have comprehensive, cross-border and competent legal advice on all relevant topics. In this dynamically developing region, we, as an independent law firm, maintain close relationships with leading international practices, which can be integrated if required, naturally after consultation with you, so that we can successfully complete your project together. 
Diversity
DIVERSITY
At GÖRG, cultural diversity is a matter of course for us. Our five offices bring together colleagues from all over the world. Currently 30 different nationalities work with us. We use the unique blend of experience, skills and personalities from our multicultural team to find the ideal solution for each client. In order for each team member to develop optimally, GÖRG strives to create a working environment in which everyone feels welcome – regardless of origin, religious beliefs or sexual orientation.
GÖRG has also signed the "Charta der Vielfalt" – a corporate initiative to promote diversity in companies and institutions. The core of the initiative is the promotion and appreciation of all employees regardless of gender, nationality, ethnic origin, religion or ideology, disability, age, sexual orientation and identity. By signing the "Charta der Vielfalt", GÖRG officially commits itself to a business culture based on recognition and appreciation of diversity.
EQUAL OPPORTUNITIES
GÖRG understands itself to be a team that is jointly responsible for the success of its five offices. To promote this, we feel it is important to invest in the personal and professional development of our colleagues. Our "GÖRG Academy" offers all team members the chance to refine their skills. We support in particular women with tailor-made seminars and further training and encourage them in their career planning.
GÖRG appreciates equal opportunities for all and social interaction. For this reason GÖRG is sponsor of the Cologne "Day of Encounter" [official German title: "Tag der Begegnung"] which has developed into the largest family festival for people with and without disabilities in Germany. It is also the only festival of its kind in Europe and gives an insight into how inclusion is made alive in society. People celebrate together for a better social interaction.
PRO BONO
Social responsibility and justice are the two main pillars on which our understanding of community is based on. In light of this, our lawyers regularly offer their services pro bono to social non profit making institutions in dire need of judicial advice. We strive to act as role models within our profession and have a positive influence in our community, to not only strengthen, but build upon it.
SUSTAINABILITY
GÖRG strives for environmental protection. For this reason we are working on a voluntary CO2 compensation for business travel to reduce carbon footprint. In addition, we provide our employees with free organic fruit from regional cultivation. Trying to reduce plastic waste we offer mineral water from glass bottles. Furthermore we are also converting the light sources used in our offices to LED.
Top Tier Firm Rankings
Firm Rankings