GÖRG Partnerschaft von Rechtsanwälten mbB > Cologne, Germany > Firm Profile
GÖRG Partnerschaft von Rechtsanwälten mbB
Offices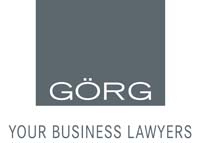 GÖRG Partnerschaft von Rechtsanwälten mbB
KENNEDYPLATZ 2
50679 COLOGNE
Germany
GÖRG Partnerschaft von Rechtsanwälten mbB > The Legal 500
Rankings
With 
GÖRG Partnerschaft von Rechtsanwälten mbB
being active in both insolvency administration and restructuring matters, the firm's range of services is correspondingly comprehensive and the client base very versatile. For instance, the team assists companies with self-administration and protective shield proceedings and trust reorganisations on behalf of shareholders and creditors. A specialization lies in advising funds and private equity investors with a focus on distressed assets and distressed debt. Practice head
Christian Bärenz
specialises in complex, cross-border matters and insolvency-related M&A transactions, while
Martin Stockhausen
advises institutional creditors and creditors of debtor companies in crisis situations.
Thorsten Bieg
has special expertise in financial and accounting restructuring as well as trusteeships and
Helmut Balthasar
at the banking, banking supervisory and financial law interface.
Thomas Rieger
(experience in taking on board functions in companies in crisis) joined the team from
Anchor Rechtsanwälte
in early 2021.
In addition to insolvency administration,
GÖRG Partnerschaft von Rechtsanwälten mbB
also assumes the role of administrator in administration proceedings. The preparation of insolvency plans is just as much a part of the team's day-to-day business as is the assistance with out-of-court liquidation and company liquidation; here the practice can draw on business, tax and financial advisors as needed. Practice head
Gerrit Hölzle
is particularly experienced in drawing up insolvency plans and focuses on the industrial, automotive, energy, service and retail sectors. At the beginning of 2021,
Thomas Rieger
joined from 
Anchor Rechtsanwälte
, who, together with
Holger Leichtle
, is to expand the firm's self-administration practice in southern Germany.
Martin Stockhausen
advises international companies on corporate and insolvency issues and
Jörg Nerlich
is experienced in insolvency administration.
GÖRG Partnerschaft von Rechtsanwälten mbB
advises on the construction and operation of energy generation plants and energy storage systems, especially in the renewable energies sector. The team also offers expertise in electricity marketing, decentralised energy generation as well as integrated energy and e-mobility. Transactional advice includes active support as well as due diligence mandates, covering both share and asset deals. Other focal points of advice are planning approval procedures for grid expansion and the phase-out of coal.
Thoralf Herbold
(Cologne and Hamburg; specialised in renewable energies and energy trading) and
Achim Compes
(Cologne; M&A and project work expert) jointly head the team.
GÖRG Partnerschaft von Rechtsanwälten mbB
is renowned for its longstanding and extensive outsourcing experience and assists both outsourcing service providers as well as customers.
Florian Schmitz
specializes in BPO and digitization projects and
Michael Heise
has a focus on transactions, especially in the financial sector.
Axel Czarnetzki
 focuses on software and license agreements.
GÖRG Partnerschaft von Rechtsanwälten mbB
's public procurement practice predominantly advises on construction and infrastructure projects, concession awards, IT procurement, waste management and sector contracts in the energy and transport industries. The team also authors expert opinions, draws up and reviews procurement contracts and assists with public procurement project management and can also draw on expertise in remunicipalisation, privatisation and PPP projects. The Hamburg-based
Jan Scharf
heads the practice and has experience in assisting with public procurement aspects of complex procurement and privatisation processes.
Kai-Uwe Schneevogl
is well versed in advising public clients on information and communication technology projects, while
Heiko Hofmann
has experience in procurement projects in the construction, supply and service sectors.
Real estate law advice at
GÖRG Partnerschaft von Rechtsanwälten mbB
focuses on project developments and on transactions, including financing as well as tax and corporate law structuring. A core focus in the project development space is advising on restructuring and insolvency-related sales transactions, where
Markus Heider
is a key contact. He is part of the team led by
Jan Lindner-Figura
. Lindner-Figura primarily advises national and international project developers and investors on the sale and acquisition as well as the development and marketing of properties and real estate projects and also acts as a notary. This is complemented by commercial tenancy law expertise. In May 2021, the team was strengthened in the transactional space with the addition of
Dennis Hog
, formerly at
DLA Piper
.
GÖRG Partnerschaft von Rechtsanwälten mbB
focuses on advising Landesbanken in the savings bank sector, which is not least due to practice head
Yorick Ruland
's relevant expertise, while the group is also renowned for representing clients in disputes as well as for enforcing creditors' rights in insolvency proceedings.
Timm Theilmann
's arrival from
HYAZINTH LLP
in July 2020 underlines the team's emerging fintech capacities which he has been able to expand particularly through connecting with Berlin's fintech scene; alongside
Matthias Terlau
, he is one of the key contacts for this field.
GÖRG Partnerschaft von Rechtsanwälten mbB
's fintech sector advice foots on the close cooperation between its banking, IT and data protection practices; these synergies benefit start-ups, fintechs and banks seeking assistance with payment transaction issues, BaFin permit applications and license applications, owner control procedures and outsourcing projects among others. Payment transaction specialist
Matthias Terlau
leads the team and is known for his expertise in bitcoin, digital payments, AI and big data.
A key strength of
GÖRG Partnerschaft von Rechtsanwälten mbB
's team is supporting large companies in national and cross-border restructurings, including entailing collective bargaining, reconciliation of interests and social plan negotiations as well as mass redundancies and the representation in dismissal protection proceedings. The group regularly covers topics at the inferface with insolvency law, evident in the frequent instructions from insolvency administrators. The team covers all day-to-day employment law and social security matters and increasingly advises on national and international acquisitions. Practice head
Ulrich Fülbier
is predestined to advise international clients on German employment law due to his extensive experience working for US law firms.  The advisory capacity in the financial sector has expanded with newcomer
Dirk Freihube
, he is part of the Frankfurt team since the end of 2020 and was previously at
Pusch Wahlig Workplace Law
.
In addition to expertise in medical device and pharmaceutical law, pharmacy law, hospital law and issues pertaining to medical care centers,
GÖRG Partnerschaft von Rechtsanwälten mbB
fields industry specialists in corporate, real estate, employment and restructuring law. The team also covers IP, public procurement and antitrust law matters.
Marc Schueffner
in Berlin (public commercial law) and
John-Patrick Bischoff
in Hamburg (healthcare transactions) head the team.
Katja Kuck
in Cologne is the key contact for pharmaceutical and medical device manufacturers, especially on market access, manufacturing and distribution issues.
GÖRG Partnerschaft von Rechtsanwälten mbB
's IP and IT commercial team primarily offers advice on topics such as e-commerce, SaaS, cloud and digitization solutions.
Florian Schmitz
, who is known as an IT outsourcing and BPO expert, leads the team and predominantly advises DAX companies, prestigious clients such as Samsung and Rheinmetall Electronics as well as several federal states.
Axel Czarnetzki
focuses on IT contract law and license agreements.
GÖRG Partnerschaft von Rechtsanwälten mbB
 advises insurance companies with a focus on insurance supervision and distribution law among other matters, and is further well versed in compliance and insurance contract law as well as in advising on cooperations with insurance brokers.
Jochen Lehmann
 co-heads the practice and, in addition to litigation, also focuses on regulatory law and distribution. Co-head 
Roland Hoffmann-Theinert
 primarily advises on corporate issues and M&A transactions.
Christoph Niemeyer
has expertise in run-offs, investments and transactions.
Headed by the Berlin-based
Christoph Riese
,
GÖRG Partnerschaft von Rechtsanwälten mbB
's team has '
rapid understanding of technical matters
' and primarily advises energy sector companies and public sector clients. Among other matters, the team assists with the planning of districts and power plants and provides planning law expertise to the federal hydrogen strategy. The practice also acts at federal state level in projects related to the phasing out of coal-fired power generation, represents clients in environmental litigation and can draw on expertise in water law, nature conservation and immission control law, among other issues.
GÖRG Partnerschaft von Rechtsanwälten mbB
advises on project developments with regard to corporate and tax law structuring and the team also covers the drafting and negotiation of all relevant contracts. The team, led by
Jan Lindner-Figura
, impresses in the context of specialist properties such as hotels, retail parks, multi-storey car parks, logistics properties and nursing homes.
Jan Schellenberger
is routinely instructed on project developments in the real estate, energy and infrastructure sectors, while
Hans-Jürgen Rieckhof
regularly takes on the project management of complex large-scale construction projects for the public sector.
GÖRG Partnerschaft von Rechtsanwälten mbB
convinces in commercial and distribution law through comprehensive advice on multinational distribution law issues and contentious matters. Industry-related clients from the pharmaceuticals, medicine, consumer goods, industry, public sector and logistics are supported in distribution systems, contract law and franchising. The team, headed by
Oliver Spieker
, also advises on antitrust issues and licensing agreements. National and international companies benefit from Spieker's expertise in traditional distribution law matters as well as in intellectual property, competition law and litigation. The associated partner
Anne Schönfleisch
serves the interface with IP as well as topics related to compliance in purchasing and sales.
GÖRG Partnerschaft von Rechtsanwälten mbB
focuses on restructuring support, joint ventures and group financing systems, especially cash pooling systems. The group regularly handles matters at the interface between corporate law, M&A and insolvency law and places additional emphasis on D&O and group liability. German medium-sized and family businesses as well as international corporations, often from the media and healthcare sector, form the core of the client roster. The team is led by
Frank Evers
and includes joint venture specialist
Matthias Menke
.
Led by
Frank Evers
,
GÖRG Partnerschaft von Rechtsanwälten mbB
offers '
comprehensive legal, yet personal advice
'. German and international companies, medium-sized companies and financial investors instruct the team on transactional matters in the mid-cap segment, while the group also covers related tax, financial and competition law aspects.
Christoph Niemeyer
is a key contact for Italy-related transactions, among other things.
GÖRG Partnerschaft von Rechtsanwälten mbB
's team advises clients on company acquisitions and sales, reorganisation and restructuring, public takeovers and the structuring of joint ventures and in the distressed M&A arena. While the transactions are taking place in various sectors, the company has recently been more active in the healthcare and logistics sectors. The practice group is headed by
Frank Evers
.
GÖRG Partnerschaft von Rechtsanwälten mbB >
Firm Profile
The firm: GÖRG is one of Germany's leading independent business law firms.
With 300 lawyers and tax advisors in total, GÖRG advises well-known domestic and foreign businesses from all areas of industry, banking, real estate, trade, media and services on all core areas of business law. GÖRG achieves top rankings and client references for its work in corporate law, real estate and insolvency/restructuring, among other fields. All teams have proven expertise with transactions and project development.
With five offices throughout Germany, clients are guaranteed local and personal advice – no matter where they are. In addition, the partner-oriented approach means that a fully informed contact person is available at all times. Tailor-made solutions are what clients expect from GÖRG – and what they get. The partners are involved in every single assignment, applying a wealth of experience to develop unique solutions that also succeed where more conventional thinking reaches its limits. The matters clients retain GÖRG for cover all aspects of business law. To meet this challenge the firm has created distinct practice groups with experienced specialists in each particular field.
Close cooperation between groups of experts across different offices allows GÖRG to offer a unique combination of specialist skills and teamwork that characterises the high quality of its work. The firm is always committed to its clients' success and its accumulated knowledge can be accessed by the individual lawyer and the team alike. Since many of the firm's projects have an international element, GÖRG regularly teams up with leading law firms in other countries, with whom GÖRG has developed strong links. A further advantage of GÖRG'S independent status is the fact that it can precisely deliver the right kind of international expertise that is needed for the case at hand.
Areas of practice: GÖRG's core specialisations include: Antitrust Law, Auditing & Consulting, Banking & Banking Supervision Law, Finance Commercial & Distribution Law, Compliance & Internal Investigations, Corporate Law, Data Protection, Energy Law, Health Law, Insolvency & Restructuring, Insolvency Administration, Insurance Law, Intellectual Property, Investment Law & Regulatory Requirements, IT & Outsourcing, Labour & Employment, Litigation & Arbitration, Mergers & Acquisitions, Notarial Services, Private Equity, Venture Capital, Public Law & Procurement, Real Estate Law, Stock Corporation & Capital Markets Law, Tax Law & Tax Advice.
Staff Figures
Number of lawyers : 300
Languages
Afrikaans Albanian Arabic Chinese Croatian Czech Dutch English German Farsi French Greek Italian Japanese Persian Polish Portugese Russian Serbo-Croatian Spanish Swedish Turkish
Other
Management : Dr. Jens-Dietrich Mitzlaff Management : Dr. Marcus Richter Management : Dr. Christian Wolf
Client Testimonials
CLIENT: Several German and European investment fund companies and banks
COMPANY/FIRM: Several German and European investment fund companies and banks
TESTIMONIAL: Advising in connection with the internationally significant insolvency proceedings of Wirecard AG and the assertion of claims amounting to approximately EUR 900 million. With the "Wirecard case", GÖRG is involved in the legal processing of what is probably Germany's most significant economic scandal in recent decades.
---
CLIENT: Zeitfracht Group
COMPANY/FIRM: Zeitfracht Group
TESTIMONIAL: Advising on the complex takeover of the insolvent Adler Modemärkte AG. At the same time, the company was also delisted from the stock exchange. Adler Modemärtke AG fell victim to the COVID 19 pandemic due to the closure of its retail shops. In the course of a structured M&A process, Zeitfracht was able to succeed both as investor and saviour and preserve the majority of the stores and jobs.
---
CLIENT: Tally Weijl Retail Germany GmbH
COMPANY/FIRM: Tally Weijl Retail Germany GmbH
TESTIMONIAL: Advising on successful reorganisation. Due to a decline in sales as a result of the Corona pandemic, Tally Weijl Retail Germany GmbH, the German subsidiary of the international fashion company, had filed for protective shield proceedings with the Lörrach Local Court in early December 2020.
---
CLIENT: Fraport AG
COMPANY/FIRM: Fraport AG
TESTIMONIAL: Advising the publicly listed operator of Frankfurt Airport on a Corporate Power Purchase Agreement (CPPA) on the purchase of wind energy. The green energy at Frankfurt Airport is to be used, among other things, to operate three terminals and numerous other buildings, as well as to power more than 500 vehicles in the growing e-fleet.
---
CLIENT: SCP Group and x+bricks SA
COMPANY/FIRM: SCP Group and x+bricks SA
TESTIMONIAL: Advising on the acquisition of the supermarket chain real from Metro AG in real estate law, corporate law, tax law, antitrust law and labor law matters. After a selling process of almost two years, SCP takes over the total of 276 real stores with around 34,000 employees and 80 properties as well as all companies belonging to real.
---
CLIENT: Ufenau Capital Partners
COMPANY/FIRM: Ufenau Capital Partners
TESTIMONIAL: Advising on the sale of its majority stake in Swiss IT Security Group, a leading one-stop shop for IT security services in the D/A/CH region and the Benelux countries, to funds advised by Triton.
International Capabilities
INTERNATIONAL
Modern businesses and globalisation go hand in hand. As one of Germany's leading independent business law firms, GÖRG has a consistent international orientation and offers you a structure that guarantees professional, comprehensive cross-border legal advice in all sectors that are relevant for you.
A network of independent law firms
We maintain close relationships with international firms that are leaders in their respective jurisdictions. With this established international network of independent law firms, we are able to put together a cross-border team of specialists at any time that is tailored to your needs.
GÖRG is independent, which means that we are not bound to specific partner firms. For this reason, we also collaborate as partners with any other firm of your preference in order to achieve your goals.
GÖRG brings together colleagues from all over the world. Colleagues with 30 different nationalities, speaking over 20 languages, work with us. We use the unique blend of experience, skills and personalities from our multicultural team to find the ideal solution for each client.
Dutch Desk
The intense cross-border exchange between German and Dutch business partners creates a great need for qualified consulting in both legal systems. Our team of Dutch-speaking lawyers provides comprehensive advice on German-Dutch commercial law. In cooperation with our established network of Dutch law firms, we offer full-service consultation from a single source.
China Desk
With more than ten years experience, our China Desk offers the optimal structures and required expertise to ensure that you have comprehensive, cross-border and competent legal advice on all relevant topics. In this dynamically developing region, we, as an independent law firm, maintain close relationships with leading international practices, which can be integrated if required, naturally after consultation with you, so that we can successfully complete your project together.
Italian Desk
Germany and Italy cooperate very closely in political, cultural and, especially, economic affairs. At GÖRG, we established our own Italian Desk with experts, who specialise in representing Italian companies in Germany and who also advise in Italian. Close collaboration with almost 300 colleagues at all GÖRG offices means that the Italian Desk can offer superb support to our clients regarding any legal activities, both in Germany and Italy.
Turkish Desk
Our Turkish Desk is one of the leaders in this area, with its extensive experience with both inbound and outbound transactions. Our team of Turkish-speaking lawyers can provide you with comprehensive advice – if required, in cooperation with an established network of renowned Turkish law firms. Our lawyers are also supported by Turkish-speaking paralegals.
Diversity
DIVERSITY
At GÖRG, cultural diversity is a matter of course for us. Our five offices bring together colleagues from all over the world. Currently 30 different nationalities work with us. We use the unique blend of experience, skills and personalities from our multicultural team to find the ideal solution for each client. In order for each team member to develop optimally, GÖRG strives to create a working environment in which everyone feels welcome – regardless of origin, religious beliefs or sexual orientation.
GÖRG has also signed the "Charta der Vielfalt" – a corporate initiative to promote diversity in companies and institutions. The core of the initiative is the promotion and appreciation of all employees regardless of gender, nationality, ethnic origin, religion or ideology, disability, age, sexual orientation and identity. By signing the "Charta der Vielfalt", GÖRG officially commits itself to a business culture based on recognition and appreciation of diversity.
EQUAL OPPORTUNITIES
GÖRG understands itself to be a team that is jointly responsible for the success of its five offices. To promote this, we feel it is important to invest in the personal and professional development of our colleagues. Our "GÖRG Academy" offers all team members the chance to refine their skills. We support in particular women with tailor-made seminars and further training and encourage them in their career planning.
GÖRG appreciates equal opportunities for all and social interaction. For this reason GÖRG is sponsor of the Cologne "Day of Encounter" [official German title: "Tag der Begegnung"] which has developed into the largest family festival for people with and without disabilities in Germany. It is also the only festival of its kind in Europe and gives an insight into how inclusion is made alive in society. People celebrate together for a better social interaction.
PRO BONO
Social responsibility and justice are the two main pillars on which our understanding of community is based on. In light of this, our lawyers regularly offer their services pro bono to social non profit making institutions in dire need of judicial advice. We strive to act as role models within our profession and have a positive influence in our community, to not only strengthen, but build upon it.
SUSTAINABILITY
GÖRG strives for environmental protection. For this reason we are working on a voluntary CO2 compensation for business travel to reduce carbon footprint. In addition, we provide our employees with free organic fruit from regional cultivation. Trying to reduce plastic waste we offer mineral water from glass bottles. Furthermore we are also converting the light sources used in our offices to LED.