Prager Dreifuss AG > Zurich, Switzerland > Firm Profile
Prager Dreifuss AG
Offices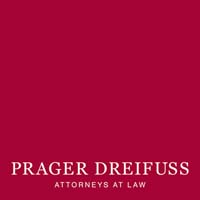 Prager Dreifuss AG
MÜHLEBACHSTRASSE 6
8008 ZURICH
Switzerland
Prager Dreifuss AG > The Legal 500
Rankings
Prager Dreifuss AG
 has '
one of the leading insurance practices in Switzerland
' acting for national and international insurers and reinsurers on contentious and non-contentious matters. The team is adept at providing advice on all aspects of insurance law and acts as counsel for large insurance companies, both as counsel for primary insurers as well as supervising counsel for reinsurers. An area of particular expertise are insurance and reinsurance investigations in connection with professional indemnity, D&O liability, property and construction losses as well as product liability – an area of particular focus of practice head and '
excellent litigator
'
Christoph Graber
.
Practice head(s):
Testimonials
'Their work has a very high quality and they have not only an excellent understanding of the legal aspects in case, but also an excellent understanding of the position of an insurer and the insurance market. They are knowledgeable, savvy in strategical matters, extremely experienced, and also well connected in the French speaking part of Switzerland.'
'They are one of the leading insurance practices in Switzerland.'
'Prager Dreifuss AG has just the right dimensions: not too small and not to big. Thus a very pleasant personal contact, but at the same time one knows that you can trust to have a sufficiently large number of people with an ample variety of different profiles and skills in almost all sectors. The teams are all close-knit and well balanced and the level of quality is always kept under control and guaranteed. This makes clients and correspondents feel safe.'
'The impression is to work with lawyers who are not only very competent, reliable and experienced, but also wise and distinguished. The knowledge of the insurance law and market of Christoph Graber is in my opinion unique and of course his professional and personal contacts in this field are great.'
'Christoph Graber is a go-to partner for complex insurance and reinsurance advice and dispute work. He understands London and international markets and is commercial as well as technical. He has huge experience in the reinsurance field. Christoph is practical and great to work with.'
'Christoph Graber has very clear thinking, identifies and advises the client on the key issues concerned and provides the solutions to the problems the client faces. He is very responsive with a hands-on approach. I would certainly opt to work with him in the future and I would strongly recommend him to clients.'
'The insurance team of Prager Dreifuss has many years of experience in insurance and reinsurance law. Their team is highly skilled and very dedicated to its clients, making them one of the leading providers in this field.'
'Christoph Graber is a very experienced and highly regarded insurance lawyer with an excellent reputation for insurance and reinsurance litigation. He and his team are very dedicated.'
Prager Dreifuss AG
is well positioned to advise creditors such as banks, hedge funds or other financial institutions, in large national and cross-border insolvency and restructuring proceedings. Another pillar of the practice are arbitration proceedings and enforcement strategies of arbitration awards. Team head
Daniel Hayek
 and
Gion Christian Casanova
 are also well versed in acting in bankruptcy-related litigation.
Gion Jegher
covers insolvencies, reorganisations and restructurings. Counsel
Mark Meili
is described as '
sharp and highly qualified.
'
Practice head(s):
Other key lawyers:
Testimonials
'The team takes a holistic view of its work and understands the insolvency and recovery landscape across different sectors, different jurisdictions and different sectors. I have found them to be strategic and to look outside the box for solutions which has proven to be key for successful results. They are pragmatic, responsive and quick to react, and very much team players in the context of large scale insolvent matters.'
'Daniel Hayek and Mark Meile are both leaders and exceptional.'
'Prager has a diverse and highly qualified team. They work internationally, on high-value cases and are great in collaborating with a diversity of law firms worldwide.'
'Our recommendations are Daniel Hayek and Mark Meili, both not only very sharp and highly qualified, but also very nice individuals making it a pleasure to work with on lengthy and intense cases.'
'Great team. They act with a transactional view.'
Key clients
Trinity Investments DAC
Hestia Investments DAC
Kommunalkredit Austria AG
Attestor Value Master Fund LP
Deutsche Bank Trust Company Americas (Security Agent) Wilmington Trust National Association (Indenture Trustee)
Bank of America Merrill Lynch
Centerbridge Partners LP
Work highlights
Advised Trinity Investments Designated Activity Company on the €2.5bn tender offer submitted for Europcar by a consortium consisting of Volkswagen AG, Trinity Investments Designated Acitivity Company and PON Holdings.
Advised Hestia Investment Designated Activity Company on enforcement strategy and recognition of a UK restructuring regarding Gategroup bond in Switzerland.
Advised Attestor Value Master Fund LP on the purchase and enforcement of claims against bankrupt estates in Switzerland such as SAirGroup AG in restructuring liquidation and affiliated companies, Lehman Brothers Finance AG in liquidation, Banque Privée Espirito Santo SA in liquidation etc.
Recognised as expert issuer representatives by SIX Exchange Regulation, the team at
Prager Dreifuss AG
 advises companies on their initial public offering (IPO) as well as listed companies on all aspects of stock exchange law. Other services include support in public and private placements, token offerings, management transactions and insider trading law. Led by
Urs Bertschinger
, the group is regularly instructed by issuers as well as banks and other financial service providers.
Andreas Moll
 is also noted.
Practice head(s):
Other key lawyers:
Prager Dreifuss AG
has a strong track record in advising on syndicated loans in the Swiss market and continues to have a focus on cross-border project and transaction financing where the unit advises clients on appropriate financing structures. Recent activity has included negotiations of credit facilities regarding leveraged finance transactions.
Daniel Hayek
and
Andreas Moll
head the '
extremely knowledgeable, practical and efficient
' team.
Practice head(s):
Testimonials
'Extremely knowledgeable, practical and efficient. Particularly expert in restructuring and insolvency.'
'Daniel Hayek is extremely knowledgeable, practical and my go-to lawyer on all Swiss banking matters.'
Prager Dreifuss AG
's team acts regularly for clients in antitrust and merger control proceedings before the Swiss competition authorities. Its client portfolio includes a range of companies and associations from various industries who also approach the group for assistance with competition compliance matters as well as regulatory and EU competition law. Practice head
Philipp E. Zurkinden
also has know-how in cartels and abuse of market dominance. Counsel
Bernhard C. Lauterburg
 provides key support.
Practice head(s):
Other key lawyers:
Testimonials
'The team is very reliable, responsive and accurate in the solution proposed.'
'Philipp Zurkinden and Bernhard Lauterburg are responsive. Their answers are always well explained, well detailed. They offer several options to find the best solution for us. They are proactive.'
'The professional support is excellent and there is the willingness to go the extra mile.'
'Philipp Zurkinden has profound knowledge of Swiss and EU antitrust law. He has a wide and valuable network in the antitrust community.'
Key clients
Swiss National League
Schweizerische Mobiliar Versicherungsgesellschaft AG
Swiss Brands Association (Promarca)
Maklerzentrum
Olympique des Alpes SA
Work highlights
Advising the Swiss National League on the competition law aspects in connection with the introduction of a financial system.
Assisted Swiss Brands Association (Promarca) in a case investigating the Swiss retail market with much publicity in the media in a thorough manner under article 5 and 7 LCart.
The '
very cohesive and supportive team
' at
Prager Dreifuss AG
is a key name for insurance and reinsurance disputes and has additional expertise in debt collection and local bankruptcy cases as well as fielding a medical law team, which handles issues relating to the healthcare sector.
Urs Feller
 leads the practice and is active in international cases;
Christoph K. Graber
, bankruptcy litigation group head
Daniel Hayek
,
Hans-Ulrich Brunner
 and
Gion Christian Casanova
also contribute.
Practice head(s):
Other key lawyers:
Testimonials
'Very cohesive and supportive team who we have built a strong relationship with over the years. Prompt and timely contributions, they know the law inside out, and they have a good relationship with the courts.'
'Urs Feller – leads the team, great knowledge and wise strategic advice.'
'Marcel Frey – a real workhorse – committed, knows the law inside out, drafts well.'
'The availability and attention to details is always amazing. The team is able to quickly design solutions even in complex matters and present them in such a way that these are also understood by the business.'
'They are highly responsive consistently. They offer a speedy analysis of situations and solutions which are measured and tailored to the issue.'
Key clients
Attestor Value Master Fund / Trinity Investments Limited
Prager Dreifuss AG
has a good reputation for advising on banking, capital markets, insurance, tax, corporate and M&A, and dispute resolution. Key individuals are chairman of the board
Daniel Hayek
and
Roland Böhi
, a member of the firm's management committee. Competition law specialist
Philipp E. Zurkinden
, financial markets regulation expert
Urs Bertschinger
, insurance specialist
Christoph Graber
and dispute resolution focused
Gion Christian Casanova
 are also noted.
Prager Dreifuss AG
's broad practice is sought after by corporate and private clients alike; it covers queries regarding transfer pricing, group internal reorganisations, refinancing situations and compliance as well as inheritance, gift, income and wealth tax. The members further assist the corporate and M&A, real estate, and finance practices, and advises on administrative assistance procedures.
Roland Böhi
leads the practice.
Practice head(s):
Testimonials
'They are supporting the client across their business, legal, tax, HR and the people have a lot of experience and good backgrounds.'
Prager Dreifuss AG
covers the full spectrum of corporate and M&A matters. The team regularly advises companies on their set-ups, restructurings, housekeeping and compliance, as well as on relocations and contract matters. The comprehensive transactional practice includes venture capital matters. Energy and infrastructure specialist
Andreas Moll
 and transaction practitioner
Daniel Hayek
 direct the practice.
Matthias Bürge
 and
Michael Mosimann
 left the firm at the end of 2020.
Practice head(s):
Other key lawyers:
Testimonials
'Andreas Moll is one of the best counsel I've worked with in any jurisdiction.'
'Jvo Grundler: Smart, efficient, experienced and highly competent lawyer who stands out thanks to his practical and deal-oriented approach and his ability to draft short, clear and nevertheless comprehensive and complete contracts/legal documents. He is reasonable in negotiations which is especially useful in difficult negotiations.'
'Andreas Moll: Competent lawyer who communicates clearly, yet with patience, tact and finesse. He delivers impeccable legal products.'
Prager Dreifuss AG >
Firm Profile
The firm: Prager Dreifuss is an independent, full-service law firm with over 37 years of experience in commercial law, with specialised expertise in: corporate and M&A; venture capital;  banking and finance; capital markets;  insolvency and restructuring; competition and regulatory law; insurance and reinsurance law; dispute resolution; private clients; tax; IP/IT, employment and pensions; real estate and construction and white-collar crime and investigations. The firm is ideally placed to assist international and domestic clients in a wide range of legal matters.
Entrepreneurial thinking, outstanding expertise and lean overhead structures help the team to achieve cost efficient and innovative advice also in the most complex matters – tailored, efficient and dedicated to its clients' needs.
Areas of practice
Banking and finance: A special focus of our practice is on cross-border project and transaction financing. We advise investors and companies in choosing an adequate financing structure and ensuring professional implementation. The Banking & Finance Team of Prager Dreifuss was a pioneer in the introduction of syndicated loans in the Swiss market in connection with leveraged finance and project-financing transactions in various industries (e.g., technology, communication, automotive, chemicals and transport, etc.).
Our services include the following:
Advice on syndicated loans for working capital, acquisition and project financing
Structured finance and leveraged-buyout financing that combines senior loans and mezzanine loans
Acquisition financing for private-equity firms
Representing entities offering senior and mezzanine debt
Advice in connection with international OTC derivatives, securities lending and repo framework contracts
Capital markets: We advise banks, insurance companies and other financial service providers on complex national and international capital markets law  issues. The SIX Swiss Exchange recognizes lawyers of the firm as knowledgeable representatives of issuers. On this basis, we support companies planning an IPO. We advise listed companies on all matters relating to stock-exchange legislation, such as ad-hoc disclosures and the reporting of management transactions.
Our services include the following:
Structuring and transaction advisory services for issuers
Public and private placements (incl. IPOs)
Drafting contracts and prospectuses
"Swiss finish" for international issuance programmes or offering documentation
Advice in dealing with regulatory compliance in connection with securities offerings
Advice regarding legal issues relating to collective investment schemes
Ad-hoc disclosures, management transactions, prohibition on insider trading and other market conduct rules
Corporate governance, compensation
Competition and regulatory matters: Prager Dreifuss has established an internationally recognized experience in competition law and regulatory matters. We regularly represent companies of all sizes in antitrust and merger control proceedings before the Swiss competition authorities and support our clients with regard to compliance with competition law for distribution and licensing matters, collaborations and other day-to-day business. Excellent knowledge of EC competition law and proficiency in various languages facilitate cooperation with law firms abroad on international matters.
We advise and represent clients in particular in the following areas:
National and international merger control proceedings, reporting to the Swiss Competition Commission
Antitrust investigation proceedings, subpoenas, sanction proceedings
Sales and licensing contractual arrangements
Practices of market-dominant companies
Compliance Programmes competition law
Civil antitrust proceedings (e.g., actions for damages)
Public procurement and State aid law
Regulatory issues
EU monitoring services in sector-specific areas through our office in Brussels
Clients appreciate the team's "responsiveness and client dedicattion" and admire their "high levels of availability, quick perception and excellent analytical thinking" alongside a "very customer-focused approach." (Chambers Europe 2018)
Corporate and M&A: Our core business includes advising clients in the the acquisition of companies and business groups, as well as M&A and other restructuring. We perform tasks for our clients in connection with contracts required for such transactions, including legal due diligence of a target company, setting up acquisition vehicles and optimizing the capital and tax structure. In this regard, we draw on our excellent interdisciplinary knowledge, including in the areas of tax, competition, banking, employment and intellectual property law.
Our services include the following:
Acquisitions and sales, mergers and spin-offs
M&A
Joint ventures
Private equity transactions
Preparation for and conducting of general shareholder meetings
General legal issues in connection with M&A and corporate law
Advice to boards of directors with regard to director's liabilities and legal strategy aspects
Support of companies within the framework of corporate housekeeping and corporate compliance
Dispute resolution: Dispute resolution has a long standing tradition at Prager Dreifuss. We appear as counsel representing parties before courts and administrative authorities. In debt collection and bankruptcy matters, our attorneys draw on their experience as counsel representing parties or as private bankruptcy and debt-restructuring administrators. International arbitration has attained a special significance in our firm. A number of our attorneys are regularly appointed as arbitrators in institutional and ad-hoc arbitration tribunals.
Our services include the following:
Dispute resolution before national courts
Representation before arbitration tribunals and in ADR proceedings
Strategic advice for the settlement of disputes
Legal assistance in civil and criminal matters
Recognition and enforcement of foreign judgments
Employment and pensions: We advise companies and staff in senior management roles on personnel issues, obtain official permits and provide advice on regulatory matters. Based on our extensive experience in all areas of employment law, we offer customized solutions in the HR field and assistance in the restructuring of companies. We advise our clients in the preparation of up-to-date compensation structures that make them attractive employers.
Our expertise in the area of employment law includes:
Drafting of employment contract concepts, regulations and operating manuals
Contractual arrangements for senior executives
Drafting of standard employment contracts
Incentive and employee participation programmes
Transfer of businesses or business units, outsourcing
Terminations, exemptions and collective redundancies
Compliance with data protection regulations
Social security law
Posting of employees and work permits
Insolvency and restructuring: With extensive experience, Prager Dreifuss advises banks and other financial institutions as well as corporate debtors and their governing bodies on all issues that arise in connection with an impending insolvency or bankruptcy and in reorganizations and restructurings. We represent creditors in bankruptcy-related litigation, whether in registering or purchasing claims or in enforcing disputed claims vis-à-vis bankruptcy administrators and before courts.
Our practice in the area of insolvency & restructuring includes:
Capitalisation and structural measures in reorganisation and liquidation scenarios
Representing the interests of creditors in complex Swiss bankruptcies as well as in cross-border cases
Advice on the purchases and sales of distressed-debt claims
Advice in the area of national and international enforcement
Managing proceedings involving scheduling and avoidance of claims
Representing parties in proceedings of recognition of foreign bankruptcies
Insurance and reinsurance: Prager Dreifuss has many years of experience in Swiss and international insurance and reinsurance law and is one of the leading providers of legal services in this field. We advise insurers and reinsurers on national and international matters involving contract law and regulatory issues. A focus of our activity in the area of insurance law is the processing of complex claims, ranging from examining the claim to assess coverage issues and handling claims to representing our clients before courts and arbitration tribunals.
Our services in the field of insurance and reinsurance include the following:
Advice on regulatory, contractual and supervisory issues
Advice on (re-)insurance and broker contracts
Permits for insurance companies
Handling complex insurance claims, including in the areas of professional and public liability, liability of corporate bodies, justified reliance, product liability as well as air and transport law
Representation before courts, arbitration tribunals and vis-à-vis supervisory authorities (FINMA, etc.)
IP and IT: We advise public and private companies on media and intellectual property issues, draft contracts and manage cases. We have been able to gather experience over an extended period in the licensing of rights to films and sporting events. Another focus of our activities has been on Information technology law. In recent years, we have planned, supported and conducted numerous outsourcing transactions and technology transfers.
Our services include the following:
Licensing of intellectual property rights, marketing of sports rights
Sales, including parallel imports
Patent law
Trademarks and design rights
Copyrights, computer software and information technology
Unfair competition
Protection of know-how and trade secrets
Investment financing and guarantees on intellectual property rights
Data protection
Private client: We advise our clients in connection with the administration and transfer of their assets during and beyond their lifetime. We have a long tradition of advising private clients, which for us implies a partnership based on mutual trust. We assist entrepreneurs in comprehensive succession planning and in drafting the instruments necessary for such planning. We develop and implement exit strategies. For individuals, we handle estate matters and execution of wills as well as legal representation in inheritance matters.
Our practice in the area of private clients includes:
Trusts and estate planning
Succession planning for family businesses
Testamentary contracts and assets agreements
Wills and donations
Trusts and foundations
Execution of wills, estate administration, estate distributions
International disputes relating to trusts and foundations, estate and inheritance matters
Change of residence within Switzerland and abroad
International divorce proceedings
Real estate and construction: Our specialized attorneys have many years of experience in the fields of real estate transactions, private construction law and tourism. We have supported numerous and prominent hotel projects from financing through opening, advised our clients in the tender process and executed complex, multi-use property developments as well as tailor-made financing packages. We advise architects, engineers and other specialists as well as entrepreneurs, landowners, project developers and hotel operators. Our fields of expertise include the following areas:
Real estate transactions
Real estate financing
Service contracts, general and total service contracts for major construction projects
Commercial leases (contract drafting, negotiation, enforcement)
Damages and delays in construction and infrastructure projects
Payment disputes
Builder's liens
Tax Changing market demands force companies to continually review their locations, structures and processes. The tax burden is an important cost factor in this review. We develop tailored solutions in the context of tax optimization, tax planning and structuring of holding structures. In addition to expertise in taxation and its financial reporting, our tax team has extensive practical experience in advising individuals and corporations and representing them before tax authorities. Thanks to our international network of contacts, we handle cross-border projects smoothly and effectively.
Our services include the following:
Tax-favourable company and transaction structuring
Tax-favourable financing of international groups
Planning and implementation of international structures for groups
Cross-border tax planning and optimization for companies and individuals
Executive compensation plans
Relocations
Tax-favourable estate planning and consulting for substantial family assets
Cross-border VAT issues
Avoiding international double taxation
Venture capital: We advise founders and all kinds of investors in connection with debt-, mezzanine-, or equity financings of venture companies as well as in connection with token sales (initial coin offerings or ICO). Our VC experienced specialists are capable of preparing, negotiating and executing financing rounds of companies regardless of its growth stage in a pragmatic and cost efficient, yet all-inclusive manner (incl. notarization). After the completion of the investment process, we advise our clients during the holding period and in an exit event (cf. corporate and M&A and capital markets).
Our services include among others:
Tax and regulatory structuring of the investment
Drafting and negotiating term sheets
Preparation of capitalization tables
Drafting, negotiating and executing investment, loan, convertible loan, and/or shareholders' agreements
Drafting and negotiating of other transaction documents (e.g. employment agreements and employee participation programs)
Advising the preparation of white papers and regulatory assessment of initial coin offerings
Notarization of the financing
White-collar crimes and investigations: Prager Dreifuss advises companies and executives in connection with official inquiries, compliance and internal and external investigations. We advise and represent clients in various white-collar sectors, including property crimes, infringements of regulations, insider trading, money laundering and the fight against corruption.
Our services include the following:
Internal and regulatory white-collar crime investigations in the financial services sector and antitrust law
Representing interests in internal and governmental investigations before domestic and foreign supervisory and law enforcement authorities
Clarification of possible criminal acts and regulatory offences by managers and employees as well as advice with respect to measures to correct perceived shortcomings
Compliance programmes, internal codes of conduct
Corruption prevention
Staff Figures
Number of lawyers : 40
Languages
English French German Italian Mandarin Spanish Swedish Dutch Portuguese Russian Afrikaans
Other
Other offices : Berne Other offices : Brussels
Diversity
As an international law firm, Prager Dreifuss views diversity and inclusion as a key factor to providing the best possible quality of service with innovative solutions for our clients. Our team of diverse lawyers and staff is our firm's most valuable asset and we have been committed to fostering an inclusive environment since our inception.
To us, diversity means appreciating and valuing individual differences and bringing together employees with individual life- and workstyles, experiences and perspectives, knowledge, capabilities and talent – this includes all ranges of nationality, ethnicity, gender, gender identity, age and many more.
Our D&I Commitments
Prager Dreifuss is committed to ensuring:
diversity at every level of our firm;
respectful treatment among all partners and employees;
a commitment to understanding and catering to employee's varying needs and requirements.
Hiring Process
We strive to continuously expand our hiring pool when recruiting staff and lawyers. We actively recruit legal staff from all over Switzerland through numerous channels, including on-campus initiatives, job fairs and from university competitions such as the Willems C. Vis International Commercial Arbitration Moot.
Prager Dreifuss places a focus on hiring employees with experience of living, working and studying abroad. To date, our employees speak [●] languages and are qualified to practice law in [●] jurisdictions.
It is our commitment to continue to hire, retain and promote talented lawyers and staff with diverse backgrounds and experiences.
Workplace
Our employees are the foundation of our firm and we seek to provide a work culture that is open and accessible to employees with varying needs. We value and respect the ideas, contributions and creative solution approaches from all individuals with whom we work.
Prager Dreifuss provides individual offices for all our legal staff, all of which are accessible to persons with disabilities.
Once a year, we hold 2-day summer off-site event at which all our employees can attend to get to know each other on a personal level and work on team building exercises. All employees, including lawyers at all levels and all staff, are further invited to partake in a workplace survey once a year in which they can voice requests for change or suggestions on our firm structures. We allow each voice to be given weight and to be considered of value.
Workforce and Engagement
We empower employees to have a say in how, when and where they chose to work and promote agile and flexible working. Our firm thereby supports our employees in pursuing academic qualifications and coordinating their family lives with their careers. Further, Prager Dreifuss assists employees before, during and after parental leave by managing a successful handover, arranging for keep in touch meetings during parental leave and facilitating a return to the work place. We are committed to an inclusive work approach and supporting all ranges of work, family and life models.
Our near-future D&I Goals
Our vision is to create an environment in which everyone thrives and to make a meaningful impact on our firm and our society. We aim to establish ourselves as market leaders in diversity and inclusion. Our near-future D&I goals include:
Running regular audits to examine the effect of our salary equality policy with the Swiss Federal Office for Gender Equality as of 2022.
Joining "Advance", an association who promotes gender equality in business.
Interviews
Daniel Hayek, Managing Partner  
Managing Partner Daniel Hayek of Prager Dreifuss on the dilemma of culture and change.
What do you see as the main points that differentiate [law firm name] from your competitors?
We take pride in having a team of selected and highly qualified individuals, speaking 10 languages, admitted in various jurisdictions with extensive study- and work experience abroad. Many of our lawyers are part of two or more practice area teams which enables them to work on complex cases entailing more than one area of law.
At Prager Dreifuss we have realized that shared values are the main driver of success and we take pride in our culture, in particular the culture of equality. We do not function very hierarchically; every employee can contribute easily without any hurdles. One remarkable cultural consensus in the firm is the willingness to go the extra mile for our clients. We have a shared mindset that materializes when we say to our clients: "consider it solved".
One aspect that differentiates Prager Dreifuss is our value proposition. When we assess the expertise at hand, as a mid-size law firm we are punching well above our weight. Our lawyers strive to exceed our clients' expectations. And these revolve around aspects such as quality of our work even in the most complex legal context, timeliness, appropriate communication and documentation.
Lastly, Prager Dreifuss is very well connected around the globe with other law firms, business advisors, political consultants, PR firms and asset tracing firms.
Which practices do you see growing in the next 12 months? What are the drivers behind that?
Unfortunately, the effects of the pandemic will continue to concern us. It is quite obvious that insolvency and restructuring in Switzerland will be in greater demand in the future, the state aid will only soothe but not heal the damages affecting the global economy. The Covid loans granted by the governments will have to be repaid in the nearer future.
Further, the war in Ukraine and the corresponding sanctions are interrupting delivery chains vital to companies and slowing down general production.
There certainly will also be a lot of work in litigation and international arbitration in these two respects.
However, we are also seeing positive indicators regarding the start-up segment. This is where we also have built up new resources. We are close to the start-up centers around Zurich and support founders setting up their companies, legal frameworks, shareholder agreements and cooperation models. But also financing start-ups is an area where we can help.
What's the main change you've made in the firm that will benefit clients?
We heavily invested in IT environment and legal tech already before the pandemic. This has ensured continuous service for our clients when our lawyers were working from home. In the future, this will allow us to work and stay in contact with colleagues and clients when working remotely and travelling. Of course, the digitalization process is also aiding us in drastically reducing our use of paper.
Prager Dreifuss has also made a major investment in cyber security. We are aware that this is where the future lies and that we must give our clients the assurance that sensitive data is treated appropriately. Only with this certainty do customers want to work with us digitally. In our firm, we have done our homework and we are ready for the next steps with our clients.
Furthermore, our lawyers have also increasingly been partaking in webinars to stay informed on current legal and regulatory changes in the jurisdictions relevant to our clients.
Prager Dreifuss is also investing in our staff and legal employees to ensure that we retain them long-term. This way clients can maintain contacts to the same legal advisors at our firm, which builds a trusting and efficient working relationship.
Is technology changing the way you interact with your clients, and the services you can provide them?
The video conferencing systems have certainly changed the way we interact with our clients. Holding certain discussions and negotiations online rather than in person means less travel, less unproductive downtime spent at airports and in airplanes and thus less costs for our clients. Further, shared data rooms and shared collaboration platforms are facilitating our work with clients on complex cases. We have introduced automated and improved billing and invoicing systems with automatic transfers to our clients, which allows for a higher billing frequency and thus increased transparency.
Can you give us a practical example of how you have helped a client to add value to their business?
We are working intensively with clients, in particular hedge funds, in the distressed assets domain. This is an area where a lawyer progresses from being a cost factor to becoming a strategic core function when analyzing assets to be purchased such as arbitration awards or claims into bankrupt estates. Lawyers can actually contribute to the clients' earnings which are directly related to their advice. Needless to say, this is a very rewarding task that I am really passionate about.
Clients are looking for stability and strategic direction from their law firms – where do you see the firm in three years' time?
Clients are actually looking for a long-term relationship with their strategically savvy lawyers. Prager Dreifuss is committed to creating a working environment in which our employees are highly valued and strives to achieve long-term retention, thereby also benefitting our clients by providing business continuity.
Legal Briefings
M&A: Agility is key to support clients in complex transactions

Deals are becoming more complex as companies increasingly use mergers and acquisitions (M&A) to pursue ambitious strategic goals and new stakeholders disrupt the market. Successful M&A lawyers must be able to combine excellent legal knowledge and process management skills with in-depth business awareness to support clients in complex transactions.