Firm Profile > Saplegal - A.S. Papadimitriou & Partners Law Firm > Athens, Greece
Saplegal - A.S. Papadimitriou & Partners Law Firm
Offices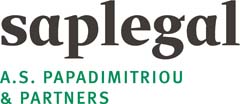 Saplegal - A.S. Papadimitriou & Partners Law Firm
MACEDONIA BUILDING, 367, SYNGROU AVENUE
P FALIRO
175 64 ATHENS
Greece
Saplegal - A.S. Papadimitriou & Partners Law Firm > The Legal 500
Rankings
At Saplegal - A.S. Papadimitriou & Partners Law Firm, practice head Thenia T. Panagopoulou is a 'very capable partner, able to handle complex transactions'. Her team has a proven track record in cross-border financing transactions, securitisations, syndicated and bilateral debt financing, corporate bond loans and NPLs. A highlight from the recent caseload saw the practice represent Eurobank Ergasias in relation to the sale of a €2bn non-performing unsecured consumer loan portfolio. Senior associate Stergios Frastanlis has 'an eye for simple solutions' while Eleni Likou is also recommended.
Practice head(s):
Testimonials
'Thenia Panagopoulou is a very capable partner, able to handle complex transactions. She always provides value to her clients, is very reliable, effective and a hard-working partner. She is well aware of legislation, a gentle negotiator and is always oriented to providing value to her client.'
'Commercial understanding, flexibility, responsiveness'.
'Thenia and Stergios have been supporting us through complex transactions; both very nice people with business sense, aiming to help achieve the goal each time. With an eye for simple solutions that address concerns they are constructive in assisting the process each time.'
'Knowledgeable, prompt and flexible, geared towards making a deal work'.
At Saplegal - A.S. Papadimitriou & Partners Law Firm, Evangelos Lakatzis is expert in M&A deals and cross-border transactions, predominantly acting for a client roster of venture capital firms, private equity firms and strategic or private investors. He also well regarded for his support on the full range of corporate, civil and commercial law. He jointly heads the practice with Thenia Panagopoulou, a specialist in business acquisitions, group reorganisations, group ventures and strategic alliances. Sector strength is spread across the financial, agribusiness, health, hospitality and media sectors, among others. Senior associate Eleni Likou is highly rated by clients who note her 'knowledgeable and pro-active' service.
Practice head(s):
Testimonials
'What makes the firm stand out is the combination of legal and business sense of their service. As an entrepreneur it is important to have someone who understands the business side of the equation and helps you get to the result you wish to attain.'
'You feel that they understand the whole picture.'
'Vaggelis Lakatzis and Eleni Lykou at SAPLegal are an efficient, well-oiled machine that acts for clients in a big law fashion, despite belonging to a boutique firm. As clients, we have developed a close relationship with the SAPLegal team, who advise us on the legal aspects of strategic future moves (such as regulation, stock listing and M&A). SAPLegal will be our first port of call when faced with legal uncertainty either in the normal course of business or when planning something new.'
'Evangelos and Eleni are both knowledgeable, pro-active, with the right mix of intensity and attentiveness, and have developed meaningful advisory relationships with people at all levels within our organisation. It is rare to see legal professionals who manage to combine interpersonal and legal skills, who think outside the box and who keep their focus on the business interests rather than just what the law says. With respect to their competitors, Evangelos and Eleni simply stand out; the quality of their services easily compares to that of big London or New York firms.'
'Throughout our collaboration, A.S. Papadimitriou & Partners Law Firm have always been professional, responsive and have offered valuable advice tailored to each case. Their team is comprised of specialised attorneys in various fields and partners who are the active on the front line –  lawyers of every single case. They also offer value for money services.'
'I would single out Evangelos Lakatzis, with whom I have worked in most cases. He combines in-depth knowledge of the legal framework and business environment with a clear and organized way of thinking which makes him perceptive of the issues to be addressed and the way to address them.'
'Lakatzis has excellent negotiation and communication skills, allowing him to play a leading role in both commercial and legal negotiations and reach the client's target in the most efficient way. He does not hesitate to disagree with with his client when he believes that serves the client's interest best.'
'All in all, I feel secure with the cases he handles and I consider him one of my closest advisors.'
Key clients
AMERRA Capital Management LLC
Tsakos Group of Companies
Alpha Media Group Ltd
Alexander S. Onassis Foundation
Hellenic Development Bank of Investments
Hellenic Fund for Entrepreneurship and Development
Gaslog Ltd.
Calamos Group
CNL Capital
Global Finance
Elikonos 2 S.C.A. SICAR
At Saplegal - A.S. Papadimitriou & Partners Law Firm, the team is 'diligent and meticulous' and 'tackles complex issues in a very efficient way'. Elena Kossena, who is an expert in inheritance, family and shipping disputes, leads the practice with Alexander Dovles, who 'stands out for his exceptional and analytical work' and is a key name for disputes concerning company ownership. The team is well-versed in domestic and international litigation and also has specialist knowledge of proceedings in the real estate, construction, healthcare, finance and hospitality sectors.
Practice head(s):
Testimonials
'The firm is capable of understanding, dealing with and tackling complex issues that may even be normally governed by foreign law (and notably common law) in a very efficient way. Legal concepts like trusts and orders like Chabra or Masri are not part of Greek law and one needs great skills and ability in understanding the relevant applicable legal principles and structure any potential Greek legal proceedings in a way that any results that can normally be pursued (and secured) in common law jurisdictions can be pursued (and secured) in Greece.'
'I believe that this practice is comprised of well educated individuals with great working knowledge that have adopted a very hands on approach, thus bringing to their clients very good results. The individuals I have worked with are diligent and meticulous and do their best to meet their client's needs and requests.'
'Every single case that we had so far was won from the lawyers because each individual focuses on the details. They don't rush into suggesting our strategy, they analyse every possible outcome from every possible move. They do outstanding work.'               
'Alexandros Dovles stands out for his exceptional and analytical work on our cases. Anastasia Fanourgaki stands out for being available 24/7 – whenever needed she was there with a solution to every problem we had.'
Key clients
Grecotel Group
Alexander S. Onassis Foundation
George Economou
PRS
Olympia Group
V. Theoharakis Group of Companies
Eurodrip S.A.
Kefalogiannis family
Pentheroudakis Family
Euroclinic of Athens SA
Mitsis group
Enesel S.A.
Saplegal - A.S. Papadimitriou & Partners Law Firm >
Firm Profile
Saplegal – A.S. Papadimitriou & Partners is a distinguished law firm offering a wide range of comprehensive legal services in the field of business and civil law. Based on legal expertise and in-depth knowledge of the Greek and international business context, the firm has participated in numerous projects and cross-border transactions in the South Eastern Europe area.
The firm consists of a dynamic team of motivated business lawyers with extensive experience and high level education, among whom is Dr Anthony S. Papadimitriou, President of the Onassis Foundation. The firm's lawyers team up with the clients, identify their specific needs, and provide bespoke practical and creative solutions, always taking into account that time is of the essence. This is the legacy inherited from the founder of the firm, Stelios A. Papadimitriou, known as the Aristotle Onassis' and the Greek ship owners' elite lawyer.
The firm's commitment to meeting all challenges with absolute dedication has led to long-lasting ties with its clients, which include venture capital firms, private equity funds, financial and credit institutions, trusts, foundations, Greek and foreign ship-owners and businessmen, as well as, major companies in almost all areas of industry and commerce.
The ability to combine legal expertise with deep business knowledge, an awareness of the international economic scene and a hands-on attitude is what distinguishes Saplegal – A.S. Papadimitriou & Partners.
The firm's areas of practice include:
Dispute Resolution
Venture Capital, Private Equity and M&A
Corporate and Commercial
Banking, Finance and Capital Markets
Real Estate and Property Development
Ship Finance and Acquisitions
Foundations and Trusts
Estate planning, family and inheritance
Health and Medical Malpractice
Intellectual Property and Personal Data Protection
Two partners of the firm, Ms Elena F. Kossena and Mr Evangelos I. Lakatzis are certified mediators. Also, our associate, Ms Katerina A. Paschou, is a Certified Data Protection Officer (DPO).
In addition, the firm's partners and associates are active in numerous scientific activities, including the publication of legal articles, consultation of legislative committees and participation as speakers at conferences and Greek or international fora.
Contact:  Spiros A. Komitopoulos
Main Contacts
| Department | Name | Email | Telephone |
| --- | --- | --- | --- |
| Dispute Resolution | Elena F. Kossena | efk@saplegal.gr | +30 2109409960 |
| Dispute Resolution | Alexander C. Dovles | acd@saplegal.gr | +30 2109409960 |
| Venture Capital, Private Equity and M&A | Evangelos I. Lakatzis | eil@saplegal.gr | +30 2109409960 |
| Venture Capital, Private Equity and M&A | Thenia T. Panagopoulou | ttp@saplegal.gr | +30 2109409960 |
| Corporate and Commercial | Thenia T. Panagopoulou | ttp@saplegal.gr | +30 2109409960 |
| Corporate and Commercial | Evangelos I. Lakatzis | eil@saplegal.gr | +30 2109409960 |
| Banking, Finance and Capital Markets | Thenia T. Panagopoulou | ttp@saplegal.gr | +30 2109409960 |
| Banking, Finance and Capital Markets | Evangelos I. Lakatzis | eil@saplegal.gr | +30 2109409960 |
| Real Estate and Property Development | Dionysios K. Voulgaris | dkv@saplegal.gr | +30 2109409960 |
| Ship Finance and Acquisitions | Dr Anthony S. Papadimitriou | asp@saplegal.gr | +30 2109409960 |
| Ship Finance and Acquisitions | Katerina A. Paschou | kap@saplegal.gr | +30 2109409960 |
| Foundations and Trusts | Dr Anthony S. Papadimitriou | asp@saplegal.gr | +30 2109409960 |
| Foundations and Trusts | Thenia T. Panagopoulou | ttp@saplegal.gr | +30 2109409960 |
| Estate planning, family and inheritance | Dr Anthony S. Papadimitriou | asp@saplegal.gr | +30 2109409960 |
| Estate planning, family and inheritance | Elena F. Kossena | efk@saplegal.gr | +30 2109409960 |
| Health and Medical Malpractice | Alexander C. Dovles | acd@saplegal.gr | +30 2109409960 |
| Health and Medical Malpractice | Elena F. Kossena | efk@saplegal.gr | +30 2109409960 |
| Intellectual Property and Personal Data Protection | Dr Nantia P. Kyprouli | kpk@saplegal.gr | +30 2109409960 |
| Intellectual Property and Personal Data Protection | Katerina A. Paschou | kap@saplegal.gr | +30 2109409960 |
Lawyer Profiles
| Photo | Name | Position | Profile |
| --- | --- | --- | --- |
| | Mr Alexander C. Dovles | Partner – Practice areas: Civil and Commercial Law, Civil Procedure Law, Civil… | View Profile |
| | Ms Anastasia P. Fanourgaki | Associate – Practice areas: Intellectual Property, Internet Law, Civil Law, Company Law,… | View Profile |
| | Dr Stergios G. Frastanlis | Associate – Practice areas:Restructuring/Insolvency, Corporate M&As, Banking and Finance, Capital Market Law | View Profile |
| | Ms Pavlina A. Galati | Associate – Practice areas: Civil and Commercial Law, Civil and Commercial Litigation,… | View Profile |
| | Mrs Chrysoula S. Giannopoulou | Associate – Practice Areas: M&A transactions, Commercial & Corporate Law, Commercial Agreements, Privatizations, Real… | View Profile |
| | Mr Spiros A. Komitopoulos | Managing Partner- Practice areas: Civil Law, Company Law, Tax Law, Real Estate,… | View Profile |
| | Ms Elena F. Kossena | Partner – Practice areas: Domestic and International Dispute Resolution, Family & Inheritance… | View Profile |
| | Ms Spyridoula F. Koumparouli | Associate – Practice areas: Civil Law, Labor Law, Corporate and Commercial Law,… | View Profile |
| | Dr Nantia P. Kyprouli | Associate – Practice areas: Corporate, Civil and Commercial Law, IP Law, Media… | View Profile |
| | Mr Evangelos I. Lakatzis | Partner – Practice areas: Private Equity and Venture Capital, M&A and Corporate,… | View Profile |
| | Ms Eleni K. Likou | Associate – Practice areas: Commercial and Corporate Law, M&As, Intellectual Property, Personal… | View Profile |
| | Ms Thenia T. Panagopoulou | Partner – Practice areas: M&A, Corporate Law, International Transactions, Insurance, Banking &… | View Profile |
| | Dr Anthony S. Papadimitriou | Founding Partner – Practice areas: Company Law, Commercial Law; Investments; Mergers and… | View Profile |
| | Ms Katerina A. Paschou | Associate – Practice areas: Civil Law, Company Law, Commercial and Civil Dispute… | View Profile |
| | Ms Dimitra Ch. Passiou | Partner – Practice areas: Tax and Tax Litigation | View Profile |
| | Ms Christina K. Perrou | Associate-Practice Areas:Civil Law, Commercial Law | View Profile |
| | Mr Dionysios K. Voulgaris | Partner- Practice areas: Banking and Finance, Medical Law, Privatizations, Real estate, Civil,… | View Profile |
Staff Figures
Lawyers : 19
Languages
Greek English French German Spanish
Memberships
Athens Bar Association Hellenic Association of Law Firms Hellenic Society of Maritime Lawyers International Bar Association
Top Tier Firm Rankings
Firm Rankings