Moratis Passas Law Firm > Athens, Greece > Firm Profile
Moratis Passas Law Firm
Offices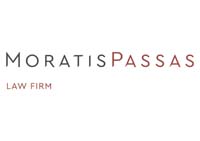 Moratis Passas Law Firm
15, VOUKOURESTIOU STREET
106 71 ATHENS
Greece
Moratis Passas Law Firm > The Legal 500
Rankings
The team at
Moratis Passas Law Firm
is comprised of '
highly capable and experienced
' lawyers who cover a range of banking, finance and related regulatory matters
.
 The practice advises both local and foreign financial institutions, handling syndicated loans, the enforcement of securities, factoring and leasing transactions, and international trade finance, including cross-border matters. The practice is led by managing partner 
Dimitris Passas
and
Vassilis Saliaris
, who has '
expert knowledge
' of securitisations, covered bond programmes and NPL matters.
Practice head(s):
Dimitris Passas; Vassilis Saliaris
Other key lawyers:
Mantha Varela; Christiana Koliofoti; Nikos Syrmas; Maria Androulaki; Andreas Chasiotis
Testimonials
'The team comprises highly experienced and efficient professionals. They have appointed one partner for us who co-ordinates all issues relating to our company. We rely on them for most of our company's legal needs in Greece.'
'Nikos Syrmas is always available for a telephone call and responds promptly to email queries. His opinion is clear and highly respected by our company.'
'Vassilis Saliaris has an expert knowledge of the Greek banking and financial services market and the relevant legislation. Vassilis is very a smart lawyer, who is quick at understanding client needs and coming up with tangible solutions.'
'A highly capable and experienced team. They enjoy an excellent reputation, coupled with their ability to handle the most complex cases, often involving multiple participants and jurisdictions.'
'Their legal work is always top quality and they have the resources to successfully support both high-profile cases and bespoke transactions.'
'Dimitris Passas' insight, knowledge and experience are paralleled by an outstanding track record and impeccable work ethic.'
'The team has a deep knowledge of a variety of complex legal matters and is always willing to work on challenging projects in order to provide tailor-made services.'
'Nikos Syrmas and Vassilis Saliaris are very experienced, have a great response time, are always to the point, keep to deadlines, and respect the needs and demands of their clients.'
Key clients
Alpha Bank
Citibank Europe Plc
Citigroup Global Markets Limited
Eurobank Financial Planning Service (FPS)
doValue Hellas SA
New SIA Greece SA (formerly First Data Hellas)
UCI Greece
Santander Consumer Finance S.A
Attica Bank
Piraeus Bank
Eurobank Ergasias
Vivabank (formerly Praxia Bank)
Cyprus Popular Bank Public Co Ltd
Davidson Kempner European Partners LLP
Clifford Chance LLP
Work highlights
Advised Piraeus Bank in relation to the Hellenic Asset Protection Scheme securitisation transaction Sunrise I, involving a retail and corporate NPE portfolio of €7.2bn.
Advised Davidson Kempner European Partners LLP on the acquisition of 80% of Alpha Bank's loan servicing subsidiary, Cepal Holdings Single Member S.A., and the purchase of 51% of the mezzanine and junior notes of each of the four securitisations comprising Project Galaxy.
Acted as Greek legal counsel to UBS Europe SE, as arranger, in relation to the securitisation of Piraeus Bank's Phoenix portfolio of NPL receivables with a gross book value of €2bn, which took place through the issue by the SPV of senior, mezzanine and junior notes.
Moratis Passas Law Firm
handles a range of dispute resolution matters, including out-of-court settlements, civil litigation, commercial disputes, and banking and finance litigation, with recent focus on shareholders' disputes. Its experience extends to representing clients before the European courts, the European Commission and the national courts.
Dimitris Passas
and
Nikos Syrmas
head the practice.
Practice head(s):
Dimitris Passas; Nikos Syrmas
Other key lawyers:
Mantha Varela; Lampros Adamos
Testimonials
'The team is comprised of highly experienced professionals. They have appointed one partner who is responsible for our firm, who co-ordinates all issues relating to over 300 litigation cases as well as one arbitration case. Some of the cases are of high value and our company relies on the law firm for a successful closing of the legal battle in our favour. Their representation and defence of us in court has been to our satisfaction.'
'Nikos Syrmas is a highly efficient and highly experienced legal adviser, with an in-depth knowledge of our bank's peculiarities and the legal framework surrounding its banking activities and resolution status. Mr Syrmas is always within reach to provide advice and guidance by phone and responds promptly to email queries. His opinion is clear and highly respected by our company.'
'Excellent dedicated team, with deep knowledge of the court system and the law.'
'Experienced lawyers; easy to work with; candid. They have the ability to make complex cases easy to understand and defend.'
Key clients
Citibank Europe Plc, Greek branch
Piraeus Bank
Cyprus Popular Bank Public Company Ltd
Vivabank
Hellas Capital Leasing
NN Hellas
Piraeus Financial Leasing SA
EDOEAP
EFKA
Antenna T.V. SA
Olympiacos Basketball Club
Moratis Passas Law Firm >
Firm Profile
The firm: Moratis Passas was founded in 1990 by joining the previously individual successful practices of George Moratis and Dimitris Passas. In 2010 the firm was established as a law partnership under Greek Law (Presidential Decree 81/2005) and is located in Athens (Head office: 15 Voukourestiou str. |Branch office 5 Zalokosta str.)
Moratis Passas has since its inception been an advisor to many key players in the Greek banking and financial sectors. Over the past decades, we have built a highly qualified team that combines local expertise with experience in major international transactions, ensuring our clients receive consistent quality. Our firm has experience in the vast majority of the business segments and financial markets across multiple jurisdictions and works with high-profile clients to resolve disputes efficiently and effectively –through arbitration, litigation, or other techniques. Our widely recognized expertise has been developed through the years, and has led us to top tier ranking among Greek law firms in the fields of banking and finance. Furthermore, we have played a substantial role in many of the most complex and noteworthy transactions and litigations. Gradually, our areas of practice have successfully expanded over most fields of contemporary financial and corporate matters. Today, we are proud of our expanding and loyal clientele that varies from corporate entities to banks and multinational organizations, as well as private entities. The firm's commitment to meeting all challenges with absolute dedication has led to long-lasting ties with its clients, which include venture capital firms, private equity funds, financial and credit institutions, Greek and foreign ship-owners and businessmen, as well as, major companies in almost all areas of industry and commerce. Moratis Passas operates in accordance with its business principles of quality, unity, and integrity, aims to provide the highest possible standard of legal service to each of its clients, and to maintain an outstanding level of quality at every point of contact.
Main Areas of practice
Banking and finance: We advise most local and foreign credit and financial institutions operating in Greece on a wide range of matters pertaining to banking, finance and corporate law as well as regulatory issues. Our experience includes negotiation and conclusion of sale and purchase agreements (SPAs) regarding transfer of whole or part of a business, documentation and execution of credit facilities, including syndicated loans, documentation and enforcement of securities (mortgages and charges), indemnities and guarantees, factoring transactions, leasing transactions, hire-purchase transactions, inter-creditor agreements, international trade finance (letters of credit and other negotiable instruments), corporate refinancing and restructuring, project and construction finance and other. We have also pioneered many new financial products and practices in the retail banking and consumer lending.
Capital markets :The international capital markets expertise of Moratis Passas covers initial public offerings and further equity offerings, regulatory capital and equity-linked (convertible and exchangeable) bond issues. The capital markets practice concentrates on securities transactions and other products sold into the capital markets. The practice is complemented by local securities law expertise in each of the key financial centers. It provides practical, integrated legal advice that covers the full spectrum of capital raising activities, including public and private domestic and international offerings of traditional debt and equity securities, as well as convertible and other derivative and structured securities.
Structured finance, securitizations and structured bonds: Our firm has in depth experience of Greek law on securitizations, having been involved in a number of such transactions by local originators, since the enactment of Law 3156/2003 on corporate bonds and securitizations. The firm excels in all areas of the securitization market across all asset classes, though it has particular expertise in whole business securitizations and corporate structured funding, including infrastructure and project bond-related work, and it is a leading legal advisor in the covered bonds market .We also have wide experience on international issues of debt securities issued by Greek companies, having acted as Greek counsel to the underwriters in most High Yield Bond issues of Greek corporates. The practice provides highly commercial and practical advice across the full spectrum of financial products, including syndicated lending and leveraged and acquisition finance, asset finance, project finance, financial regulatory, insolvency, restructuring and structured finance ,diversified payment rights transactions and other asset securitizations (bonds, repos and options)
Financial services regulatory: Our firm's service portfolio covers the entire regulatory lifecycle, from licensing procedures, cross border services, payment systems, AML rules to industry-specific regulations.
Corporate and M&A: Our corporate and commercial practice legal team handles some of the most complex M&As transactions, joint ventures, shareholders' agreements, company and partnership formations, as well as general corporate representation. Our practice has a notably strong record in legal support for companies, corporate groups, enterprises, in-house legal teams, and individuals with respect to commercial contracts and agreements covering all aspects of commercial transactions, including sale and lease of movable and immovable property, provision of legal services, franchise, license, and distribution agreements. Our firm also advises spin-offs of Greek companies and assists with the day-to-day legal affairs of several major Greek companies with international activities. Furthermore, our experience includes negotiation and conclusion of sale and purchase agreements (SPAs) regarding transfer of whole or part of a business.
Dispute resolution (Litigation & Arbitration): Moratis Passas has a very strong litigation team with a long track record of achievements in major complex, national and cross border litigation, arbitration and out of court disputes, especially in handling civil litigation, commercial disputes, banking, and financial cases. With highly skilled lawyers in litigation, arbitration, our firm deploys that experience to help clients devise the best legal strategies to handle business disputes. Furthermore, it provides robust complementary corporate and litigation advice and representation. The firm represents clients in litigation and arbitration before Greek courts and international arbitral tribunals in relation to a wide range of disputes.
Competition/Antitrust & EU law : Our antitrust experts have extensive experience in dealing with cartel investigations, conducted either by the Hellenic Competition Commission or the European Commission, in a very large number of industry sectors, including banking, pharmaceuticals, food sector, automobile, energy and telecommunications. We have also dealt with cases concerning abuse of dominance, in all its forms (margin squeeze, predatory pricing, unfair trading conditions etc.), both under Greek and EU law. We regularly advise our clients on possible antitrust and competition law issues arising in the context of commercial agreements, including exclusive and selective distribution, franchising and e-commerce. As we strongly believe in a proactive approach, we are keen to help our clients on compliance strategies by drafting competition guidelines and organizing training programs for investigations (dawn raids) tailored to our clients' individual needs.Our team in the field of M&A's provides all necessary substantive analysis in close collaboration with expert economists and assists our clients in the filing of a merger notification and possible remedies implementation, both under Greek and EU merger control system. Lastly, we represent our clients before the Greek Administrative Courts and the Council of State against the Hellenic Competition Commission's decisions, as well as EU Courts in Luxembourg and we proceed to any necessary actions for damages before Greek civil courts for violations of antitrust rules.
Insurance: We have broad and extensive experience in Greek insurance and reinsurance law. Among our clients are many of the worlds and local leading insurers, reinsurers, brokers, as well as banking clients. Our in-depth know-how of local laws and regulatory framework, as well as our practice insight, enables us to provide practical and client-oriented legal and tax advice in connection with life/non-life insurance and reinsurance, as well as bancassourance arrangements.
Public sector: We review public sector contracts and concession agreements and advise on financing Greek public sector entities, including acting for foreign state agencies.
Data protection: Our law firm holds significant expertise in the area of data protection for more than two decades. Our dedicated team of lawyers is certified as Privacy Practitioners by IAPP and has solid knowledge and experience in privacy issues, forming a holistic and business-friendly approach to address the needs of our clients. Our work covers regulatory compliance, data protection audits, due diligence on data protection and privacy issues, privacy statements ,privacy impact assessments, whistle-blowing schemes and other privacy policies, internal investigations, data processing agreements, data security, data retention obligations and related litigation.
Staff Figures
Number of lawyers - At this address : 17 Number of lawyers - in this country : 17 Number of lawyers - worldwide : 17
Languages
English French German Italian Russian Spanish Greek
Diversity/Community
DIVERSITY STATEMENT
MORATIS PASSAS values diversity and welcomes people of different ages, religious affiliations, social background, and genders. Our firm provides equal opportunities to all employees and applicants for employment regardless of age, gender identity, or sexual orientation. Our people are our firm's greatest asset. Their uniqueness and expertise set us apart, which is why we aim to hire dedicated and creative professionals with diverse backgrounds and experiences. We strongly believe in gender diversity, and that 60% of our professionals and the administrative team are women, proves our commitment. We strive to create a culture that is inclusive and encourages, supports, and celebrates the diverse voices of our employees. This, in turn, brings us closer to the communities we serve and to our clients.
We exhibit a daily commitment to pursuing our goal of a professional setting that not only celebrates differences, but also takes great care to treat all individuals with equity and respect. Our firm's culture guarantees that we advocate for inclusion and diversity.
Last but not least, we offer chances to young legal trainees and encourage personal and professional development of our people.
PRO BONO INITIATIVES
MORATIS PASSAS is committed to giving back to the community and offer our pro bono services to a wide range of organizations in the areas of art and culture, including the visual, literary and performing arts.
We consider pro bono work an important professional responsibility; believing that arts played a significant role in forming the identity of Greece, our firm's pro bono legal work is mainly focused to providing legal services to Renowned artists.
Client Testimonials
CLIENT: MR ROB BASTON
COMPANY/FIRM: UBS
TESTIMONIAL: The most valuable aspect of Moratis Passas is their somewhat unique capacity to be commercial and pro-active as well as a lawyer's lawyer, total on top of the details. If you want counsel with an acute legal mind and a problem solving drive, pick up the phone to them …
---
CLIENT: MS MADELEINE HORROCKS
COMPANY/FIRM: ORRICK
TESTIMONIAL: Vassilis Saliaris and his team always provide clear and practical advice on complex finance matters, including NPLs and HAPS.
---
CLIENT: MR MENELAOS KARPATHAKIS
COMPANY/FIRM: DoValue GREECE
TESTIMONIAL: Moratis Passas are top experts in banking and finance law with hands-on mentality and great analytical approach, while possessing an excellent understanding of the client's business. Serious and reliable partners, exceptional commitment to get the deal done. They are a highly experienced firm with a lot of capabilities showing an outstanding work ethic and professionalism. What we appreciate most is the deep legal knowledge and fast responsiveness of Moratis Passas banking and finance practice.
---
CLIENT: MR CLEOVOULOS ALEXANDROU
COMPANY/FIRM: CPB
TESTIMONIAL: The above named legal firm have been our legal consultants since 2013 and we feel that their legal expertise and professionalism stands next to none. They are assisting us on issues of banking practice and other relevant issues based on Greek Law. They pursue all litigation in Greece which comprise of numerous cases. They also acted as our legal consultants on our Greek bank subsidiaries sale process and now on arbitration issues. Our experience with the said law office has been all along very satisfactory. They promptly respond to all our diversified legal queries in a resolute and highly professional manner. Their team work is highly appreciated.