Firm Profile > Moratis Passas Law Firm > Athens, Greece
Moratis Passas Law Firm
Offices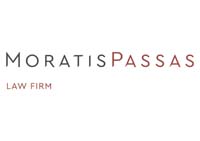 Moratis Passas Law Firm
15, VOUKOURESTIOU STREET
106 71 ATHENS
Greece
Moratis Passas Law Firm > The Legal 500
Rankings
Moratis Passas Law Firm is a household name for credit and loan facilities, securities, indemnities and guarantees, SPAs, international trade finance and intercreditor agreements. It complements its core banking and finance expertise with an equally formidable capability in IPOs and further equity offerings, bond issuances and structured finance transactions in the capital markets arena. Managing partner Dimitris Passas is well versed in securitisation, debt restructuring, corporate finance and capital markets regulation, while Vassilis Saliaris gears his practice towards banking-related M&A, financial institution licensing and covered bond programmes. The pair jointly lead the practice alongside consumer and corporate lending expert Constantine Casmas.
Practice head(s):
Dimitris Passas; Vassilis Saliaris; Constantine Casmas
Testimonials
'Highly skilled practice, with unique experience even in the most arcane aspects of Greek banking law, coupled with deep-dive knowledge of corporate law. This practice presents optimal answers to challenging questions.'
'The strength of the practice lies in the people and in the vast array of transactions where they have acted as advisers in the past.'
'Dimitris Passas is one of the most experienced attorneys in Greek banking law.'
'Very experienced and excellent team players.'
'Immediate reaction to any request or question.'
'Very professional and willing to help you.'
Key clients
Alpha Bank
Citibank Europe Plc
Citigroup Global Markets Limited
Eurobank Financial Planning Service (FPS)
doValue Hellas SA
New SIA Greece SA (formerly First Data Hellas)
UCI Greece
Attica Bank
Piraeus Bank
Eurobank Ergasias
Praxia Bank (formerly Credicom Consumer Finance Bank)
Cyprus Popular Bank Public Co Ltd
Clifford Chance LLP
Moratis Passas Law Firm enjoys a particularly strong reputation for shareholder, commercial, competition, banking and civil litigation, with the capacity to act on cross-border disputes and out-of-court settlements. Dimitris Passas and Nikos Syrmas jointly head the team, which has a solid track record of appearing before the national and European courts and competition authorities, and also specialises in sports, tax, real estate, IP, consumer protection and administrative disputes.
Practice head(s):
Dimitris Passas; Nikos Syrmas
Testimonials
'They are highly professional, have excellent and in-depth knowledge of our background, peculiarities and needs, and are highly efficient and respond quickly to queries. They have provided their legal support and services on tough and complicated issues. Their office is well structured, so whatever we request is provided promptly, most of the time within the same day.'
'Nikos Syrmas is always available to provide his assistance, advice or guidance on any of the issues.'
'Nikos Syrmas and Dimitris Passas are impressive in the quality of their work and immediate in their response to inquiries.'
Key clients
Citibank Europe Plc, Greek branch (formerly Citibank International)
Piraeus Bank
Praxia Bank
Hellas Capital Leasing
NN Hellas
Olympiacos Basketball Club
EDOEAP
Antenna T.V. SA
EFKA
CPB Leasing SA
Moratis Passas Law Firm >
Firm Profile
The firm: Moratis Passas was founded in 1990 by joining the previously individual successful practices of George Moratis and Dimitris Passas. In 2010 the firm was established as a law partnership under Greek Law (Presidential Decree 81/2005) and is located in Athens (Head office: 15 Voukourestiou str. |Branch office 5 Zalokosta str.)
Moratis Passas has since its inception been an advisor to many key players in the Greek banking and financial sectors. Over the past decades, we have built a highly qualified team that combines local expertise with experience in major international transactions, ensuring our clients receive consistent quality. Our firm has experience in the vast majority of the business segments and financial markets across multiple jurisdictions and works with high-profile clients to resolve disputes efficiently and effectively –through arbitration, litigation, or other techniques. Our widely recognized expertise has been developed through the years, and has led us to top tier ranking among Greek law firms in the fields of banking and finance. Furthermore, we have played a substantial role in many of the most complex and noteworthy transactions and litigations. Gradually, our areas of practice have successfully expanded over most fields of contemporary financial and corporate matters. Today, we are proud of our expanding and loyal clientele that varies from corporate entities to banks and multinational organizations, as well as private entities. The firm's commitment to meeting all challenges with absolute dedication has led to long-lasting ties with its clients, which include venture capital firms, private equity funds, financial and credit institutions, Greek and foreign ship-owners and businessmen, as well as, major companies in almost all areas of industry and commerce. Moratis Passas operates in accordance with its business principles of quality, unity, and integrity, aims to provide the highest possible standard of legal service to each of its clients, and to maintain an outstanding level of quality at every point of contact.
Main Areas of practice
Banking and finance: We advise most local and foreign credit and financial institutions operating in Greece on a wide range of matters pertaining to banking, finance and corporate law as well as regulatory issues. Our experience includes negotiation and conclusion of sale and purchase agreements (SPAs) regarding transfer of whole or part of a business, documentation and execution of credit facilities, including syndicated loans, documentation and enforcement of securities (mortgages and charges), indemnities and guarantees, factoring transactions, leasing transactions, hire-purchase transactions, inter-creditor agreements, international trade finance (letters of credit and other negotiable instruments), corporate refinancing and restructuring, project and construction finance and other. We have also pioneered many new financial products and practices in the retail banking and consumer lending.
Capital markets :The international capital markets expertise of Moratis Passas covers initial public offerings and further equity offerings, regulatory capital and equity-linked (convertible and exchangeable) bond issues. The capital markets practice concentrates on securities transactions and other products sold into the capital markets. The practice is complemented by local securities law expertise in each of the key financial centers. It provides practical, integrated legal advice that covers the full spectrum of capital raising activities, including public and private domestic and international offerings of traditional debt and equity securities, as well as convertible and other derivative and structured securities.
Structured finance, securitizations and structured bonds: Our firm has in depth experience of Greek law on securitizations, having been involved in a number of such transactions by local originators, since the enactment of Law 3156/2003 on corporate bonds and securitizations. The firm excels in all areas of the securitization market across all asset classes, though it has particular expertise in whole business securitizations and corporate structured funding, including infrastructure and project bond-related work, and it is a leading legal advisor in the covered bonds market .We also have wide experience on international issues of debt securities issued by Greek companies, having acted as Greek counsel to the underwriters in most High Yield Bond issues of Greek corporates. The practice provides highly commercial and practical advice across the full spectrum of financial products, including syndicated lending and leveraged and acquisition finance, asset finance, project finance, financial regulatory, insolvency, restructuring and structured finance ,diversified payment rights transactions and other asset securitizations (bonds, repos and options)
Financial services regulatory: Our firm's service portfolio covers the entire regulatory lifecycle, from licensing procedures, cross border services, payment systems, AML rules to industry-specific regulations.
Corporate and M&A: Our corporate and commercial practice legal team handles some of the most complex M&As transactions, joint ventures, shareholders' agreements, company and partnership formations, as well as general corporate representation. Our practice has a notably strong record in legal support for companies, corporate groups, enterprises, in-house legal teams, and individuals with respect to commercial contracts and agreements covering all aspects of commercial transactions, including sale and lease of movable and immovable property, provision of legal services, franchise, license, and distribution agreements. Our firm also advises spin-offs of Greek companies and assists with the day-to-day legal affairs of several major Greek companies with international activities. Furthermore, our experience includes negotiation and conclusion of sale and purchase agreements (SPAs) regarding transfer of whole or part of a business.
Dispute resolution (Litigation & Arbitration): Moratis Passas has a very strong litigation team with a long track record of achievements in major complex, national and cross border litigation, arbitration and out of court disputes, especially in handling civil litigation, commercial disputes, banking, and financial cases. With highly skilled lawyers in litigation, arbitration, our firm deploys that experience to help clients devise the best legal strategies to handle business disputes. Furthermore, it provides robust complementary corporate and litigation advice and representation. The firm represents clients in litigation and arbitration before Greek courts and international arbitral tribunals in relation to a wide range of disputes.
Insurance: We have broad and extensive experience in Greek insurance and reinsurance law. Among our clients are many of the worlds and local leading insurers, reinsurers, brokers, as well as banking clients. Our in-depth know-how of local laws and regulatory framework, as well as our practice insight, enables us to provide practical and client-oriented legal and tax advice in connection with life/non-life insurance and reinsurance, as well as bancassourance arrangements.
Public sector: We review public sector contracts and concession agreements and advise on financing Greek public sector entities, including acting for foreign state agencies.
Data protection: Our law firm holds significant expertise in the area of data protection for more than two decades. Our dedicated team of lawyers is certified as Privacy Practitioners by IAPP and has solid knowledge and experience in privacy issues, forming a holistic and business-friendly approach to address the needs of our clients. Our work covers regulatory compliance, data protection audits, due diligence on data protection and privacy issues, privacy statements ,privacy impact assessments, whistle-blowing schemes and other privacy policies, internal investigations, data processing agreements, data security, data retention obligations and related litigation.
Lawyer Profiles
| Photo | Name | Position | Profile |
| --- | --- | --- | --- |
| | Panagiotis Anastopoulos | Senior Associate Panagiotis joined our Law Firm in 2014. Panagiotis' practice focuses… | View Profile |
| | Maria Androulaki | Associate Maria joined our Law Firm in 2016. She advises on matters… | View Profile |
| | Eleni Babaletaki | Associate Eleni joined our Law Firm in 2018. Eleni advises on issues… | View Profile |
| | Constantine Casmas | Partner Constantine Casmas joined our Law Firm in 2018. Constantine has 25… | View Profile |
| | Andreas Chasiotis | Associate Andreas joined our Law Firm in 2020. Andreas advises on legal… | View Profile |
| | Ioanna Karagianni | Associate Ioanna joined our Law Firm in 2019. Ioanna's main areas of… | View Profile |
| | Pelagia Klara | Associate Pelagia joined our Law Firm in 2017. Pelagia advises on commercial… | View Profile |
| | Christiana Koliofoti | Senior Associate Christiana joined our Law Firm in 2011. She has considerable experience… | View Profile |
| | Fotis Kotsis | Partner Fotis joined our Law Firm in 2008 as a junior associate… | View Profile |
| | Dimitris Passas | Managing Partner Dimitris Passas is the Co-founder and Managing Partner of… | View Profile |
| | Vassilis Saliaris | Partner Vassilis joined our Law Firm in 2003 and became a partner… | View Profile |
| | Natassa Skoufi | Associate Natasha joined our Law Firm in 2021. Natasha's focus lies mainly… | View Profile |
| | Lena Sotirakopoulou | Associate Lena joined our Law Firm ,as a trainee lawyer, in 2010… | View Profile |
| | Efstratios Stamoulis | Counsel Efstratios joined our Law Firm as Counsel in 1996. Efstratios specializes… | View Profile |
| | Nikos Syrmas | Partner Nikos joined our Law Firm in 2001 as a trainee Lawyer… | View Profile |
| | Sofia Vrontou | Associate Sofia joined our Law firm in 2021. Sofia's expertise focuses on… | View Profile |
Staff Figures
Number of lawyers - At this address : 17 Number of lawyers - in this country : 17 Number of lawyers - worldwide : 17
Languages
English French German Italian Russian Spanish Greek
Diversity/Community
DIVERSITY STATEMENT
Moratis Passas law firm attracts and retains bright lawyers and tries to foster a respectful and supportive working environment for all lawyers and staff, where people from all backgrounds can reach their full potential, regardless of their race, gender, ethnicity, religion, age, sexual orientation or disability.
PRO BONO INITIATIVES
Moratis Passas Law Firm considers pro bono work an important professional responsibility; believing that arts played a significant role in forming the identity of Greece, our firm's pro bono legal work is mainly focused to providing legal services to non-profit organizations, institutions and entities which promote arts in Greece.
Persons and entities to which we have been providing our pro bono legal services include:
A museum;
A non-profit organization, organizer of exhibitions of contemporary arts;
Renowned artist;
A theatre production company.
By helping such entities, we take pride in contributing to the cultivation of the cultural identity of contemporary Greeks.
Client Testimonials
CLIENT: Christos Iliopoulos (Legal Advisor)
COMPANY/FIRM: Citibank Europe Plc
TESTIMONIAL: "Taking into account that Citi is sensitive with servicing its clients with the most comprehensive way, we wanted to hire a recognizable and professional law firm with experience in banking industry and international markets. The relationship with each member of this law firm is a matter of trust since the handling of any legal matter is quite comprehensive, timely and professional. Moratis-Passas is a law firm that I would strongly recommend to any peer because of its over 35-year experience in banking industry leading always to legal solutions without creating legal risks."
---
CLIENT: George J Liakopoulos (General Counsel)
COMPANY/FIRM: Piraeus Bank S.A.
TESTIMONIAL: "We have worked with Moratis Passas for a demanding and challenging project with cross-border impact. Our ask was for legal services ranging from advice on complex compliance issues and corporate tax matters to practicalities and input on how to better structure the different phases of the project. Not only did Moratis Passas provide sound advice across several EU and Greek law disciplines, but they also committed the necessary resources for supporting us, in order to achieve the optimum solution.
---
CLIENT: Menelaos Karpathakis (Head of Legal)
COMPANY/FIRM: doBank Hellas
TESTIMONIAL: "We have worked with Moratis Passas for a demanding and challenging project with cross-border impact. Our ask was for legal services ranging from advice on complex compliance issues and corporate tax matters to practicalities and input on how to better structure the different phases of the project. Not only did Moratis Passas provide sound advice across several EU and Greek law disciplines, but they also committed the necessary resources for supporting us, in order to achieve the optimum solution."
Top Tier Firm Rankings
Firm Rankings