Firm Profile > Gide Loyrette Nouel A.A.R.P.I. > Paris, France
Gide Loyrette Nouel A.A.R.P.I.
Offices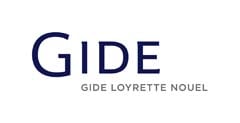 Gide Loyrette Nouel A.A.R.P.I.
15 rue de Laborde
Paris
75008
France
Gide Loyrette Nouel A.A.R.P.I. > The Legal 500
Rankings
Gide Loyrette Nouel A.A.R.P.I. >
Firm Profile
The firm: Gide is a leading international law firm and the first to have originated in France. Founded in Paris in 1920, the firm now operates from 12 offices worldwide. With 550 lawyers, drawn from 35 different nationalities, Gide offers some of the most respected specialists in all sectors of national and international finance and business law. In each of its offices in Europe, Asia, Africa, the Middle East and North America, the firm provides its clients with comprehensive knowledge of local markets, regional expertise, and the resources of an international law firm.
With over 200 lawyers working outside France, Gide has a truly international presence, including in New York and London where its American and British lawyers cover all aspects of US and English law and, in particular, international financing transactions. Gide has a long-standing full-service presence in a number of countries where the legal system is based on Roman-Germanic principles and, in particular, in Brussels, Central and Eastern Europe (two offices in Poland and Turkey, and some 80 lawyers), North Africa and the Middle East (four offices in Algeria, Egypt, Morocco and Tunisia and over 40 lawyers) and Asia (two offices in China, and some 30 lawyers).
Gide regularly works in close co-operation with leading law firms in the countries where it does not have offices and is a member of several international legal networks (including the European Network
together with Chiomenti, Cuatrecasas and Gleiss Lutz, and Lex Mundi, the world's leading association of independent law firms – Gide is the exclusive member firm for France).
Gide is widely regarded as a key player throughout Africa, having advised a broad, blue-chip client base on a range of complex and challenging transactions for some 50 years. Its experience and expertise extend across the entire continent not only in French-speaking Western and Central Africa but also in Southern and Eastern Africa and in Portuguese-speaking countries.
Main Areas of Practice:  The firm is a full-service international firm. Its areas of expertise include: arbitration; banking and finance/capital markets; bankruptcy/ insolvency; competition/international trade; compliance and corporate investigations; criminal and commercial litigation; data protection; employment; energy; health law; insurance, industrial risk and transport; intellectual property/ telecommunications, media and technology; mergers and acquisitions/corporate law; oil, gas and mining law; projects (finance and infrastructure); private equity; public private partnerships; public law and environment; real estate transactions and financing; tax.
Organised into international practice groups, each specialising in a specific area of business law, Gide can draw on a veritable pool of market-recognised specialists who can act on all kinds of cases. The firm is in a position to set up task forces comprising legal and sector experts to best serve the needs of its clients.
In line with its pioneering spirit and ambition to be a reference law firm as regards innovation, Gide has set up a new team – Gide 255 – dedicated to offering strategic, legal and regulatory advice on all matters related to its clients' digital transformation.  This team of experts in the fields of regulation, innovation and strategy aims to offer "augmented" advice on changing business models and new behaviours that are deeply affected by the development of advanced technologies. It also offers high-end support to help advance the changing legal and regulatory framework both in France and abroad, whether ongoing or to come. Gide 255 covers in particular the growing stakes of blockchain, ICOs, artificial intelligence, automation and various aspects of data processing.
The recognised know-how of all Gide teams as regards business law, combined with the comprehensive experience of this new team on all challenges pertaining to digital transformation, together enable the firm to offer its clients a unique tool to help decision-making processes in a context that is disrupted by the advent of breakthrough technologies.
Clients: Gide acts for a wide range of private and public clients, including mid-caps, multinational corporations, local authorities, sovereign states, international institutions and start-ups.
Main Contacts
| Department | Name | Email | Telephone |
| --- | --- | --- | --- |
| Arbitration | Christian Camboulive | | |
| Arbitration | Carole Malinvaud | | |
| Banking and finance | Eric Cartier-Millon | | |
| Banking and finance | Xavier de Kergommeaux | | |
| Competition/international trade | Antoine Choffel | | |
| Competition/international trade | Emmanuel Reille | | |
| Criminal and commercial litigation | Michel Pitron | | |
| Criminal and commercial litigation | Bruno Quentin | | |
| Employment | David Jonin | | |
| Employment | Foulques de Rostolan | | |
| Insurance, industrial risk and transport | Richard Ghueldre | | |
| Insurance, industrial risk and transport | Capucine Bernier | | |
| Intellectual property | Grégoire Triet | | |
| Intellectual property | Emmanuel Larere | | |
| M&A, corporate law | Christophe Eck | | |
| M&A, corporate law | Didier G Martin | | |
| Projects (finance and infrastructure) | John Crothers | | |
| Projects (finance and infrastructure) | Stéphane Vernay | | |
| Public law and environment | Michel Guénaire | | |
| Public law and environment | Thomas Courtel | | |
| Real estate, property | Stanislas Dwernicki | | |
| Real estate, property | Hugues Moreau | | |
| Restructuring and insolvency | Jean-Gabriel Flandrois | | |
| Tax | Olivier Dauchez | | |
| Tax | Laurent Modave | | |
| Telecommunications, media and technology | Olivier Cousi | | |
| Telecommunications, media and technology | Thierry Dor | | |
Lawyer Profiles
| Photo | Name | Position | Profile |
| --- | --- | --- | --- |
| | Mr Franck Audran | Admitted to the Paris Bar in 2007, partner Franck Audran specialises in… | View Profile |
| | Mr Renaud Baguenault de Puchesse | Partner Renaud Baguenault de Puchesse is a member of Gide's Real Estate… | View Profile |
| | Ms Ann Baker | Ann G. Baker is a partner in Gide's Banking & Finance practice… | View Profile |
| | Mr Kamel Ben Salah | Kamel Ben Salah, partner in the Banking & Finance practice group in… | View Profile |
| | Mr Olivier Bernardi | Admitted to the Paris Bar in 2009, partner Olivier Bernardi specialises in… | View Profile |
| | Ms Capucine Bernier | Admitted to the Paris Bar in 1998, partner Capucine Bernier specialises in… | View Profile |
| | Aurélien Boulanger | Aurélien Boulanger is a partner in the Criminal and Commercial Litigation and… | View Profile |
| | Ms Marie Bouvet-Guiramand | Partner Marie Bouvet-Guiramand, specialised in Project Finance, joined Gide in 2002. She… | View Profile |
| | Ms Magali Buchert | A partner in Gide's Tax practice group in Paris, Magali Buchert practises… | View Profile |
| | Mr Christian Camboulive | Christian Camboulive is a partner within Gide's Dispute Resolution practice group. He… | View Profile |
| | Mr Eric Cartier-Millon | Eric Cartier-Millon joined Gide in 1990 and became partner in the Banking… | View Profile |
| | Mr Antoine Choffel | Antoine Choffel is a member of the Competition & International Trade practice… | View Profile |
| | Jean-Nicolas Clément | Partner Jean-Nicolas Clément provides advice as well as assistance in litigation matters… | View Profile |
| | Mr Thomas Courtel | Thomas Courtel joined Gide in 1999 and became partner in 2008. He… | View Profile |
| | Mr Olivier Cousi | Partner Olivier Cousi helped set up Gide's Intellectual Property, Telecommunications, Media &… | View Profile |
| | Mr John D Crothers | John Crothers is a partner in the Gide Projects (Finance & Infrastructure)… | View Profile |
| | Mr Olivier Dauchez | Partner Olivier Dauchez is experienced in business and corporate law with a… | View Profile |
| | Raphaëlle Dequiré-Portier | Raphaëlle Dequiré-Portier has been advising and assisting clients in disputes with regard… | View Profile |
| | Mr Olivier Diaz | Admitted to the Paris Bar in 1990, partner Olivier Diaz has over… | View Profile |
| | Mr Dimitri Dimitrov | Admitted to the Paris Bar, partner Dimitri Dimitrov is a member of Gide's… | View Profile |
| | Mr Thierry Dor | Thierry Dor is the partner in charge of information technology and personal… | View Profile |
| | Mr Stanislas Dwernicki | Stanislas Dwernicki is a partner in Gide's Real Estate Transactions and Financing… | View Profile |
| | Mr Christophe Eck | Partner Christophe Eck specialises on mergers & acquisitions, private equity, stock exchange… | View Profile |
| | Mr Jean-Gabriel Flandrois | Jean-Gabriel Flandrois is a partner in Gide's Mergers & Acquisitions /Corporate practice… | View Profile |
| | Mr Alexandre Gauthier | Alexandre Gauthier is a partner within Gide's Public and Environment Law practice… | View Profile |
| | Mr Richard Ghueldre | Partner Richard Ghueldre specialises in insurance and reinsurance law in addition to… | View Profile |
| | Mr Guillaume Goffin | Admitted to the Paris Bar in 2009, partner Guillaume Goffin specialises in… | View Profile |
| | Michel Guénaire | Partner Michel Guénaire specialises in domestic and international public law, acting for… | View Profile |
| | Mr Nicolas Jean | Partner Nicolas Jean specialises in projects, project financing, and banking and structured financing.… | View Profile |
| | Mr David Jonin | David Jonin is a partner in Gide's Employment Law practice group. He… | View Profile |
| | Mr Bertrand Jouanneau | Partner Bertrand Jouanneau is a member within Gide's Tax practice group. He… | View Profile |
| | Mr Pierre Karpik | Pierre Karpik is a partner in Gide's Mergers-Acquisitions/Corporate practice group. He specialises… | View Profile |
| | Ms Caroline Lan | Admitted to the Paris and New York Bars, partner Caroline Lan specialises… | View Profile |
| | Mr Emmanuel Larere | Emmanuel Larere focuses his practice on non-contentious and contentious patent and trademark… | View Profile |
| | Mr Antoine Lelong | Antoine Lelong is a partner in Gide's Mergers & Acquisitions practice group. He… | View Profile |
| | Ms Laetitia Lemercier | Admitted to the Paris Bar in 2001, partner Laetitia Lemercier specialises in… | View Profile |
| | Jean-François Levraud | Admitted to the Paris Bar in 2003, partner Jean-François Levraud is a… | View Profile |
| | Jean-François Louit | Admitted to the Paris Bar, Jean-François Louit specialises in M&A transactions, private… | View Profile |
| | Ms Carole Malinvaud | Carole Malinvaud is a partner at Gide Paris where she co-heads the… | View Profile |
| | Mr Didier Martin | Didier G. Martin, partner since 1999, specialises in mergers and acquisitions, securities… | View Profile |
| | Eric Martin-Impératori | Eric Martin-Impératori has been a member of Gide's Real Estate Transactions &… | View Profile |
| | Bénédicte Mazel | Partner Bénédicte Mazel is a member of the Projects (Finance & Infrastructure)… | View Profile |
| | Mr Arnaud Michel | Arnaud Michel is a partner within Gide's Intellectual Property, Telecommunications, Media &… | View Profile |
| | Mr Laurent Modave | Partner Laurent Modave specialises in French and international tax law. His practice… | View Profile |
| | Mr Hugues Moreau | Partner Hugues Moreau advises French and international operators on all legal issues… | View Profile |
| | Ms Alexandra Munoz | Admitted to the Paris Bar in 2002, Alexandra Munoz specialises in international… | View Profile |
| | Mr Guillaume Navarro | Admitted to the Paris Bar in 2004, partner Guillaume Navarro specializes in… | View Profile |
| | Nadège Nguyen | Nadège Nguyen is a partner in Gide's Mergers-Acquisitions / Corporate practice group. … | View Profile |
| | Mr Christian Nouel | Tax partner Christian Nouel joined Gide in November 2013 with eight of… | View Profile |
| | Frédéric Nouel | A Gide partner since 1994, Frédéric Nouel specialises mainly in M&A transactions,… | View Profile |
| | Mr Bertrand Oldra | Bertrand Oldra became a partner of Gide's Real Estate Transactions and Financing… | View Profile |
| | Mr Alexis Pailleret | A member of Gide's Mergers & Acquisitions / Corporate practice group in… | View Profile |
| | Mr Michel Pitron | Michel Pitron has been a Gide partner for some 25 years. After… | View Profile |
| | Mr Nicolas Planchot | Admitted to the Paris Bar in 2006, partner Nicolas Planchot specialises in… | View Profile |
| | Mr Jean-Philippe Pons-Henry | Admitted to the Paris bar in 2004, partner Jean-Philippe Pons-Henry specialises in… | View Profile |
| | Stéphane Puel | Gide's managing partner since January 2012, Stéphane Puel specialises in financial services… | View Profile |
| | Mr Bruno Quentin | Admitted to the Paris Bar in 1995 and partner at Gide since… | View Profile |
| | Mr Emmanuel Reille | Emmanuel Reille is a partner in the Competition & International Trade practice… | View Profile |
| | Mr Hugues Scalbert | Hugues Scalbert is a partner within Gide's Mergers & Acquisitions / Corporate… | View Profile |
| | Ms Sophie Scemla | Admitted to both the Paris and the New York Bars, partner Sophie… | View Profile |
| | Mr David-James Sebag | David-James Sebag is a partner in Gide's Mergers & Acquisitions / Corporate… | View Profile |
| | Mr Christopher Szostak | Partner Christopher Szostak specialises in real estate matters. He is mainly involved… | View Profile |
| | Antoine Tézenas du Montcel | Admitted to the Paris Bar since 2002, partner Antoine Tézenas du Montcel… | View Profile |
| | Rémi Tabbagh | Rémi Tabbagh is a partner in Gide's Banking & Finance practice group… | View Profile |
| | Ms Anne Tolila | Anne Tolila is a partner within Gide's Mergers & Acquisitions / Corporate… | View Profile |
| | Ms Axelle Toulemonde | Axelle Toulemonde is a partner in Gide's Mergers & Acquisitions / Corporate… | View Profile |
| | Grégoire Triet | Partner Grégoire Triet specialises in patent and trademark law. He has wide-ranging… | View Profile |
| | Mr Thomas Urlacher | Thomas Urlacher is a partner and member of Gide's M&A / Corporate… | View Profile |
| | Stéphane Vernay | Partner Stéphane Vernay is a member of Gide's Projects (Finance & Infrastructure)… | View Profile |
| | Mr Emmanuel Vital-Durand | Admitted to the Paris Bar in 1999, partner Emmanuel Vital-Durand is a… | View Profile |
| | Mr Xavier de Kergommeaux | Gide Senior Partner, Xavier de Kergommeaux specialises in asset-backed financing, securitisations, setting… | View Profile |
| | Mr Jean-Hyacinthe de Mitry | Admitted to the Paris Bar in 2005, partner Jean-Hyacinthe de Mitry specialises… | View Profile |
| | Mr Charles de Reals | Partner Charles de Reals is a member of Gide's Mergers & Acquisitions… | View Profile |
| | Mr Foulques de Rostolan | Partner Foulques de Rostolan has extensive expertise in restructuring operations and transfers… | View Profile |
| | Mr Jean-Guillaume de Tocqueville | Jean-Guillaume de Tocqueville is a partner within the Banking & Finance practice… | View Profile |
| | Mr Antoine de la Gatinais | Partner Antoine de la Gatinais is a member of Gide's Mergers &… | View Profile |
Staff Figures
Number of lawyers : 550 at this office : 350
Languages
Arabic Bulgarian Chinese Croatian Czech Dutch English Farsi French German Hungarian Italian Polish Portuguese Romanian Russian Spanish Turkish Ukrainian Vietnamese
Other
Contacts : Xavier de Kergommeaux (senior partner) Contacts : Stéphane Puel (managing partner) Other offices : Algiers Other offices : Beijing Other offices : Brussels Other offices : Cairo Other offices : Casablanca Other offices : Istanbul Other offices : London Other offices : New York Other offices : Shanghai Other offices : Tunis Other offices : Warsaw
Top Tier Firm Rankings
Firm Rankings