Law Offices Patrinos & Kilimiris > Athens, Greece > Firm Profile
Law Offices Patrinos & Kilimiris
Offices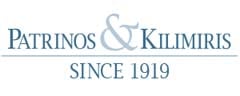 Law Offices Patrinos & Kilimiris
7 HATZIYIANNI MEXI STREET
115 28 ATHINAI
Greece
Law Offices Patrinos & Kilimiris > The Legal 500
Rankings
Law Offices Patrinos & Kilimiris
is well-versed in IP matters, regularly representing clients before Greek administrative authorities, Greek courts, the EUIPO and the Court of Justice of the European Union. It has a particular focus on patent matters, handling litigation cases involving pharmaceutical infringement patents and invalidity actions. The firm is also strong in trade marks issues, handling matters pertaining to the parallel import of goods regarding automobiles. The practice is led by
Constantinos Kilimiris
,
Maria Kilimiris

,
Electra Kilimiris
and
Manolis Metaxakis
.
Practice head(s):
Constantinos Kilimiris; Maria Kilimiris; Electra Kilimiris; Manolis Metaxakis
Other key lawyers:
Yuli Angelou; Evangelia Sioumala
Testimonials
'The only serious place to go for pharma patent litigation in Greece.'
'Constantinos Kilimiris is the best patent litigator in Greece. Decades of experience in pharma patent matters and knows every trick in the book. Calm and clever.'
'I enjoyed working with Constantinos Kilimiris who is pleasant and efficient. He is also cost-conscious and provides objective strategic recommendation for the benefit of the client without having in mind its own business, which is appreciated.'
'Highly professional firm always wanting to help their clients.'
'Constantinos Kilimiris is an excellent advocate and able to produce high-quality legal briefs.'
Key clients
Bristol-Myers Squibb Company
NOVARTIS AG
Pfizer, Inc.
Astra Zeneca AB
Gilead Sciences LLC
Amgen Inc.
Merck Sharp & Dohme Corporation
Allergan Inc.
Chanel
Christian Louboutin
Solvay S.A.
General Electric Technical Services Company, Inc.
The Procter & Gamble Co.
Toyota Motor Corp.
Hyundai Motor Co.
KIA Motor Corp.
HONDA Motor Co, Ltd.
Exxon Mobil Corporation
The Gillette Company
Total SA
IOC (International Olympic Committee)
Metro Goldwyn Myer Studios Inc.
Max Mara Fashion Group Srl
Marc Jacobs International LLC
Conde Nast New Markets Europe/Africa, Inc.
L'Air Liquide SA
Oracle America Inc.
Imperial Tobacco Limited
JTI (Japan Tobacco Industry Inc)
Tiktok Information Technologies UK Limited,
Law Offices Patrinos & Kilimiris >
Firm Profile
The firm: Established in 1919 by Dr E Patrinos, Patrinos & Kilimiris is the oldest intellectual property law firm in Greece. Anna Patrinos-Kilimiris and Tassos Kilimiris expanded it into one of the leading law firms in Greece, with a team of more than 20 associates, including six attorneys.
Located in Athens, it actively practises exclusively in intellectual property protection under European and Greek law.
It employs a select number of highly qualified attorneys combining specialist knowledge and experience with flexibility, in order to serve the client in the most efficient and cost-effective way possible.
The firm collaborates with more than 15 technical assistants with a superior level of expertise, covering the principal fields of science, in order to guarantee the highest quality in technical translations and offer expert opinions on patent-related court proceedings.
Patrinos & Kilimiris combines the advantages of a traditional family firm, such as experience and consistency, with those of a fast-expanding company incorporating new members contributing their own particular knowledge, experience and skills. It has thus earned a top position in the Greek legal field. The fact that all key members of its staff have an excellent command of English and French, with some also speaking German, Italian and Spanish, guarantees direct and personal co-operation with a large number of international companies and law firms.
The exceptional level of the firm's services and its clients' appreciation is reflected in its continuous ranking, over the years, among the top positions of Greek IP law firms, in the major intellectual property law publications.
Areas of practice: The firm provides a full range of legal and technical services provided by experienced patent and trade mark attorneys including patent, trade mark and design counselling, filing and prosecution, copyright protection, domain name registration and disputes, customs actions, franchising, distribution and licence agreements as well as technical translations.
Furthermore the firm undertakes substantial IP litigation up to the national courts, OHIM and the CJEU. Patrinos & Kilimiris has a strong record of successful litigation in IP infringement proceedings acting for large international and domestic companies in all areas of IP.
Staff Figures
Number of lawyers : 6
Languages
English French Greek Spanish German
Memberships
INTA ECTA FICPI MARQUES AIPPI PTMG EPLAW Union IP
Notable Cases
PATENT CASES
CASE 1.
MERCK SHARP & DOHME CORP.
Pharmaceuticals
Litigation
Athens Court of First Instance
June 2018
Constantinos Kilimiris
Manolis Metaxakis
Patent Infringement case – Preliminary Injunction granted – Invalidity objection
The Greek Court confirmed EPO's case law according to which, where an independent claim is acknowledged to be new and inventive, it follows that the claims dependent thereon, are also new and inventive. On the basis of this principle, the Court ruled that, in a case where a pharma mono-product is inventive, a corresponding COMBINATION product is inventive as well.
CASE 2.
ASTRAZENECA AB
Pharmaceuticals
Litigation
Athens Court of First Instance
October 2018
Constantinos Kilimiris
Manolis Metaxakis
Patent Infringement case – Preliminary injunction granted – Requirement of urgency
Urgency is a sine qua non condition for an injunction to be granted before the Greek Courts. In this case, it was clarified that an "imminent" circulation of the infringing pharmaceutical product occurs, when all regulatory requirements have been satisfied, such as MA and price grant, so that the MA holder may at any time thereafter launch the product concerned.
TRADEMARK CASES
CASE 1.
PROCTER & GAMBLE
OTC  products
Athens Administrative Court of First Instance
Ongoing
Maria Kilimiris
Manolis Metaxakis
Opposition Proceedings – Likelihood of confusion
The Greek Trademarks Administrative Commission handed down a Decision, under which there is likelihood of confusion, in a case where the subsequent trademark consists of a prefix and suffix, which is the suffix and prefix respectively of the earlier trademark.
CASE 2.
HYUNDAI MOTOR CORPORATION
Automobile Industry
The Greek Supreme Court
January 2018
Maria Kilimiris
Manolis Metaxakis
Trademark infringement action proceedings – Parallel imports
This is the first reported case that was decided before the Greek Supreme Court, where the EU case law was affirmed regarding an objection of abuse of process that was raised. It was held that although the defendant may raise such an objection against a right conferred by EU law, such an objection shall be considered in light of the objectives pursued by the EU provisions relating to that right. In this context, it was also held that when considering this objection, a balance should be drawn between the interests of both the claimant and the defendant.
CASE 3.
DPDgroup International Service GmbH & Co. KG
Courier Services
November 2018
Maria Kilimiris
George Panagopoulos
Domain name .eu dispute
I was held that the contested domain name .eu was registered in bad faith, i.e. for the purpose of disrupting the professional activities of a competitor. It was also held that the contested domain name was intentionally used to attract Internet users for commercial gain, by creating a likelihood of confusion
Diversity/Community
At Patrinos & Kilimiris diversity, equity and inclusion are central to the internal operations of our law firm as well as to our co-operations.
Our workplace consists of and embraces different cultures, ethnicities and genders.
In recognizing the difficulties a new mother may face, we offer our employees the option of an extended maternity leave, or to more flexible working hours, in order to support them through this transition.
Other ways of ensuring greater diversity of thought behind our business is, by constantly enhancing our talent pool.
Outside of our workplace, we choose to cultivate partnerships and supplier relationships that will promote and improve inclusion and diversity for our clients but that will also set an example for our community regarding business conduct in Greece.