Firm Profile > Kyriakides Georgopoulos Law Firm > Athens, Greece
Kyriakides Georgopoulos Law Firm
Offices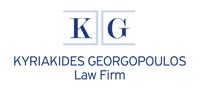 Kyriakides Georgopoulos Law Firm
28 DIMITRIOU SOUTSOU STR
115 21 ATHENS
Greece
Kyriakides Georgopoulos Law Firm > The Legal 500
Rankings
Kyriakides Georgopoulos Law Firm >
Firm Profile
The firm: Kyriakides Georgopoulos (KG) Law Firm is a leading multi-tier business law firm and the largest in Greece, dating back to 1930's and recognized as one of the most prestigious law firm in the country.
KG has been the preferred choice for US and European international law firms seeking local legal counsel in Greece capable for delivering legal services at the most demanding standards of professional quality and client service. We continue to develop and sustain multi- generational relationships with high-profile partners in major international and global law firms, as well as the exchange of expertise and intellectual capital that only such enduring relationships can produce. Our firm is a founding member of South East Europe Legal Group (SEE Legal), a regional alliance of major law firms from countries in South East Europe. Working together on cross border transactions, SEE Legal is the largest local legal team in South East Europe, with more than 450 lawyers organized in cross – jurisdictional practice groups. Our firm's performance is consistently ranked highly by the most prestigious of international directories, such as Chambers & Partners Europe, The Legal 500 EMEA, as well as IFLR1000.
With offices in Athens and Thessaloniki, our multi-disciplinary teams set the standards for commercially-aware, responsive service in the most complex and sophisticated legal issues. KG pioneered in the Greek market by becoming ISO certified since 2006 and still remains one of a handful of ISO 9001 certified law firms in Greece.
Areas of practice: Our structured approach to both the relationship with our clients, as well as to our internal processes, provides a measurable benefit to our clients: we strive to ensure that our clients remain engaged and up-to-date throughout the duration of our relationship, and we request their feedback in order to ensure that at any given time no need is not being met.
Our lawyers are experts in specific practice areas. This enables us to understand our clients' objectives better and to deliver legal solutions to achieve them even in the largest and most complex transactions. We are guided by a set of values which we follow and abide over the years.
We offer a broad range of commercially-aware legal services that are precisely aligned with the business needs and objectives of our clients. We know that our clients expect more than legal information or hedged advice and therefore, we guide them to define the business challenges and work out a strategy for success.
Clients come to us for our successful track record knowing that they can rely on our creative thinking to solve their most complex challenges.
Our main practice areas are:
Agency, distribution and franchising
Corporate, commercial and M&A
Banking, finance and capital markets
Data protection
Energy, utilities and infrastructure
Employment
EU competition and antitrust
Intellectual property
Insurance
Internet and E-commerce
Litigation and arbitration
Life sciences
Tax
Public law
Project finance
Private wealth structuring
Real estate
Restructuring and insolvency
Telecommunications and media law
White-collar litigation
Website: https://kglawfirm.gr/
Main Contacts
| Department | Name | Email | Telephone |
| --- | --- | --- | --- |
| Energy | Gus Papamichalopoulos (Senior Partner) | | |
| Employment | Ioanna Kyriazi (Partner) | | |
| EU Competition and Antitrust | Anastasia Dritsa (Partner) | | |
| Banking & Finance, Capital Markets | Konstantinos Vouterakos (Senior Partner) | | |
| Litigation & Arbitration | John Kyriakides (Managing Partner) | | |
| Intellectual Property | Irene Kyriakides (Partner) | | |
| Tax | Panagiotis Pothos (Partner) | | |
| Real Estate | Elizabeth Eleftheriades (Partner) | | |
| Corporate/M&A | Claire Pavlou (Partner) | | |
| Restructuring and Insolvency | Konstantinos Issaias (Partner) | | |
| Insurance | Konstantinos Issaias (Partner) | | |
| Public Law | Constantinos Kavadellas (Counsel) | | |
| Telecommunications & Media Law | Konstantinos Vouterakos (Senior Partner) | | |
| Project Finance | Elizabeth Eleftheriades (Partner) | | |
| Project Finance | Ioanna Antonopoulou (Partner) | | |
| White Collar Litigation | Panos Alexandris (Partner | On leave) | | |
| White Collar Litigation | John Kyriakides (Managing Partner) | | |
| Life Sciences | Irene Kyriakides (Partner) | | |
| Data Protection | Elina Georgili (Partner) | | |
| Private Wealth Structuring | Theodore Rakintzis (Partner) | | |
| Private Wealth Structuring | Panagiotis Pothos (Partner) | | |
Staff Figures
Number of lawyers : 100 est.
Languages
English French German Greek Italian Russian Spanish
Memberships
American-Hellenic Chambers of Commerce Institute of Energy Antitrust Alliance Athens Bar Association British Hellenic Chambers of Commerce Employment Law Alliance European Communities Trademark Association European Employment Lawyers Association Franchise Association of Greece International Bar Association International Fiscal Association International Trademark Association SEE Legal Group Hellenic Association of Law Firms Nextlaw Global Referral Network INSOL EUROPE
Other
Other office : Thessaloniki
Diversity/Community
At Kyriakides Georgopolos Law Firm (KG) we understand that our diversity is a key element of our effectiveness and success in the market.
Diversity, and in particular gender balance, is one of our firm's core values and part of our culture, as we firmly believe in the importance that different perspectives can bring to a business.
As an example, 62% of our firm's lawyers are women (56 out of 90 in total) and 42% at a Partner level (8 out of 19 in total). We also make sure that we have the right processes in place in order for all our employees to be treated equally, giving them the same set of opportunities regardless of age, gender, disability, culture, sexuality or anything equivalent.
In 2019 – 2020, we are committed to making further progress in our already strong culture of diversity and inclusion by promoting various initiatives towards such practices. Among other activities we are considering building our own women's network and run a series of events around this topic for our clients and internal teams. Finally, we are committed to further increase gender representation at all levels across Kyriakides Georgopoulos Law Firm.
Interviews
John Kyriakides, Co-Managing Partner
Co-Managing Partner at Kyriakides Georgopoulos Law Firm explains what are the challenges and opportunities for Greek law firms today and in the years to come.
What do you see as the main points that differentiate Kyriakides Georgopoulos Law Firm from your competitors?
I fondly believe that amongst the main points that differentiate us from other Greek law firms are the values and attributes we have earned from our predecessors that we carefully follow, combined with our committment to be ahead of our era. KG has always been at the forefront of developments. It was one of the very first partnesrhips ever formed in Greece and a pioneer in many ways setting the pace for others to follow.
At KG we always strive to provide top quality legal services to our clients making sure that we understand their business needs. To achieve our goals we work hard and we are always 100% committed. But our success is also attributable to our workforce. We take pride in the fact that we employee top quality young lawyers emphasizing on their aspiration and motivation, involvement in our projects, constant training, encouragement to take initiatives and remuneration of their hard efforts.
Kyriakides Georgopoulos Law Firm has an 85 year old history behind it and is not by chance a leading multi-practice business law firm and the largest legal practice in Greece for several decades.
Our client-oriented approach – we put our clients at the heart of our business. Our objective is to build long lasting relationship with our clients and act not only as their legal advisors but also support them with all their commercial needs and exceed their expectations. To do so, we have developed the necessary processes and systems to collect feedback, listen and understand their business objectives in order to improve the way we work with them, thus act in a more efficient way.
Our team – we believe that our workforce makes us who we are and that is why we focus on recruiting and developing the best. We operate in an open, and collegiate environment, and we encourage constructive feedback. Our ultimate goal is to keep improving our style of service.
Our innovative thinking – we always encourage creativity and pioneering thinking and this is easily shown in the matters that our firm works on.
Our track record – the size of our firm – over 90 highly skilled lawyers – allows us to offer our clients top-notch legal advice even in the most challenging legal situations. The strong expertise and thorough legal knowledge of our lawyers enables them to offer high quality, competitive service to domestic and international clients. We have a 'one-firm' approach and we always bring together the knowledge, experience and energy of the whole firm to help our clients.
Which practices in your member firm do you see growing in the next 12 months? What are the drivers behind that?
The economy is steadily improving, the danger of GRexit is now well behind us and the restrictions on capital controls are gradually lifted. At the same time, most of the reforms required to boost the Greek economy have by now been adopted and the level of unemployment has dropped from the all-time high of 27,6 in September 2013 to 18,6 in September 2017.
At KG we also see a strong demand from several international institutional investors to acquire – manage NPLs, NPEs in Greece. Highly reputable and among the largest in the world investors are in town actively investigating, negotiating, bidding and investing. This is expected to assist Banks exceed annual NPE reduction targets until 2021 by actively pursuing alternative solutions by themselves and the investors. So overall the picture is promising and we expect to see a further growth in several industries and sectors of the economy.
The practices that are expected to benefit the most in the coming 18 months will be corporate, M&A's, restructuring of NPE's, real–estate, litigation (NPL's and debt-recovery), tax and wealth planning, energy, information technology, data protection and cyber related matters.
What is the main change you have made in your firm that will benefit clients?
We never stop making changes, monotring international trends and developments, adapting to the IT challenges, and trying to ensure that we offer excellent working conditions for our colleagues. We are currently working on an innovative solution that will allow us to offer services in certain legal practices much more productively and much more cost-efficiently for our clients.
This year, we emphasized on organizing several closed events with selected clients and speakers. Two of those were co-hosted in Athens with major international and well renowned law firms. These events gave our clients the opportunity to meet with international practitioners and discuss their business concerns from a different perspective and approach. The hot topics this year were GDPR and "Wealth & Tax Planning".
Last but not least, as of June 2018, our firm is officially a member of the Denton's Nextlaw Referral Network. We believe that this is a great opportunity to better service our valued clients, and furthers our commitment to quality and innovation in this ever-changing world. As a member of the Nextlaw Referral Network, KYRIAKIDES GEORGOPOULOS is now connected to over 600 member firms and 28,000 lawyers across 200+ countries.
Is technology changing the way you interact with your clients, and the services you can provide them?
Technology has radically changed the way we work, think and interact with our clients. Our lawyers are adept in aiding our clients in understanding the demands made on them and are trusted advisors in helping them build a pragmatic approach to problem-solving in today's technologically exciting times.
Throughout the whole process, our top priority is to keep ourselves well-informed for all the technological developments that have an impact to our clients in all the different industries. Our dedicated lawyers, who are hand-picked by our partners for being individuals with a clear sense and understanding on technology and law have worked on some of the biggest and most high-profile transactions in Greece, namely for start-ups that have gone on to excel abroad.
Secondly, we understand the importance and necessity of coming up with 'disruptive' ideas and developing smarter tools for client work. We have a series of products and processes in the pipeline, including project management and client feedback collection tools, in order to improve our efficiency, responsiveness and quality of services we offer to our clients.
Finally, technology and innovativeness does not scare us. We handle cross-border transactions and matters with ease and confidence. Our experience is bridging jurisdictions for the best outcome all the while covering data protection aspects of technology transactions makes us the no. 1 choice amongst our peers.
Can you give us a practical example of how you have helped a client to add value to their business?
During the past couple of years we have helped a handful of start-up business grow from just an idea all the way to a multi-million share purchase or joint venture transaction. To do so, we are prepared to make sacrifices in terms of our expectations, learn the business needs of our clients along the process of their development stages and help them shape, where necessary, the legal framework to fit the needs of their industry. It is a simple way to add value to clients business and build at the same time long-lasting and mutually beneficial relationships.
Are clients looking for stability and strategic direction from their law firms – where do you see the firm in three years' time?
Certainly they do and we take a lot of pride knowing that we have clients that we serve for more than one, two, even three decades. That shows and confirms our level of commitment and continued professional acumen.
In the next three years we are planning to further invest in the main three pillars, which we see as the key to success: technology, client management processes and systems and workforce training and development.
Additionally, we plan to invest further in collaborations with international firms, including running joint events, secondments and other joint initiatives with our 'Best Friends' law firms, most of which are firms in UK's 'Magic Circle'.
Press Releases
19th April 2021
KYRIAKIDES GEORGOPOULOS Law Firm (KG) has obtained the International Certification «Great Place to Work®» (CERTIFIED by Great Place to Work®), which is awarded to organizations that stand out as selection employers in a competitive talent search market.
Top Tier Firm Rankings
Firm Rankings