Doing Business in...Vietnam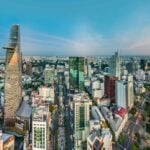 Formal name: The Socialist Republic of Vietnam. Population: 96 million (approximately). Average annual population growth: 0.98%. Political capital: Hanoi. Major cities: Ho Chi Minh City, Hanoi, Hai Phong, Da Nang, Can Tho. Official language: Vietnamese (for business purposes English, French, Mandarin, Cantonese and Japanese are also spoken). Currency: Vietnamese Dong (VND). VND 22,730.00 = approx. US$1 …
Contributed by Frasers Law Company
Read More...
Legal Market Overview
Vietnam remains a country of choice for foreign investors and has steadily maintained its GDP with predictions of further growth this year put forward by the World Bank. Against the backdrop of the COVID-19 pandemic, Vietnam has been generally successful in containing the coronavirus, having responded by closing its borders with neighbouring China at the start of February. The government has been rigorous in its test and trace strategy and had reported no locally transmitted cases, up until September 2020, with Da Nang province in the centre of the country reporting an estimated 400 new cases.
Despite there being a short-lived economic downturn at the beginning of the year, with a slowdown in M&A activity, the nation's manufacturing industry continues to thrive; this is in part a result of political tensions between Beijing and Washington, with Vietnam now being seen as an alternative manufacturing base to China.
Inbound Chinese investment has seen the country become the third-largest investor in Vietnam, including in projects in the renewable and conventional energy space. Elsewhere, however, the longer-term effects of border restrictions and economic headwinds caused by the pandemic remain to be seen on Vietnam's tourism industry. Although this sector does not make up as large a share of the national economy as neighbouring Thailand, it is still certainly significant.
Within the local legal market, domestic firms YKVN and VILAF capture the lion's share of mandates, while international firms such as Allen & Overy LLP and Baker McKenzie are also active. Also of note is that only locally-owned law firms can litigate under their own name. Respected Singaporean firm Allen & Gledhill LLP expanded its regional network by opening an office in Vietnam in October 2020, taking the firm to its fifth ASEAN jurisdiction.