Doing Business in...
Vietnam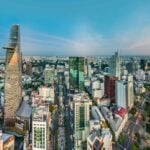 VIETNAM SNAPSHOT Formal name: The Socialist Republic of Vietnam. Population: 98.59 million (approximately). Average annual population growth: 1.14%%.
Contributed by Frasers Law Company
Read More...
Legal Market Overview
Vietnam continues to be the fastest-growing economy in Southeast Asia, as demonstrated by the fact that it was one of the only countries to report GDP growth in 2020, a time which signified the start of the global pandemic. It saw its GDP increase by 5.2% in 2021, and it is expected to rise again by 7.7% by the end of 2022, according to the World Bank. This positive economic position makes the country a significant market for international investors, particularly those based in other Asian jurisdictions, such as Singapore, Japan, Taiwan, South Korea, and Hong Kong. Alongside its growing economy, it has also seen an increased demand for electricity, and the Power Development Plan 8 will guide the country's future energy goals. Whilst there are concerns that the delayed Plan still includes coal-fired power stations, wind and solar energy will continue to be a large focus. Another key area of growth is in the technology arena; to ensure continued economic development and productivity, as well as socio-economic advancement, technology has been signposted as a key area of focus.
Several international firms have established a well-known presence in the country, including Allen & Overy LLP, Baker McKenzie, Freshfields Bruckhaus Deringer, Hogan Lovells International LLP and Mayer Brown. Additionally, the Australian firm Allens is well-equipped to handle matters in the Vietnamese market, and it has an official alliance with Linklaters. Linklaters and Clifford Chance are also very active in the market from its offices in Singapore and Hong Kong. Looking to the domestic firms, VILAF, YKVN and Frasers Law Company

 are the three biggest independent firms and regularly act as local counsel on major deals. The market also includes regional law firms such as Rajah & Tann LCT Lawyers and Tilleke & Gibbins, who have neighbouring offices across Southeast Asia.