Doing Business in...
SERBIA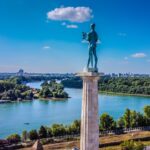 Business Environment In the process of joining the European Union, Serbia has been improving the investment environment for many years, as well as amending numerous laws to attract foreign investment. The purpose of the amendments to laws is harmonization with the EU legislation, as well as making Serbia a competitive investment market. This significant change …
Contributed by JPM Jankovic Popovic Mitic
Read More...
Legal Market Overview
Further to private consumption growth and overall increased investment levels, Serbia's economic recovery picked up steadily towards the end of 2021. The 2022 growth rate is expected to reach approximately 4.5%, with the fiscal deficit anticipated to slim down to 3% of GDP. Serbia has also benefitted from a new fiscal stimulus package, following on from the country's authorities' substantial Covid 19-related policy response.
Serbia's recovery, however, is likely to be impacted by the state of both European and global economies, which in turn are dependent upon the pandemic's eventual retreat. Rising international energy prices also pose a major threat both to inflation and economic growth, and the downturn has already triggered high levels of unemployment, particularly among Serbia's female and youth populations.
As in 2020, it was business as usual throughout 2021 for most law firms, which, during the ongoing pandemic, have been able to continue delivering uninterrupted, full-scale legal services through both traditional and innovative methods.
Notable examples of full-service domestic practices in Serbia include Joksovic, Stojanovic & Partners, Prica & Partners, JPM Jankovic Popovic & Mitic

, Bojovic Draškovic Popovic & Partners and BOPA Bojanovic & Partners.
Major regional law firms are also integral to Serbia's legal market. High-profile names include Moravcevic Vojnovic and Partners in cooperation with Schoenherr, Law Office Miroslav Stojanovic, in cooperation with Wolf Theiss, BDK Advokati AOD, Petrikic & Partneri AOD in cooperation with CMS Reich-Rohrwig Hainz, Gecic Law and Karanovic & Partners. Harrisons Solicitors, which also runs a branch in London, remains the only English law firm with a Belgrade office.
In a market where men traditionally dominate most high-level positions, with women more frequently holding lower-paid roles, noteworthy developments within Serbia's legal market include increased levels of diversity among firms' employees. Several legal practices have adopted robust diversity policies that largely fall in line with international standards. Particular attention is being paid to areas such as age, gender, gender identity, ethnicity, disabilities, sexual orientation and religion, along with non-discriminatory policies for single parents.