Doing Business in...Peru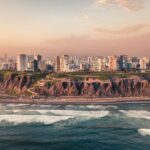 Peru's sustained economic growth over the past three decades, bolstered by the implementation and development of a reliable macroeconomic and legal framework, offers the stability that every foreign investor needs. This stability has encouraged public and private investment, whose increase is reflected in the proliferation of investment projects in various economic sectors of the country …
Contributed by Hernández & Cía. Abogados
Read More...
Firms in the Spotlight
DS Casahierro Abogados
With more tan 20 years of experience, DS Casahierro Abogados, is the Peruvian firm of DS law firm, the first globalized French firms, with more than 20 offices located in Europe, North and South America, Asia and Africa, supporting clients in 13 countries, such as: France, Germany, Belgium, Spain, Italy, China, Vietnam, Singapore, Senegal, Canada, …
View Profile...
Legal Market Overview
The decade to 2020 placed Peru among the fastest-growing economies in Latin America, and despite a loss of momentum in 2019 – the result of a contraction in mining and fuel exports, a failure to ignite promised infrastructure projects, and a year of political turmoil – activity was expected to accelerate in 2020 as a snap election in January brought renewed optimism.
When Covid-19 struck, Peru was one of the first in the region to impose a lockdown, and did so stringently, with both the police and army deployed to keep order. It is a tragedy then, that at the time of writing, Peru is the third-largest casualty of the virus in the Americas, after the US and Brazil. By mid-June 2020, the country had endured 6,500 deaths, 2,000 in the first two weeks of June alone.
Despite one of the longest periods of lockdown in the world, Peru's inadequate healthcare system and 'shadow' economy (over half the country's non-agricultural workforce is thought to be employed 'informally', according to the World Economic Forum), has led to an acceleration of the pandemic amid widespread defiance of the rules by those who need to feed their families.
In line with the rest of the world, Covid has ravaged the economy. The world's second-largest producer of copper saw mines close completely, and key industries, such as fishing, construction and manufacturing, plummeted. Indeed, the mining and hydrocarbons sector, which contributes 60% of Peru's total exports, fell 42% in April 2020 compared to the previous year, while the entire economy sank by 40% year on year. Unemployment doubled to 13.1% between March and May.
President Martin Vizcarra has announced a renewed focus on massive public works programmes to kick-start the economy and create jobs. It is ironic then, that the infrastructure sector, which indirectly thwarted economic growth following the Lava Jato corruption scandal, could now be the answer to Peru's recovery. Disappointingly, however, to date there has been little evidence of programmatic planning for the reactivation of the economy, and grandiloqent rhetoric has given way to a somewhat chaotic lifting of lockdown restrictions.
The impact of Covid on the legal sector is yet to be assessed. Sophisticated operations, top-end commercial law firms were quick to galvanise technology so as to continue advising clients via home-working from the very outset of the lockdown. For the rash of new boutique firms that opened at the end of 2019 and early 2020, however, the timing is fraught.
Indeed, the wave of new, 'second-generation' start-ups was the arguably the headline market trend of the year, with senior lawyers from larger firms departing – generally with a few key team members – to establish boutique practices with lower overheads and able to offer top-notch expertise at highly competitive prices.
Recently launched boutiques include two environmental law outfits: Kahatt Abogados, a spin-off from Santiváñez Abogados opened by Karim Kahatt and his team; and Li & Pazos Abogados, comprised the team from the former Lazo, De Romaña & CMB Abogados, and distinguished by its leading water and sanitation expertise. Two corporate and finance operations focused on the start-up sector also established themselves recently: SUMARA Hub Legal, which opened in September 2018; and LegalCorp, launched in January 2020 by Jose Delmar, formerly a partner at Philippi Prietocarrizosa Ferrero DU & Uria and previously co-founder of Delmar Ugarte Abogados. Perhaps the highest profile new venture, however, was the relaunch of labour law boutique Vinatea & Toyama in September 2019, comprised of the tier-one team from Miranda & Amado. Other noteworthy start-ups include the remarkable concentration of tax talent to be found at Damma Legal Advisors, a boutique made up of a number of former tax department heads from across the market; and, as briefly reported last year, Quiñones Alayza Abogados, which was opened in 2018 by energy star lawyer, Maria Teresa Quiñones, formerly of Rodrigo, Elías & Medrano – Abogados.
Bucking the trend, legacy labour boutique Gonzales Hunt Abogados merged into Philippi Prietocarrizosa Ferrero DU & Uria in January 2020, bringing leading individual César Gonzales Hunt into the transnational firm as part of its succession planning for when labour law legend Jaime Zavala retires; while fellow labour law boutique Tsuboyma, Cuzquen & Nicoline was swallowed by KPMG in Peru, demonstrating the growing trend towards labour capability within tax and compliance practices.
Overall, the commercial legal market in Peru is dominated by a small number of large, full-service firms, beyond which a sizeable middle tier of mid-sized players finds itself increasing beseiged by the growing number of sophisticated and capable boutiques, a scattering of which are undoubtedly top-tier and compete toe-to-toe with all comers. Tie-ups between local firms and international players continued with Spanish giant Cuatrecasas' 2019-opening of a Lima office. However, despite cherry-picking six key lateral hires at partner level – the latest being Domingo Rivarola, former dispute resolution partner at Payet, Rey, Cauvi, Pérez Abogados in November 2019 – it has yet to make a significant impact on the Peruvian market.
Cuatrecasas joins a steadily growing list of international firms with a presence in Lima: Estudio Echecopar member firm of Baker McKenzie International, Garrigues, Philippi Prietocarrizosa Ferrero DU & Uria, CMS Grau, DLA Piper Perú, Kennedys, Dentons Peru and ONTIER Peru. The latest arrival saw French-headquartered global firm DS Avocats associate with mid-sized local firm Casahierro, which rebranded as DS Casahierro Abogados in January 2020.
The second trend of the past year was the fluidity of the market, which saw unprecedented headline moves at partner level between firms. The biggest casualty, numerically at least, was market leader Miranda & Amado, which has lost nine key partners since the start of 2019, most recently head of capital markets Nydia Guevara to rival Rodrigo, Elías & Medrano – Abogados; head of tax Rocío Liu to Damma Legal Advisors; and corporate partner Anahi Com, who went in-house to Volcan Compania Minera, among others in addition to the loss of the bulk of its former tier-one labour team, led by ex-managing partner Luis Vinatea, to the relaunched labour law boutique Vinatea & Toyama. Suggestions that, perhaps 'Miranda has lost a bit of sparkle' appear a little strong, however, with the firm making notable hires from Facto Litigios y Compliance to strengthen its contentious white-collar capability in December 2020.
Even arch rival and market top-dog Rodrigo, Elías & Medrano – Abogados suffered a wobble, with the departure of insurance number-two Fernando Hurtado de Mendoza to Kennedys in April 2020, coinciding with the semi-retirement of practice head and leading insurance law individual Jorge Velarde, leaving the practice skeletal at senior level.
High-profile banking and finance partner Andrés Kuan-Veng departed Peru's largest firm Muñiz, Olaya, Meléndez, Castro, Ono & Herrera Abogados in March 2020 to join the growing and ambitious team at Rubio Leguía Normand. While at his former firm, he notably led the financing to China Yangtze Power for its record $3.6bn acquisition of electricity distributor Luz del Sur from Sempra Energy, Peru's deal of year and the largest overseas investment by a Chinese company in 2019. Indeed, Muñiz, Olaya, Meléndez, Castro, Ono & Herrera Abogados appears increasingly well placed in terms of its relations with Chinese investors.
Other recent headline moves saw Sergio Oquendo leave CMS Grau in March 2020 to return to his old firm, Muñiz, Olaya, Meléndez, Castro, Ono & Herrera Abogados, as head of banking and finance; Kodiak Semsch, former litigation partner at Osterling Abogados, head to Kennedys in April 2020 to build the disputes practice there; and Philippi Prietocarrizosa Ferrero DU & Uria lose the core of its real estate group when head of practice Jorge Reátegui and his team made a surprise move to Hernández & Cía. Abogados in June 2020.
It remains to be seen whether the prolongation of market turbulence associated with Covid-19 will prompt further movements or spin-offs, but as of July 2020 the majority of the market's major firms – excepting Miranda & Amado and Hernández &Cía – had moved to reduce their headcounts in the face of the pandemic and its impact.
While Lavo Jata has been superceded by Covid-19 in the headlines, the fall-out from the scandal has 'only just begun for lawyers', according to one legal commentator. The Public Prosecutor is currently investigating the legal advisers behind the transactions of Odebrecht, the Brazilian construction company at the heart of the scandal, and its subsidiaries. Given the web of companies linked to the Brazilian group, that lawyer list may well be extensive . To date, a handful of high-profile lawyers at top firms in Peru have been identified for further investigation, leading to at least one resignation in July 2019, while others hope to clear their names.
Lavo Jato, coupled with legislative change in 2016 to introduce criminal liability for companies, has led to a boom in white-collar crime advice and general compliance. Consequently, we have introduced the new section of Compliance this year, as well as inaugural rankings for Capital Markets and International Trade, two areas with sustained demand for Peruvian legal services.
---
The Legal 500 Client Service Survey
Data extracted from The Legal 500 Client Service Survey. Hover over data points to reveal number of Legal 500 firm rankings for this jurisdiction. All firm scores on display are above the Global Benchmark score for this criteria.