Doing Business in...
Malta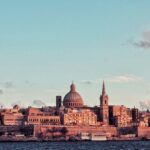 A Mediterranean archipelago, the Maltese islands are located at the crossroads between Europe and North Africa. Long popular for beach holidays, the islands also offer prehistoric temples, fossil-studded cliffs and a history of extraordinary grandeur.
Contributed by Chetcuti Cauchi Advocates
Read More...
Firms in the Spotlight...

Chetcuti Cauchi Advocates

Chetcuti Cauchi Advocates is one of the top-ranked firms throughout The Legal 500 Malta. With offices in Malta's legal and financial capital city, Valletta, the firm is recognised as key player offering legal, tax and corporate services. Providing a full spectrum of in-house client-focused services, the firm advises high-net-worth individuals and their families, as well …
View Profile...
Overview
Practice Areas