Doing Business in...
Malta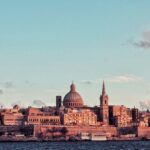 A Mediterranean archipelago, the Maltese islands are located at the crossroads between Europe and North Africa. Long popular for beach holidays, the islands also offer prehistoric temples, fossil-studded cliffs and a history of extraordinary grandeur.
Contributed by Chetcuti Cauchi Advocates
Read More...
Firms in the Spotlight...

Chetcuti Cauchi Advocates

Chetcuti Cauchi Advocates is one of the top-ranked firms throughout The Legal 500 Malta.  With offices in Malta's legal and financial capital city, Valletta, as well as in Cyprus, London, Zurich and Hong Kong, the firm is recognised as key player offering legal, tax and corporate services.
View Profile...
Legal Market Overview
The smallest European Union member state, Malta's advanced economy continues to be powered by tourism, financial services and online gambling, an area where it acts as a waypoint for cross-border business if not an international financial centre. Its citizenship by investment scheme was also notable, and has tightened its criteria in response to media reports of earlier controversies, and then the Russian invasion of Ukraine. Aviation and ship registration are other sectors of note. Malta had an exceptional rate of progress with Covid-19 vaccination in 2021.
Malta's legal system is a hybrid of common law and civil law, influence from the former coming from its historical relations with the United Kingdom.
The Maltese legal sector is comprised of home-grown independent firms, with notable names including Fenech & Fenech Advocates, Ganado Advocates and Camilleri Preziosi.