Doing Business in...
Kenya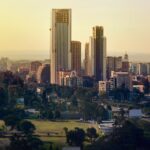 Introduction Kenya has shown a resilient recovery from the COVID-19 pandemic with efforts being undertaken to support trade, attract further foreign investment and improve value chain development across various economic sectors. Kenya is considered the economic, commercial, financial and logistics hub of East and Central Africa. With the strongest industrial base in the region, Kenya …
Contributed by Dentons Hamilton Harrison & Mathews
Read More...
Legal Market Overview