Doing Business in...
Iraq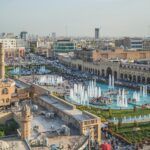 While doing business in Iraq comes with its own variety of unique and variable obstacles, the country has enormous economic potential. Iraq is ranked towards the bottom of the World Bank's ease of doing business report. Nonetheless, it is still regarded as one of the world's wealthiest countries, with substantial hydrocarbon reserves, a dense population, …
Contributed by Salt & Associates
Read More...
Firms in the Spotlight...

Al Hadeel Al Hasan Law Firm

Al Hadeel Al Hasan Law, or HHL, is an Iraqi-based Law Firm, specializing in litigation representation, legal consultancy, and corporate services. With over 26 years of extensive experience in the legal field, we've represented some of the world's top organisations from a wide variety of industries and backgrounds.
View Profile...
Firms in the Spotlight...

Salt & Associates
Who We Are Salt for Legal Services LLC ("Salt"), an affiliate of Baitulhikma Lawyers founded in Abu Dhabi in 1981, was formed in 2018 with the goal of providing quality, expert legal advice to multinational companies in Iraq at every step of their business journey. We are a full-service law firm with over fifty experienced …
View Profile...
Legal Market Overview
After a tough 2020, the economy of Iraq returned to a trajectory of growth in 2021, aided by a large expansion in the non-energy sector and a much softer downturn in the energy sector. As OPEC+ curtailments on production, were eased, oil output ramped up prior to the tumult in commodity markets caused by the Russian invasion of Ukraine. The non-oil economy also showed growth, owing to a solid performance in the services sectors as COVID-19 containment measures were eased, aided by a pick-up in the vaccination campaign. In politics, a new government was yet to be formed following the October 2021 elections at time of writing, and tensions have risen due to pro-Iran parties voicing concerns over the results. Furthermore, Iraq's status as a major importer of wheat has exposed it to the consequences of the Ukraine crisis, as nations seek to replace imports from Europe's breadbasket.
GDP growth should speed up in 2022 as the energy sector benefits from higher output and greater investment, and the impact of the pandemic fades. However, this potential growth could be hampered by risks such as a decline in oil prices, lingering COVID-19 concerns, social unrest, and a possible increase in violence as the US withdraws its military presence further.