Doing Business in...
Iraq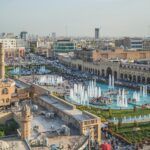 While doing business in Iraq comes with its own variety of unique and variable obstacles, the country has enormous economic potential. Iraq is ranked towards the bottom of the World Bank's ease of doing business report. Nonetheless, it is still regarded as one of the world's wealthiest countries, with substantial hydrocarbon reserves, a dense population, …
Contributed by Salt & Associates
Read More...
Firms in the Spotlight...

Al Hadeel Al Hasan Law Firm

Al Hadeel Al Hasan Law, or HHL, is an Iraqi-based Law Firm, specializing in litigation representation, legal consultancy, and corporate services. With over 26 years of extensive experience in the legal field, we've represented some of the world's top organisations from a wide variety of industries and backgrounds.
View Profile...
Firms in the Spotlight...

Salt & Associates
Who We Are Salt for Legal Services LLC ("Salt"), an affiliate of Baitulhikma Lawyers founded in Abu Dhabi in 1981, was formed in 2018 with the goal of providing quality, expert legal advice to multinational companies in Iraq at every step of their business journey. We are a full-service law firm with over fifty experienced …
View Profile...
Legal Market Overview
2022 brought some changes to the political scene in Iraq with new president, Abdul Latif Rashid, elected in October 2022 for a four-year term. Initially scheduled for February 2022, the vote was postponed several times due to boycotts of parliamentary sessions and the quorum not being met. The economy has rebounded with a successful twelve months as new parties entered the market. There has been an uptake in real estate work going on, with billions being pumped into the country for construction projects including airports and highways. An upcoming project includes the US plan to build their biggest consulate in Erbil, the capital of the autonomous Kurdistan Region of Iraq. In comparison to last year, inflation has been less of an issue, with growth not being hampered as badly as other countries in the region. The legal market has been largely buoyant with new firms making their mark with an increase in cross-border matters and international investment in the country.