Doing Business in...Greece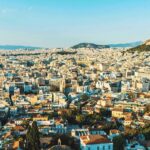 Greece lies in South-Eastern Europe covering an area of 130,000km2 with a population of 11 million. It borders Turkey, Bulgaria, Albania and the Former Yugoslavian Republic of Macedonia and has close trade links with Italy and Cyprus (the latter a particularly close trading partner due not only to geography but also the shared historical and …
Contributed by Andersen Legal - Pistiolis - Triantafyllos & Associates Law Firm
Read More...
Legal Market Overview
Optimism for the Greek economy always comes with caveats. Domestic political risk, macroeconomic EU issues and a general slowdown in global growth could all trample any recovery. For now, however, there is definitely a sense that things are on the turn after a decade of financial decline. GDP is finally growing, and if Greece's larger domestic law firms, many of whose websites are adorned with job postings, are any barometer, employment is picking up. The activity that firms are experiencing is still influenced by the financial crisis, such as around the sale and management of non-performing loan portfolios. A lack of liquidity among Greece's four largest banks remains an impediment to the broader economy, so as a result lawyers have also represented several Greek businesses in moving their corporate structures abroad, so as to easier access foreign capital. The expectation is that as the economy slowly rebounds, more positive foreign investment will arrive.
With the exception of dispute resolution and certain niche areas, where there are plenty of excellent boutiques to be found, transactional advice is still dominated by the major full service firms, such as Bernitsas Law, Karatzas & Partners, Koutalidis Law Firm, PotamitisVekris Law Firm, and Zepos & Yannopoulos. Nevertheless, these are facing strong challenges from smaller firms, such as Alexiou & Kosmopoulos Law Firm, Lambadarios Law Firm and Papapolitis & Papapolitis,  offering high-quality lawyers, many of whom were trained at major British and US firms. The international firms are primarily guided by their shipping practices, although Norton Rose Fulbright and Watson Farley & Williams – Greek Branch have grown beyond the maritime sphere. The shipping sector has seen considerable movement of fee-earners, with senior ship finance lawyers leaving HFW for Hill Dickinson LLP, and a well-respected team of shipping litigators moving from Ince to Watson Farley & Williams – Greek Branch.
---
Firms in the Spotlight
Andersen Legal - Pistiolis - Triantafyllos & Associates Law Firm
Pistiolis – Triantafyllos & Associates is a leading independent law firm based in Athens, with in-depth, genuine and proven expertise in certain areas of law and specific industry sectors. The firm's senior lawyers have worked within government and regulatory agencies, and therefore have a better understanding of the approach and priorities of regulatory officials and …
View Profile...
KP Law Firm
KP is a broad niche practice serving international and domestic commercial and industrial corporates, financial institutions, and natural persons facing critical and high impact situations, in contentious and non-contentious matters within its fields of expertise.
View Profile...
Apostolos Georgiades & Associates
APOSTOLOS GEORGIADES & ASSOCIATES is a highly respected law firm actively involved in both domestic and international transactions and disputes, with a long legal tradition and profound expertise in most areas of Greek law. Name Partner Dr. Apostolos Georgiades, emeritus Professor at the University of Athens Law School, member of the Academy of Athens and …
View Profile...