Doing Business in...
Egypt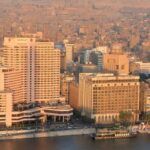 Introduction Egypt has been opened for business since the late President Sadat announced the open-door policy in the October Paper of April 1974. During those 47 years, Egypt has amassed a considerable experience and benefited from international best practices in attracting investments. In July 2004, Ahmed Nazif became prime minister of Egypt. He adopted a …
Contributed by Ibrachy & Dermarkar
Read More...
Legal Market Overview
In spite of the challenges of the Covid-19 crisis, Egypt has proved a resilient economy in 2021, fuelled by the country's plenty macreconomic reforms. President Abdel Fattah al-Sisi's announcement of the end of the state of emergency, in place since 2017, speaks of increased stability. Firms also report businesses operating at full capacity again after a big slowdown in activity at the start of the pandemic.
The New Administrative Capital being built close to Cairo is symptomatic of the country's building boom when it comes to the development of new cities, including mega-project New Alamein. Described as 'fourth-generation cities', these developments are part of the country's efforts to push eco-friendliness into everyday living.
Energy remains a driving sector in the market, with renewable energy projects particularly in the field of solar energy constituting a major field of investment. Green hydrogen is also an emerging area of interest in this sector. Firms speak of particularly strong movements in finance for projects that have been delayed due to the pandemic and are now increasingly being picked up again. Oil and gas as well as petrochemicals remain busy areas of work for domestic law firms.
The Sovereign Sukuk Law that was passed in 2021 is aimed at diversifying the country's sources of funding and aligns Islamic Shariah principles with the issuances of sovereign bonds. After the launch of the first of its kind in an Arab country in 2020, green bonds now constitute a firm component of many banking and finance practices.
The country's growth is forecast to rebound by about 5% in 2022, which speaks to the domestic economy's ability to handle crises. However, it remains to be seen how slow vaccination rates and the uncertainty about the recovery of the tourism sector might come into effect in the near future.
Egypt's legal market remains stable, having stayed away from major partner moves and mergers amid the pandemic. Founded in early 2020, Khodeir & Partners

continues to make a name for itself, while ADSERO-Ragy Soliman & Partners demonstrates rapid growth in several practice areas including commercial, corporate and M&A as well as banking and finance. Constituting another promising young firm on the market, Mazghouny & Co has particular strengths in projects and infrastructure and energy, being led by former Shahid Law Firm partner Donia El-Mazghouny. Al Tamimi & Company has expanded its expertise into the maritime sector by opening a new office in Port Said in early 2021. Meanwhile, longstanding firms such as Zulficar & Partners Law Firm, Zaki Hashem & Partners, Attorneys at Law

, Shalakany Law Office

, Matouk Bassiouny & Hennawy, and Shahid Law Firm remain strong players in the market.