Doing Business in...Dominican Republic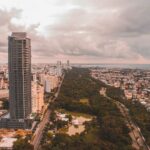 INTRODUCTION The Dominican Republic has been the fastest-growing economy in the region since 2014. With a population of 10.8 million inhabitants and a GDP of $85.5 billion USD, it is the tenth largest economy in Latin America and the largest in the Caribbean region. The Dominican economy, formerly dependent on the export of agricultural commodities, …
Continue reading "Carpentum MPU"
Contributed by Guzmán Ariza
Read More...
Legal Market Overview
The Dominican Republic government enacted a new bill relating to public-private partnerships (PPPs) in February 2020; the intention was to boost investor relationships and economic development in the country, with a particular focus on infrastructure development. However, the impact of this new law remains to be seen due to the outbreak of the coronavirus pandemic in March 2020, following which President Danilo Medina declared a nationwide state of emergency. In the corporate sector, firms reported an uptick in M&A work in 2019 and an increase in instructions from clients in the energy and entertainment sectors, although the region saw a slump in M&A as a result of the pandemic in 2020. Following legislative reforms made to the Dominican Republic's restructuring and insolvency laws, corporate restructuring mandates were also prominent in law firms' workloads in 2019. At least in the months prior to the Covid-19 pandemic, tourism and real estate were also vibrant areas of activity. Firms reported an increase in development projects in these sectors, with a particular emphasis on hotels, although other areas of interest included offices, road infrastructure work and sports and recreational buildings. Infrastructure developments, financed using investment funds, were another prominent area of instruction. On the dispute resolution side, tax, real estate, labour, antitrust, commercial and administrative litigation have been busy areas of instruction for firms, and lawyers report a continual growth in arbitration work. In the broader legal market, prominent full-service firms include Pellerano & Herrera, Guzmán Ariza and Headrick Rizik Alvarez & Fernández. Squire Patton Boggs is the only large US firm with an office in the country, and is active in corporate, finance, dispute resolution and real estate work. Pellerano Nadal, set up in 2018 by Luis Rafael Pellerano, has quickly established its presence in the country's legal landscape. Other noted firms include OMG, Russin, Vecchi & Heredia Bonetti, JJ Roca & Asociados and Castillo y Castillo. On the IP side, boutique firms are predominant: Angeles Pons, Troncoso Leroux and Bufete Lugo Lovatón are well-known names. Other market moves saw the former Jiménez Cruz Peña become Jiménez Peña in March 2020,  following the departure of José Cruz Campillo to Ulises Cabrera Abogados. Since publication, Guzmán Ariza has made a strong move into the energy and natural resources sector with the headline November-2020 hire of fomer Vice Minister of Hydrocarbons (2014-2020), Alberto Reyes Sánchez.
---