Doing Business in...
Dominican Republic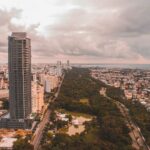 INTRODUCTION The Dominican Republic has been the fastest-growing economy in the region since 2014. With a population of 10.8 million inhabitants and a GDP of $85.5 billion USD, it is the tenth largest economy in Latin America and the largest in the Caribbean region. The Dominican economy, formerly dependent on the export of agricultural commodities, …
Contributed by Guzmán Ariza
Read More...
Legal Market Overview