Doing Business in...
Dominican Republic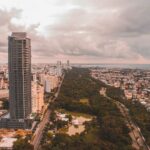 INTRODUCTION The Dominican Republic has been the fastest-growing economy in the region since 2014. With a population of 10.8 million inhabitants and a GDP of $85.5 billion USD, it is the tenth largest economy in Latin America and the largest in the Caribbean region. The Dominican economy, formerly dependent on the export of agricultural commodities, …
Contributed by Guzmán Ariza
Read More...
Legal Market Overview
In 2020-21, the Dominican Republic's political and economic panorama was nothing if not eventful. On June 5th 2020, Luis Abinader won the presidential elections and replaced former president Danilo Medina, bringing to an end a 16 year period of unbroken rule by the Dominican Liberation Party. The winning Modern Revolutionary Party, although similarly oriented centre to centre-left, nevertheless caused a level of uncertainty in the market at the beginning of its mandate. Some projects and transactions were put on hold until the political environment became clearer.
The Covid-19 pandemic was another reason behind companies and investors delaying economic activities and corporate transactions, and it also created new ground for litigation. Tensions between employers and employees as a result of working and home-working practices resulted in an increase in dismissals and just cause litigation. The government stepped in with the Families First Coronavirus Response Act, a new federal law providing paid leave for caregivers, on the basis of which further lawsuits were filed in the federal courts. This put some law firms in the position of advising on new, first-of-their-kind disputes with no previous case law.
A sustained vaccination procedure led to the reopening of the hospitality sector in July 2020, restoring tourism and giving investors more confidence to continue their operations in the country. From late September and the beginning of October of that year, things were looking up for the island; the market became more active, with announcements of new investments and the building of new hotels.
A new trend in the M&A market is greater local financing. Dominican as well as Central American banks are demonstrating a willingness to invest in local deals, with an emphasis in the energy, gold mining, real estate and tourism sectors. Moreover, the government is releasing a number of measures to facilitate operations, including private initiative PPPs, a Zero Bureaucracy Programme for investments, and a fiscal amnesty allowing taxpayers to settle their tax liabilities by paying an amount equal to 3.5% of the average net operating income.
The Dominican Republic proves to be a very dynamic legal market. While significant changes have taken place in the last 10 years and a notable percentage of high-profile projects moved into the hands of younger and spin-off firms, a number of major players retain their solid positioning at the heart of the market. Longstanding full-service firms Pellerano & Herrera and Headrick Rizik Alvarez & Fernández are both market stalwarts, while over the latest 20 years, OMG has also emerged and reached considerable size and market standing. Guzmán Ariza has particularly notable reach on the island, with eight offices spread throughout the most strategic locations from the perspectives of business and tourism. Other players include Medina Garrigó Abogados, Biaggi Abogados, Jiménez Peña and Pellerano Nadal. A number of boutique firms have leading roles in their respective sectors: Angeles Pons and Troncoso Leroux are recognised for their IP capabilities, for example, and Santroni Parsons has a notable specialisation in environmental law. Real estate is another key sector for the jurisdiction, in which Castillo y Castillo, DMK Abogados and Guzmán Ariza all demonstrate strong expertise. Penetration of the local market by international and/or multijurisdictional firms remains low with Squire Patton Boggs' Santo Domingo office the most significant presence, although Russin, Vecchi & Heredia Bonetti also has historical international links.