Doing Business in...
Bangladesh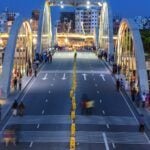 Formal name: The People's Republic of Bangladesh Population: Approximately 168.2 million (2021) Average annual population growth: 1.37% in 2021 Capital city: Dhaka Major cities and districts: Dhaka, Chattogram, Khulna, Barishal, Sylhet, Rajshahi, Cumilla, Mymensingh, Rangpur, Narayanganj, Gazipur, Cox's Bazar, Moulvibazar, Sunamganj, Gopalganj, Chandpur, Dinajpur Official language: Bangla Currency: The Bangladeshi Taka (BDT) Per Capita Income: …
Contributed by Rahman & Rabbi Legal
Read More...
Legal Market Overview
Reflective of its fast-growing economy, Bangladesh is projected to attain the highest GDP growth per capita in South Asia, according to the IMF. Notwithstanding the challenges of Covid-19, its economy has remained resilient under the leadership of Sheikh Hasina. In one key sector, the garment industry has been buoyed by the renewal of the Bangladesh Accord, which is a legally-binding agreement negotiated by global retailers and trade unions to protect garment workers. Elsewhere, the energy and infrastructure sector is gaining momentum, with there being an increase in foreign investment in Bangladesh. Within the legal industry, as the country opens up, some court services continue to operate virtually with video conferencing in place. Standout domestic firms include Mahbub & Company, A.S. & Associates and Doulah & Doulah. These firms are usually the first port of call for shari'ah-related matters, particularly shari'ah-compliant finance transactions. Other smaller outfits are also active in the legal market, picking up advisory work. Foreign firms do not operate in Bangladesh but work with local counsel via informal alliances.