Doing Business in...
Bangladesh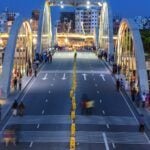 Formal name: The People's Republic of Bangladesh Population: Approximately 165 million (2022) Average annual population growth: 1.22% in 2022 Capital city: Dhaka Major cities and districts: Dhaka, Chattogram,  Sylhet, Khulna,  Barishal, Rajshahi,  Cumilla, Mymensingh, Rangpur, Narayanganj, Gazipur, Cox's Bazar, Moulvibazar, Sunamganj, Gopalganj, Chandpur, Dinajpur Official language: Bangla Currency: The Bangladeshi Taka (BDT) Per Capita Income: …
Contributed by Rahman & Rabbi Legal
Read More...
Legal Market Overview
As Bangladesh continues its recovery from the Covid-19 pandemic, it has maintained steady economic growth, that coincides with a rebound in the manufacturing and service sectors; as foreign investment continues to thrive under the leadership of President Sheikh Hasina.
Elsewhere, growth in the energy sector has stalled as a result of Russia's invasion of Ukraine; while the 2022 Data Protection Act has raised legal concerns relating to the right to privacy.
Courts have begun to return to in-person sessions and firms see a considerable increase in the number of employment cases being brought forward as a result of the pandemic. Standout domestic firms include A.S & Associates, Doulah & Doulah and TANJIB ALAM & ASSOCIATES

. These firms are heavy hitters in the corporate and finance markets, while smaller teams take on advisory work. Foreign firms don't operate in Bangladesh, though some have relationships with local teams.